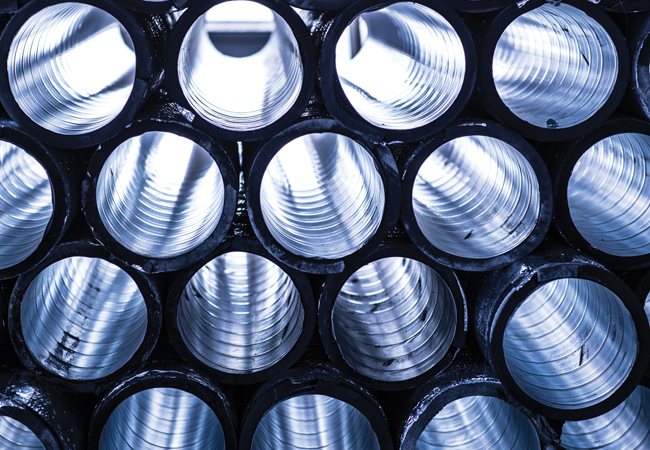 The demands of drainage pipes affect the specification of materials Credit: iStock.com/Mucella
It is a common trait of specifiers to stick with what they know. Faced with the challenge of balancing increasingly stringent efficiency targets with ever-squeezed project budgets, it is inevitable that some systems within the building will be repackaged again and again within new project specifications, because they work at the right cost, without impacting efficiency. But what if there is a better solution? What if this inertia is preventing cost savings, installation efficiencies or enhanced performance from being achieved?
One such example is the soil and waste drainage system – clearly a critical part of any building, and one in which failure could be costly, disruptive and unpleasant for property owners, operators and users. Despite continued innovation and development of materials, however, many specifiers will stick to the ones they used in the previous project.
Each material comes with advantages and disadvantages, especially when considered for specific applications. Before I explore the merits of four in more detail, however, it is important to consider the demands of drainage pipes and how this will affect specification.
Effective drainage specification
Obvious considerations, such as lifespan of the pipe, encompass both the material and installation costs. Flexibility of installation, acoustic performance – how well the pipe can dampen the noise of flushing water or waste as it passes through – and joints and fittings are also important. Depending on the material choice, pipes can be connected using mechanical clamps, push fitting, solvent welding, butt welding or electrofusion welding.
We must also consider the smoothness of the pipe bore and the hydrophobicity of the inner pipe – how well it repels water and, so, avoids blockages. For metallic pipes, we have to factor in susceptibility to corrosion, including whether any coatings will be required.
Once the material is agreed, individual product standards must be adhered to and products must be installed in line with BS EN12056-2 and Building Regulations Part H.
Let's examine in more detail four material options for soil and waste drainage systems: cast iron and high-density polyethylene (HDPE), commonly used for higher specification projects, then polyvinyl chloride (PVC) and enhanced polypropylene composite, offering a lower cost alternative.
Cast-iron credentials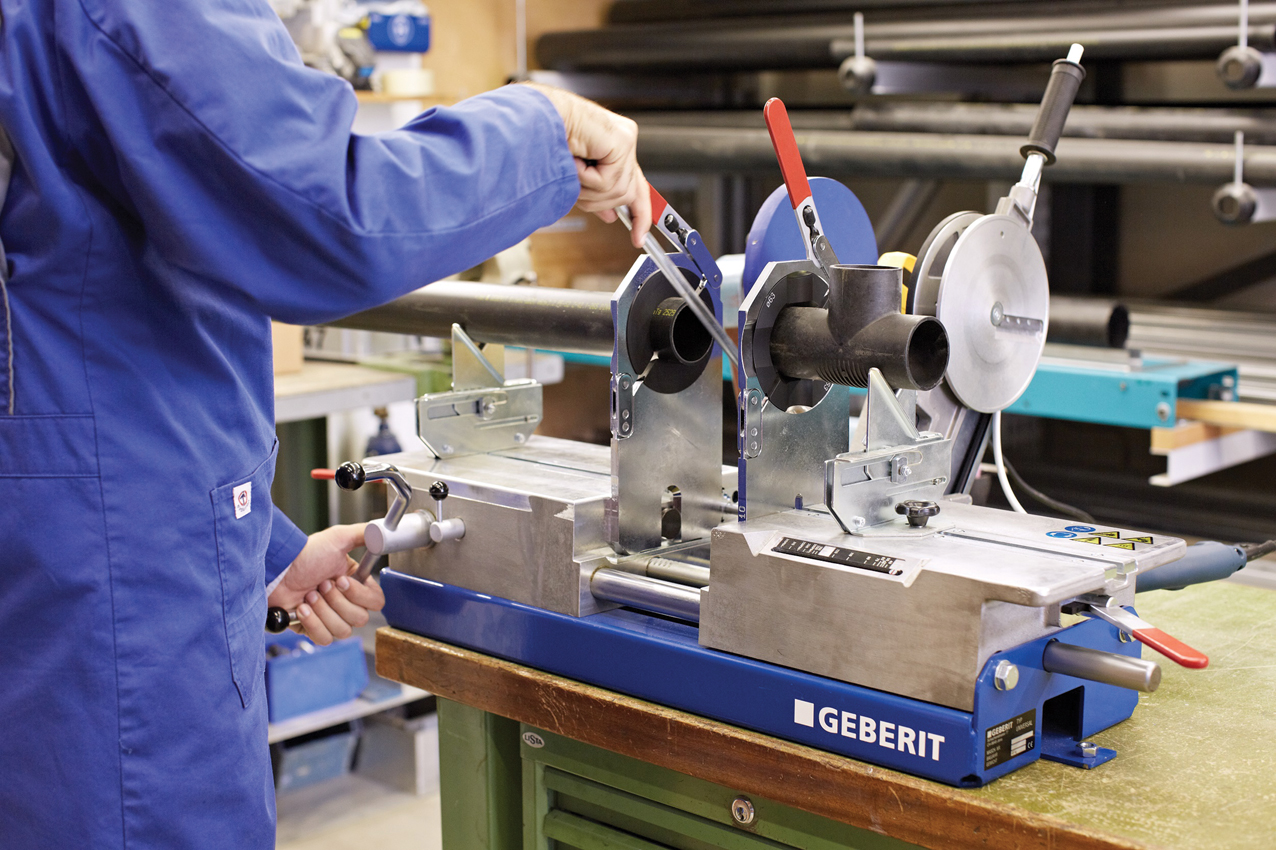 Butt welding HDPE pipes using a hot plate
Cast iron – an alloy of iron and carbon – offers good acoustic performance, but is more expensive to purchase and install compared to plastic alternatives.
As an iron-based material, it is also susceptible to corrosion; modern cast-iron pipes have more advanced coatings, but many older buildings are, inevitably, facing corrosion issues after 40 or 50 years of service from their original drainage systems.
Most significantly, cast-iron pipes are more likely to build up depositions than a plastic pipe because of the roughness of the pipe bore. A new cast-iron pipe would typically offer a roughness value – the relative roughness of a pipe against the size of its diameter – of 0.26mm, compared with 0.0015mm or below for plastic alternatives.
Through decades of constant use, this surface roughness gradually worsens and deposits start to cling to pitting in the pipe bore. Even with regular cleaning and maintenance, this can lead to serious blockages and clogging with cast iron, and this will eventually cause leaks if left untreated.
A shift towards HDPE
Offering a viable alternative to cast iron, HDPE is an increasingly popular material for drainage pipes and fittings in commercial buildings. It combines the lightweight flexibility and installation benefits of plastic pipes with the robust, durable properties required for commercial applications.
Although HDPE is not the lowest cost material, the initial investment can often be outweighed by reduced maintenance costs and an extended system life-cycle – not to mention the peace of mind that comes with a strong and reliable welded solution.
HDPE pipes have a smooth bore, which is maintained throughout their lifetime, helping to repel any waste that might attach to the inside – and they are reasonably hydrophobic. The inside of a HDPE pipe can often be cleaned thoroughly simply by flushing the toilet or running the tap.
It is also a chemically inert material and insensitive to high water temperatures. It is able to withstand hot water up to 90°C – and even boiling water – unlike PVC which has an upper limit of 75°C. This is particularly important in applications such as hospitals because of the nature of the waste disposed of through the drainage system.
PVC – the old favourite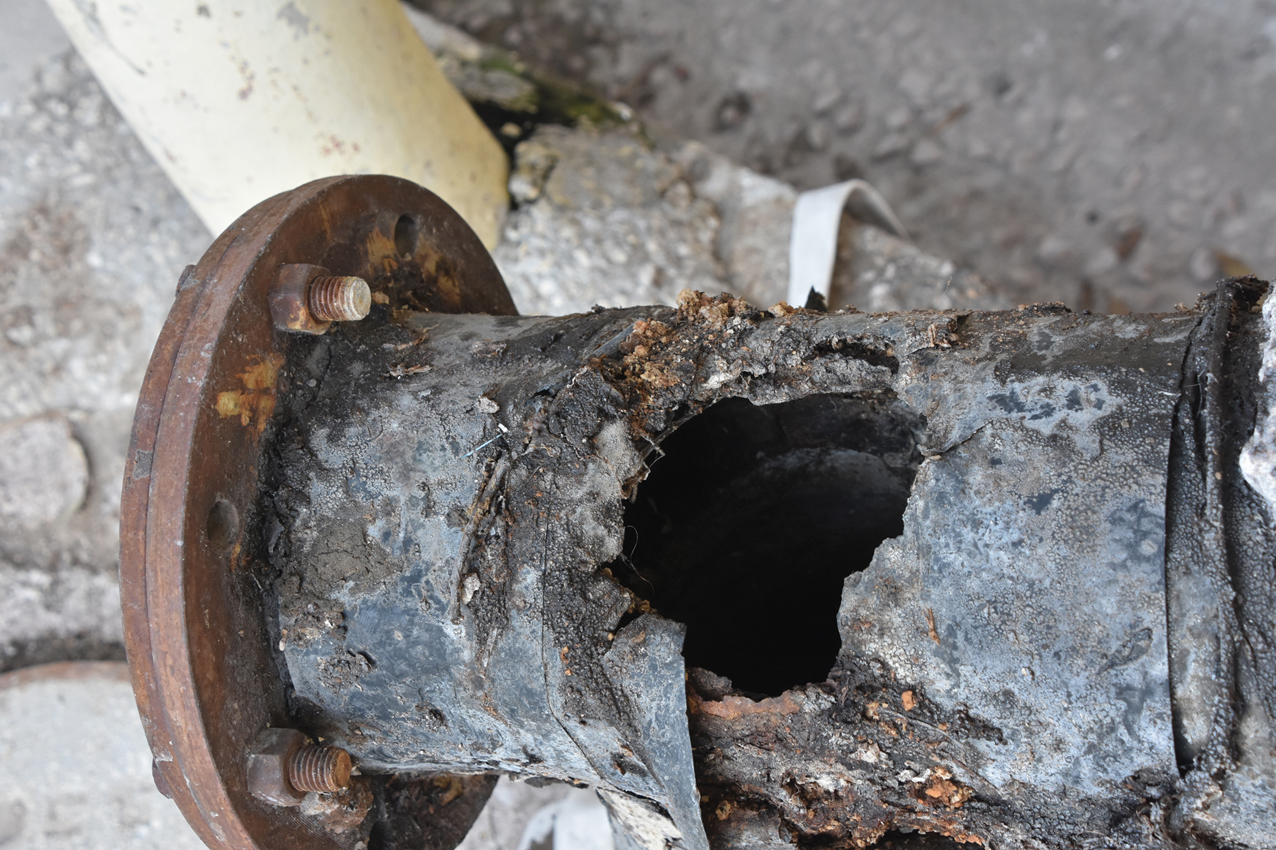 Corroded cast-iron pipework
Currently, around 75% of soil and waste pipes and fittings sold in the UK are made from PVC, which is lightweight, incredibly cost-effective and easy to attach to walls. Like any plastic pipe it has a smooth bore, so is less likely than cast iron to experience clogging from a buildup of deposits.
Unlike cast iron, PVC does not offer strong acoustic performance, so lagging is often required, adding time and cost.
PVC is also a relatively brittle material, particularly in cold weather. It is not uncommon with commercial applications for PVC drainage to be installed, only to be damaged later by subsequent contractors. This can add unforeseen project cost.
Enhanced polypropylene composite
The fourth option is relatively new to the UK market. Enhanced polypropylene composite is a proven material, used for many years on the continent and now finally delivering benefits to UK specifiers, engineers and installers too.
Offering strong acoustic performance because of its enhanced structure, this is a more robust material than PVC, so does not become brittle at low temperatures and reduces the need to fit twice in the event of damage by other trades. 
Crucially, it is comparable in price to PVC pipes and fittings, which makes it a competitive choice for acoustically sensitive applications. Enhanced polypropylene may offer an opportunity to deliver overall project cost savings – compared to lagged PVC – by reducing or removing the need for lagging on some projects.
In addition to the installation and performance merits of each material, it is also important to consider the fragility of pipes when clearing blockages. New cast-iron pipes, for example, will be able to withstand high-pressure water jetting and any reasonable use of tools inside the pipe, but we have seen many examples where the pipe wall has fractured or fittings have blown in ageing cast-iron systems as a result of careless unblocking maintenance. Plastic pipes, such as HDPE, PP or PVC, do not corrode over time and, with welded fittings, there is no reason why they should be compromised by pressure washing – although PVC pipes will remain brittle, especially in colder weather.
Ultimately, the choice of material will come down to a number of factors, but new materials should not be ruled out because of inertia. Products continue to evolve and – with learnings from the European market too – efficiencies and enhancements can be achieved.
■ Jonathan Briafield is senior product manager at Geberit