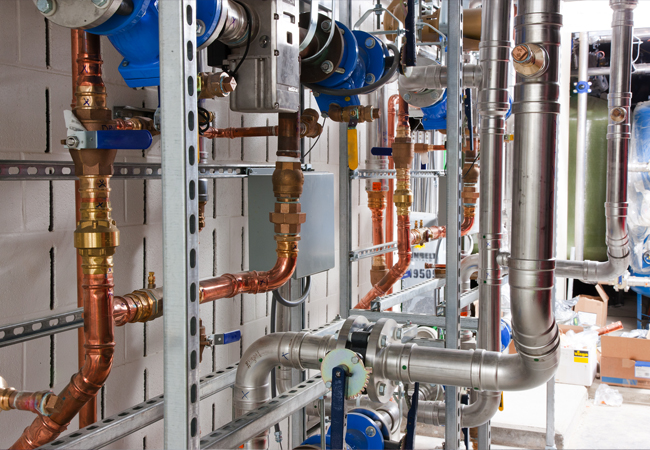 Profipress and Sanpress Inox used for drinking water systems at Mercy Health West Hospital in Cincinnati, Ohio
Scott James, Director at Viega looks at the factors to consider when choosing pipe fittings and connectors for specialist applications such as laboratories, industrial buildings and renewable energy installations:
Due to the specific demands of certain building environments it is important that the products and systems chosen support how the building is being used. There is a wide range of press connection products available that have been designed and manufactured for specific purposes.
One of the key benefits is that every product is installed in the same way using the same tools. For example, Viega's Pressgun 5 can be used on any fitting from across the Viega range with the addition of the Pressgun booster force amplifier enabling it to press the connections on 2 ½", 3″ and 4″ thick walled steel tube. This simplifies installation, especially on large projects where the separate systems within the building have different requirements.


For technical gas pipework it is important to select products and materials that will not react with the contents – either affecting the quality of the supply or compromising the pipework itself

For many industrial applications, including manufacturing, maintaining a clean environment is crucial to protect the processes being carried out. For these environments, press connections provide a significant advantage, especially for repair work, as unlike soldered and threaded pipe the pressing process does not require the use of chemicals, flux or lubricants that can contaminate the pipework.
In addition, specially designed silicone-free (also known as LABS-free) press connections are available for use in sensitive manufacturing processes such as paint application where the presence of silicone will affect the finish.
Furthermore, for technical gas pipework it is important to select products and materials that will not react with the contents – either affecting the quality of the supply or compromising the pipework itself. For laboratories and large scale technical facilities requiring high levels of purity, stainless steel pipe and press connections can provide the solution.
However, it is important to check that the sealing elements within the fittings are suitable. For example, Viega's Sanpress Inox G connections have been tested and approved for use on a wide range of technical gases. The high quality Hydrogenated Nitrile Bautadiene Rubber (HNBR) sealing elements also allow Viega's gas-rated ('G') products to be used safely for compressed air, heating oils, diesel fuels and liquid and natural gas as well as the argon-CO2 gas mix used for welding.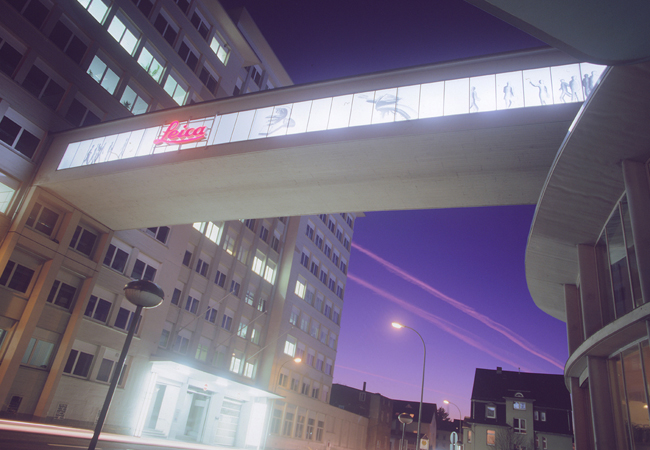 Optical microscopes manufacturer, Leica Microsystems, used a Sanpress system to replace the complete piping network for the company's headquarters in Wetzlar, Germany
Similarly, for high temperature applications, such as solar thermal and district heating systems, it is important to check that the materials can withstand the heat over the long term. When selecting press connections for these applications, building engineers and specifiers should look for products that contain a sealing element that is sufficiently durable and will not be damaged by the heat. Viega has a number of products from across its range including, Profipress S and Megapress S that feature a high quality fluoroelastomer (FKM) sealing element that allows the fittings to be used for temperatures up to 140°C.
Press connections are also suitable for use on fire suppression system pipework. Due to the vital role that these systems have in protecting the building, it is crucial to ensure the integrity of all the components. Press connection technology has advantages for fire suppression systems as a robust, reliable joint will prevent any leaks or failures that would compromise the effectiveness of the system. While brazing or welding is the traditional method for connecting pipe runs, this relies on the quality of work on each and every joint.
In contrast the simple, consistent installation process for press fittings provides peace of mind with regards to the integrity of the whole system. Press connections that feature a double pressing – both before and after the compression will create a permanent seal that resists torsional and longitudinal forces.
Finally, due to the similarity between the products it is important to ensure that at the point of installation the correct versions are being used. To help installers differentiate between the fittings, manufacturers may colour code their products.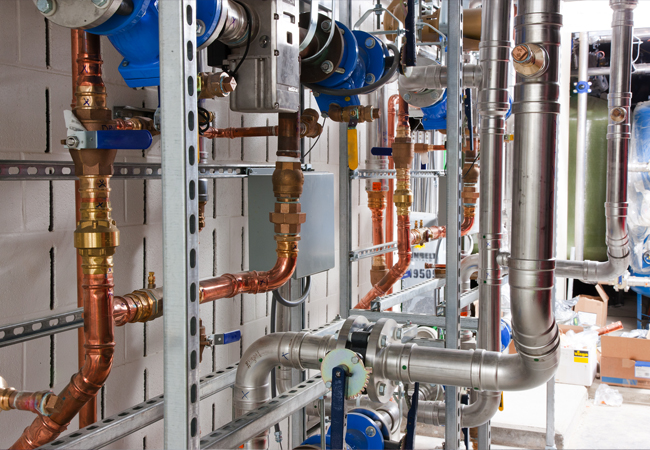 Sanpress Inox used for compressed air gas, potable water and heating systems at Leica Microsystems headquarters
For example, Viega uses a green mark on the outside to denote those suitable for drinking water, with yellow used for gas, white for high temperature and blue for silicone-free products. Depending on the range, either red or black marks are used to identify connectors that are not suitable for drinking water.
The versatility of press connection technology makes it suitable to a wide range of different applications and although buildings and systems with specialised requirements can present a challenge, selecting correct high-quality products can help simplify the installation.
To find out more about Viega's range of specialist press connection solutions and to download the new industrial brochure visit www.viega.co.uk.