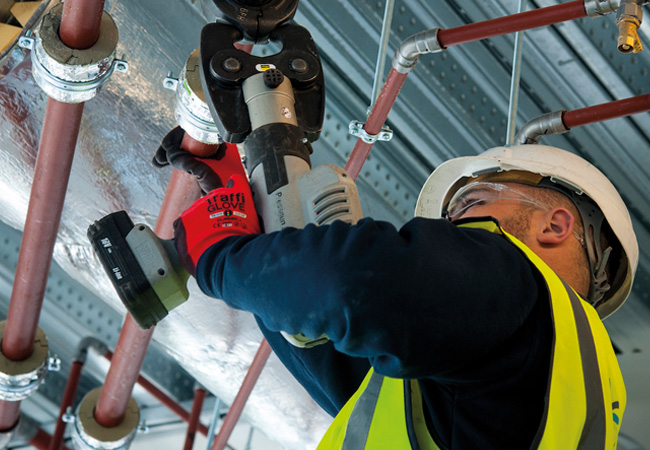 Often work on existing systems brings additional complexities and requirements compared with new buildings. For this reason, the products and solutions must be chosen carefully to ensure they meet all the requirements.
For many retrofit and refurbishment contracts the building is still in use and so reducing the downtime is crucial. For these applications press connections offer a particular advantage due to the speed and simplicity of the install. The process is straightforward and requires minimal preparation of the fitting itself, the pipe or the surrounding area.
Installers simply need to cut the pipe to size, deburr the cut surface, slide the fitting onto the pipe and press the connection. Furthermore, in contrast to soldering there is no need to clean the surface of the pipe once the joint has been made to remove excess materials.
By reducing the time required to complete the joint as well as eliminating the additional preparation and finishing work, an installation can be achieved up to 50% quicker. This speed advantage is even greater for applications where thick-walled steel tube is used.
In these installations, press connections can deliver time savings of around 60% compared with threading and for large diameter pipe (up to 4 inches) – where welding is the conventional approach – the reduction in assembly time can be as much as 80%.
Furthermore, as the press connection process includes no chemicals or oils it offers a cleaner option that removes the possibility of contamination. This is especially important if the system needs to be made operational quickly and so flushing the system would cause an unacceptable delay.
In addition, press connection technology does not require hot works or a cool-down period of any kind to complete the installation and is therefore a safer and time-efficient method. For retrofit and repairs, space is often more restricted when compared with a new installation and this can cause a hazard.
Hot works in confined or awkward spaces can represent a burn risk for the installer, either from the flame or from accidental contact with the heated metal. Press connections remove this risk entirely.
Press connections also eliminate the possibility of damage to the areas around the pipework. This is particularly important for repairs and renovations of listed or historic buildings where hot works or any processes that may damage the fabric of the building are strictly limited. As such, clean and safe press connections are an increasingly common alternative.
For these specialist applications, reducing the risk of leaks is also paramount. When utilising press connections, the strength of the joint does not vary so building service contractors can be sure of the longevity. The fitting is either fully pressed and secured or missed entirely.
If a missed connection is identified it can be remedied immediately by pressing the connection with no need to prepare the joint or drain the pipework.
However, selecting a quality press connection solution is important as when left unpressed some poorly designed fittings may appear to be secure only to begin leaking after the work is completed. In contrast, the SC-Contur technology included in Viega's product range delivers a 100% positive leak during dry or wet leakage testing if the fitting is inadvertently unpressed.
A further benefit of press connection technology for retrofit is the ability to connect different types of pipe material – making additions and extensions simple. This includes products that allow the connection of metal and plastic (multilayer) pipe as well as copper and thick-walled steel. Adapter components are available that not only allow both sides of the connection to be pressed but also integrate with threaded pipe if required.
Also, innovations such as Viega's Megapress press-in branch connector allows easy retrofit installation of thermometers, temperature sensors, manometers, drains or branch pipe connections.
The careful selection of products for any project is important but the additional factors that must be considered for refurbishment and retrofit applications makes this even more crucial. Press connection technology provides a solution that is quick, clean and safe with versatility that makes it suitable for a wide range of applications.
To find out more about Viega's range of press connection systems visit: www.viega.co.uk.