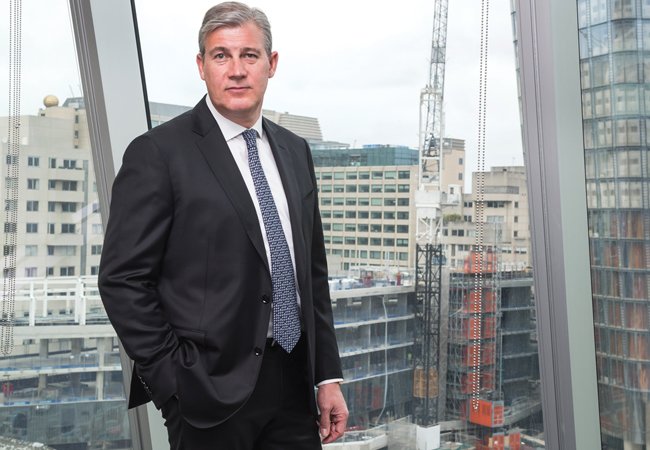 Many in construction have flagged up concerns over a possible skills shortage after Britain leaves the European Union (EU). The narrative suggests that companies over-reliant on European engineers will be left with yawning gaps in their personnel once Brexit kicks in and workers return home.   
Paul Flatt, CEO of multidisciplinary building services consultant Hurley Palmer Flatt (HPF), does not share these concerns, and has little sympathy for those who may struggle to recruit. 'At the end of the day you have to invest,' he says. 'Look at the tech-media world – 10 years ago these firms didn't exist and you don't hear them complaining about a skills gap [because they have trained up their own workforce].'
HPF's investment in people takes the form of its graduate trainee programme – which was shortlisted for a CIBSE Building Performance Award last month (see panel, 'Growth through graduates') – and its Gifted & Talented framework, which aims to accelerate the progression of promising engineers. Last year, 12 graduates were recruited, but Flatt says they could have taken 70, based on how good the applicants were. 'We're not struggling to find people in the UK,' he adds.
Company facts
John F Hurley and Partners formed in 1968
Paul Flatt appointed MD in 2001. Company renamed Hurley Palmer Flatt
Number of employees: 380
Graduate trainees: 25, and 10-15 expected this year
Turnover £20,080,864 and operating profit £644,064 for year to 31 March 2016
Building services engineering consulting represented 84% of income in same period
Business hubs in Dubai, India, Australia, Singapore and the US
To join HPF, you don't just have to be an excellent engineer; you also need to be able to communicate and have commercial awareness, insists Flatt. 'It's no good saying you've done the best engineering: that's just compliance. Engineers have to add value – and that, fundamentally, is what will keep them alive.' 
Flatt is speaking to me in the boardroom of HPF's new offices close to London's South Bank. The company moved to 240 Blackfriars last year, after combining its West End and City sites. Flatt regards the slick, modern office – and, indeed, the well-groomed staff – as a calling card for prospective clients.
His emphasis on recruiting commercially aware graduates is a response to the competitive marketplace, where property firms are snapping at the heels of engineers, with their offerings on sustainability services and facilities management (FM). Flatt worries that engineers could be left behind unless they approach their work with a commercial mindset – a trait HPF's graduate training programme aims to instil into them.
When it comes to communication, Flatt believes the quality of graduates has risen significantly over the past 10 years. 'It surprises me how confident they are – saying what they believe. An older generation would think about an issue but not bring it up, but this generation will. It means they learn more quickly,' says Flatt, who puts it down, in part, to schools encouraging children to mix with people of all ages and backgrounds.
When I last met Flatt, in 2014, HPF had just acquired commissioning engineer Andrew Reid. We meet in similar circumstances now, as the consultant recently bought civil and structural engineer Bradbrook Consulting, the acquisition driven by a desire to extract more commercial value for clients. Flatt says more building services engineering is being done in collaboration with structural engineers, particularly in refurbishments. By integrating the two – there are opportunities to save on costs. 'Working together means we can reuse more space effectively and save money for clients,' says Flatt, who believes engineering design has been hindered by a lack of collaboration with other professions. 'Up until now, everything has been siloed. If you look across, you can make very good savings.'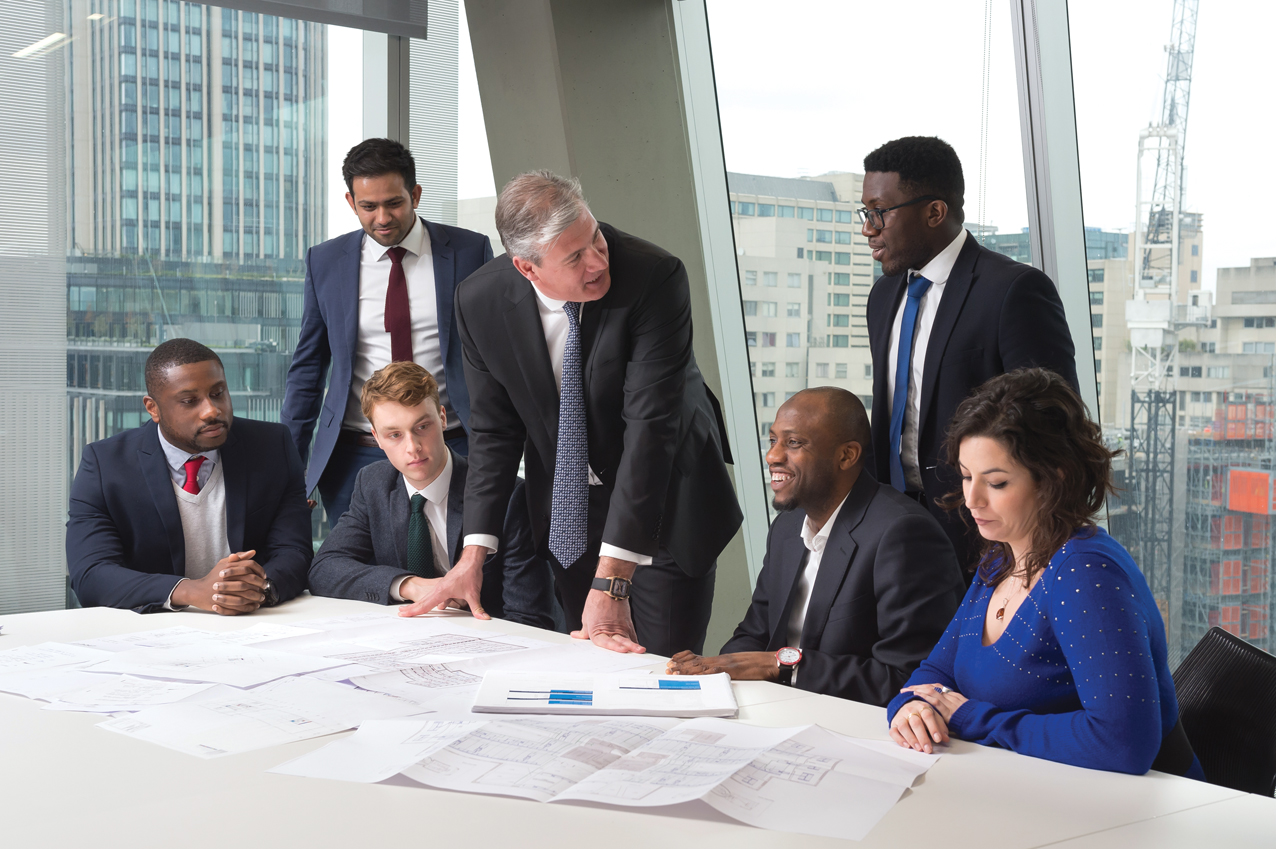 Paul Flatt and employees at Hurley Palmer Flatt. Credit: Kevin Nixon
Having access to structural engineers takes out a complex link of communication, adds Flatt, who believes procurement is simplified by being multidisciplinary. 'At the moment, there might be three identical contracts for three engineers – better to have one contract, one firm,' he says.
A holistic approach to engineering is behind HPF's advanced building optimisation (ABO) tool, which aims to ensure designs maximise energy savings and space efficiency. It considers renewables, material specification and the cost of potential solutions, and looks at the life-cycle of a building. 'We help translate the gap between the engineer and the architect,' says Flatt. Clients use ABO to test the architect's initial designs, so opportunities to cut costs and energy are identified at an early stage. 'We provide commercial value,' says Flatt, who insists it is vital that engineers demonstrate this.
'If they don't, there's a risk there will be no engineering consultants in 30 years' time, because the developer will speak directly with the manufacturer. It's similar to the role of a hospital consultant; they might not be involved in the operation, but they give the high-level advice. They are seen as the senior people who can make a difference.'


Engineers have to add value – and that, fundamentally, is what will keep them alive

The growing complexity of buildings is giving engineering consultants the opportunity to demonstrate their ability to save clients money, claims Flatt. He cites the integration of the building management system (BMS) with IT networks at UBS's new headquarters at 5 Broadgate as an example of the sophisticated work that only building services engineers with added experience in IT could do. HPF has an IT, security and technology division, and a strong track record in mission-critical sectors such as banking and data centres.
Engineers are also in a good position to ensure developers are protected from uncertainty over future energy supplies, says Flatt, who believes local energy centres will offer more security and options for increasingly off-grid supply. 'There is a limited capacity in existing gas and electricity grids – they're under pressure in terms of demand. As a result, more energy production will be local to source, and I don't just mean CHP,'  he adds.
One advantage of centralising energy production is that you remove plant in individual buildings, and generate more development value for the client. 'It's back to making sure engineers are commercial,' Flatt says. 'We have to be price-driven – not in terms of our fee, but in terms of operational and capital costs.'
Although he is keen to emphasise the commercial angle, it's clear that engineering expertise is the bedrock of the business, while the graduate programme aims to create the means to grow – whatever Brexit brings.
Graduates for growth

The HPF graduate training programme aims to progress engineers to senior positions within four years, with chartered status following shortly afterwards. Those on the Graduate and Training Engineering Solutions (GATES) scheme have placements in all of the HPF divisions. A technical scheme mentor and a member of HR meets with each graduate every quarter to assess their competence and discuss an overview of their progress. Training courses and workshops are arranged to ensure a wide range of skills is developed, including 'soft' skills such as project management. HPF also sponsors a PhD, two part-time degrees for junior engineers, and a Master's degree. GATES was shortlisted in the Building Performance Training Programme category at the 2017 CIBSE Building Performance Awards.