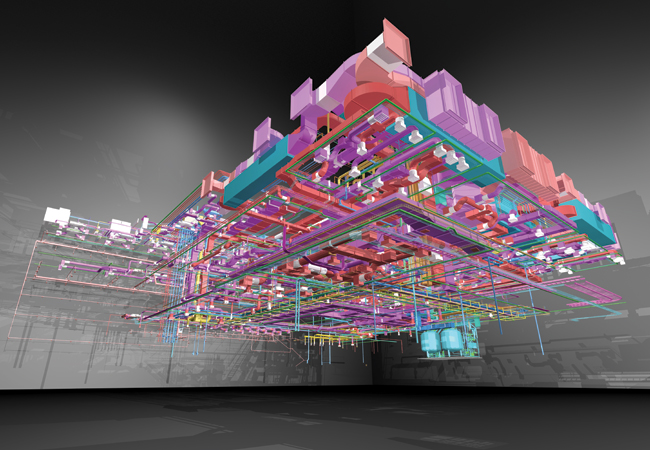 Cost and client demand were identified in the 2015 NBS National Building Information Modelling (BIM) Report as the main barriers to uptake of BIM. It could be argued that the two are inextricably linked, given that our clients will not demand BIM until the building industry's supply chain embraces new processes and technology to maximise efficiency – thus reducing cost and increasing profitability and value.
To achieve widescale adoption of BIM in the construction industry – and maximise the 'push' from the government's push-pull BIM strategy – I believe every stakeholder needs to identify how it will benefit their business. This means using it not because they have to, but because they can ascertain improvements in quality, processes, efficiency and profit through its implementation.
As a national design and build contractor, and manufacturer of building services, our BIM journey was born out of necessity and was very much a natural progression – a case of evolution not revolution.
The move from the drawing board to CAD, and from 2D CAD to 3D CAD, had improved our quality and consistency; however, the demands of our manufacturing facility gave rise to a concept that meant we could link the 3D model to our business systems – that is, both data and information. By making this link, we could see the potential to become more efficient by having a single source of information that could be used many times through automated processes.
The technology was complex, but there were many other challenges to overcome on our BIM journey, not least the cultural change required to achieve our objectives.

Now that the BIM process is fully implemented on all of our projects… we save several thousand working hours per year
Making changes
To create true value from BIM, we had to ensure we authored virtual construction models. In the past, we may have worked to an 80/20 rule, where 80% of issues were resolved during pre-construction and the remaining 20% resolved on site. As we were moving into a manufacturing-led regime, however, our models needed to be as close to 100% accurate as possible. To do this required several changes:
The coordination team needed to have a greater understanding of site engineering and build process, as they were now responsible for creating an exact model of the MEP installation, including details such as pipe couplings, adapters and bracketry. This was an extensive learning and development process, which included product seminars, one-to-one mentoring and practical training. It is also an ongoing challenge as new products emerge and we develop enhanced install methods. It is a challenge worth tackling though – not just for us, but for the industry as a whole. We must start with the end in mind to ensure minimal re-work, double handling and wasted effort when we are creating the BIM or virtual construction model.

We had to standardise methods, materials and products – a major step to enable early decision-making and to realise the benefit and efficiencies of using repeatable solutions. Initially, the standardisation of materials facilitated by the off-site manufacturing process helped to reduce the scope of our task. It allowed us to link components in the 3D model to products in the database through a unique code, to a manageable level – for example 10,000 items rather than 200,000.

Our software tools and systems had to be developed and integrated. We were fortunate to have a well-established enterprise resource planning (ERP) system, which provided bespoke solutions for estimating, planning and procurement – and the background to this was a database management system.

We made an early decision to keep the data

necessary for business operation separate from the 3D model, because we believed the, best place to collect, store and manage data was in a database and not the model.

During the development phase, we refined our best practice using feedback from project teams to provide live data, ensuring processes and procedures met our business needs. Rigorous implementation of these throughout our BIM team ensures accuracy, consistency and efficiency, and that our models are created as a virtual MEP construction project.

We have a clear strategy on early decision-making, enabling an optimised delivery programme, enhanced quality and maximum value for Shepherd Engineering Services and our customers. 
Our objectives for the BIM development project were to: produce high-quality installation and manufacturing information; automate material take-off and labour planning; and have electronic ordering of materials. Each of these has enabled us to realise business efficiencies.
Now that the process is fully implemented on all of our projects, we save between one and three hours per assembly, equating to several thousand working hours per year. This has been measured and quantified to demonstrate return on investment.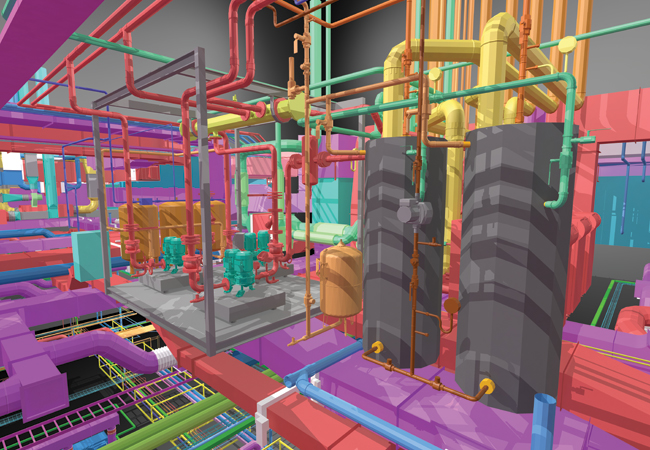 BIM images are of the National Biologics Manufacturing Centre in Doncaster, which was completed this year
Consequently, many of the improvements we made for our manufacturing process have been transferred to the traditional install areas of the project, bringing benefits such as:
Enhanced interoperability and early collaboration of all project stakeholders

Incorporation of best-practice engineered solutions before arriving on site




Maximised opportunities for off-site manufacture, leading to less waste, increased safety and reduction of on-site labour and programme




Reduced profit leakage by minimising rework and redesign, loss of productivity, late procurement, snagging and defects

Maximising time on site to manage health and safety, quality, labour, productivity, contractor relationships and soft landings.
To expand our initiative further – and for Shepherd Engineering Services to become a true Level 2 BIM-enabled business – we are now working with our supply chain and our partners across the industry to adopt the fundamental principles of the BIM process.
Whether you are a product supplier, design engineer, specialist subcontractor, installer or FM provider, our challenge is to embrace BIM so we can improve as an industry, and make our businesses fit for purpose in a digital built Britain.