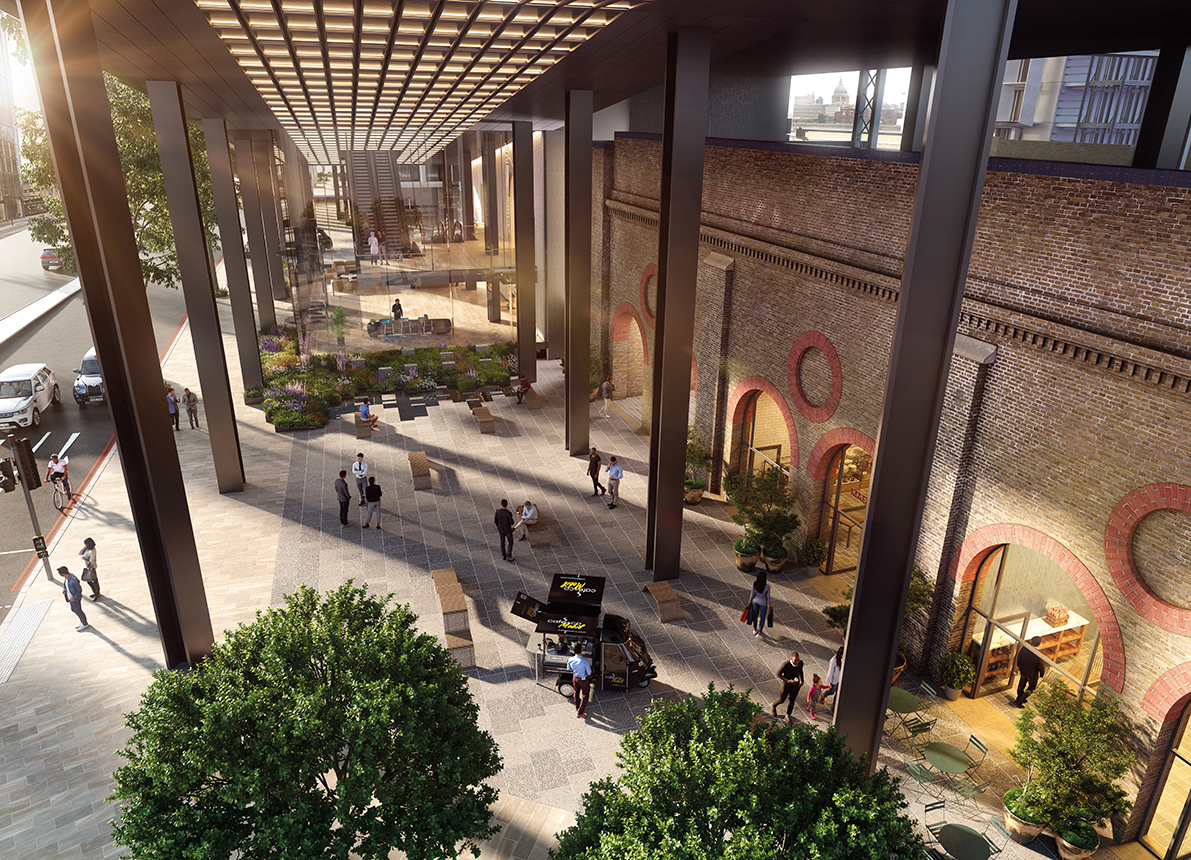 Set in a prominent 5.5-acre site between Blackfriars Bridge and the Tate Modern, Bankside Yards redevelopment is a major £2.5bn mixed-use regeneration project that aims to be fossil-fuel free and the first of its kind in the UK.
The development – by an international consortium comprising Native Land, Temasek, HPL and Amcorp Properties – will feature a mix of apartments, offices, retail and cultural facilities.
Core to the sustainability strategy of this 1.4million ft2 (130,000m2) development scheme is the installation of a low-temperature, all-electric 'fifth generation' energy network, which the developer says will be the biggest in the UK.
The energy network is an ambient loop system, which is designed to balance thermal energy requirements across all the site's eight new buildings, providing cooling and heating where needed through energy sharing between the adjacent buildings. The loop temperature will be 20°C to 25°C supply, depending on the season, and between 15°C and 20°C return.
It will also serve the thermal needs of the 14 repurposed Victorian railway arches that will house shops, restaurants and performance spaces, all intended to create a 'new village high street' focal point.
Engineering consultancy Sweco is providing building services, vertical transportation (lifts and escalators) and the sustainability consultancy for the whole of the Bankside Yards development, including the arches. This covers the key design and implementation of the fifth-generation energy network.
Glossary: next generation
Third generation: Heat distributed at 90/70°C flow/return usually fuelled by a combined heat and power energy centre.
Fourth generation: Temperatures are below 55/25°C flow/return, which leads to greater efficiencies, especially if using heat pumps or energy from waste. Onsite renewable generation can be integrated.
Fifth generation: An ambient temperature energy network (which will run below 25/20°C at Bankside Yards) has a wider range of lower-grade heat sources, and accepts simultaneous cooling heat rejection, along with heat supply.
Strategy
As part of the heating and cooling strategy, each building on the Bankside Yards development will 'extract' or 'reject' energy via an energy network running through the development. Heat pumps within the buildings will exchange ambient thermal energy via bidirectional heating and cooling loops. In addition, air source heat pumps (ASHPs) on the roofs of the buildings supplement heating and cooling energy balance across the site where necessary.
All electricity required for the site will be provided through supply contracts with renewable energy providers (although there will also be a modest number of solar photovoltaic panels on site to meet Greater London Authority planning requirements).
The fifth-generation thermal energy system linking the buildings can be connected to an external district heat network infrastructure in the future.
Optimised façades and high-efficiency building services systems are also part of the strategy to minimise energy use.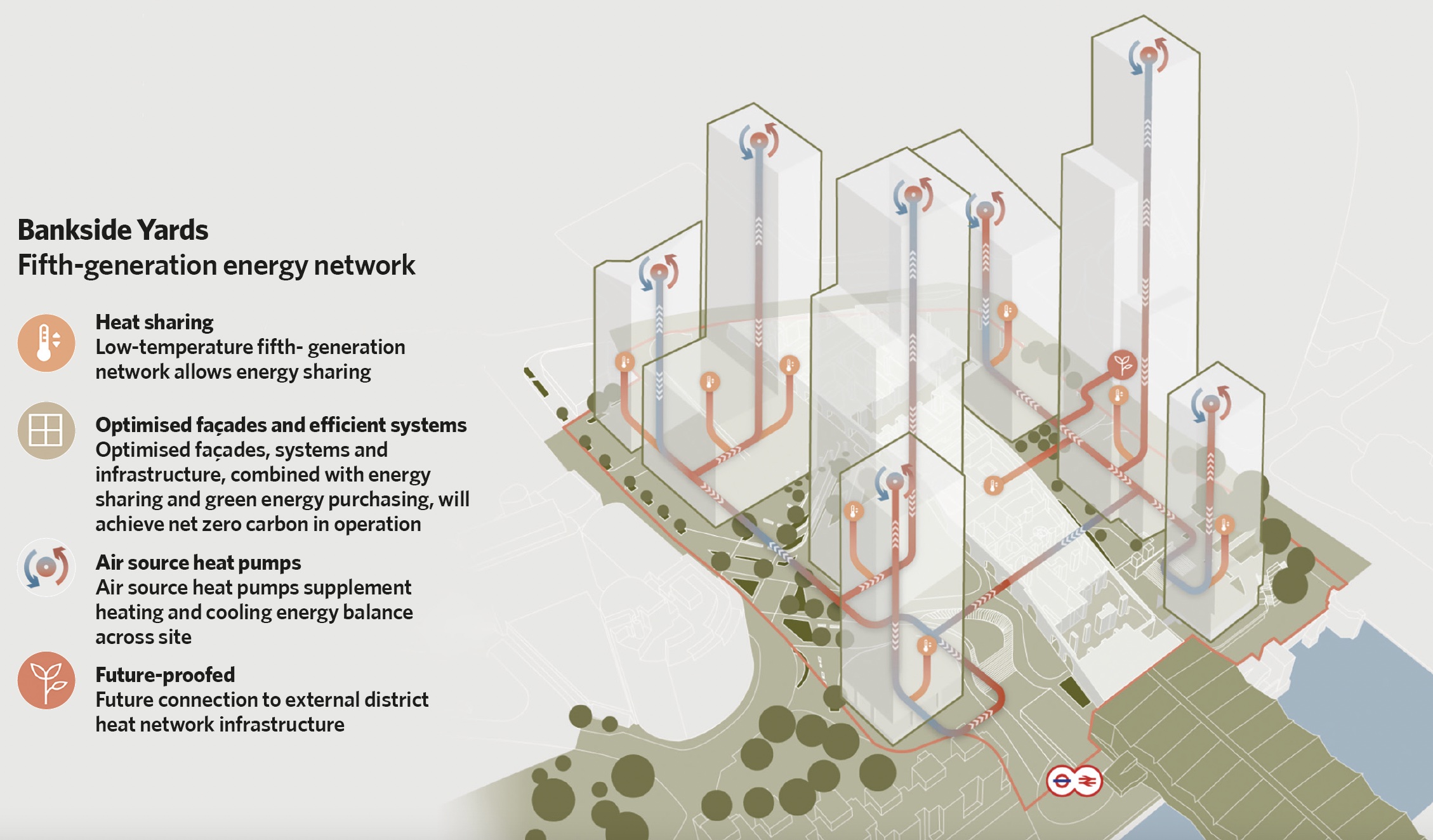 Kartik Amrania is head of building sustainability at Sweco UK. He explains that the central urban location of the development is particularly beneficial to the deployment of a fifth-generation ambient loop network: 'The location of the project in the middle of London provides the opportunity to utilise waste heat, particularly with the urban heat island effect found in large cities,' he adds.
'The site is a "hyper-mixed" development, and when it comes to mixed use, a fifth-generation network really starts to provide a lot of benefits,' Amrania says of the project. 'You have a variety of demands and different heating and cooling loads – for example, the heat rejection from offices concurrently with major hot-water demands. You have that interaction between cooling and heating requirements that suits a fifth-generation network.'
Amrania says that well-insulated buildings have sufficient heat in them, via human activity and ambient heat sources, to produce the residual heat required. 'By harvesting these low streams of energy and connecting different parts of mixed-use buildings, we are essentially balancing the energy needs between them,' he says.

Optimised façades and high-efficiency building services systems are part of the strategy to minimise energy use
The heat-rejection apparatus for the office spaces is a network of air source heat pumps providing sensible cooling to the air, which is connected to the ambient loop system. It works with the end-users' water source heat pumps to absorb or reject energy. 'Individual buildings have these water source heat pumps, and for the office buildings these are centralised and add heat to the network,' Amrania explains. 'ASHPs are used when there is not enough heat within the building, or to reject that heat when necessary.'
In total, the eight buildings in the development are set to deliver 350,000ft2 (32,500m2) of office space, around 30 new bars, restaurants and shops, around 700 new homes and a 150-room hotel.
The first phase of the Bankside Yards project, a high-specification office block called Arbor that sits above the regenerated railway arches, is due to be completed at the end of 2022.
Arbor is designed to be a green building supporting green businesses and be carbon neutral, reaching the Breeam Excellent standard. Construction of the 48-storey residential tower and other buildings on the site is due to start next year.
Generational change
Sweco was engaged in the early design stages of the project. Initially, the company had intended to deliver a third-generation heat network, but by 2017-18, as it went through phase two of planning, the client decided to advance the system and make it all-electric.
Sweco benefited from its Scandinavian background and knowledge of ambient loop networks across Western Europe, where district energy networks are widely expanded. One example cited by Sweco, which is engineered, developed and operated by E.On, is one of the first ambient loop networks in Sweden at Lund City (see panel, 'Lund network').
The network temperature of the system can vary depending on season. During the heating season, the flow will be 25°C, while during cooling season the flow temperature is likely to be around 20°C, Amrania says. The system requires waste heat to be viable, which can come from plantrooms and office electrical equipment, for example.
A network of thermal storage cylinders will be located in various plantrooms around the site, while the network itself effectively acts as a thermal store. 'In future projects we will use the ground for thermal storage,' Amrania says, 'but in this instance it was not considered a cost-effective solution in terms of its high capex. With energy prices going up now, though, conditions for this option are becoming more favourable.'
Targets
In terms of energy efficiency, Amrania believes the fifth-generation network being installed at Bankside Yards will provide 'unprecedented' energy saving. 'With a third-generation network, you got network energy losses. And reduction of those losses relies essentially on the skill of the facility management [FM] team and how well equipped they are with knowledge to fine-tune the system and kit installed.
'With an ambient loop network, such as the one at Bankside Yards, you immediately save 30% to 40% on heat energy. Also, for example, because the network is operating at a low temperature, the coefficient of performance for ASHPs remains well above those of fourth-generation networks – around 30% for a typical heat pump. These networks could be 50% to 60% more energy efficient than third-generation systems.'
The phased construction of the site means the full fifth-generation system is due to be completed and commissioned around 2027. Initially, the Arbor building will be using ASHPs for its standalone heating and cooling requirements, and will eventually be connected to the energy network as the building of the site progresses.
Upgrading from a third-gen network
The ambient heat network in Lund, Sweden, connects multiple buildings at Medicon Village and is operated by energy company E.On. The first buildings at Medicon Village were connected to a city-wide district heating and cooling network. New mixed-use buildings, including homes, were built and now all of them are connected to the ambient heat network, which uses heat rejected from the cooling processes as the main source of heat, reflecting its conversion from a third-generation network.
So why transition from the original third-generation scheme straight to a fifth-generation network? Amrania says there are two key reasons. The first is that a fourth-generation network still has quite elevated temperatures compared with a fifth-generation ambient loop network. So any waste-heat capture in a fourth-generation network still has to be upgraded.
If you capture heat from a transformer, say, it will be giving you around 20°C, says Amrania, which would need to be raised to around 60°C. In an ambient loop, that waste heat goes into the network, and can be absorbed straightaway, he says. 'There's no need for additional energy to raise the temperature.'
There's also no extra embodied carbon within the kit needed to upgrade the energy. That's the key,' says Amrania.
'With the ambient loop it is quite easy to phase in connections,' says Amrania. 'ASHPs can be installed in the buildings individually, and once the network is up and running you can connect them.'
The project team has developed a soft landings strategy to ensure a smooth transition as each building comes online and the phased switch to the ambient network takes place.
'There may be a few teething issues initially, as people come to terms with this new system,' Amrania admits. 'It's a new system and a different approach, so there's a massive learning curve. But that has been built into our thinking and planned for, so that the FM team are well prepared to tackle these systems.'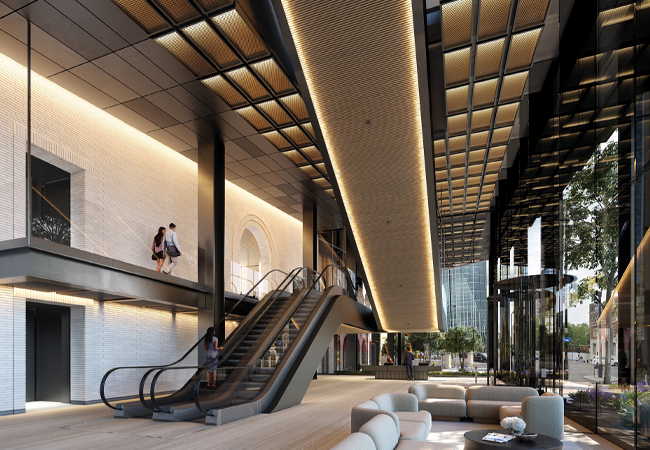 The reception lobby at the Arbor building
Ultimately, when operational, the fifth-generation network has been designed to use data to improve performance and optimise energy efficiency across the development. For example, the temperature maintenance system will eventually integrate elements such as weather predictions as well, so it can adjust heating or cooling for expected temperatures rather than reacting to current conditions.
'The whole idea behind the fifth-generation network concept is that they begin as a fifth-generation network, but eventually, within a few years, once you accumulate the data it turns into a "sixth-generation" network because it becomes data-driven,' Amrania says.
And the benefits? 'A significant increase in energy efficiency and energy saving, as well as helping to decarbonise energy and tackle the impact of the urban heat island effect.'
References:
1 Thorsen, J E, Lund, H, & Mathiesen, B V, Progression of District Heating – 1st to 4th generation (2018)