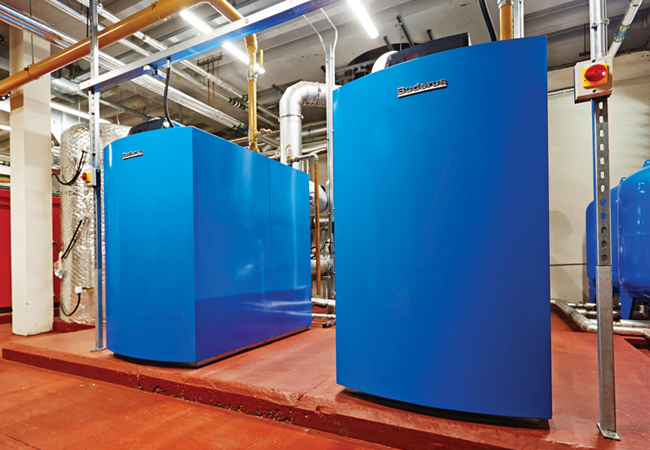 In the commercial heating and hot water sector, non-condensing boiler technology has historically represented a sizable portion of the market, with the sector dominated by cast-iron, floor-standing, atmospheric boilers for outputs less than 400kW. While the Energy-related Products (ErP) labelling initiative does not apply to boilers of more than 70kW in output, the directive does impact on the type of commercial boilers that need to be installed – particularly in replacement scenarios.
Under the ErP Directive, a new commercial boiler with an output of between 70kW and 400kW has to be of a condensing type. When you consider that the market for boilers of this size currently stands at around 3,000 units sold per year, the industry has a lot of work to do to make sure the transition from the more traditional cast-iron boilers to condensing models is a smooth one.
Early estimates suggest that around 70% of the 3,000 commercial boilers sold each year will be of the wall-hung variety, with systems comprising multiple smaller output boilers in a cascade arrangement becoming a more common choice. This will, of course, bring significant efficiency gains – not only because these boilers, by their nature, operate more efficiently, but also because a cascade has the ability to modulate to a small percentage of its total output. This results in year-round efficiency according to seasonal demand, and each of the boilers shares any wear and tear, to prolong life-span.
ErP Directive – out with the old, in with the new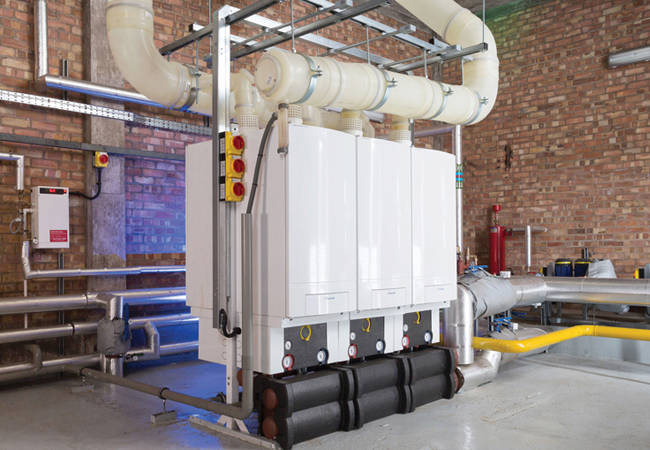 Systems comprising multiple boilers will become more common thanks to the ErP Directive
One challenge that will have to be overcome by the heating and hot water industry is the manner in which older systems need to be dealt with. It tends to be the case that older commercial heating and hot water systems are those that will be centred on a cast-iron atmospheric boiler. The new requirements effectively mean that boilers must be able to condense, which is relatively straightforward for the industry to grasp, but things start to be more complex when it comes to replacement installations.
The removal of the option for a cast-iron boiler to be replaced like for like means specifiers, contractors and consultants will have to consider how the existing system will need to be adapted to accommodate the incoming condensing boiler. Best practice is more important than ever, with some flues or flue routes simply not suitable, having originally been fitted to vent an atmospheric gas boiler. With few exceptions, the flue system for a condensing boiler will need to be completely sealed, which means many of the flue routes installed with much older boilers could need re-siting.
On the system side of things, one of the main objectives needs to be the protection of the new boiler from the potentially harmful deposits that may be in circulation within an older system. New condensing boilers will have smaller heat exchangers, with less water content and smaller waterways. While flushing, treating and refilling of the system will take place as a matter of course, old pipework is susceptible to regular build-up of particulate, which has the potential to hinder or harm boiler performance. Where it is not practical to replace the existing pipework, a plate heat exchanger should be considered to keep the primary boiler water separate from the secondary heating circuit and avoid cross contamination.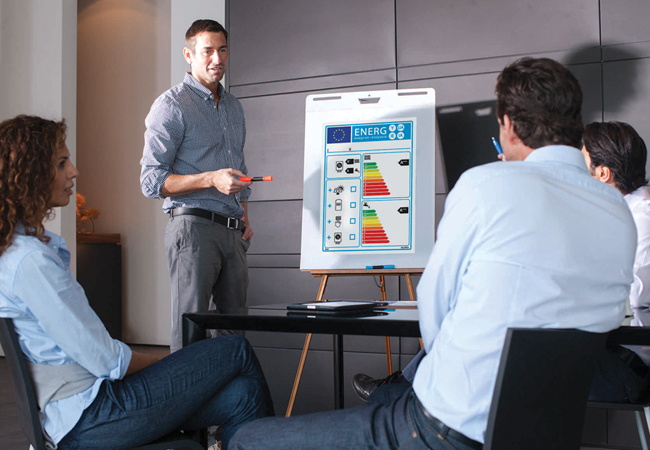 One of the other by-products of a condensing boiler is condensate, which needs to be managed and disposed of safely. Of equal importance, however, is the need for the condensate to be routed correctly to protect it from freezing. This is a particular consideration for commercial installations where boiler houses may be positioned below ground level, with no gravity run for the condensate dispersal. If the condensate discharge pipe freezes, the boiler will, generally, shut down, so some thought needs to be given – at the installation stage – to how this can be avoided, either by using a pump or draining it appropriately.
The need to follow condensing boiler best practice will grow in importance as the shift away from cast iron gathers pace. Ultimately, the ErP Directive is designed to drive improvements in the efficiency and performance of heating and hot water products. The directive presents an opportunity to review efficiency, implement controls and – with the Carbon Trust having estimated that a 35% CO2 reduction could be achieved by 2020 in non-domestic buildings – the ErP Directive could yet prove key to hitting this target.
Standardising the future
The ErP Directive presents a different way for consultants to deal with the sector's manufacturers. It represents a shift towards a standardisation that is likely to spread across not only the heating industry, but all buildings, from the design stage to the build. Consultants who may have been accustomed to manufacturers' data sheets at the quotation stage will now need to get used to standardised documents, which will be the same across all manufacturers, to help with and encourage comparison.
The requirement for manufacturers to provide easily accessible data on efficiency, output and cost – in a standardised and comparable way – is further evidenced by the ErP Directive and the growing presence of building information modelling (BIM) files. The directive's impact on commercial boiler replacements, therefore, extends well beyond the installation, as manufacturers increasingly need to provide standardised, transparent data to consultants and designers.
Pete Mills is the commercial technical operations manager at Bosch Commercial and Industrial Heating