Baxi's managing director Karen Boswell (right) and H2GO's CEO Enass Abo- Hamed (left) at a presentation of the heat-in-a-box system, held at Baxi's Dartford training centre
The company behind an innovative new method for storing hydrogen claims its technology has the potential to make a significant contribution to the decarbonisation of heating. 
H2GO have teamed up with Baxi to demonstrate its heat-in-a-box system, which is a containerised plug-and-play concept featuring an electrolyser, hydrogen storage cylinder and a Baxi hydrogen boiler.
The system uses renewables such as solar photovoltaics or wind turbines to power the electrolyser, which splits water to produce carbon-neutral, green hydrogen. This is stored in H2GO's storage cylinder (which the company calls a reactor), until it is used to generate heat using a 45kW hydrogen boiler. H2GO's HyAl energy management software is used to optimise the sizing and operation of the components.
A two-year trial, supported by a £3.1m grant from BEIS, aims to demonstrate how the system could be used to pre-heat network gas, an energy-intensive process necessary when gas is distributed. (Before network gas can be transported to homes, the pressure must be reduced. This process can cause gas to freeze, so pre-heating takes place to allow the gas to flow.)
The system is being trialled at Northern Gas Networks' test facility in Low Thornley, near Gateshead, in the Smart Hydrogen-Gas Network (SHyGaN) project. 
Baxi and H2GO say a successful trial will also prove the case for heating buildings using this green hydrogen. As the heat-in-a-box system can be powered by renewable solar power, as well as grid electricity, it can be operated without grid gas, which means carbon-neutral hydrogen can be used to heat buildings without the need to wait for clean hydrogen to be distributed via the grid. 
Unlike a conventional hydrogen storage cylinder, H2GO's system does not use a compressor. Instead, the hydrogen chemically bonds to a material packed into the reactor. Luke Sperrin, co-founder and chief technology officer of H2GO, says this method of storage is 'safe and robust'. 
He says hydrogen cannot leak because of the way it is bonded to the material in the reactor. The hydrogen is stored at far less pressure than in a conventional compressed cylinder – less than 10 bar compared to 700 bar for the equivalent amount of hydrogen in a cylinder.

Solving the storage pressure and volume problem is a world first and hopefully we can now all seriously talk about hydrogen…
In a typical module, 20,000L of hydrogen is stored in a 30L space. Sperrin claims that H2GO offers three to six times more density of hydrogen compared with a compressed gas cylinder.
'For those commercial environments where you don't have much space, the technology comes into its own,' says Sperrin.
The higher pressure in compressed cylinders means there is a higher fire risk in plant rooms, says Sperrin. Using a compressed cylinder to store hydrogen is also only 80% efficient, says Sperrin. 'You lose a lot of the energy stored in the cyclinder,' he says. Removing the need for a compressor halves the cost of storing hydrogen, adds Sperrin.
The technology around this form of hydrogen storage has been around for 20 years, but Sperrin says H2GO has developed it so the hydrogen is removed from the storage material at a rate necessary to deliver heat on demand. 
'Through this technology we have enabled the deployment of the material storage of hydrogen,' he says. 
To remove the hydrogen, the material in the reactor needs to be heated to 25°C to 60°C. Integrating the Baxi hydrogen boiler into the system to provide this low-grade heat makes the reactor more efficient, says Sperrin. 
The components of the system are installed in shipping containers, which means the system can be sited wherever it is needed, says Sperrin. 'We don't yet have that national infrastructure of pipelines, so we need to figure out ways of storing hydrogen. That is the idea of decentralised storage. It can be installed next to a school, hospital or industrial centre, for example.' Depending on the amount of heat required, Sperrin says extra reactors and a larger boiler capacity can be added to the system. 
The H2GO storage system uses HyAl to ensure the system is running as efficiently as possible and also to help model the optimal system for the development's heating requirements. Sperrin says the software will create a digital twin of the hydrogen hub and model the hydrogen generation, the pipeline storage, and the demand for commercial and industrial heat.
The software will then calculate the size of the electrolyser, the amount of storage required, the size of the hydrogen boiler and how you can ensure there is always hydrogen to meet the heat demand. This gives would-be investors an accurate model showing capital expenditure and the amount of carbon saved, says Sperrin.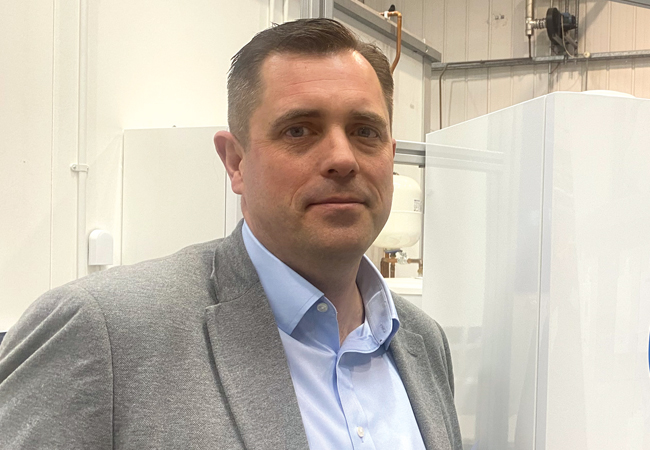 Alex Hill
The AI software also enables smart operation of the system, switching to renewable energy when it is most cost effective to do so.
The concept was received enthusiastically by one consulting engineer at an event marking the partnership between Baxi and H2GO. Whitecode Consulting's managing director, Alex Hill, was impressed by the energy density of the system and could envisage it being used in commercial projects where there was not the electrical infrastructure or space to include large heat pump systems.
'The Baxi/H2GO trial marks a landmark in the rollout of Hydrogen,' he says. 'Solving the storage pressure and volume problem is a world first and hopefully we can now all seriously talk about hydrogen in our developments and homes.' 
How locally produced hydrogen could heat a leisure centre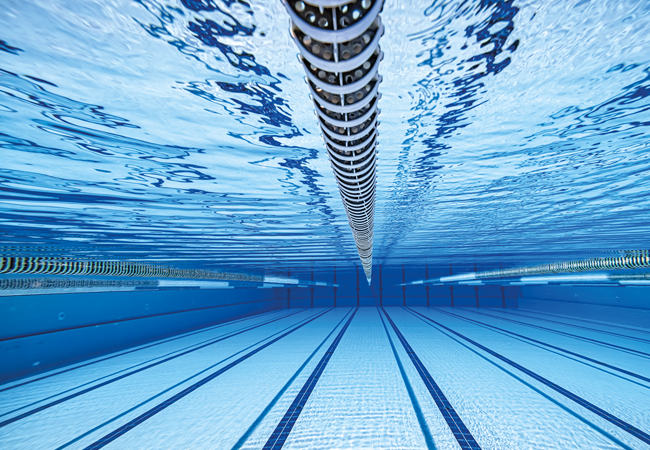 Baxi says that the heat-in-a-box concept could be used to heat a 25m swimming pool, provide underfloor heating and supply hot water for showers. 
The company says a 1 MW boiler could fit in a 20ft shipping container and that would couple well with H2GO's commercial 200kg hydrogen storage system in another. Baxi said it would need 2MW of electrolyser capacity and would expect the end-to-end system to fit in three 20ft containers.
 With the current concept, Baxi says it is confident that it could cascade more than one boiler.