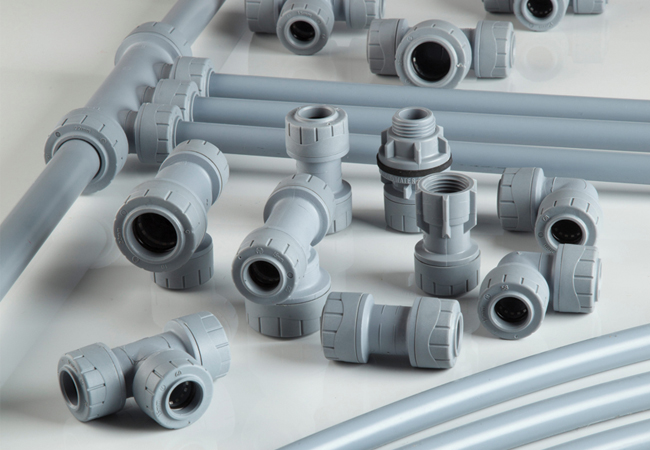 Good plumbing design and installation is essential to ensure public safety, particularly when it relates to hot water. The British Plastics Federation (BPF) Pipes Group has published new guidance on discharge from unvented hot-water storage cylinders into plastic sanitary pipework systems (soil stacks).
To comply with the Building Regulations for England and Wales, the Water Supply (Water Fittings) Regulations and the Scottish Water Byelaws, a hot-water system with a storage vessel must incorporate precautions to: (a) prevent the temperature of the water stored in the vessel exceeding 100°C; and (b) ensure that any discharge from safety devices is conveyed safely to where it is visible, but will not cause a danger to people.
To prevent the temperature of stored water exceeding 100°C and escaping dangerously as steam, a temperature – or temperature and pressure – relief valve is installed to discharge water from the storage vessel in the event that the hot-water system overheats.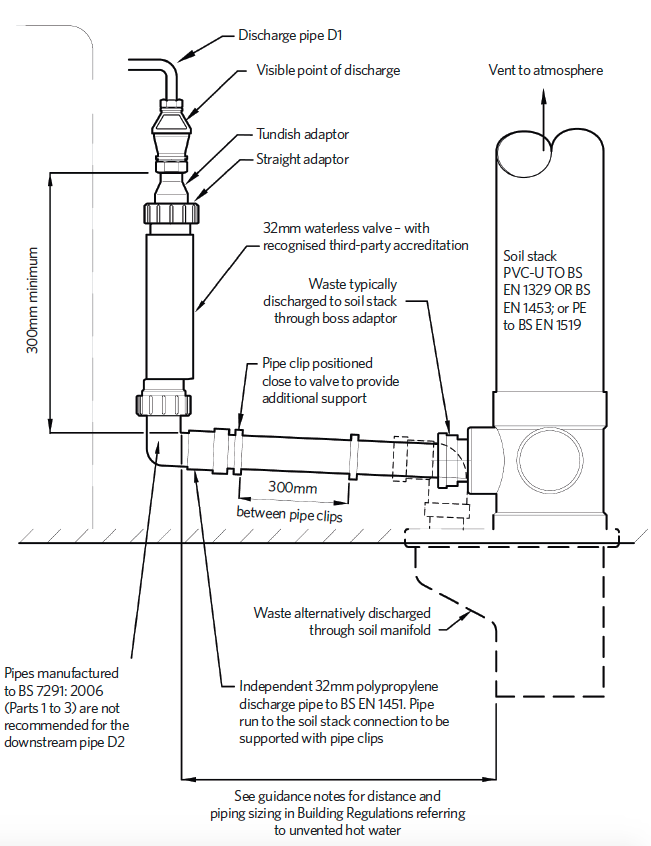 Configuration of safety relief discharge pipework for discharge of hot water from a valve through a metal discharge pipe (D1) – with diameter up to DN22 – into plastic sanitary pipework
As set out in BS EN 1490: 2000 Building valves; Combined temperature and pressure-relief valves; Tests and requirements, the nominal fixed temperature range at which relief valves are set to operate is 90-95°C. Under these conditions, safety relief discharge pipework from unvented hot-water storage systems up to 410l (500l nominal) capacity can be drained to plastic sanitary pipework.
Practical guidance
The guidance includes advice on selecting the correct plastic pipes for use as discharge pipes, and the essentials for good plumbing design. It also highlights practical aspects for installers, such as properly supporting pipework and the importance of the soil stack remaining vented to atmosphere. Specific points of good practice include:
Using tested and approved, self-sealing, waterless valves for connecting to internal sanitary pipework when it is impractical to route the discharge pipework directly to an external point in a visible location

Self-sealing, waterless valves should be used because they prevent foul sewer gases from entering the building. Water traps, which dry out, are not suitable

A tundish adaptor ensures the minimum 300mm below the tundish – before elbows or bends in the pipework recommended in Approved Document G – is achieved 

The waterless valve needs to be installed vertically, adjacent to the storage cylinder, and be visible and accessible 

A suitable plastic pipe – such as polypropylene, complying with BS EN 1451-1:2000 – supported at maximum 300mm intervals, may be used for downstream pipe D2 

Pipes manufactured to BS 7291: 2006 (Parts 1 to 3) are not to be used for the downstream pipe D2.
Additional installation considerations include:
Given the high temperatures reached during valve operation, the connection of pipework to the soil stack should be achieved using an appropriately sized boss-pipe fitting, fixed in place with a bracket. This is preferable to strap, clip or patch bosses. An acceptable alternative would be to connect to a soil pipe manifold.

Where a waterless valve and plastic pipework (pipe D2) are used, the connecting pipework should not be connected to a stack unless the stack is capable of withstanding temperatures of the water discharged.

The soil stack should be vented to the atmosphere and constructed from a suitable plastic pipe – such as PVC-U to BS EN 1329-1 or PE to BS EN 1519-1. PVC-U pipes to BS EN 1453-1 – with two solid PVC layers or two solid PVC layers with a non-foamed PVC intermediate layer – may also be used.

Safety devices on the unvented hot water storage systems must be annually safety checked to prevent any risk of failure.
Access the guidance at the BPF Pipes Group website.
Steve Skeldon is chair of the BPF Pipes Group's working group on above-ground gravity drainage