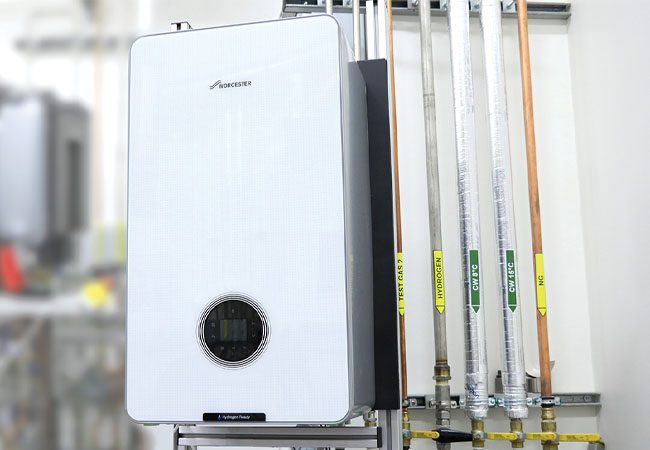 With heating accounting for around half of UK energy consumption and around a third of greenhouse gas (GHG) emissions, removing carbon from heating and hot-water supply has become a key issue if the UK is to meet its 2050 zero carbon targets.
One solution that's gaining traction is replacing natural gas with hydrogen, converting the UK's existing gas infrastructure to be used with this low carbon alternative. Several trials are under way for domestic and commercial hydrogen solutions that could use existing pipework, some of which have been covered previously in CIBSE Journal (see 'In the pipeline', October 2019).
As the UK government considers its decarbonisation plans for heat and hot-water generation, Worcester Bosch has announced the country's first boiler system capable of running on 100% hydrogen, while Baxi Heating has said it will launch live trials of hydrogen boilers in the UK this year.
As well as burning hydrogen – the only by product of which is water – the prototypes run on natural gas. This means they could be deployed now and converted to a hydrogen gas supply if/when this becomes a reality, with no need for an entirely new heating system to be installed.
Commerical rollout
While demonstrating their capability for developing the technology, Worcester Bosch and Baxi Heating concede that a full commercial rollout of 'hydrogen-ready' boilers is still a few years away.
Martyn Bridges, technical director of Worcester Bosch Group, explains that it is supplying two prototype boilers for a showcase event by the Department for Business, Energy and Industrial Strategy (BEIS) in the first quarter of this year. More units will then be produced for a more extensive trial towards the end of 2020.
'To fully commercialise this product, however, we're awaiting a government decision that it is going to press the green button for hydrogen,' Bridges says. 'Once we have that, we could have them commercially available in the volumes we sell now by 2025.'
Jeff House, head of external affairs at Baxi Heating, says his company's hydrogen boilers (like Worcester Bosch's) will be used as part of the Hy4Heat trial programme over the coming months, and further trials are scheduled. 'Once there's a bit of certainty that it is a firm government objective, we can prepare for commercial production,' House says.
Both firms believe a commitment from government to hydrogen as part of a low carbon energy strategy – and to a date from which only 'hydrogen-ready' boilers can be sold – would be the green light for the UK industry and supply chain to ramp up investment in the technology.
Worcester Bosch's hydrogen boiler
Flashback prevention – Hydrogen has a higher flame speed than natural gas. One of the key technical advances in hydrogen boilers are burners, which can hold a stable hydrogen flame against its high speed.
Gas-air ratio control – Hydrogen has very similar energy-flow properties to natural gas, so the new components will be very similar.
Condensate – Hydrogen produces significantly more condensate than natural gas. This must be considered in heat-cell design.
Materials compatibility – At the low pressures used in small boilers, most materials currently used for natural gas will be suitable for hydrogen.
Flame detection – Hydrogen flames are invisible and create no electrical signal, but can be detected by its ultraviolet (UV) emissions.
Conversion – To minimise the impact of conversion, boilers will be developed to be quickly and easily reconfigured for hydrogen on conversion day.
Performance – The output, effciency and emissions of hydrogen appliances will be similar to those of natural gas boilers. The products of combustion are very clean.
Gas-tightness – Hydrogen has a small molecule size. However, leakage rates are similar to natural gas and there is unlikely to be a need for significant re-engineering.
The technology
So how different is the technology on a hydrogen-ready boiler, and what does this mean for installation and conversion of the equipment?
A conventional boiler for use on natural gas only can run perfectly well with up to 20% hydrogen in the mix, says Bridges, but some changes in the technology are needed for more than 20% hydrogen. 'The hydraulics, the water system, the pump, the heat exchangers are the same; it's primarily the ignition system and combustion of the hydrogen flame where changes are required,' adds Bridges.
'You can't see the flame. There's no carbon in it either and the current way we sense that it is alight is with a flame-rectification circuit. A small electrical charge is sent between two probes immersed within the flame. If there's no carbon present, there will be no electron flow through it. So we have to use a UV cell to detect that the flame is alight.'
Other characteristics of hydrogen gas require some alterations, too. Hydrogen has a higher flame speed than natural gas, so a different burner is required. One of the key technical advances in hydrogen boilers are burners that can hold a stable hydrogen flame against its high speed.
Converting hydrogen-ready boilers from natural gas to hydrogen is designed to be simple. 'When hydrogen is turned on, only two or three small component changes will be necessary to make it suitable for 100% hydrogen,' says Bridges. 'We anticipate it will take engineers around an hour to make the conversion.'
Similarly, Baxi's House says he expects that the conversion process will be very similar to a typical, day-to-day replacement of a component in a conventional boiler. 'We can send out an engineer with a conversion pack to convert it quickly,' he adds, and no pipework or other heating system changes will be necessary. 'It' a low-disruption intervention.'
Initially, hydrogen-ready boilers may cost £50-£100 more than conventional natural gas boilers, but Bridges sees this as a relatively small premium for future-proofing a unit that costs several thousand pounds to install. If mandated, however, he doesn't anticipate a consumer rush to buy into the new technology when the boilers start appearing, as they will effectively become the default option when any boiler is normally replaced.
'We can reuse 135,000 miles of gas pipework'
Replacing natural gas with hydrogen will enable the UK to use existing infrastructure, says Martyn Bridges
BEIS is expected to publish a technology roadmap this summer, but it is currently considering policy and appraising views. We hope it will mandate a 'hydrogen ready' policy for future boiler sales from, say, 2025. This would offer future-proofing but, at the same time, the technology will be compatible with the existing gas supply, even if hydrogen is delayed or doesn't happen.
However, even if the government mandates 'hydrogen-ready only' boilers, converting the UK gas network from natural gas to fully hydrogen is unlikely to happen until the mid-2030s at the earliest – although injecting up to 20% hydrogen blend into the existing gas network before that, to lower carbon, is possible as an intermediate measure that will work with existing conventional natural gas boilers.
Nonetheless, it as an opportunity to use existing infrastructure as part of the UK's decarbonisation strategy. While a great deal of work will still be necessary for the introduction of hydrogen, a lot of the infrastructure is already in place. The UK has an estimated 135,000 miles of gas pipework under ground, much of which is being upgraded to polythene pipes. When completed, it will be a perfect medium for transporting hydrogen. We can use this network infrastructure – which has a public asset value of £40bn – and repurpose it for hydrogen relatively easily.
Also, with around 1.7 million boilers sold in the UK each year, if 'hydrogen-ready only' boilers were mandated from 2025, the natural replacement of boilers over the expected 10-year implementation period before the switchover takes place will result in the vast majority of homes having hydrogen-ready boilers in place. It will just require a simple conversion process by an engineer.
Why hydrogen rather than heat pumps? There are a number of benefits of hydrogen over heat pumps, particularly in existing homes. The main one is that there is no disruption – you won't have to change the radiators or the pipework in an existing heating system. Also, there is the issue of space. There are currently around 17 million homes in the UK with a combi-boiler installed, and which don't have a hot-water storage cylinder installed. With a heat pump, you have to have one, and for many homes – particularly small properties, such as apartments and terraced houses – it will be a challenge to find the space.
There is also the issue of the extra demand that heat pumps in every premises would make on the grid. It has been estimated that to make the country's heating and hot water carbon free with hydrogen would cost around £140bn, compared with around £400bn for electricity.
These are tough decisions, but hydrogen appears to be the most cost-effective and least disruptive option – and we have the skills to implement it, with only a short training course needed for gas engineers to transition to hydrogen.
We are hoping that the government will make a decision on hydrogen – one way or the other – and inform the industry towards the end of the year. As soon as it presses the green button, it would allow us to invest in the necessary upscaling of our production facilities – but we won't do it speculatively. We could deliver at volume in 2025 and would like 'hydrogen-ready' to be available across the range.
Martyn Bridges

is technical director of Worcester Bosch Group