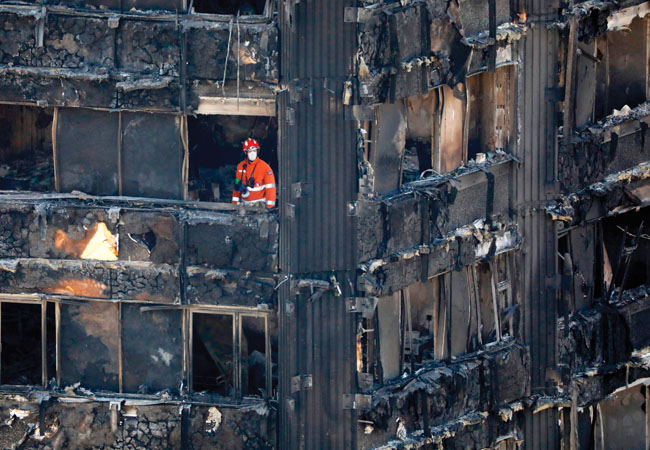 More fire prevention bodies have joined the call for a review of Building Regulations governing fire. Following the Grenfell Tower disaster, The Fire Protection Association (FPA) said government must introduce regular reviews of Building Regulation Guide B, while Iain Cox, chairman of the Business Sprinkler Alliance, said: 'The stable door legislative process which has relied on the influence of fatal fires, needs to be reviewed.'
The type of combustible rainscreen cladding used in the refurbishment of Grenfell Tower – and widely blamed for spreading the fire that, at the latest count, is believed to have cost at least 80 people their lives – should not be used in buildings higher than 18m, according to the government.
The FPA said it 'was greatly concerned' about the increasing combustible content of buildings, and that onsite building quality and checking processes were not good enough to ensure combustible materials remain separate from a fire event.
The Building Control Alliance released a statement saying that 'current legislation guidance and British Standards… based upon high levels of compartmentation, can be confusing and difficult to interpret for those without a detailed knowledge of building construction and fire safety.'
Martin Kealy, managing director of MKA Fire, and chair of CIBSE's forthcoming guide on fire safety engineering, said he was concerned that combustible components could be shown to comply with small-scale fire tests if they are assessed as a desktop study from a suitably qualified fire specialist.
The All-Party Parliamentary Group on Fire Safety and Rescue accused successive housing ministers of 'sitting on evidence' since 2013 that could have helped avert the disaster. The group's secretary, Ronnie King, said a review into the 2009 Lakanal House fire – which killed six people – produced recommendations that were ignored. 'I wouldn't have expected fire to spread like that [at Grenfell Tower] if there had been automatic fire sprinklers installed,' said King.
In October last year, then housing minister Gavin Barwell told MPs that the government had 'publicly committed' to reviewing fire regulations after the Lakanal House fire.
Cladding from 137 high rise buildings in 41 local authorities in England have now failed fire safety tests, following the blaze. Over 600 towers are being tested to assess whether they were clad in the same combustible material used at Grenfell.
There will now be a criminal investigation and public inquiry to establish whether the Grenfell Tower refurbishment project breached Part B of the Building Regulations, and whether the regulations were properly drafted and correctly enforced.
Prime minister Theresa May also announced this week that there should be a major national investigation into the use of cladding on high-rise towers. Communities Secretary Sajid Javid announced that an independent expert advisory panel would be established to advise on immediate measures that can be put in place to make buildings safe following the Grenfell Tower fire.
The panel will be made up of a range of building and fire safety experts, and will be chaired by Sir Ken Knight, former London fire commissioner and former government chief fire and rescue adviser. It will include, Dr Peter Bonfield, chief executive of the BRE, Roy Wilsher, chair of the National Fire Chiefs Council and Amanda Clack, president of RICS.
A number of fire experts initially speculated that the fire had spread so quickly because the rainscreen cladding had a polyethylene (PE) core, which – when heated – produces a gas that quickly ignites. The police later said both the cladding and insulation behind it had failed safety tests.
The planning application for the refurbishment of Grenfell Tower approved the use of aluminium composite Reynobond cladding, and – according to news sources – the PE version of the panel was specified.
Experts speculated that the mineral-fibre block firestops failed because, in the event of a blaze, they are designed to expand outwards to fill the cladding ventilation void. But, if the cladding was the PE version – and, so, combustible – it would have failed, and the horizontal stops would have had nothing to expand against. Ribs in the concrete columns may also have contributed to the fire spread.
More than 70 health and safety organisations have written an open letter to Theresa May calling on the government immediately to complete its review of Part B of the Building Regulations.
The letter urges the government immediately to scrap its approach to health and safety deregulation. At the moment, government policy is only to allow a new regulation if three are scrapped first.
Retired Court of Appeal judge Sir Martin Moore-Bick will lead the public inquiry. He said that a interim report could be produced within a year, after saying that producing a report in two-to-three months was unrealistic.
Sir Martin said the inquiry would answer basic factual questions such as: how did the fire start? How did it spread? And, how was it able to engulf the building with such speed?