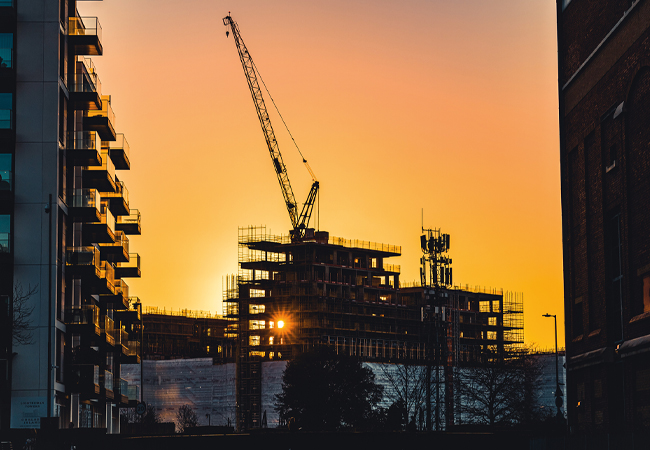 Residential buildings over 30 metres high should have multiple staircases to improve the safety of residents, according to government proposals.
In a consultation published just before Christmas, the government recommends that a second staircase should be  provided for residential buildings taller than 30m, equivalent to 10 storeys.
The government also recommends sprinklers in new Care Homes, regardless of building height.
It proposes the removal of the classification for construction products (BS476 series). The changes would require all relevant construction products to be tested to the British Standard version of the European Standard.
In 2022, six in every 10 planning applications for high-rise buildings were flagged by the Building Safety Regulator over fire-safety concerns. The report by Construction News found that the majority of these issues arose in single staircase designs.
The National Fire Chiefs Council (NFCC) called for an even lower maximum height, urging that two staircases must be included in any new residential building over 18m high.
In a new policy position statement published in December, the NFCC says that 18m and seven storeys should become the mandatory threshold for more than one staircase. This threshold should also be kept under review, it suggested.
The NFCC noted that England is one of the few countries in Europe, Australasia or North America that has no height limit on single-staircase residential buildings. The new provision would be the first time England has seen a maximum height set.
Multiple protected staircases make tall buildings safer by creating more resilience to support evacuation and firefighting operations, offering alternative means of escape in the event that one route was filled with smoke.
Without a second staircase, evacuation strategies are based on the 'stay put' policy, which works in incidents where fires are contained to the flat they begin in. This also relies on proper building and maintenance of high-rise residences.
A need for unambiguous guidance, says the NFCC, is 'particularly important' given the clear problem with culture and competency identified across the design and construction industry since the Grenfell Tower fire tragedy.
The NFCC also says it is 'disappointed' that there has been insufficient progress with the full technical review of the Approved Document B guidance five years on from the Grenfell disaster.
Last year, developer Ballymore delayed plans for a new 51-storey residential block after the London Fire Brigade expressed concerns about the building's single fire-escape staircase. Planning permission was eventually approved in March after a second staircase was added to the design.