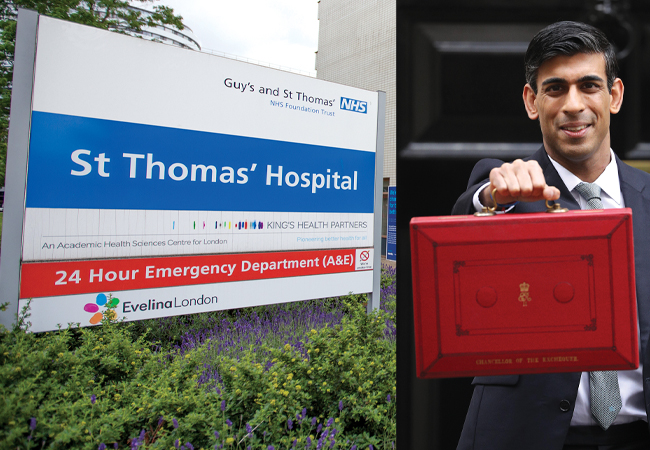 Credit: Getty images – Dan Kitwood
Chancellor Rishi Sunak recognised the importance of accelerating the uptake of low carbon heating systems, and the need for further investment in heat networks in his first Budget last month.
Sunak's headline announcement was a pledge to spend £600m on infrastructure investment.
He is planning to triple the average net investment made over the last 40 years into rail and road, affordable housing, broadband and research
Plans were announced to freeze the Climate Change Levy (CCL) on electricity, but raise it on gas from April 2022. He also revealing a Green Gas Levy to encourage the development of more 'environmentally friendly ways of heating homes and other buildings'.
Sunak also extended the Domestic Renewable Heat Incentive (RHI) until 31 March 2022 and will introduce 'flexible tariff guarantees' to the Non-Domestic RHI in March next year. He also unveiled plans for a £100m Low Carbon Heat Support Scheme, to bolster the market for heat pumps and biomass boilers.
The Heat Networks Investment Project was extended to March 2022, and given an extra £270m so that new and existing heat networks could adopt low carbon heat sources.
Sunak said this package of environmental measures would achieve the government's promise to 'deliver green growth and protect the environment'.
Some in the industry said the Chancellor should have gone further.
ECA director of CSR Paul Reeve said: 'The measures proposed for carbon emission reductions simply do not go far enough or move fast enough. For instance, there is no strong commitment to energy efficiency retrofitting and the proposed £100 million heat pumps grant scheme from 2022 is nowhere close to the level of funding required to roll this technology out across the country."
Mark Wilkins, head of training and external affairs at Vaillant Group UK, said: 'With an estimated four million non-condensing boilers still in use across the UK, further incentives are needed to encourage the widespread adoption of renewable heating technologies – for example, through a scrappage scheme.'
The Budget at a glance
£800m for two or more carbon capture and storage

 

'clusters' by 2030, creating 6,000 high-skilled jobs

The affordable homes programme to receive £12bn,

with allocations of nearly £1.1bn from the housing infrastructure fund to build almost 70,000 homes; £650m will be used to help homeless people find permanent accommodation

The NHS will receive an extra £6bn over the course

of parliament, to pay for 50,000 more nurses and 40 new hospitals.

The Chancellor told the House of Commons: 'There can be no lasting prosperity for our people if we do not protect our planet.' He pledged to reveal the Treasury's Net Zero Review shortly, saying this would 'set out the government's strategic choices ahead of COP26 later this year'.
Also outlined in the Budget was £800m for further research into carbon capture and storage (CCS) through a new CCS Infrastructure Fund, which the Chancellor said would create 6,000 new low carbon jobs.
A number of critical announcements required to drive down emissions in line with the government's commitment to become a net-zero economy by 2050 are still pending, including its pivotal Infrastructure Strategy and long-awaited announcements on energy efficiency improvements – including how the government intends to spend its manifesto commitment of £9.2bn in this area.