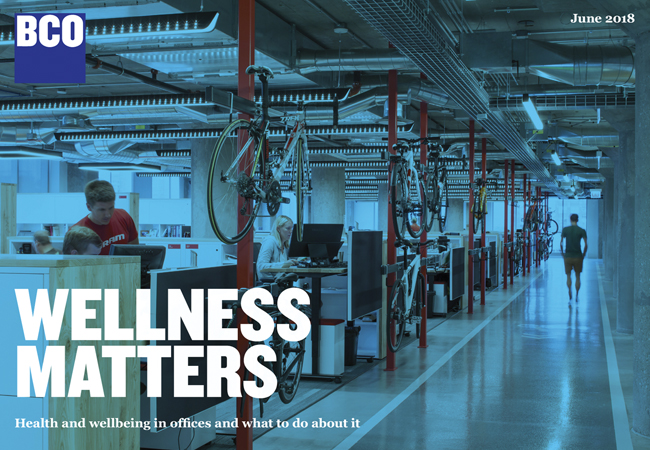 Health and wellbeing in the built environment should be focused on performance outcomes and not just certification systems, according to a new British Council for Offices (BCO) report. Wellness Matters states that an outcomes-focused approach would allow project teams to develop innovative solutions.
The BCO has compiled 55 wellness outcomes based on a review of frameworks such as Breeam, Ska and Leed, and on outcomes within the Well Building Standard and Fitwel Rating Systems. Other references included the NHS and Public Health England.
Sixteen of the outcomes focus on reducing exposure to adverse environmental factors, such as air pollution, noise, poor lighting and volatile organic compounds (VOCs). Others are based on spatial issues, such as access to healthy food outlets, hospitals and exercise areas, and storage areas within offices.
A roadmap is included to help stakeholders identify which factors are of prime importance to their organisation, and how health and wellbeing targets can be applied during the life-cycle of the building.
The BCO study analysed the evidence supporting wellbeing measures, and its report warned that claims made around wellbeing were often exaggerated or could not be substantiated. 'Trust in the new breed of health and wellbeing consultants had to be founded upon reliance on an evidence base presenting itself as robust, credible and relevant,' it said.
The study gives guidance on how evidence should be assessed for relevance and rigour. It states that a new generation of research is starting to improve the quality of the health and wellbeing evidence base, and that wellness strategies must be underpinned by data collected before, during and after fitout.
'Without effective baseline data, it is impossible to quantify benefits or demonstrate the value of wellness strategies,' the report said.
'Post-occupancy evaluation is an essential ongoing activity and valuable source of data.'