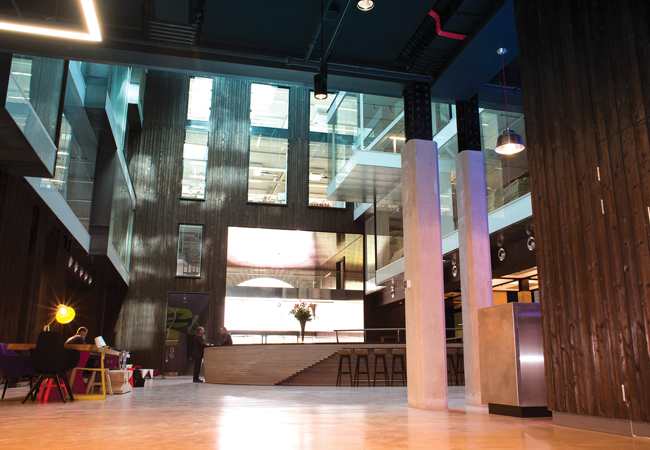 Of the few power over ethernet (PoE) lighting systems currently available on the UK market, most are an extension of a building's IT system. In this set-up – what we term 'conventional' PoE – each luminaire becomes a point on the network with its own internet protocol (IP) address, and Cat 5 or Cat 6 network cables are used to carry both data and power loads up to around 60W. Another approach is to use PoE for what its name suggests – power. The data is communicated separately using digital addressable lighting interface (Dali) standard network cabling.
Many of the main benefits of PoE are shared in both approaches. Installation costs can be reduced dramatically because of a reduction in the amount of expensive copper wiring required, and because the 'plug and play' nature of data cabling requires minimal input from specialist electrical contractors.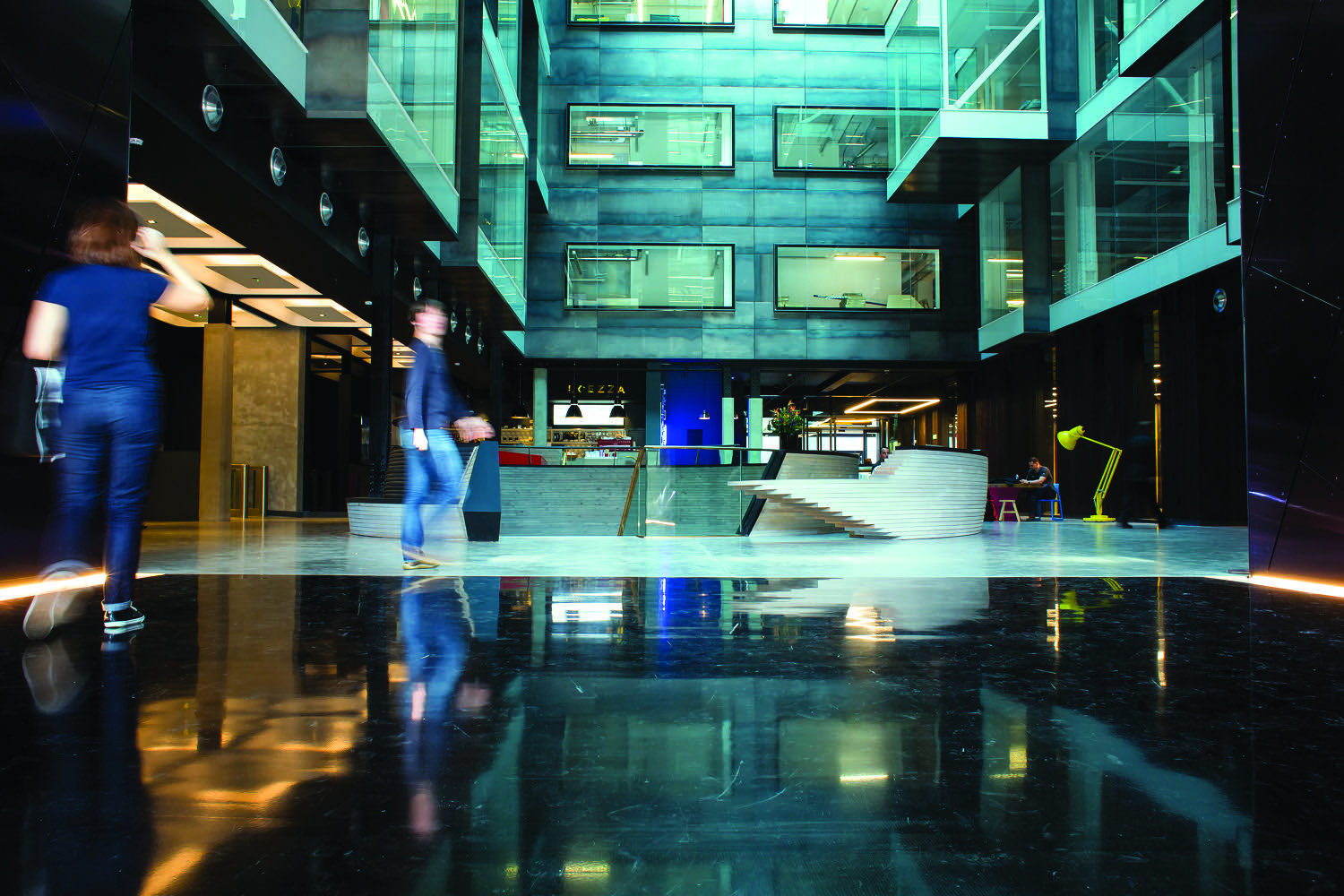 It can save space too, with little need for large distribution boards within confined riser cupboards and less vertical infrastructure within the ceiling void, as the majority of traditional final circuit and associated containment are not required. Figures derived from practical installations suggest capital cost savings of up to 30% are possible in a typical commercial building, compared to mains wired systems.
Energy savings are largely derived from the intelligent power distribution. Power is only applied to the cable once the device has confirmed its requirements, ensuring the correct amount is supplied. This significantly reduces power loss in cables and heat gain in containment, requiring less cooling.
Such PoE systems have delivered savings of up to 11% compared to a 240V LED system, and 46% compared to a T5 fluorescent scheme where it has been installed. It uses LED drivers that deliver losses of 3%, compared to 10-13% for 240V LED drivers.
Both types of PoE lighting control systems can be operated, maintained and managed by online software products, offering easy-to-use, wireless system management. So why the two approaches when they both deliver significant cost, space and energy savings? The 'starting point' determines the principle difference.
For some, this is the IT infrastructure – which is why conventional PoE could work well; it integrates lighting into the communication domain. For others, the starting point is the environment of the building – where lighting plays a big part – and, while seeking to harness the benefits of PoE, they are looking to keep lighting in the mechanical and electrical (M&E) domain.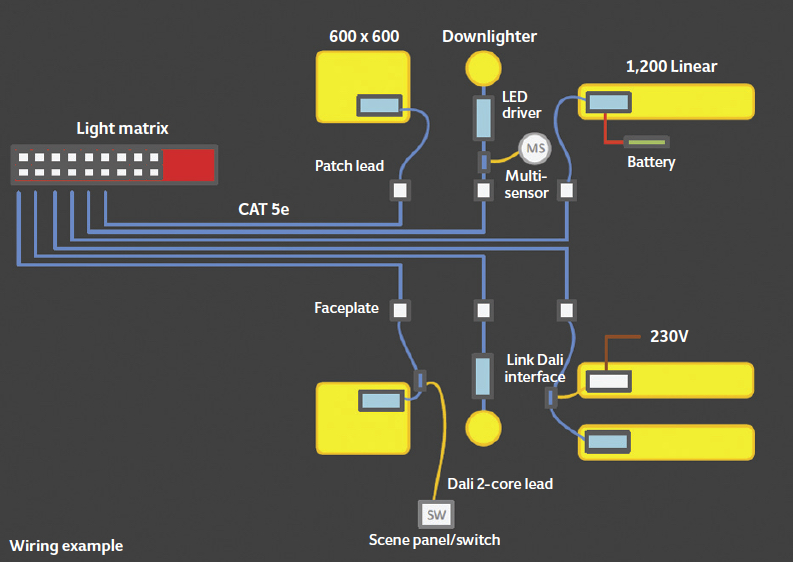 In conventional PoE, each luminaire has its own IP address. While the rich networking potential of this type of system is undoubtedly exciting as we move further into a world managed by the Internet of Things (IoT), there are potential drawbacks. For a large building, having thousands of extra IP addresses means a greater security risk. The system architecture can also become unwieldy and difficult to control and maintain. For certain businesses, the future potential outweighs any security fears, particularly if a high level of security and a skilled IT team are to hand. For others, this scenario might be a little overwhelming.
One day, the IoT will be such a commonplace concept and so well developed, that fears over security will be much less prevalent. Until then, some may prefer to take a lower-risk, hybrid approach.
Combining PoE with established Dali standards means data and power are carried separately – via Dali cabling and Cat 5 or 6 cabling respectively – so luminaires do not have IP addresses. This means systems that already use Dali standards can be adapted and transformed to reap the benefits of PoE, using much of the existing equipment. In new installations, this approach offers a bridge between the security of Dali and the potential of the IoT, with the option to evolve as technology changes and becomes more resilient, and as the needs of users change.
This type of system still offers full control of individual luminaires, because Dali controllers support broadcast, group and individual addressing, providing full control of ballasts, LED drivers, emergency inverters and sensors. It can also be integrated with numerous other building control systems. But it does decouple the lighting system from the IT infrastructure, which could be a positive or negative, depending on the driving factor behind the specification, and the requirements and skills of the building management team.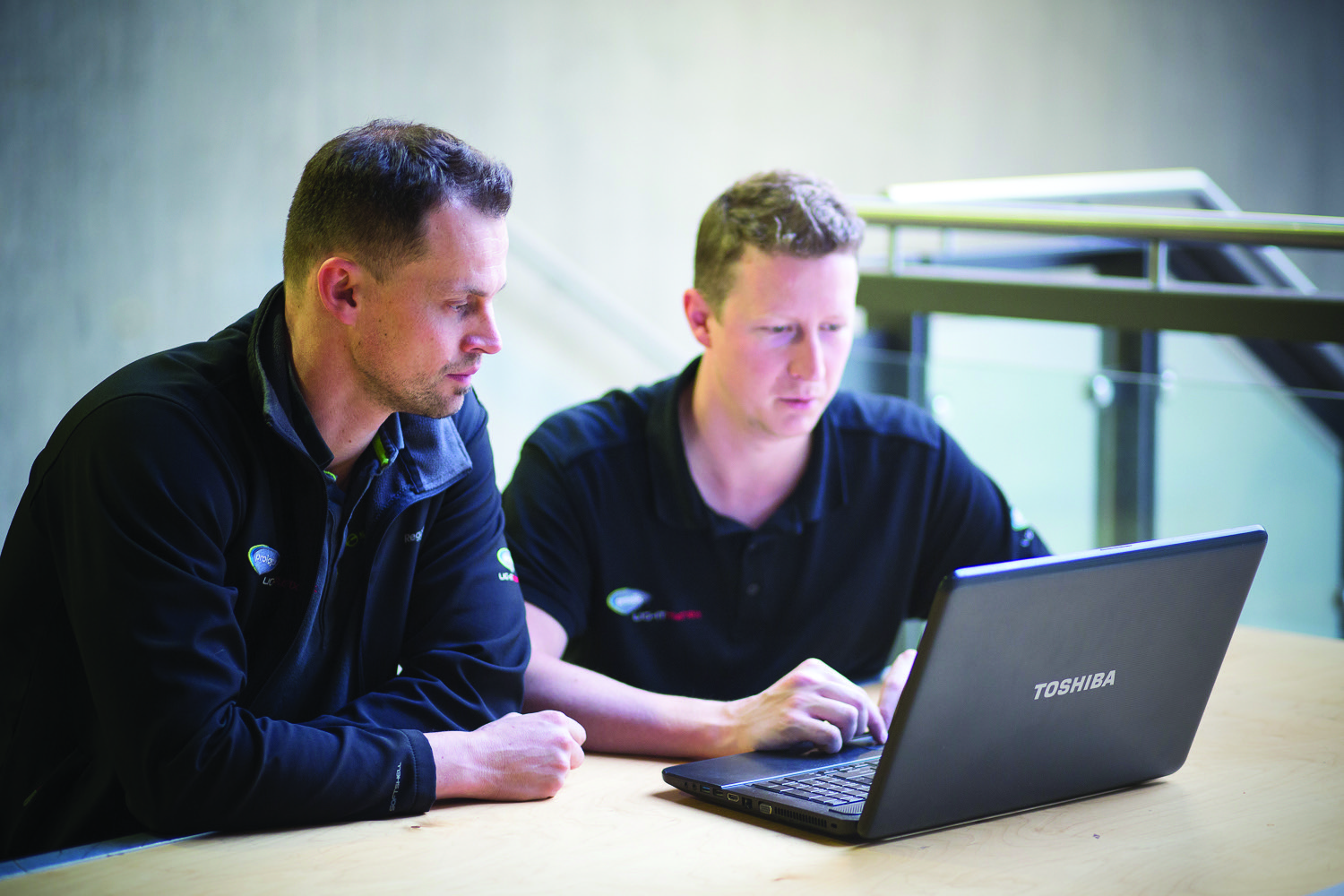 Another major factor to consider is where the management of lighting sits in the corporate structure. Typically, it would come under M&E consultants at the specification stage, then under the facilities management (FM) team to manage, maintain and develop. With conventional PoE, it may be that this responsibility is devolved to the IT team, which is likely to have greater relevant expertise. With the alternative approach to PoE, it could remain predominantly with the FM team because it is part of the Dali network.
PoE is an important development in lighting controls, and one that will have a huge impact on our sector, the energy output of buildings and the sophistication of user controls. But one size does not fit all and, sometimes, PoE alone may not be the optimum solution. For example, configuring a PoE system in long staircases with multiple landings is extremely complex and the cost could be prohibitive in contrast to the savings usually made when installing on individual floors.
In buildings where the physical infrastructure supports PoE in some places and not in others, a combination of PoE and 240V power sources working to the same Dali standard control system could be the best solution – especially if it can be adapted and developed as technology improves.
The biggest rewards are in large buildings with complex lighting requirements. Smaller spaces may not use an intelligent PoE system's sophisticated benefits fully and, instead, could meet their needs with a more straightforward on/off/dimming control system.
The real answer to whether PoE is right for a project can be found by looking at the needs of the occupants. Consideration should be given to the complexity of that need, how the system is to be managed, who it will be managed by, what expertise they have, and what business objectives are to be achieved by installing it.
Asela Rodrigo

is managing director of Prolojik