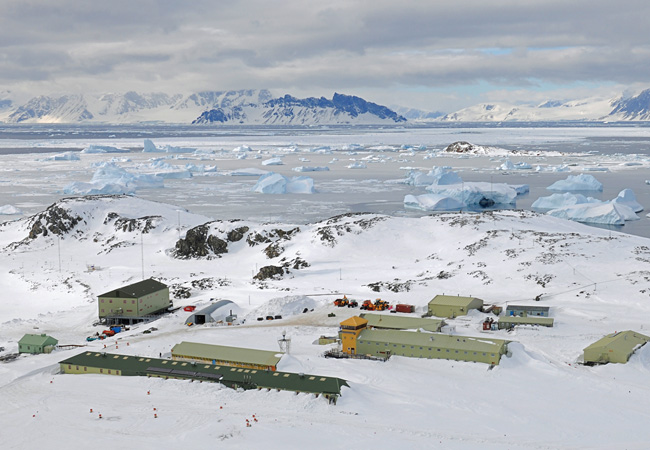 People's lives depend on Chris Martin doing his job properly. As the facility engineer manager at the British Antarctic Survey (BAS), he – and his colleagues – supply heat, power, water and sanitisation services for scientists working in one of the most inhospitable environments on Earth.
His team oversee facilities at five UK research stations in Antarctica and the South Atlantic including Halley VI, which is built on the constantly shifting, 250m-thick Brunt ice shelf in Halley Bay. Here temperatures can plunge to -56°C and occupants experience 24-hour darkness for 105 days a year.
Failure of the building services is not an option in the winter (March to November) as sea ice makes Halley VI virtually impossible to access from the outside world. 'It's easier to evacuate a space station than to get someone out of Halley in the middle of winter,' says Martin. 'You can't get a ship near because of the sea ice, and you can't fly in because it's pitch black and you have no airport equipment. You'd be landing blind on an uneven surface, and you'd be heavily dependent on the weather.'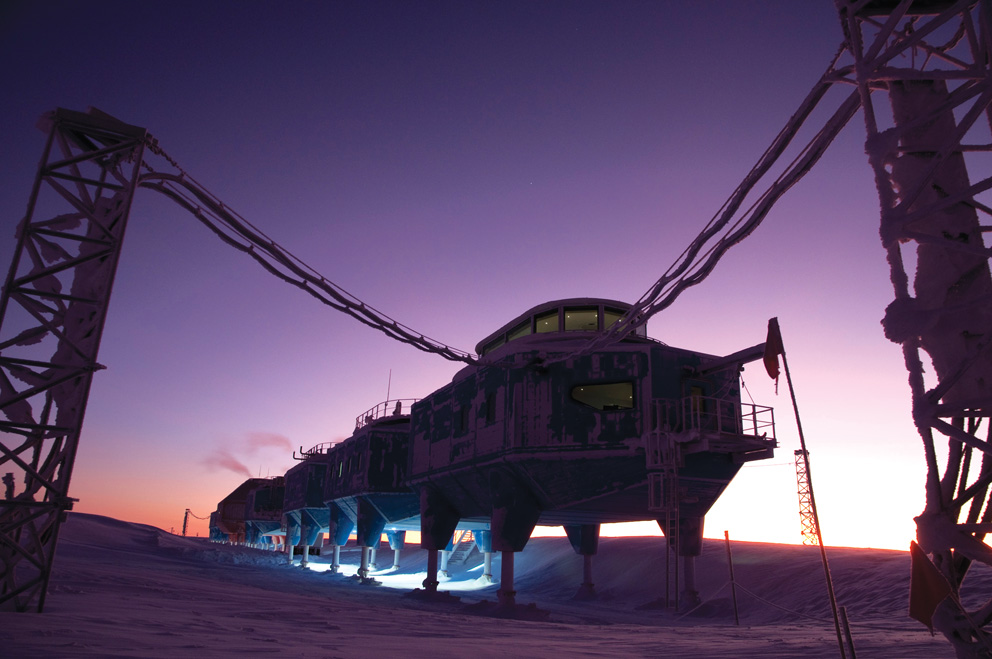 Halley VI
This isolation and harsh environment drive BAS's building and maintenance strategy. Equipment must be reliable and fixable, and must have back-up in case of failure. Systems need to be energy efficient because there is a finite supply of marine gas oil and aviation fuel for the generators, and shipping in additional fuel – when it can be – is expensive. The facilities team must be able to monitor research stations remotely so that any issues can be identified and fixed before they become catastrophic.
Mission control
BAS's home base is in Cambridge, UK, and, from here, the facilities team monitors and controls services in its newer buildings – including Halley VI, the award-winning research station, built in 2012, that resembles a giant mechanical caterpillar on skis.
'Performance monitoring is key to how we operate because every drop of fuel has to be transported to the South Pole,' says Martin. 'We can't put another shilling in the meter; tanks of fuel can't be replenished until the following year. We can't be complacent – if we go below a metaphorical mark on the fuel tank, we have to come home. We've been close, but it's never happened.'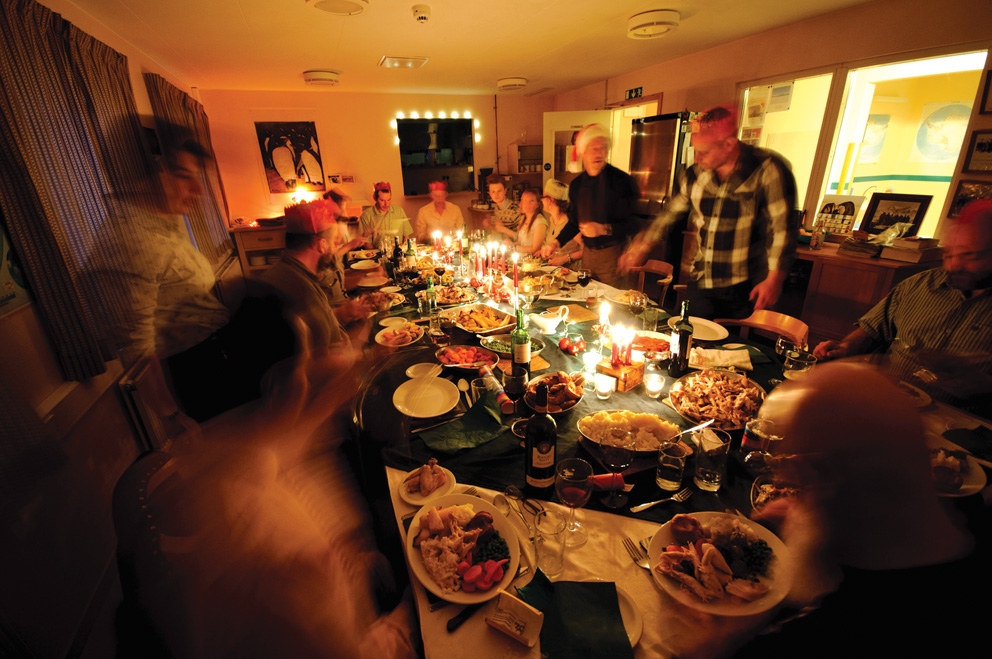 Staff and researchers enjoying Christmas dinner at King Edward Point
Cambridge has access to the building management systems (BMS) at the larger buildings, so power and water usage. The team analyses the data from the HVAC systems to check which engines are running, and that the electrical loads are appropriate for the time of year.
'Spotting trends helps massively with maintenance,' says electrical services engineer Joe Meddle. 'For instance, we identified that waste heat from a server room was being ventilated adequately. Schneider Electric remotely helped the onsite electrical engineering technician to solve the problem by changing the damper settings.'
Electrical heat trace – which prevents water services equipment from freezing – can also be monitored using the satellite connection, so Cambridge can pick up on issues such as faulty thermostats changing the heating settings. 'It gives us an extra layer of confidence,' says Martin. 'The IT allows experts to identify problems remotely. The onsite generator mechanic is brilliant at fixing them, but we can remotely pull in resources from external companies who can help with specialist expertise. They can help us find efficient solutions.'
A close eye also needs to be kept on the loads of the legs that support the modules of Halley VI. A monitoring and control package is used to monitor the legs remotely. 'We can read the pressures and the weight,' says Martin. 'The ice shelf is quite dynamic. It's always moving. We need to know that the leg loads are balanced across the corner of each module. We keep those weights within tolerance – it's been a very reliable system.'
Hydro power at King Edward Point
BAS maintain a hydro power plant at an existing dam to power facilities at King Edward Point. 'From an environmental perspective it was really good value, as we didn't have to construct a dam, with all that embedded concrete,' says Martin. 
The hydro is not a finite resource though, and the team has to be careful not to drain the lake, which freezes in the winter, dropping from 98% to 76% volume. It will continue to run the hydro down to 25%. 'We still need to be considerate of the power being used,' says Meddle. 'We don't want to be blasé – we don't want lights dimming.'
The flow of water is controlled through the hydro so that the station only generates the power it needs: there is no grid to store unused energy. A control feedback mechanism, which reads power load and electrical frequency, is fed back to a spear valve – essentially a cone – which maintains the electrical frequency required.   
'The control system is highly specialised,' says Meddle. 'It only uses water it needs, rather than peeling off an infinite supply of water and then wasting it.'
The team won't adjust the heating and ventilation services at Halley VI without first informing the occupants. 'We want them to feel in charge,' says Martin. 'They can see CO2 and humidity levels, and they can deal with it themselves. The last thing you want them to feel is that Big Brother is watching.' BAS has experimented with renewables in the past, including three solar thermal systems and one PV array at Rothera. There is a very effective hydro-electric plant at King Edward Point, on South Georgia. Despite these renewables, the focus is always on boosting energy efficiency through fabric improvements or improvements to systems. 'The danger is that you focus purely on renewables before you tackle the older buildings that are not efficient,' says Meddle.
The use of solar panels is restricted. 'We can put them everywhere but, at Halley, you have 105 days of darkness a year, so you're limited to what you can do,' he adds. 'It's a unique environment; certain technologies don't work for our locations. We can have a wind turbine, for example, but you need a storage system and they need frequent replacing, and biosecurity restrictions limit what we can bring South.'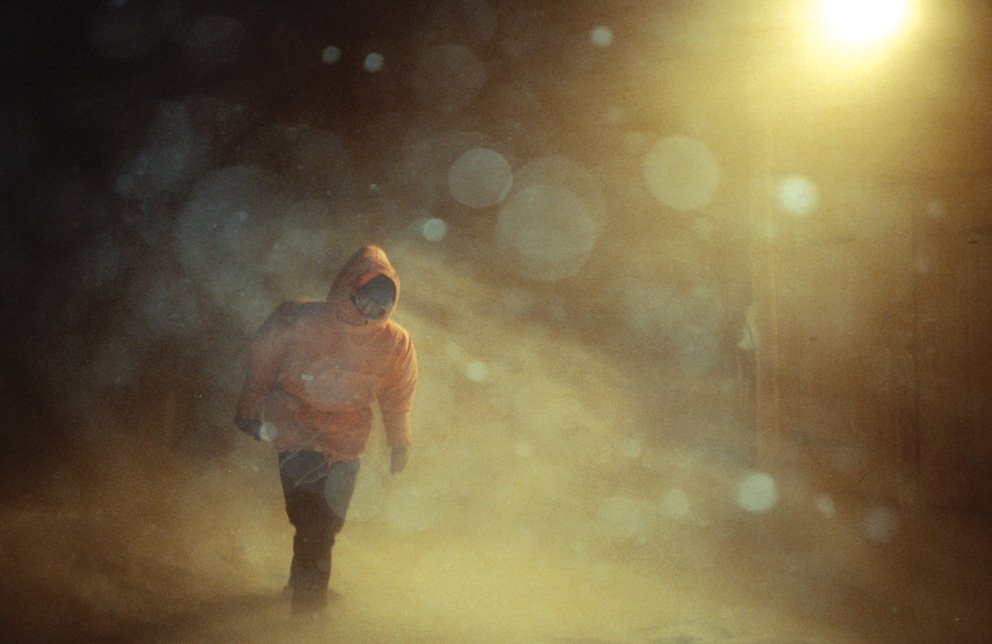 A combined heat and power (CHP) system, run on diesel, is the most robust source of heat and power, says Meddle, and can adequately meet the heat and hot water requirements. 'Halley is so well insulated that we can utilise the excess heat, even in winter.' That waste heat is used to melt snow for drinking. BAS's other usable, natural resource, at Rothera, is sea water – and reverse osmosis ensures that occupants have potable water. The station saves more energy by using untreated sea water to flush toilets.
Increased energy efficiency comes from upgrading equipment, such as the latest fuel-injection systems in the Halley CHP plant, and the engine replacements being carried out in smaller stations this year. However, this sophisticated technology means carrying more inventory and training more people.
New facilities are well insulated, so need little heating. The standard materials are structural insulated panels on a steel frame. Halley VI was built using fibre-glass composite panels, with a special resin to endure –56°C temperatures and high winds. Structures have to be airtight because of the freezing air and risk of snow ingress, so the team had to design an air intake that stopped snow from drifting in. Martin describes it as similar to a balanced flue on an old-fashioned boiler that can work in neutral conditions.
'Trying to start a generator from cold at those temperatures will damage it,' says Meddle. 'The standby generator has to be kept warm in case it has to be turned on.'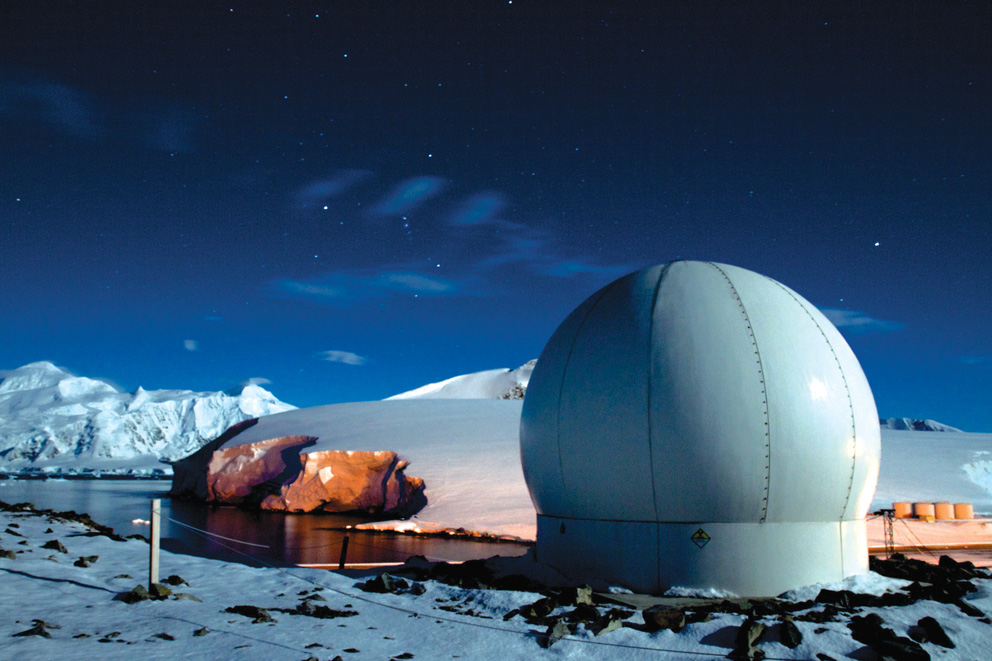 Dome housing the satellite dish that provides Rothera's internet connection
Martin will be at Halley during the short summer – around December to March – to help move the station to the other side of a growing crevasse; if the station stays where it is, its link to the mainland risks being cut off. This will mean disconnecting the eight modules so they can be pulled on their skis, and scientists and BAS staff will be moved to accommodation used in the summer.
Two generators have already been shipped over, so that power can be switched from one to another by an onsite engineer. This is critical where extreme weather may prevent technicians spending much time working outside, even though the generator is probably 30m away. A 30-knot wind is the maximum at which staff are allowed to work outside, and conditions such as this can prevail for a week. Factor in the darkness, and it is easy to understand why handlines are used to guide staff between buildings.
Every summer, members of Martin's team visit the research stations to maintain buildings or erect new facilities. A typical contract at Halley might be four to six months and, in the winter, longer – ships leaving in March don't return until December. There are three technicians permanently onsite at Halley and Rothera, each specialising in electrical services, mechanical services or power generation. On the smaller sites, there is only one. 'We aim for multidisciplinary engineers,' says Martin. 'Marine engineers are ideal because they have to deal with everything – refrigeration, water-making, power generation, and health and safety.'
A new face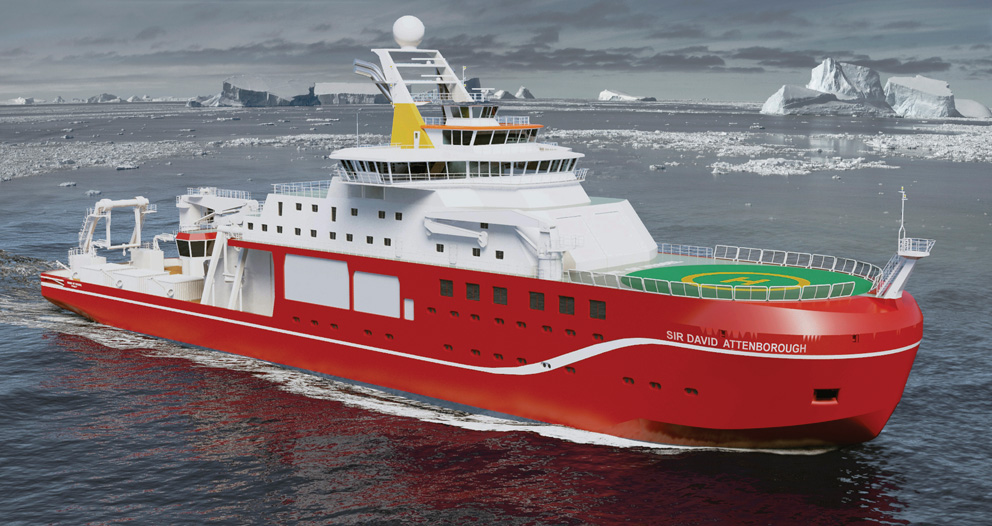 RRS Sir David Attenborough will replace two existing vessels
Currently, two ships send suppliers to the research stations, but RRS Ernest Shackleton and RRS James Clark Ross will soon be replaced by a new vessel – RRS Sir David Attenborough. A public vote called for the ship be named Boaty McBoatface, but – as it was non-binding, the Natural Environment Research Council was able instead to honour the broadcaster and naturalist.
Using just one ship will help BAS cut its carbon emissions. The more advanced vessel will also have greater ice-breaking capabilities and serve as a logistical support vessel for teams at inshore locations. But having only one ship will mean potentially fewer visits to the research stations, so fuel will become more precious and performance even more critical.
The facilities team all spend time on the stations, which helps them to understand the condition of the HVAC systems, and plan and design for the future. Martin looks forward to his stints 'South': 'Some people might struggle with the isolation, but I enjoy the environment and the group living.' 
As the people in charge of heat and power 'there is a lot of responsibility providing the life-support system for the other occupants' – but Meddle and Martin relish their roles, and the unique challenges of commuting between Cambridge and the Antarctic. 'It's the best job in the world,' says Meddle.