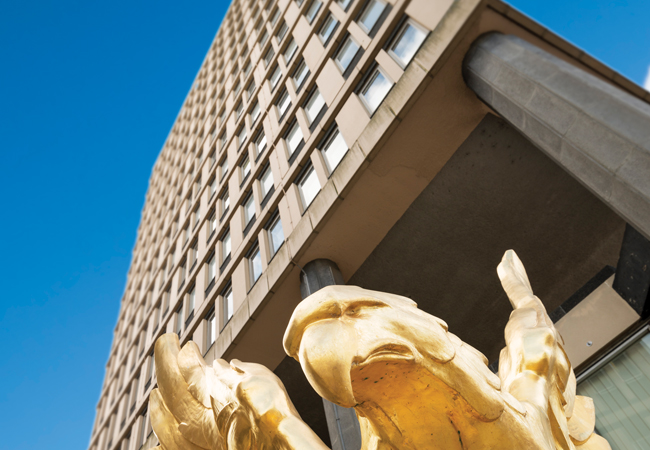 Eagle Tower
As the only major tower block in the historic Georgian city of Cheltenham, Eagle Tower is hard to miss. A classic 1960s, 16-storey office block, it is thought of  locally as a highly desirable place to locate a business, save for one big drawback – an Energy Performance Certificate (EPC) rating of 'G'.
'We are very proud of the building', says Alex Harrington-Griffin of owner Coeur De Lion Property. 'It was the first building of this size that my father was able to purchase and he has always had a soft spot for the place.'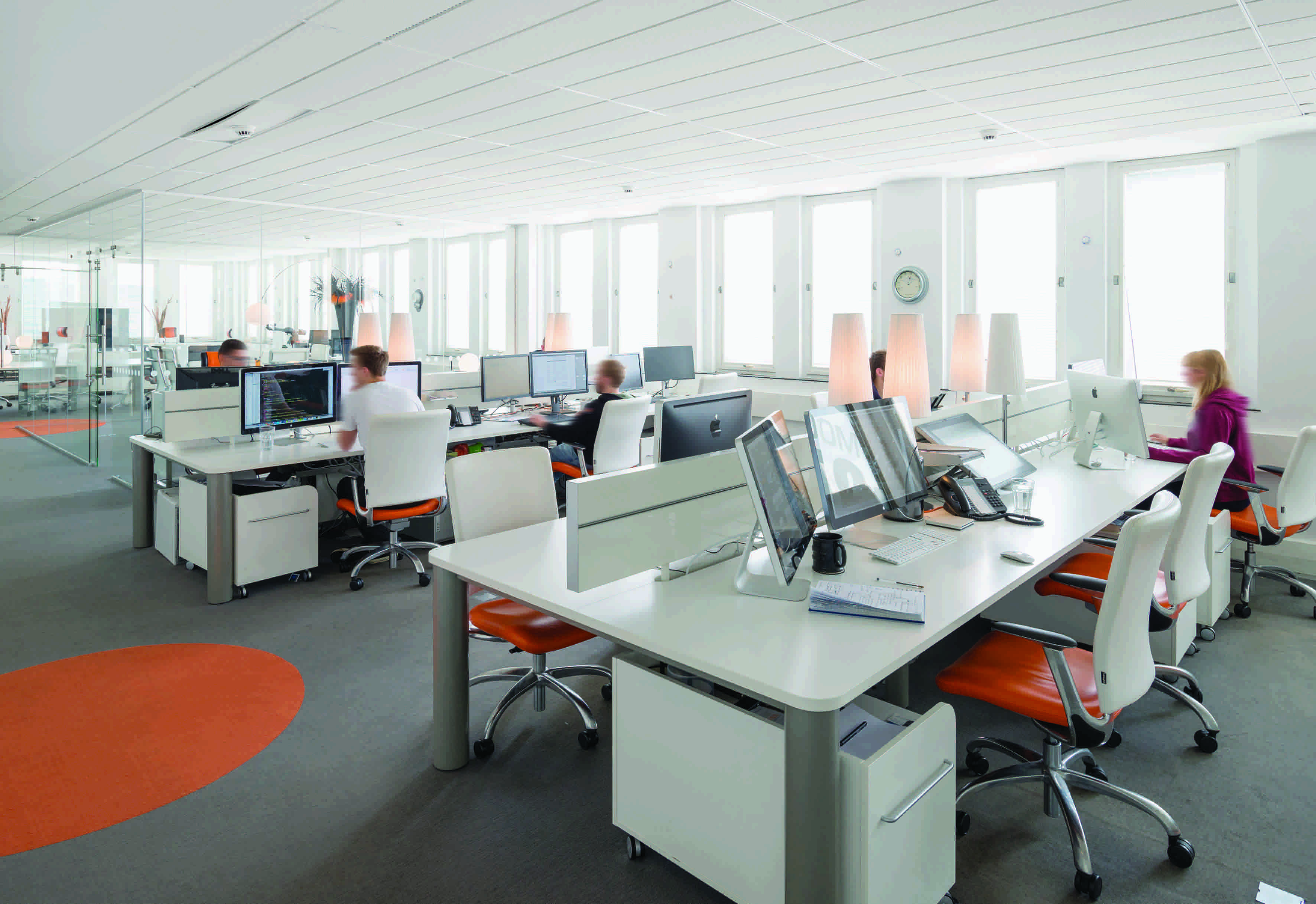 Despite this affection, Harrington-Griffin and his team were realistic. They knew that if they were to secure funding for future development on the building, and continue to retain commercial tenants, that EPC rating of 'G' had to be lowered before 2018.
Eagle Tower is not alone when it comes to poor ratings. According to the EPC register, almost one in five buildings with a certificate is rated F or G. The picture across England and Wales is likely to be even worse. Non-domestic EPCs were only introduced in 2008 and unless an older property has been sold or rented since, it will probably not have an EPC rating. In reality, the percentage of F and G-rated buildings is likely to be much higher.
Sustainable Construction Services (SCS) was initially called in on the basis that the building would probably need significant work to upgrade its energy efficiency to the target EPC rating of E. SCS took a much more strategic view and questioned whether the issue was the original rating rather than the energy performance of the building.
This is not a criticism of the previous EPC assessor and the work it carried out – more a comment on the difficulty that both SCS and its competitors have when pricing an EPC for a 16-storey office block, with the preferred assessor probably being appointed on the basis of lowest price.


We suspected that much of the ductwork sizing had originally been designed when smoking was still commonplace in offices

If the EPC model could be built more accurately to reflect how the building was actually built, the EPC performance would improve.
Certificates are based on the data available to the assessor, through either their visual inspection on site, data supplied to them by the client, or research of products following the site visit. Where data is not available, default figures are used based on accredited software suppliers' guidance and on nationally recognised modelling conventions.
To overcome the issue of defaults where data was not easily obtainable, we conducted a more thorough investigation of the complex building services at Eagle House.
With more than 100,000ft2 of office space and other ancillary spaces to survey, the site visit was not a five-minute exercise, but working with the building manager and the head of maintenance made the process easier. We went through every page and drawing of the O&M to glean additional information.
Although built in the 1960s, Eagle Tower had been internally refurbished in the mid-1990s. The boilers were replaced around this time and the chiller was upgraded in 2012.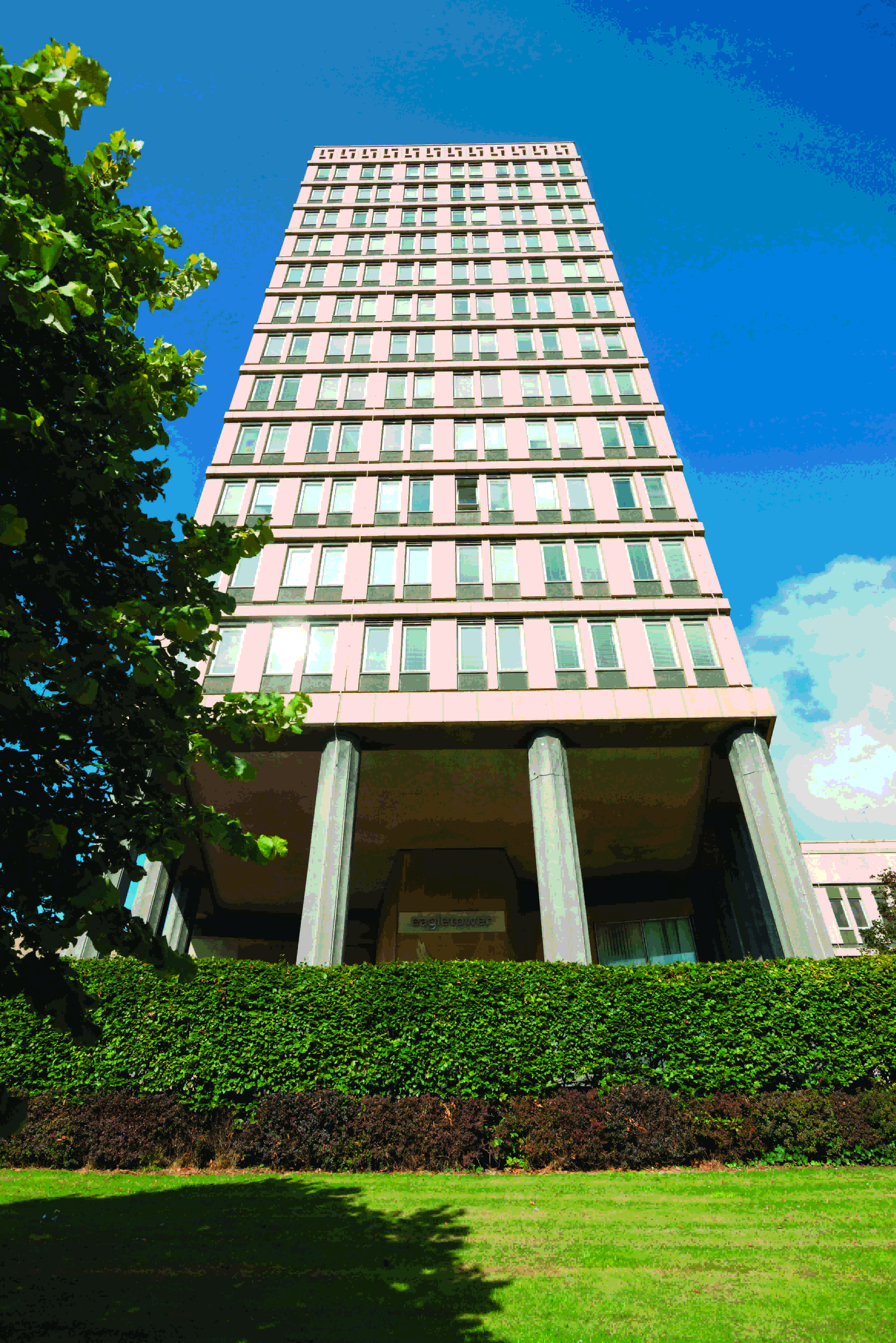 In terms of heating and ventilation, each office footplate was zoned into four quarters with no perimeter or underfloor heating. Comfort was achieved via central distribution, controlled on the room return air temperature.
We were able to mimic a similar result to the original EPC rating of 'G' with a number of defaults used for the building services. Operating from this baseline model, we tested theories about those parts of the building that should be surveyed in detail to improve the EPC performance, saving the client money.
One example was lighting. The default of using T8 fluorescent lighting would have been a pragmatic approach on a building of this size. However, SCS undertook an extensive survey to improve the EPC lighting figure significantly. This included the recording of every fitting in the building and an analysis of light levels in each room.
We suspected that much of the ductwork sizing had originally been designed when smoking was still commonplace in offices. Much of the building was also open plan. As a result, our engineers were able to prove that the current ventilation systems had relatively low resistance paths, leading to much lower specific fan powers being used in the EPC model.
Apart from a few small modern extensions at ground level, much of the building's fabric was original. This was tested in detail, and a lot of research was undertaken to find out more information about the building fabric performance to improve the model. For instance, details of some of the glazing was found hidden in the operation and maintenance manual and, in other cases, on-site measurements were undertaken.
Using different software also helped with the performance of the EPC. We are certified to use iSBEM, SBEM in IES VE (both Levels 3 and 4) but chose to model the building dynamically using IES VE Apache (Level 5).
This dynamic simulation allowed us to reflect more accurately the reality of the building's energy performance in the EPC model – although still in accordance with the regulated network configuration management protocols and conventions. It is able to mimic more precisely how a building's fabric absorbs and omits heat. The subdivision of equipment being allocated to a specific zone is also more flexible than in, say, an iSBEM model.
Energy Act 2011
From 1 April 2018, the Energy Act 2011 makes it unlawful to let properties in England and Wales that do not meet a prescribed minimum energy performance standard. The now axed Department of Energy and Climate Change stated that the minimum energy standard for an EPC will be 'E'. But how this will be implemented is still not clear.

The result of all this hard work resulted in significant improvements in the EPC performance and saved the client a great deal of money.
As each layer of detail was added, and defaults removed, the model kept getting better and better. By the time work was over, the target of an 'E' rating was surpassed and the building ended up with a 'D'.
Understandably, Coeur De Lion Property was thrilled with the result. 'By employing an EPC assessor to go the extra mile, we have saved ourselves a huge bill for refurbishing parts of the building unnecessarily,' says Harrington-Griffin. 'The only people that missed out were the installers and suppliers who might have benefited from being paid to install new equipment in the building.'
As far as SCS is concerned, we are glad to have worked with a client who saw the benefit of investing a bit of time in understanding what we were trying to achieve.
In terms of the industry's approach to 2018, we had thought that lawyers and building owners were going to be concerned about leases becoming invalid when the Energy Act 2011 is implemented. However, in recent years, we have found that building owners have been hedging their bets, and banking on the government watering down the requirements in the way they have done with zero carbon homes. This is now changing and we are starting to see people taking the issue seriously.
By using accurate modelling to assess energy performance in an EPC model, the task of hitting the requirements may not be as painful as it first appeared.