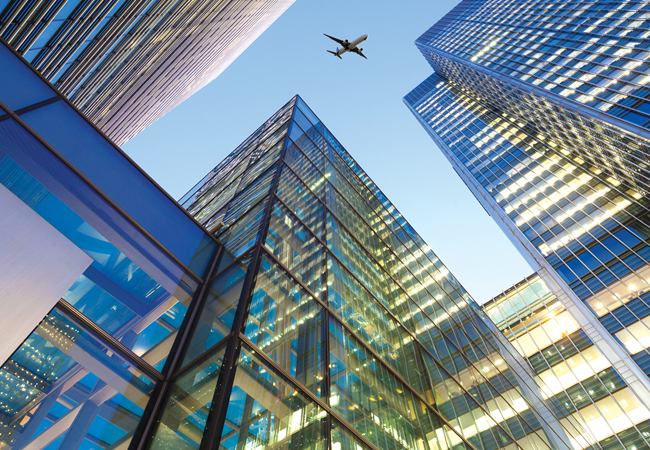 In this cost model, covering mechanical, electrical and public health (MEP) services, Aecom examines the capital cost of the shell and core – and Category A fit out – of a central London commercial office with a gross internal floor area (GIFA) of 20,000m2. The model features fan coil units, water-cooled chillers, cooling towers, passenger lifts and LED lighting.
Background to the model
Demand for high-grade office space in Central London has been growing rapidly as the market moves away from the devastating impacts of the 2008 recession. With the capital's population projected to hit 10 million by 2030, this will only continue.
As the market grows, demand is changing in line with the improvements being made in construction, and the shift in spatial needs. Commercial developers are focusing on buildings with high floor-to-ceiling heights, allowing for increased natural light and flexibility in design to react to contrasting heating and cooling needs. Tenants are aspiring to have efficient and low-energy buildings, to minimise operating costs and give them greater long-term value for money.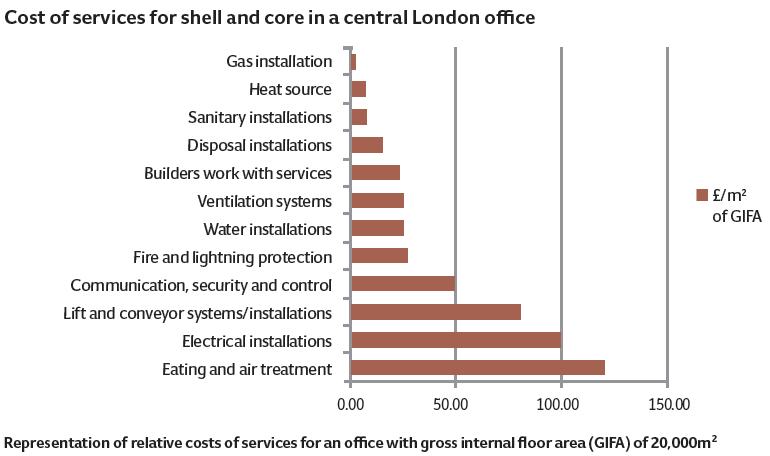 Modern companies are demanding more open-plan spaces and breakout areas, and are keen to use this space differently as they evolve and grow, rather than be restricted by a limited design. It has become commonplace for developers to think about flexibility early on in the design process, and to provide dedicated riser and plant space, or a base build design that is easily adaptable.
Tastes have also evolved and, increasingly, new office schemes have a more 'industrial feel', with exposed services and soffits rather than suspended ceilings. These approaches require higher standards of finishes and greater coordination of the services, which may result in a more expensive solution.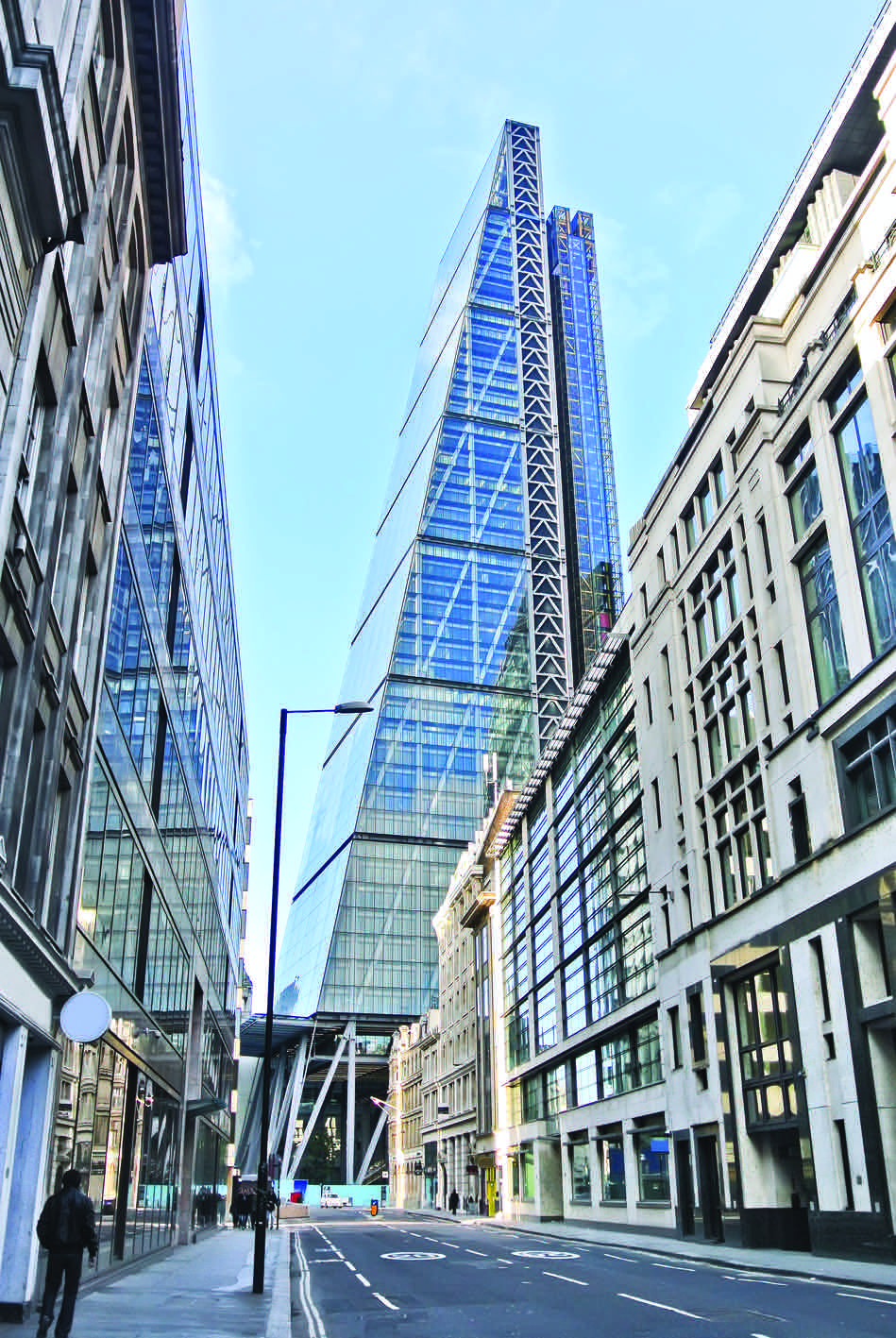 Hot desking and remote working are also become more prevalent, to fit around people's lives. This means occupation densities in offices can vary throughout the day, so services must be designed to accommodate this. Linked to this is a shift in the basis for occupation density, as developers become keener to work to one person per 8-10m2 of net internal area (NIA) rather than the traditional approach of one person per 10-12m2 of NIA.
A recent British Council for Offices (BCO) report identified a tendency among developers to design to the 'worst-case scenario', instead of trying to understand how a potential tenant's needs will change over time, enabling them to adapt to specific increased demands on building services.
In response to this report, developers are designing buildings that can cater for potential increased demands on particular floors or a percentage of overall NIA.
In addition, they are becoming increasingly open-minded – when considering future demands on plant, toilets and lifts – that the building can be easily modified, and or adapted as a response to any demand for increased density.
Services design
The first and most important question is where the primary plant will be located – on roof level, in the basement or both. The choice will largely depend on whether either of the spaces has been designed to be used for another purpose. An increasingly common design feature is private terrace spaces for tenant use, particularly the hosting of events.
About the authors
The engineering services cost management group of Aecom specialises in the cost estimating, procurement and cost management of building services installations. It is producing a series of cost models for CIBSE Journal in 2016, on areas such as data centres and London's commercial

 

buildings.

Another consideration is whether the primary plant will be better serviced by being located at high or low level; developers can incur sizeable capital costs if they are required to route boiler or generator flues to roof level to comply with City of London requirements. Other important factors are whether there is sufficient space and flexibility for additional generators, uninterruptible power supplies, and additional air conditioning capacity so buildings can grow with their occupiers.
Developers generally now consider installing the backbone fibre infrastructure through the vertical cores, so future tenants are not required, at great expense, to go back in and install the infrastructure themselves. Tenants can then use this on a floor-by-floor basis. In this way, developers are in a better position to manage the prospective tenants' requirements early in the design process, to maximise flexibility and security.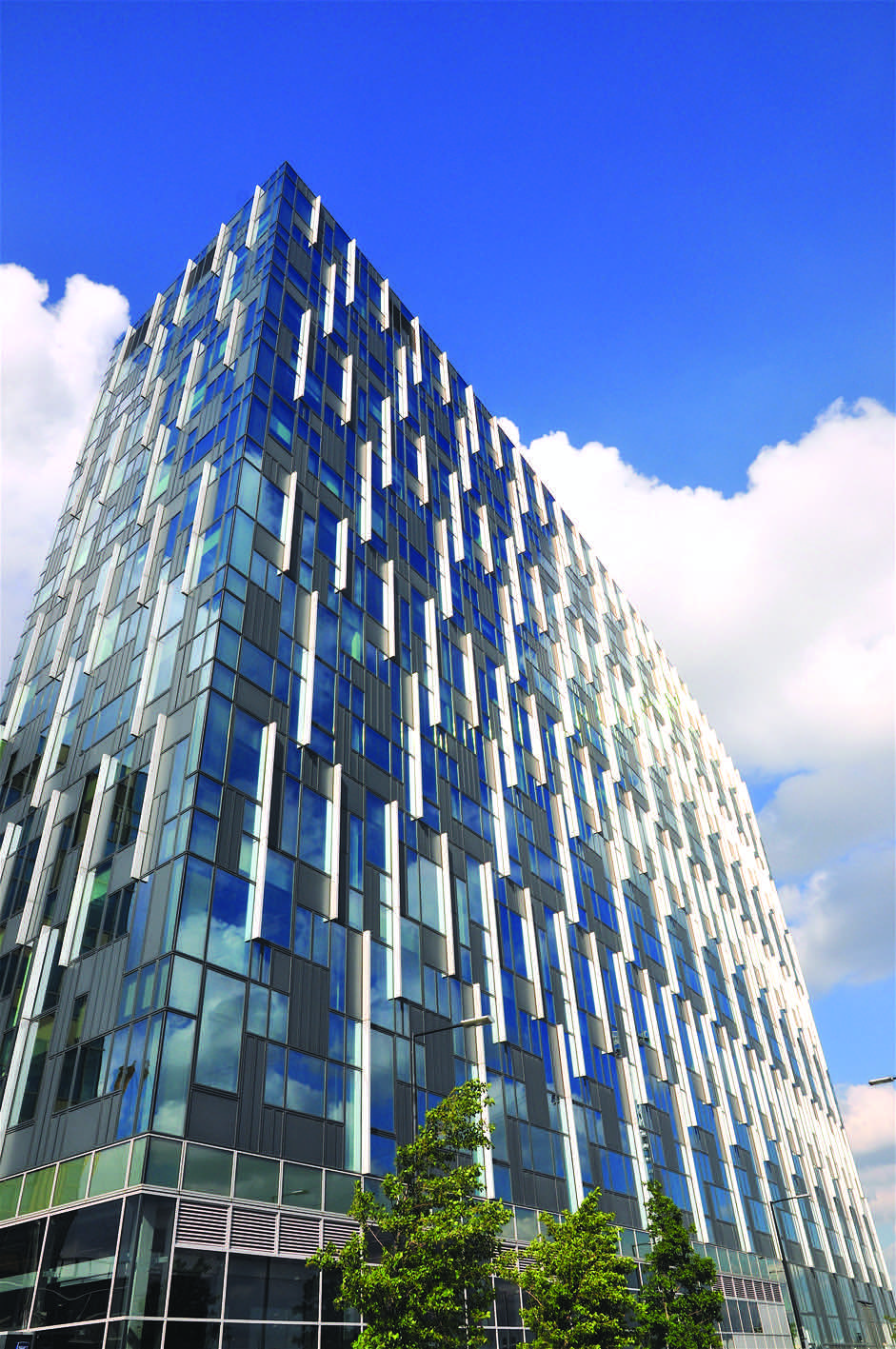 Tenants are keen to occupy buildings that are secure without a fortified and imposing appearance, with bollards and security gates. They are looking at alternative measures, including: facial recognition; retinal and fingerprint scanning; and quick response (QR) technology on smartphones and CCTV. This can ensure a building feels welcoming and accessible without compromising on security.
Lifts with destination-hall control are becoming standard, while LED lighting to Category A areas is also becoming the norm.
Prices are returning to the peak levels experienced before 2008, but the relative weakness of the euro has kept the cost of components artificially low. When this changes, it will be a key driver of inflation, and will affect certain MEP elements, including lifts and primary plant, such as switchboards, chillers and generators. These are often sourced from the Eurozone, so there is the potential for them to become risk items.
Feedback from firms in the London MEP market, gathered as part of Aecom's recent Market Intelligence Report, emphasised the optimism around the sector's growth prospects. On average, 70% of projected income for 2016 had been secured by the end of 2015, against forecast increases in order-book values of 20-30%.
Cost model
The cost model is based on a central London office development arranged over eight floors, with one basement floor. It has a GIFA of 20,000m2, with an approximate net lettable area of 14,500m2 – resulting in a net to gross efficiency of 72.5%. The office has been designed to comply with Part L and to achieve a BREEAM Excellent rating. The occupational density (total NIA divided by the total number of workplaces in the building) of the scheme has been assumed to be 1:8.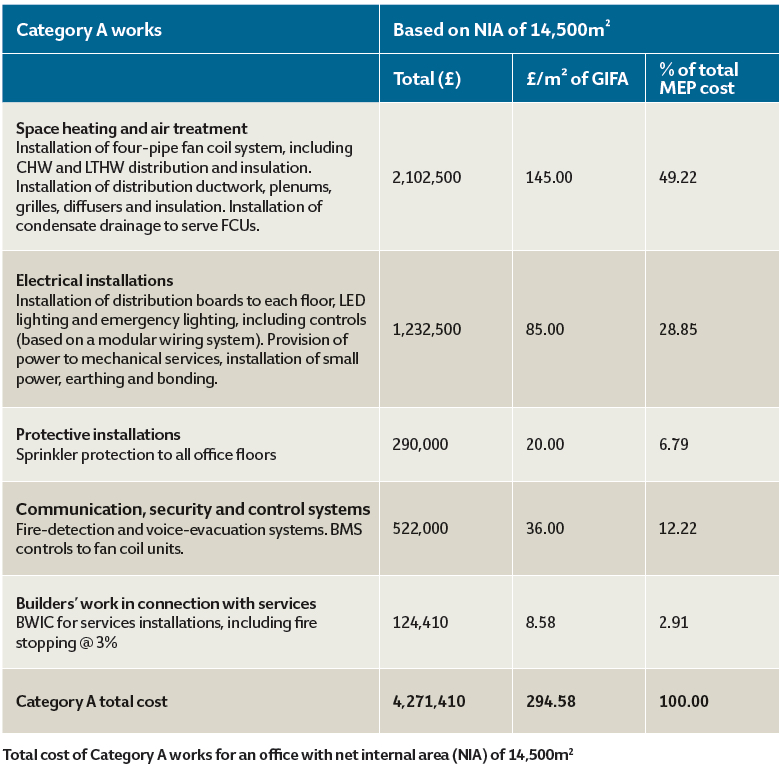 Generally, for a speculative office development, we would expect a net to gross efficiency of 78% to 82%. However, this model is based on a development designed with a ground floor containing a large open reception area and non-lettable, back-of-house areas, including a loading bay and car park.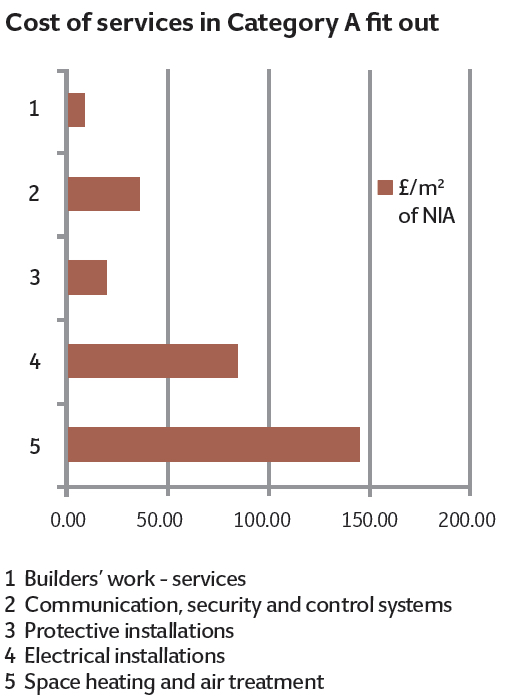 Representation of relative cost of Category A works
Costs are base dated on Q1 2016, and the prices used are reflective of a project procured through a competitive two-stage tender process. The model includes subcontractor preliminaries, testing and commissioning, and only 'builder's work in connection' (BWIC) as a result of other works. Costs to complete the services fit out beyond a Category A standard, professional fees, tenant enhancements and VAT are all excluded.
The cost model is based on a steel-framed building, with a traditional four-pipe fan coil unit (FCU) system. However, there has been growth in the market for alternative design solutions, which will influence the overall capital cost. Primarily, these alternative designs expose the services and the soffit of the slab, with options on which services strategy is employed, including FCUs, chilled ceilings, chilled beams or chilled mats. For example, on a four-pipe FCU system, the cost to move from a basic industrial look to a highly aesthetic look will have a significant bearing on the cost, between £0 and £60/m2.
Chilled ceiling solutions have been widely used in Europe, but have not been taken up to the same extent in the UK. The market is shifting towards this technology, with developers market-testing design options against the traditional FCU design.
Occupancy density, floor-to-ceiling heights, zoning parameters, floor plate size and shape, and product cooling outputs influence the capital cost. For a central London office, this will add £50 to £150/m2 to the base cost model.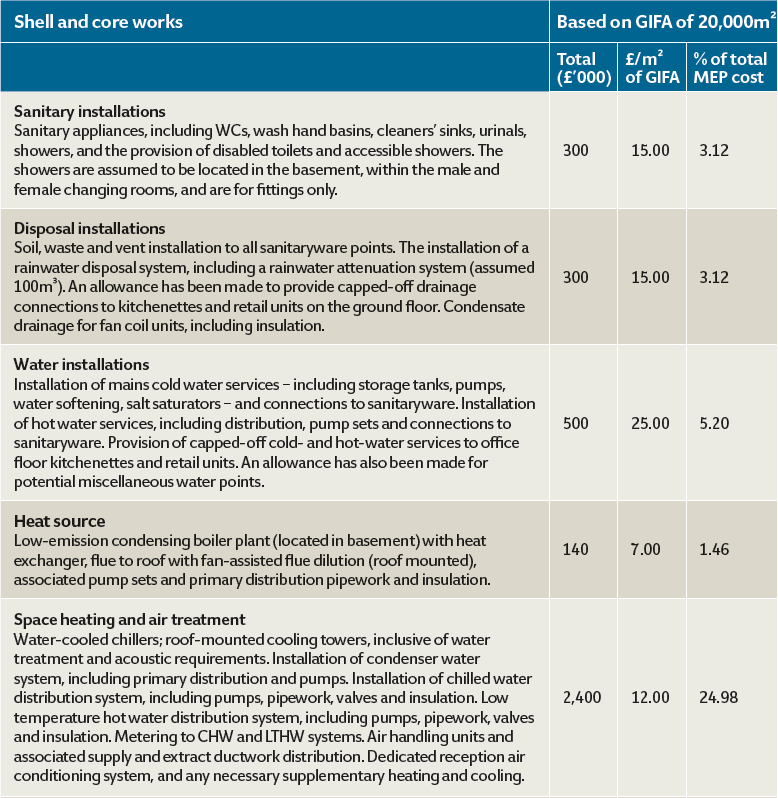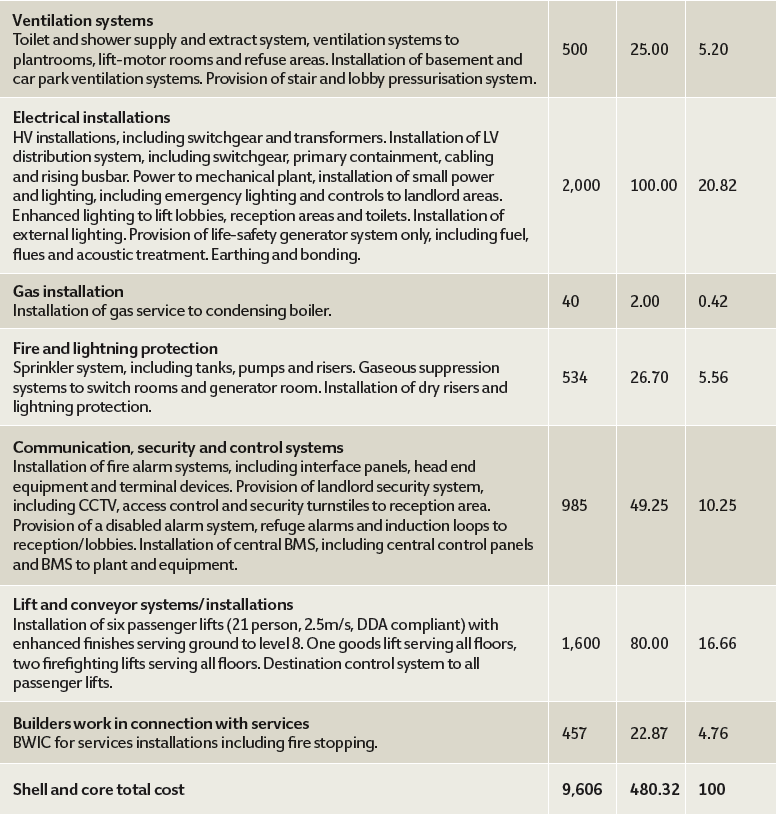 Cost of shell and core works for office with gross internal floor area (GIFA) of 20,000m2
This cost model has been written by Alex Grocott, graduate surveyor, engineering services, and Mat Burgers, director, engineering services