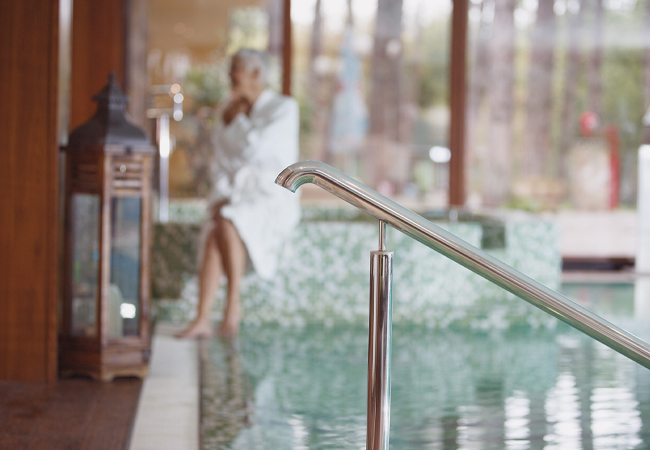 This cost model focuses on a generic luxury 'later living' development in the south of England, formed of 50 apartments comprising 20 one-bed units, 25 two-bed units, and five two-bed 'close-care units' that provide care and facilities for people with dementia.
These high-end developments include a 24-hour concierge and onsite nursing staff, and specialise in providing high-quality onsite amenities. They can include a restaurant, hair salon, gym, sauna, swimming pool and treatment rooms, wine room, cinema and drawing rooms.
This cost model will consider the costs of all of these. The approach is not to compromise on facilities and location just because the age of the population is higher.
Innovative technologies
'Smart floors' are installed in the close-care apartments, and are designed to detect falls and alert staff to a resident in difficulty. The technology installed under floor coverings can learn residents' movements and set parameters so that alarms are not falsely triggered.
These apartments can also feature lighting to assist dementia patients. Additional lighting may be incorporated within fixed furniture, to establish zones within the apartments, while low-level night-time lighting can be installed in bathrooms and kitchens. Wayfinding lighting can also be put into floor finishes.
The introduction of controls to provide circadian lighting is next in the pipeline. Control of the lighting within rooms and zones is pre-set remotely, to give the optimal level and type of lighting for individual apartments/residents.
Aspirating smoke systems can be installed to detect fires at the earliest opportunity, and there is the potential for fire-suppression systems within cooker hoods that isolate heat sources and discharge a fine mist. This system means clean-up is minimised in the event of discharge.
Leak-detection and flow-monitor devices can be incorporated into bathrooms, kitchens and other wet areas, to prevent flooding and accidental overflows from baths and sinks.
Healthcare
Healthcare is provided on site through trained medical staff who are provided with sleeping accommodation and are available 24 hours a day. Within the 'later living' developments, residents can select the level of care that best suits their needs and medical requirements. On larger developments, it is not uncommon to see a small medical facility that offers services such as a visiting physiotherapist, a later-living specialist or a doctor.
A limited number of apartments will have nurse call points and medical gases, to meet the additional care requirements of certain residents.
Concierge service and security
Access control and CCTV within later-living developments are at an enhanced level, and will often include CCTV within lifts, corridors and stairwells to assist in the tracking and monitoring of residents. The level of cameras and security is designed to be non-intrusive.
A priority for these developments is to provide residents with space to socialise, which is seen as essential to their health and wellbeing. They are designed to encourage interaction and engagement, and the focal point for socialisation are the 'drawing rooms' – which are based on a library – or music rooms.
Restaurants can include wine rooms, and can be enhanced with feature lighting and music systems. Developments can also incorporate private cinema rooms.
In addition, there will be a fully equipped gym and studios, and often a spa, comprising a swimming pool, sauna and treatment rooms. Hair and beauty services are also available to residents.
These developments will feature private and secure gardens that incorporate sensory areas for residents.
The requirements of residents' extended family are often also considered, with guest suites available for overnight stays. They can also sometimes stay with a resident in their apartment and have in-room catering, while a play area for small children is often provided within the grounds.
Development details
This cost model is based on a high-end, 'later living' development located in the south of England. The basis of the development is a four-level apartment block with two cores from ground to level three, with a gross internal area (GIA) of 9,000m2 and an apartment net internal area (NIA) of 5,000m2. There are 50 apartments located from level 1, with the unit mix based on: 20 one-bedroom apartments at an average NIA of 80m2; 25 two-bedroom apartments at an average NIA of 110m2; and five two-bed, 'close care units', at an average NIA of 130m2.
The cost model excludes: lifts; external works; utilities; inflation beyond 4th quarter; main contractor's costs; fees and VAT.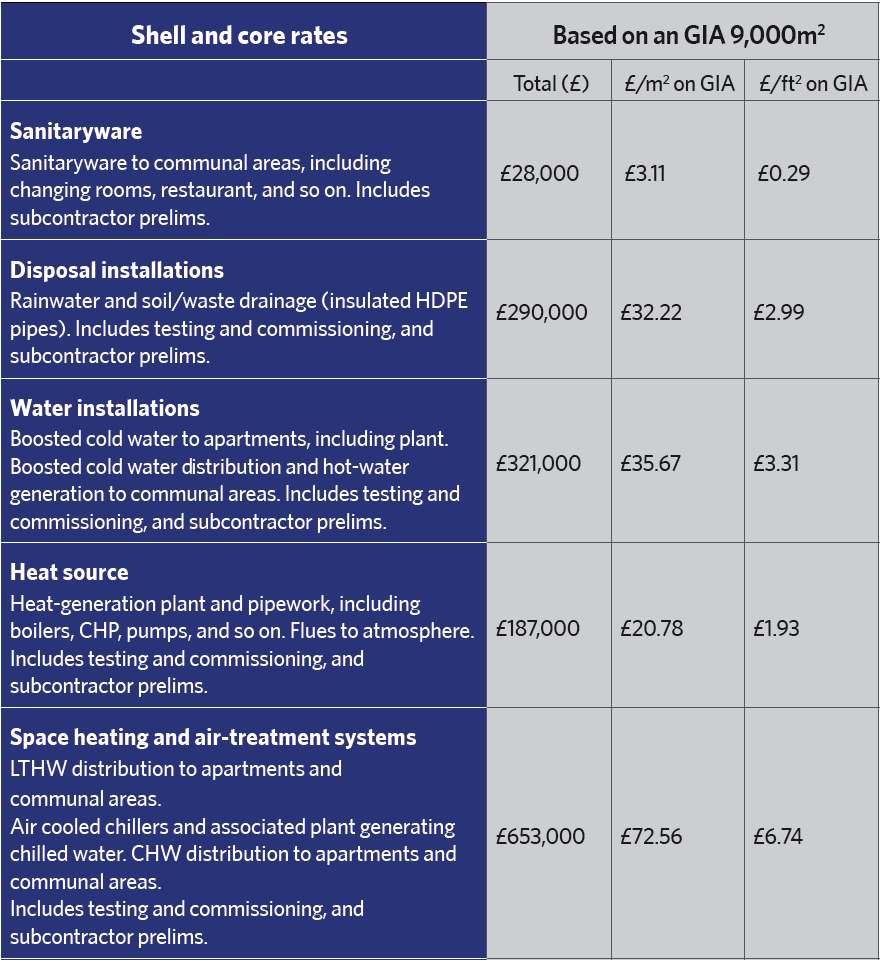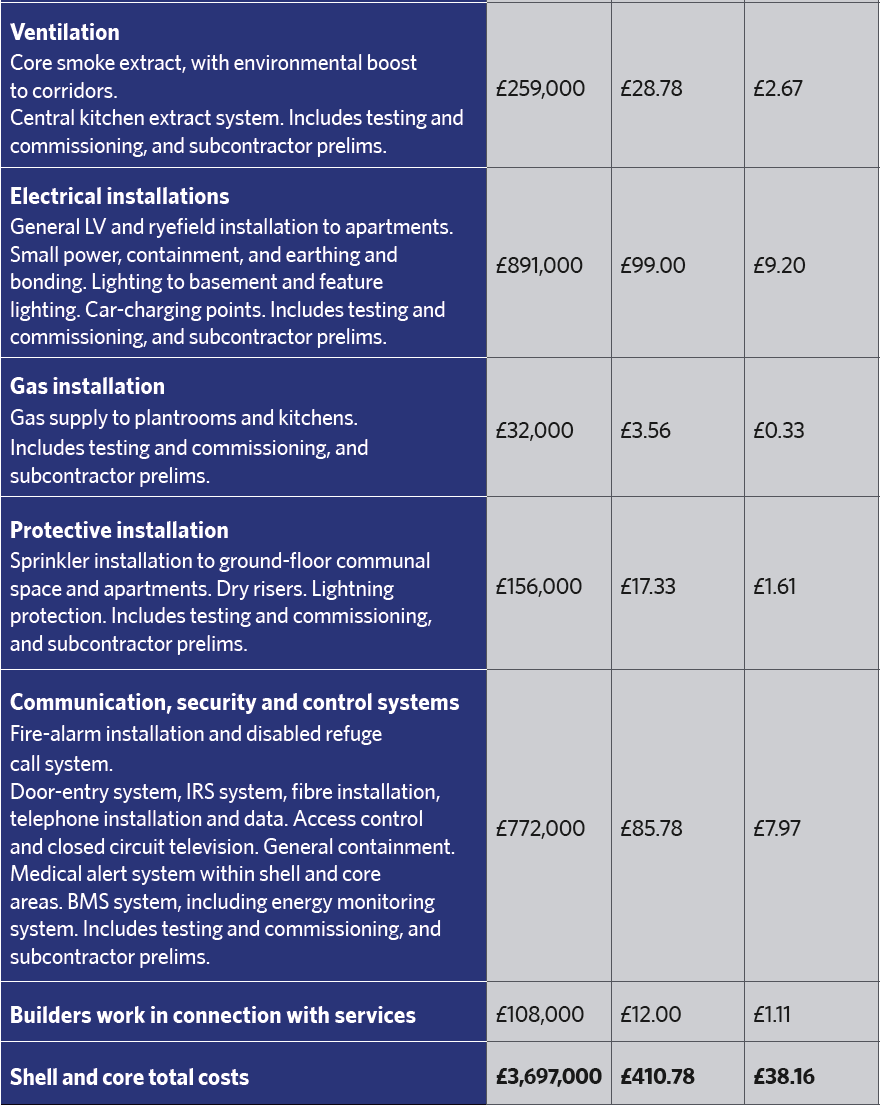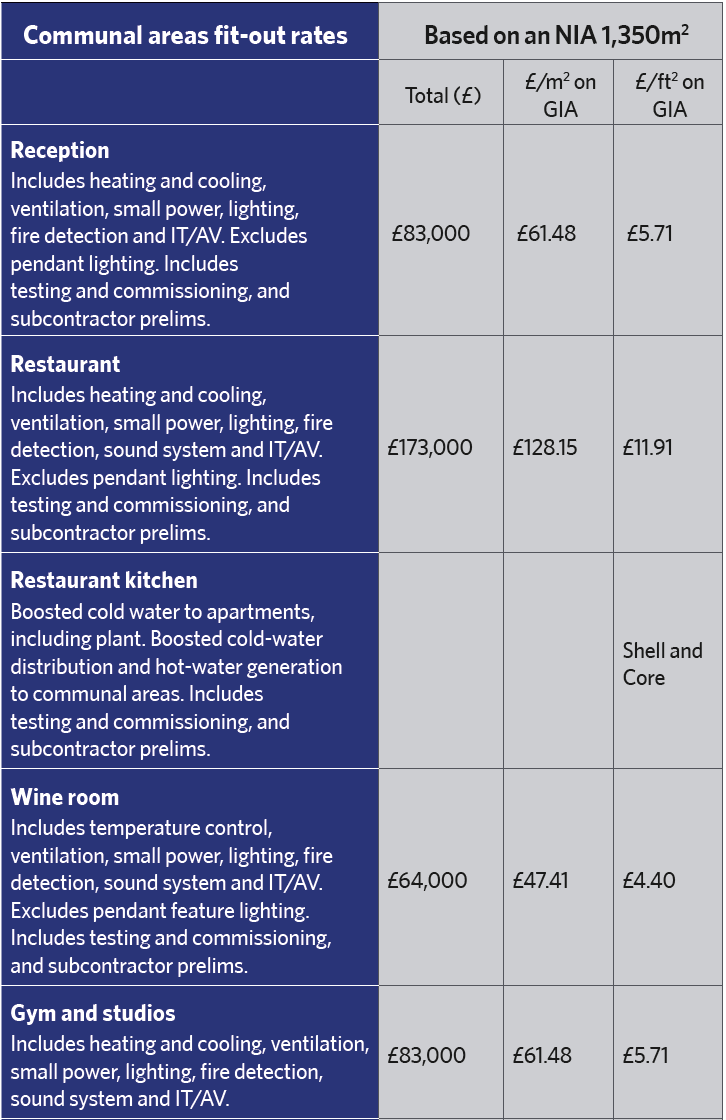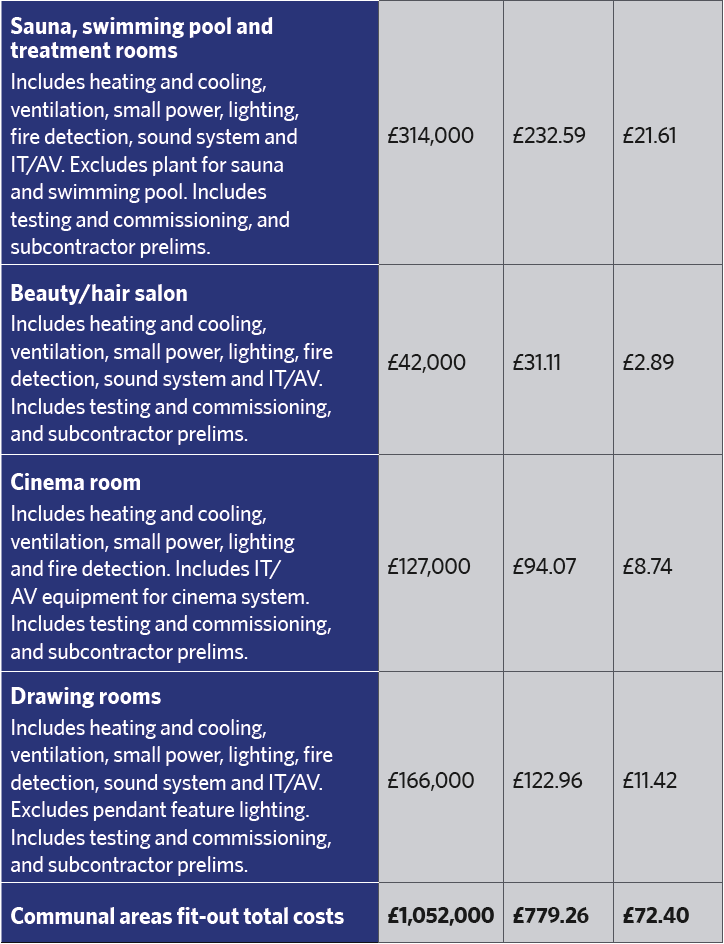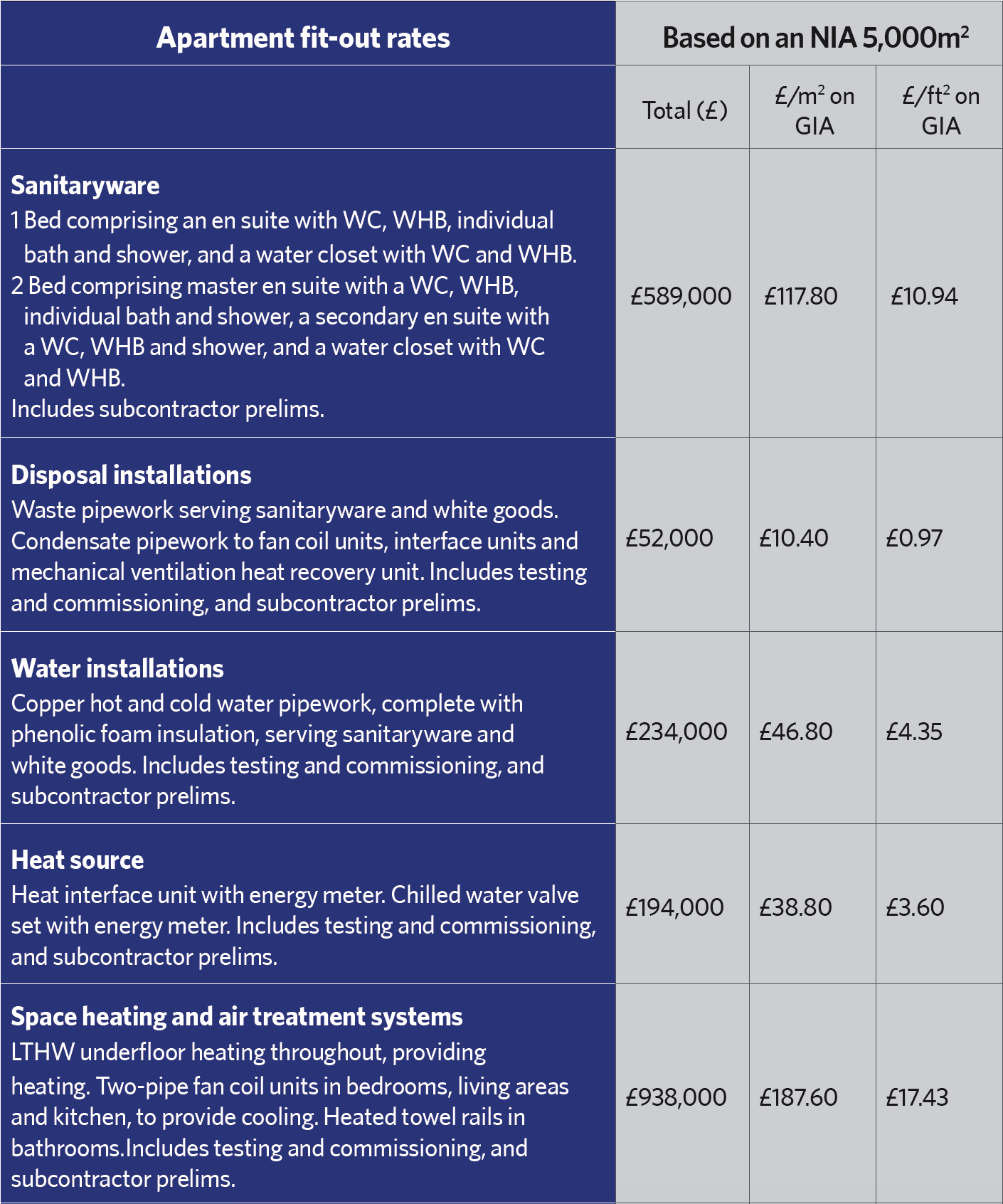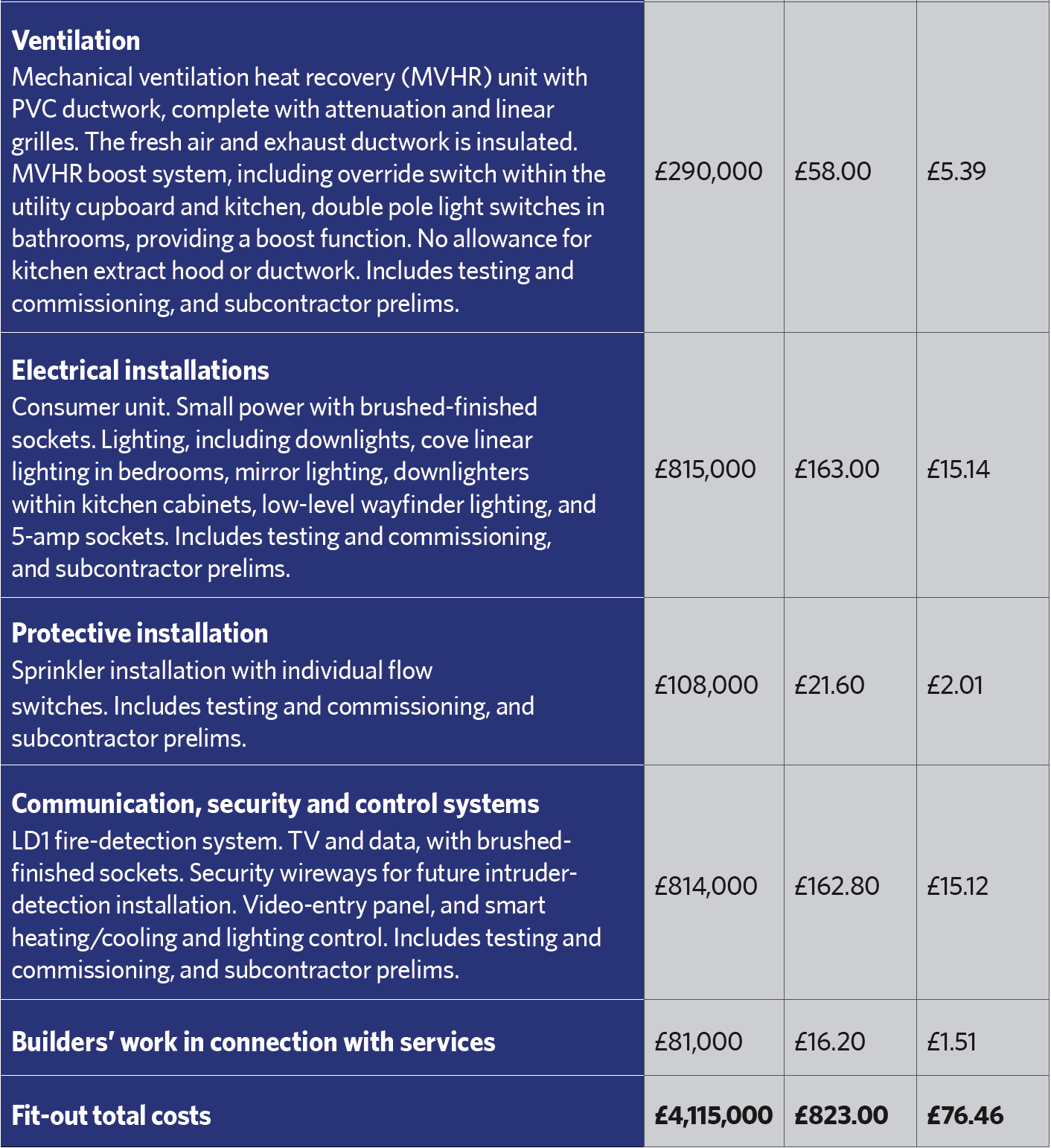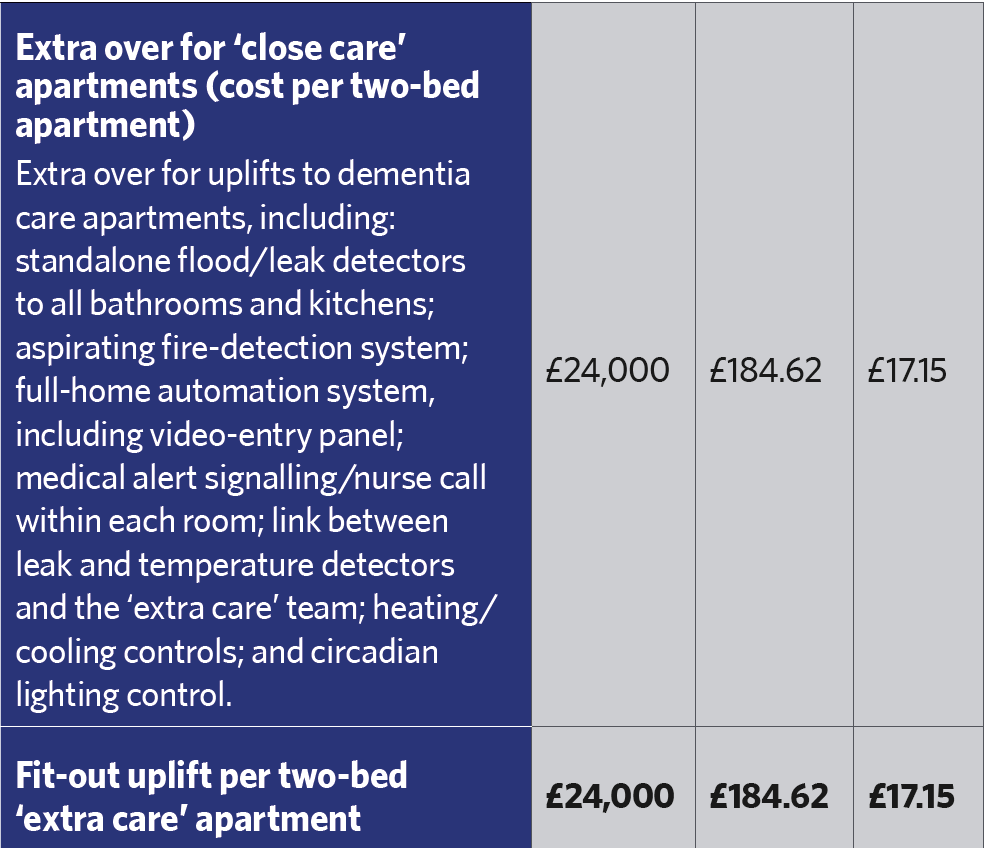 About the author
Andrew Freeman is a cost manager based within the London office of Aecom.
The engineering services cost management group of Aecom specialises in the cost estimating, procurement and cost management of building services installations. It is producing a series of cost models for CIBSE Journal in 2020 on areas such as data centres and London's commercial buildings.