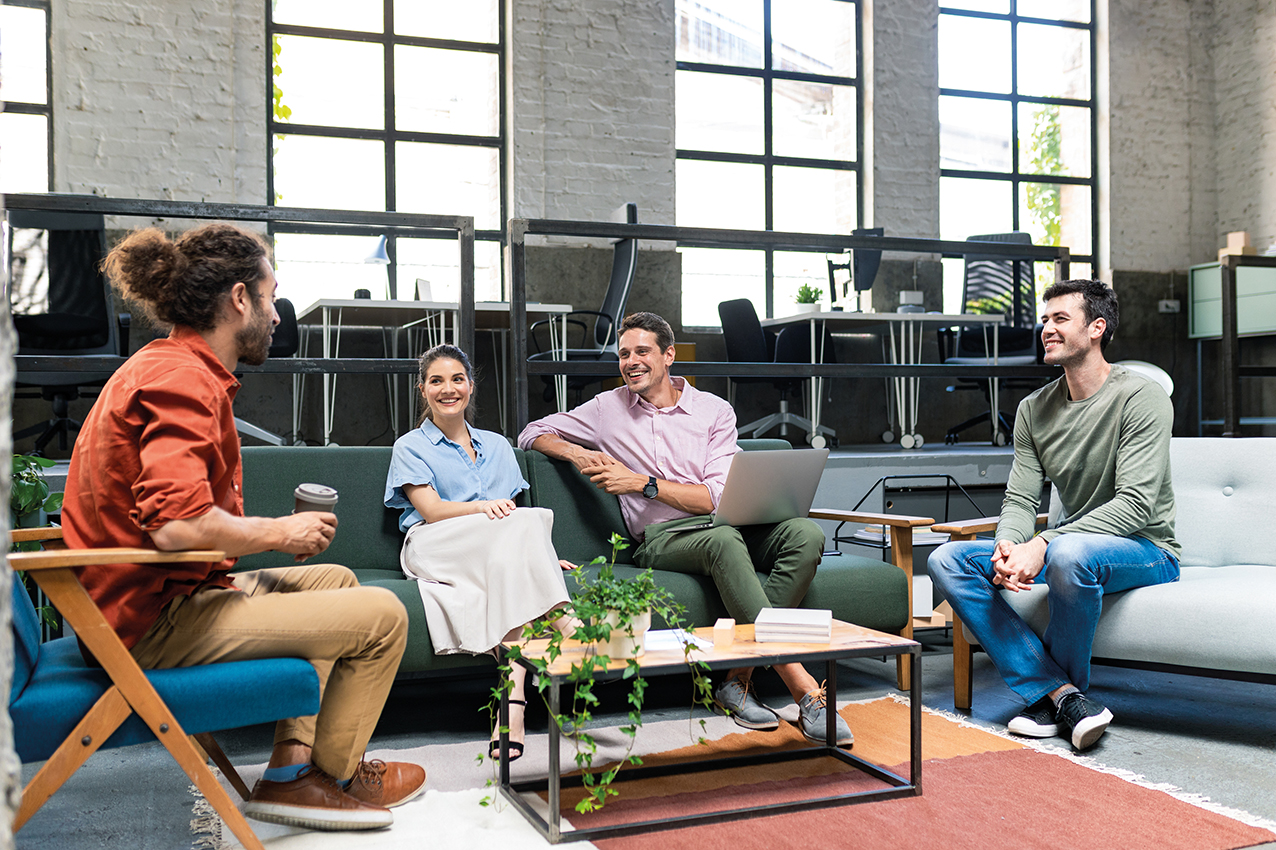 Communal lounges and bookable workspaces are typical in built to rent schemes
With the historic, continued rise in property values and the growing affordability gap between wages and property prices, there is a real and increasing demand for an alternative approach to UK housing, as evidenced in the build-to-rent (BTR) sector. The target market for a vast majority of these BTR schemes is the younger generation and boomers, who are attracted by the offering and flexibility of the BTR market compared with the alternative available from individual landlords in apartment blocks, often providing limited facilities and a lack of community.
End users
A number of cities outside of London have a relatively young population. A demographic analysis of Birmingham's city centre, for example, shows that 75% of the population is below 35 years old. For a city such as Birmingham, this younger population is made up of students who remain and work within the area after finishing college and university, and career starters who are establishing themselves within their chosen industry. 
The BTR end users are very different from the traditional users of private developments. There is a demand for tech-enabled apartments equipped with high-speed broadband, and keyless entry via smartphones. The onus is on flexibility, onsite facilities (bookable by app) and move-in-ready homes.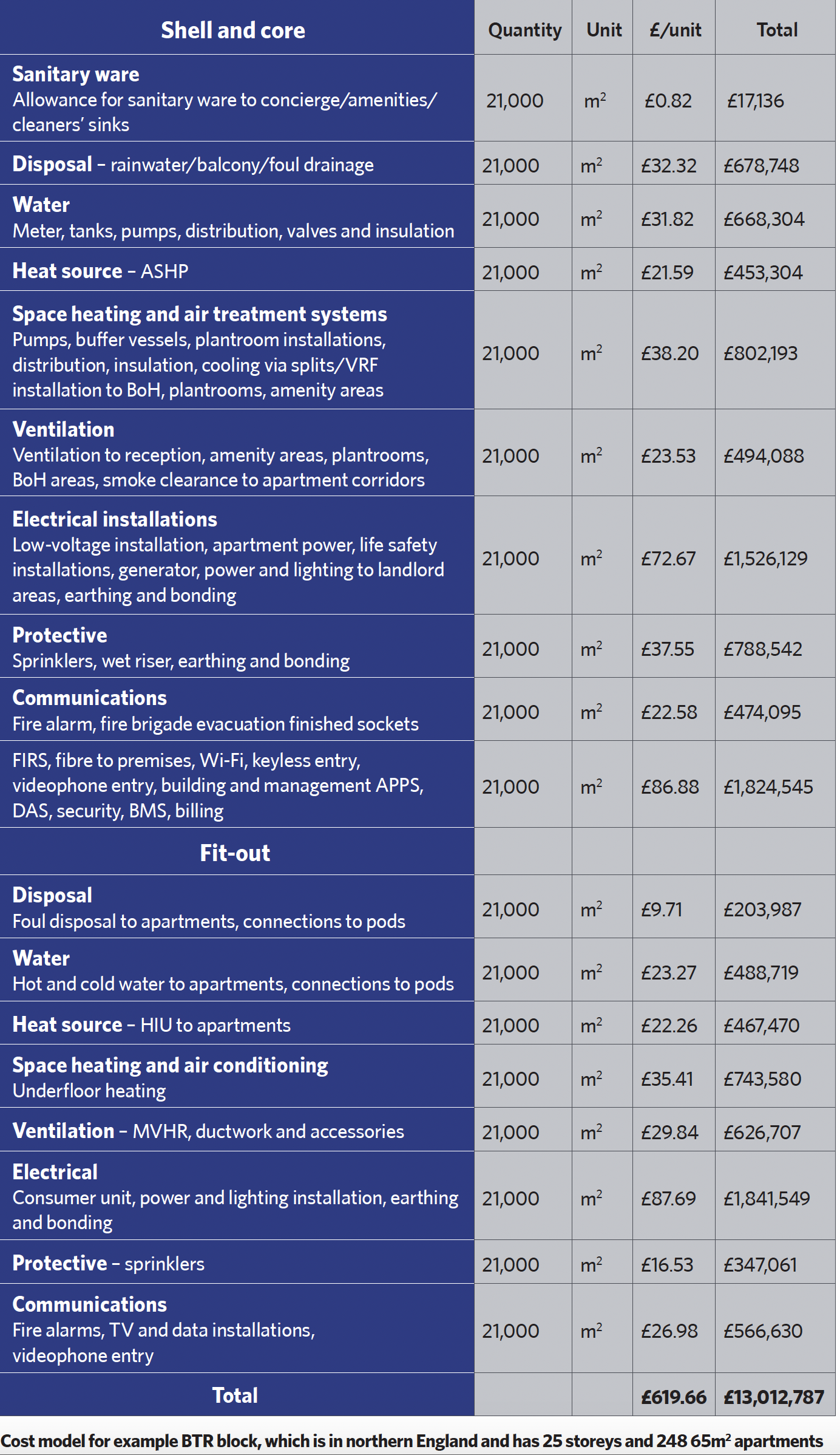 The BTR developer must focus and understand what this means in terms of specification and capital cost impacts; there needs to be a forward assessment in terms of whole life-cycle costs, with a balancing act between capital costs and costs in use. While the returns for a private for-sale development will yield significant early returns, the longevity of the returns over a 30-year period for a BTR development mean they can be substantial.
Community and connectivity are key in attracting the BTR user. In terms of community, this relates to a real sense that the development hosts a similar demographic to them. Often, postgraduate BTR users will have lived in student accommodation and want to have a similar social experience as they had while at university. In addition, connectivity isn't just defined in terms of internet speeds, but also by location for travel, both local and international, and easy access to a great and diverse nightlife.
Route to market
The current route to market for BTR schemes is the tried and tested single-stage design and build procurement route. This, though, will depend upon: funder choice; maturity of client (in terms of the number of schemes brought to market); contractor and supply chain appetite; and prevailing market conditions. 
The supply chain (contractors) will tend to lean towards a two-stage approach, which will provide a certain level of flexibility and ability to influence the design, buildability and, therefore, cost of a scheme. The two-stage approach is often at odds with the fund and client, who will demand competition at all stages and drive to secure the price at the earliest opportunity.
The general embryonic nature of the BTR market means that specifications are still in development; developers need to consider embodied and operational carbon, capital costs, operational costs, ongoing maintenance, and replacement/disposal costs. The answer to this may well be a turnkey approach, with the supply chain providing construction, maintenance and operational services. 
Move-in ready
The type of end user for BTR developments expects to have everything ready to go straight away. This includes set-up facilities such as keyless entry to apartment doors via an app, enhanced videophone entry system, and fully activated fibre from day one, which normally forms part of the rental agreement. A single app that provides all services at one's fingertips is also key to the delivery of a BTR development. 
All-electric
The example cost model opposite is based upon a mid-quality BTR development of 25 storeys with 248 units, with the apartments offering an average footprint of 65m2 each. The location for the project is the outside of London, in the north of the UK. 
The scheme incorporates an amenity space, breakout work spaces, a café and formal lounge area, and 24-hour concierge facility. Gross internal area is 21,000m2 and the net internal area is 15,624m2, providing a net-to-gross ratio of 74.40%.
The cost model includes an all-electric scheme, with roof-mounted air source heat pumps (ASHPs) providing heating only to the apartments via underfloor heating. Cooling to apartments is excluded. The cost model is based upon fourth-quarter prices in 2021 – prices have been taken from similar, competitively tendered projects within the local market on a single-stage design and build procurement route. 
The cost model is based upon bathroom pod construction (which is excluded from the MEP costs), excludes professional fees, local authority fees and charges, associated section 106/278 agreements, and VAT.
About the author
Garry Burdett is director, cost management at Aecom. Aecom senior project surveyor Rebecca Turner helped prepare the cost model