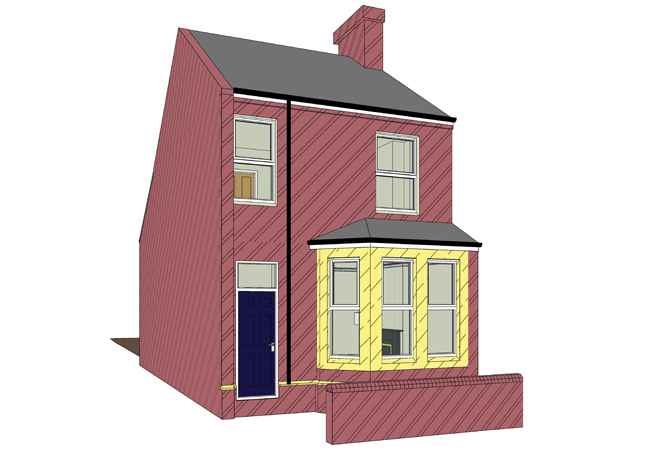 When people ask me what I do, I tell them I am a communicator. I develop and deliver building information modelling (BIM) education material for BRE; participate in research projects around competency with Cardiff University; and champion awareness and upskilling within the UK BIM Alliance. Put simply, my role is to turn technical jargon into engaging, plain language. However, I had never actually put it into practice.
Don't misunderstand – I'm no novice. Before joining BRE, I acted as client and lead designer for Cardiff city council, where I created 3D graphical models to produce drawings, room data sheets and specifications. However, none of it was technically BIM.
So I wanted to produce BIM Level 2-compliant information to prove I had the skills and capability to practise what I preach. At the same time, I had just bought a new home that I needed to manage. As if struck by lightning, an idea came to my mind; why don't I model my own home to BIM Level 2?
This appeared to be a challenge at first. After all, industry case studies are based on large prisons, listed libraries and new builds. Could BIM Level 2 even work for a two-up, two-down terrace in South Wales? The answer, of course, is yes. After all, BIM is just the effective use of structured information to produce and manage asset information – and that is what I needed for my home.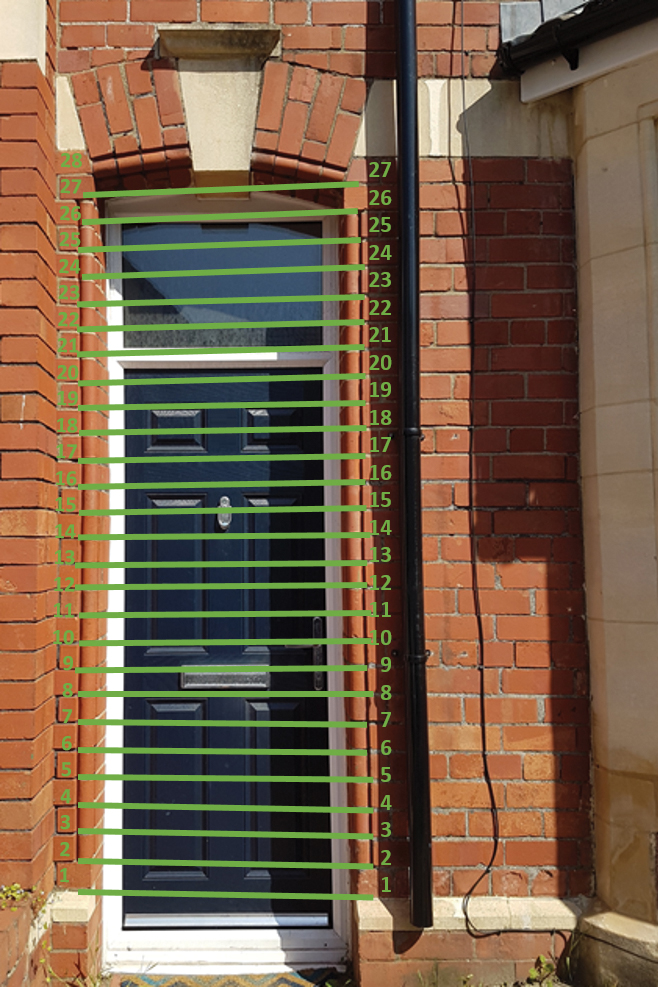 The brick courses on the house did not align
So, as with any project, I started with a brief. I formed my employer's information requirements (EIR) – what I wanted to know and how I wanted it formatted. To do this, I had to think about model purposes, to register what is in my home and what information I needed to repair or replace elements.
Based on these purposes, I then considered what information I needed to satisfy them. This meant my EIR was lean, and only asked for what I needed to manage my home. Then, before I modelled a single object, I planned my approach with my own BIM Execution Plan. 
Abraham Lincoln once said: 'Give me six hours to chop down a tree and I will spend the first four sharpening the axe.' These are wise words that I followed; after all, I wasn't getting paid for this – it was being done out of hours, using up my precious evenings and weekends, so what I did had to be right first time.
How did I do it? I followed the national standards, but there were several challenges in that.
Graphical model
Because of my naivety, I encountered several obstacles to producing my graphical model – the first being that my house isn't straight. Surprisingly, a terrace built more than 100 years ago doesn't have perfectly straight walls and right angles. This made modelling my home in a cold, harsh, virtual environment difficult.
In my BIM Execution Plan, I had given myself a tolerance of +/-5mm – which helped – but there are certain issues that tolerance alone cannot overcome. Take my front elevation, for example. I did what any good surveyor would and counted the brick courses. However, it transpired that, within the brickwork, I had a 'pig' – the brick courses on one side of my door did not align with the other. This meant my measurements were 75mm out because I was counting the wrong side.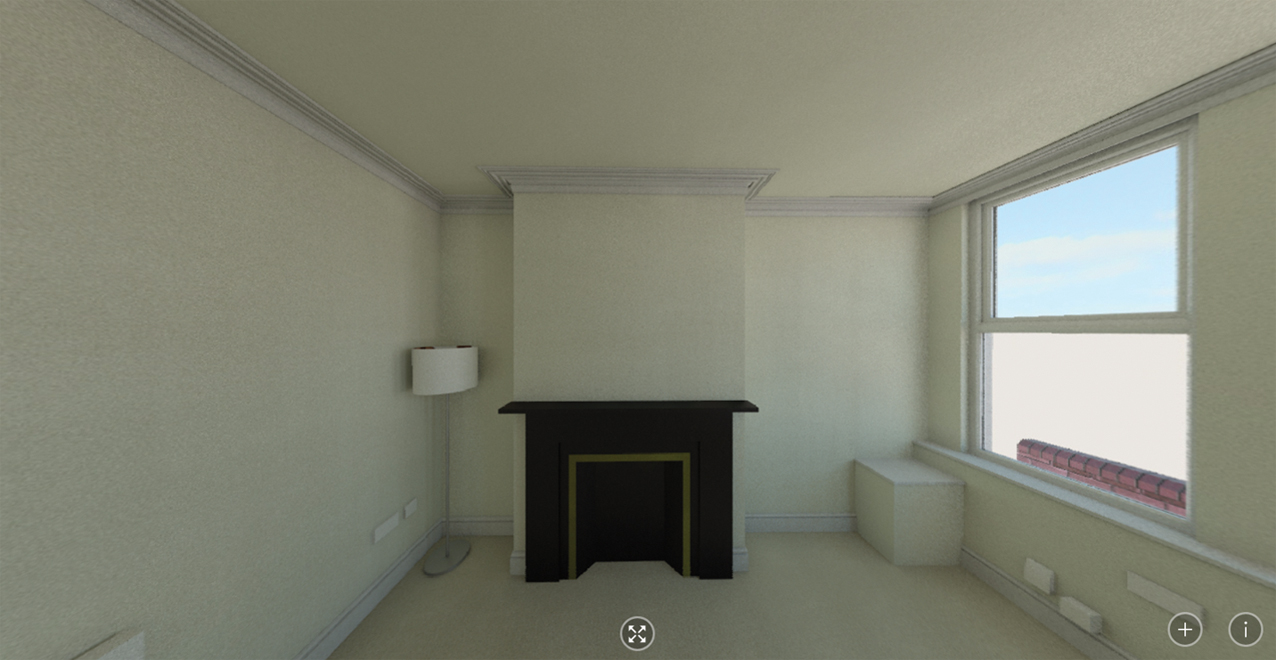 Dan Rossiter's house recreated using VIMtrek
The benefit of creating this model is that I now have accurate geometry that could be used for several additional purposes. For example, it is possible to walk around my home in virtual reality thanks to VIMtrek, which has made my home into a virtual environment on the Samsung Gear.
In addition, 360° views are available on the blog, so anyone can experience my living room and attic for themselves. Just imagine how this technology could revolutionise the home buyer's market if you could experience a potential new home without leaving the comfort of your current one.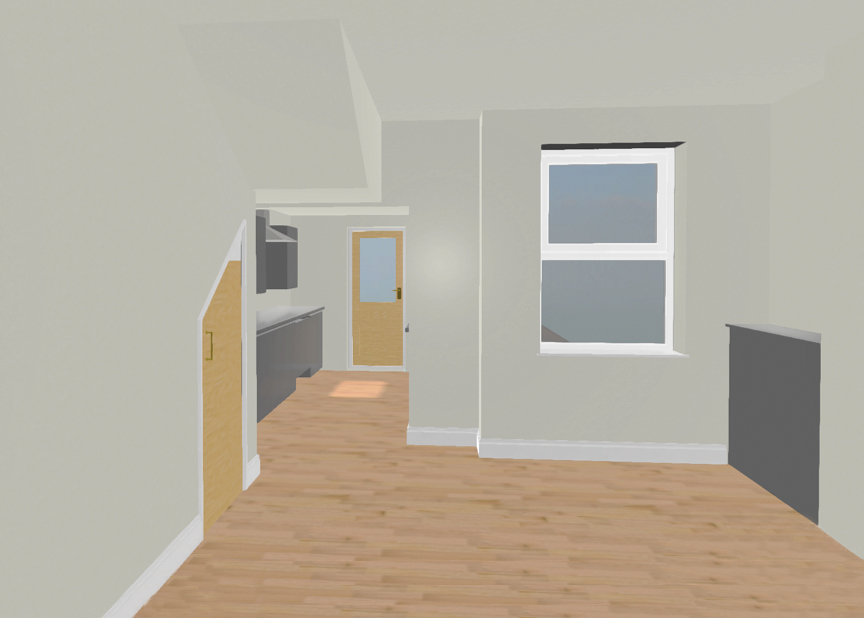 The software allows for 360° views
Non-graphical information
Another challenge I had was structuring information so I could export it into IFC – an open file format – to create Excel COBie files in compliance with PAS 1192-2 & BS 1192-4. 
Producing the graphical model was easy: populating it with good information, however, was a challenge. In the first instance, some properties needed to be named following a specific convention, which meant a lot of model and object configuration. But limitations in the software meant some of these properties had to be addressed through bespoke mapping workflows.
Support information wasn't easy to come by and – in order to export as much COBie information as possible – I had to reverse-engineer programming code to determine which properties could be used, and which would take priority over another. In addition, there are rules on what values are permitted within COBie fields, as outlined within the United States National BIM Standard. For example, all my date information had to be formatted as YYYY-MM-DDTHH:MM:SS.

"This technology could revolutionise the home buyer's market if you could experience a potential new home without leaving your current one"
The advantage of this non-graphical information is that I now have all the maintenance information for my home structured in a consistent format. Because of the level of discipline needed, I also have incredibly compact model files.
After their export into IFC, all the graphical and non-graphical information about my home takes up less room on my phone than 'Brit pop' band Blur's Coffee and TV MP3 file.
Documentation
Another challenge for me was that – because I have done this work for myself – I have no office standards, methods and procedures to follow. As such, I have had to rely on national ones.
The advantage of this is that I have exposed myself to dozens of standards I never knew existed, including: room number (ISO 4157-2); drawing borders (ISO 5457); title blocks (ISO 7200); and CAD fonts (ISO 3098).
I have managed to produce a full set of BIM Level 2 graphical models, non-graphical information and documentation about my home.
Some people might say that BIM only applies to new-build or central-government projects, but – to be perfectly honest – there really is no BIM like home.  CJ
■ Rossiter's blog, There's No BIM Like Home – from where his BIM Level 2 graphical models, non-graphical information and documentation can be downloaded – is at www.bimblog.house
■ Dan Rossiter is a chartered architectural technologist and senior BIM communicator at BRE