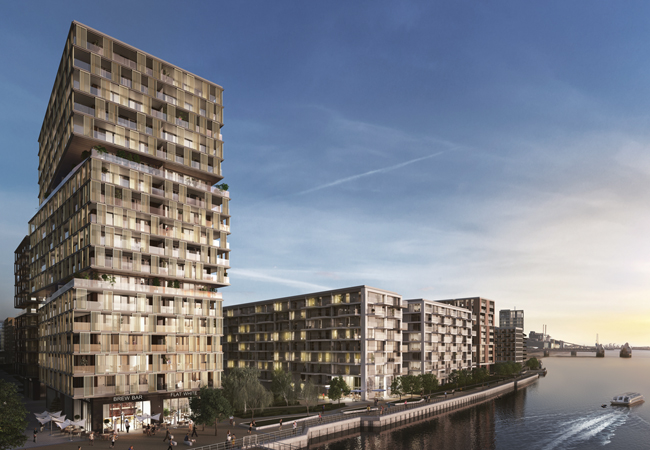 The Royal Wharf development, in east London's Docklands, is one of the country's largest residential and commercial projects, located at the heart of a £3.5bn regeneration of the Silvertown district of the Royal Docks.
A joint venture between Ballymore Group and Singapore-listed Oxley Holdings, the 161,874m2 development will deliver 3,385 residential units and 10,000m2 of retail and commercial space. According to the developers, almost 45% of the 40-acre site is planned as public open space, including a 2.4-acre park and a riverfront promenade. The development will also feature a piazza, leisure facilities and a high street.
At the end of 2015, building services engineering firm Tate Consulting was appointed by the joint-venture development partners to provide a full mechanical, electrical and plumbing (MEP) design service in BIM for Phase 2B of the project.
Central to the project was the use of cloud-based BIM, employing a shared environment online BIM development and modelling tool (DMT) combined with a cloud-based file collaboration and integration system (Tate employed Autodesk Collaboration for Revit with BIM 360 Team software).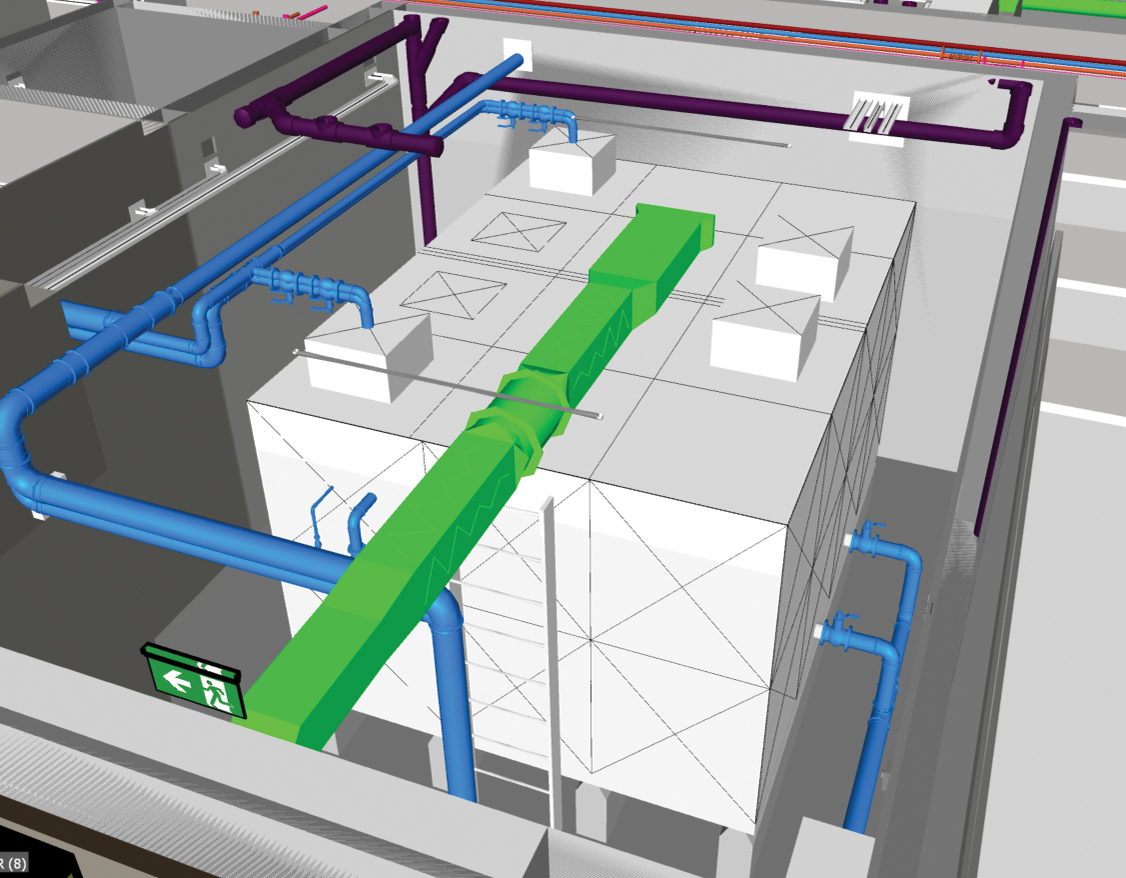 With ground floor space at a premium at Plot 24, the tank room was drawn up in 3D
Tate has worked closely with architect Whittam Cox, structural engineers OCSC and contractor Roundstone Construction Services to coordinate the design. The firm's appointment was extended in November 2016 to cover Phase 3 of the development, which is currently scheduled for completion in December 2020.
Jeff Bearcroft, managing director at Tate Consulting, explains why cloud-based BIM was chosen. 'We were very familiar with Autodesk software and were comfortable it could deliver what we needed quickly and efficiently,' he says. 'We considered our own server for the BIM modelling tool, but were attracted to a cloud solution because of the speed of deployment.'
Before Tate came on board, says Bearcroft, the client advised that it was planning to increase the use of offsite building prefabrication – supplied by Netherlands-based specialist Hurks – on later phases of the development. As a result, the design team had to produce fully coordinated designs more quickly than had been the case in earlier phases on the Royal Wharf site – which meant that, if design clashes were not picked up in time, rectification would be more difficult and time consuming. 'Doing the design in BIM for later phases was an important step forward in addressing these issues,' Bearcroft adds. 
Sustainability
The project included around 1,960 apartments and townhouses. There was a 'fabric first' philosophy to the building design, with the energy-saving measures focusing, initially, on maximising the performance of the thermal elements of each plot to reduce use. This was supplemented by: high-efficiency mechanical heat recovery units to each apartment; full LED lighting in apartments and landlord areas; automatic lighting controls in common areas; extensive energy submetering of landlord services; and variable speed drives for fans and pumps. The development also made use of a large-scale combined heat and power (CHP) plant – located in the dedicated energy centre – to serve the project's district heating network. A large proportion of the site's thermal energy demand for heating and domestic hot-water generation is served by the CHP.
'This and the other energy-saving measures have allowed the targeting of a 25% to 50% reduction in carbon emissions over Building Regulation minimum values to each apartment,' says Bearcroft. Several plots also incorporated 'green roof' construction to encourage biodiversity.
Working in the cloud
Adopting the cloud-based BIM solution offers a more streamlined and efficient approach to the project, says Bearcroft: 'Cloud-based design environments have changed the whole way of working at Tate. We are now able to design more quickly, and coordinate our work with the architects and structural engineers to a much higher level of precision than is the case in a 2D design environment.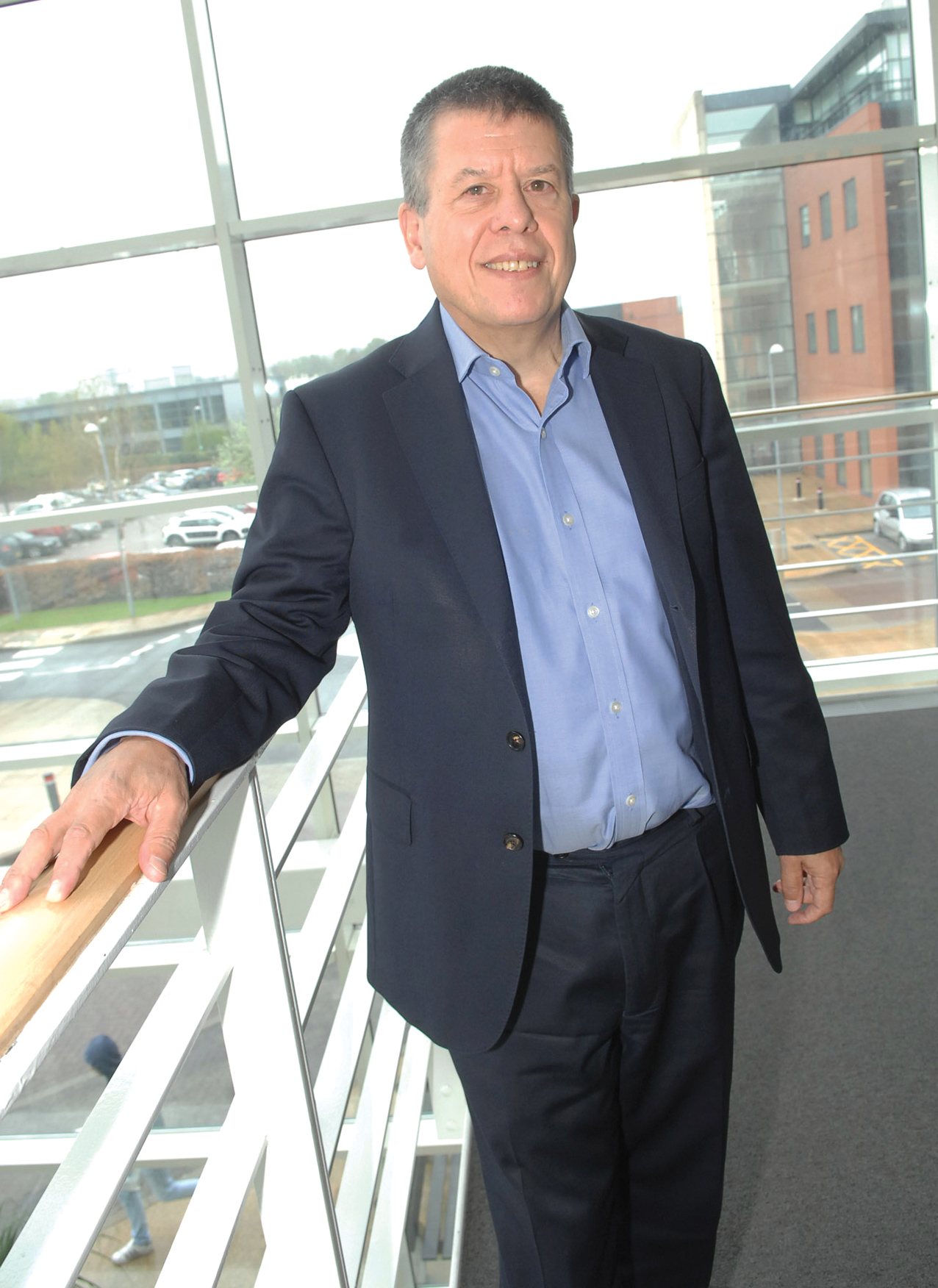 Jeff Bearcroft says cloud-based BIM helped Tate resolve issues quickly at Royal Wharf
'The key benefits are that it enables the whole design team to work more collaboratively and across multiple offices, allowing the design to be coordinated quickly and securely between the MEP, architectural and structural engineering models.'
Between 10 and 15 BIM development and modelling tool technicians and engineers were involved on the collaborative design process for the Royal Wharf project, with cloud-based BIM integral to the seamless coordination during the building design process, from concept to completion. 'The cloud-based environment makes it easier for us to maintain an overview of all incoming streams of project information and enables us to cut out errors, while working to very tight deadlines,' Bearcroft says.
'Previously, we had to use FTP [file transfer protocol] sites and Dropbox to share models, with the risk that design changes were not up to date and information could be lost between various people and their different systems.'
Using a cloud-based file collaboration and integration system allows design engineers to access the models and interact directly with DMT technicians online by onscreen marking up of changes, and logging issues for resolution. Previously, all changes were logged with the BIM manager using hand mark-ups for onward communication to the DMT technicians. 'This means the design team is able to react more quickly to client design changes, but – at the same time – the company has full visibility on the development of the design,' says Bearcroft.

Cloud-based BIM design has changed the way of working at Tate. We are now able to design more quickly, and coordinate our work with the architects and structural engineers to a much higher level of precision
As a result, engineers have been empowered to solve issues directly and have been able do this with the client on site, via their laptops and mobile phones – creating a more efficient and responsive collaborative environment.
While some firms may be reluctant to commit to a cloud-based BIM solution because of concerns about security, this was not a problem for the Royal Wharf development. 'We have not encountered any significant security issues,' says Bearcroft. 'We are able to control who has access to the cloud-based models. We also have our own IT systems to back up all cloud-based models in case of any disruption to the service.'
Resolving issues
The extensive collaboration through cloud-based BIM has had a significant impact on the speed with which design issues and clashes have been identified and resolved, so reducing construction delays and enabling an ambitious construction programme to be met.
Revit models in the cloud of the Royal Wharf development and services
'Coordinating designs for architects, structural engineers and building services engineers is a challenge,' says Mark Brunette, BIM manager at Tate. 'Without regular online collaboration, there can be significant delays in detecting any issues – which, in turn, can result in considerable problems for the contractor further down the line.'
The cloud-based BIM approach allowed many issues to be overcome more quickly. The leisure centre at Royal Wharf, for example, involved a highly challenging coordinated design of large ventilation ducts associated with the full-sized swimming pool and gym. It was a particularly difficult project because the services required had to fit within a condensed ceiling and riser void, and with a very complicated structural model.
There was potential for design issues to cause major problems with the rest of the development if they were not addressed quickly.
Some of the issues identified early and resolved through BIM included:
Ceiling heights and wall locations modified by the architect during the design development process, which required rerouting of the ductwork and pipe systems to resolve clashes

Detailed builders' work drawings fully modelled in 3D early in the design process, to allow clash detection

The required duct and pipe structural penetrations reworked and modified to suit structural design requirements and avoid clashes with columns and beams.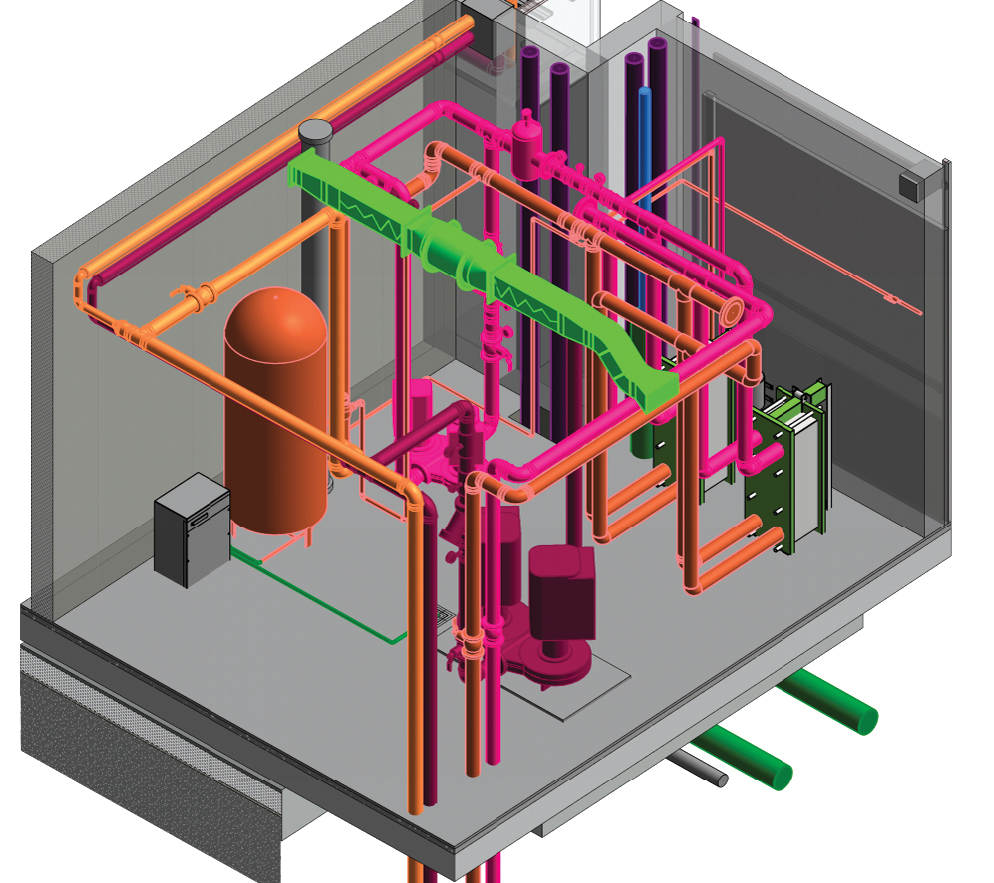 Heat substation in Plot 24, which serves the heating and domestic hot water demand for 500 apartments
Clash-detection software was employed as part of the cloud-based collaboration process. 'This offered easy 3D walk-through and problem analysis to the whole team, including MEP, architects and structural engineers,' says Bearcroft. 'It allowed the whole design team to review design changes across multiple office locations using screen-sharing via Skype. This enabled easy and fast 3D clash detection and problem identification of coordination issues between all services and the architect and structural model.'
Conclusion
The speed in resolving design issues that this cloud-based BIM collaboration project delivered was central to helping the firms working on the Royal Wharf meet the developers' ambitious programme dates.   
'The Royal Wharf project is on a very fast development programme, requiring the architects' structural engineer and ourselves to be able to coordinate the design while responding to client changes – for example, as a result of planning matters,' Bearcroft says.
'If we had to rely on previous design methodology, it would inevitably have led to unacceptable delays and less design efficiency.'
For Bearcroft, using cloud-based BIM has had very positive benefits – so he would like to encourage greater use of it on future projects. 'There have been a lot of lessons learned and we believe there is much more that can be achieved by even closer working and communication with clients, architects and structural engineers. We hope to develop these ideas as we go forward.'
Pilot 24 tower block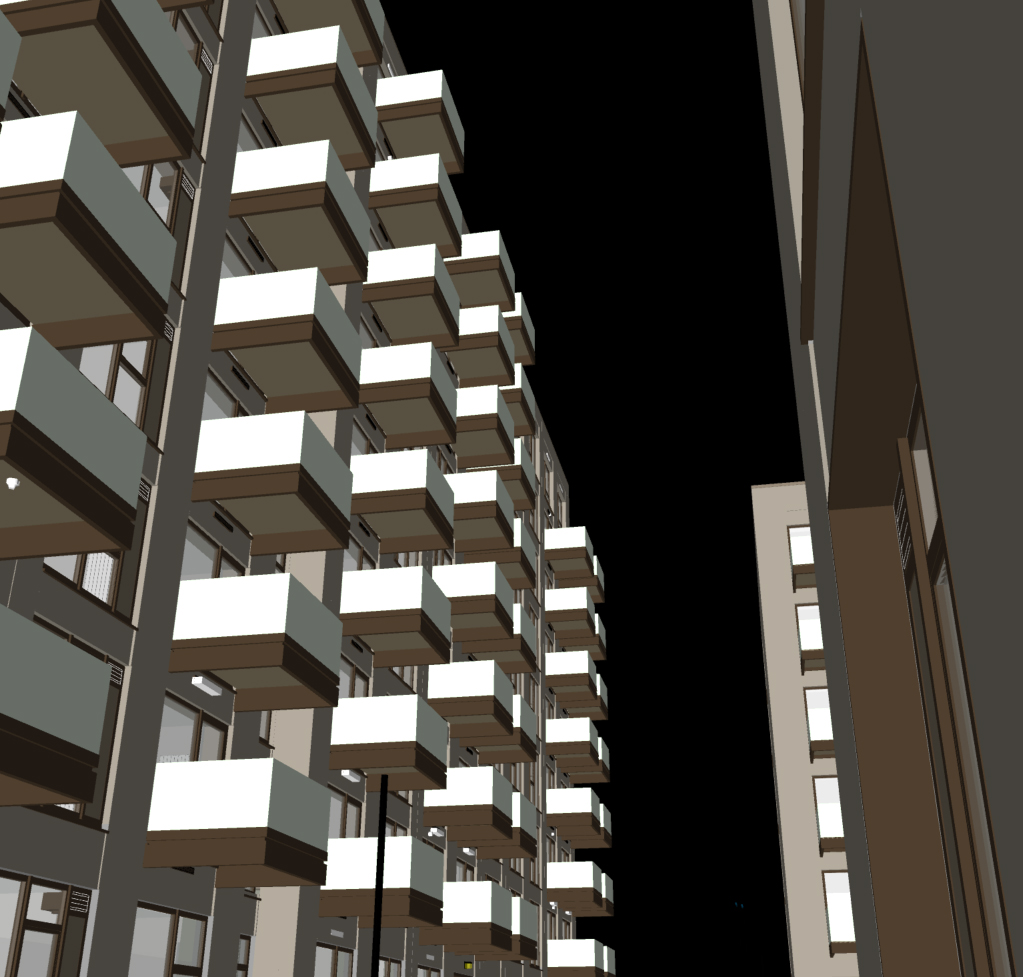 Tate Consulting has recently provided a full-duties MEP design for a pre-cast construction, 198-unit, residential tower block at the Royal Wharf development in London. The building services for Plot 24 were modelled in 3D to ensure spatial fit and coordination, and to allow the main builders' work penetrations to be cast during the structural façade panel manufacture, off-site. After a recent site visit, the MEP installation is progressing, with the first fix well under way.
■ Find out about CIBSE's Society of Digital Engineering