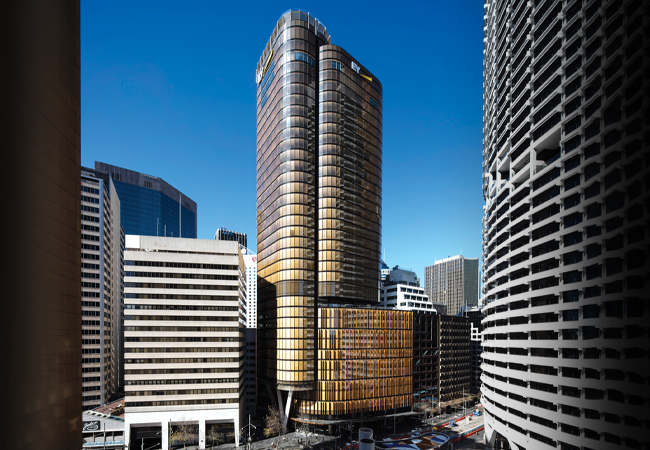 The walls of the 37-storey office building at 200 George Street in Sydney, Australia, look as if they are made from gold. Their appearance, however, comes from the hundreds of timber blinds comprising the building's state-of-the-art façade system.
Known as the EY Centre, after its anchor tenant, the tower contrasts starkly with the grey, metallic, aluminium-and-glass façades of its neighbours.
While its timber aesthetic sets it apart, however, what really differentiates the EY Centre is that it has established a new standard for how workplaces should be created.
The 39,000m2 tower was developed and constructed by Mirvac, to an architectural design by Francis-Jones Morehen Thorp and an MEP scheme devised by Arup. At the time of the scheme's development, in 2014, Mirvac had just launched its sustainability strategy, This Changes Everything.
'The development at 200 George Street was an awesome opportunity to walk the talk,' says David Palin, Mirvac's sustainability manager, office and industrial.
'We set a target to be net positive in terms of carbon by 2030. For the first five years of the plan, we said we'd reduce our carbon intensity by 20% and we wanted this project to achieve that as a minimum.'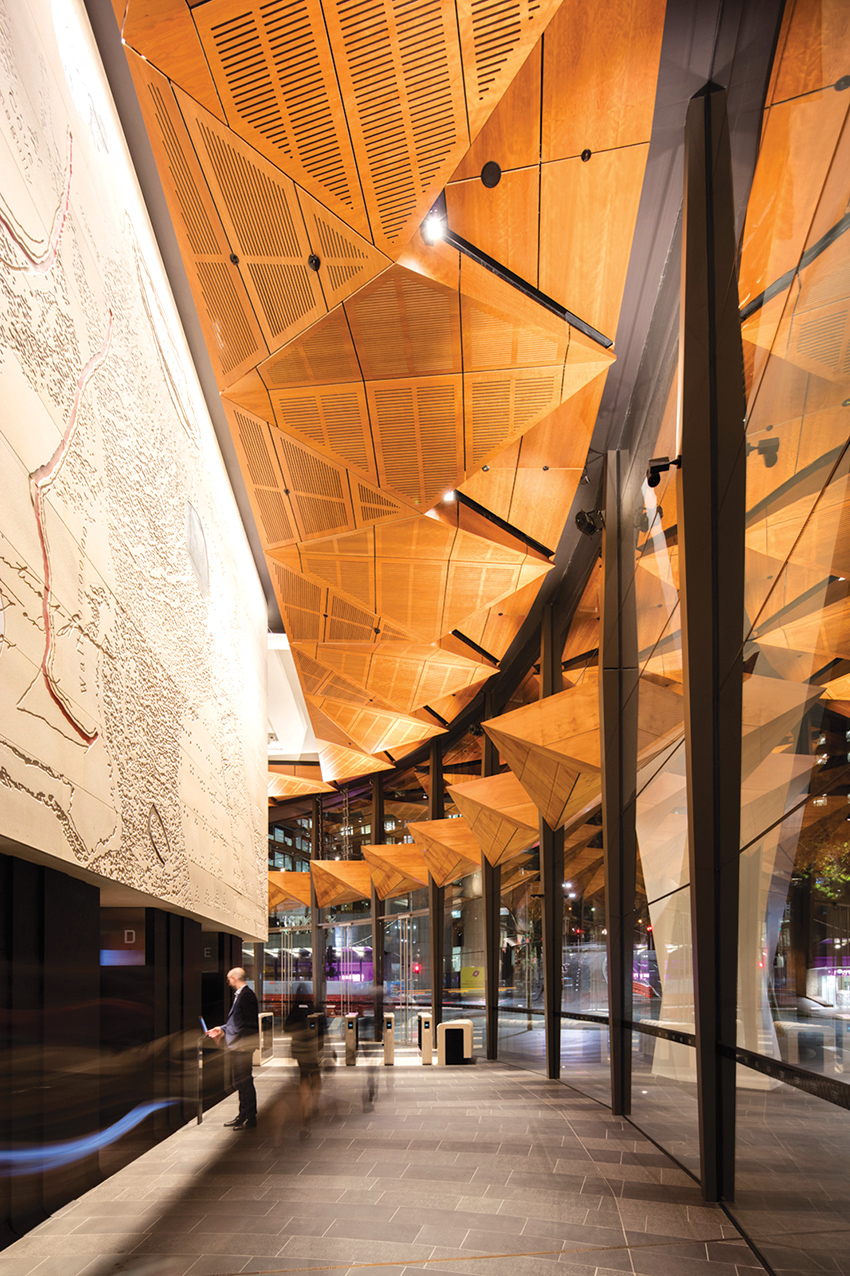 It was a walk that was all the more significant after Mirvac decided to relocate its head office to six floors in the new building. The environmental performance benchmark for office buildings in Australia is the National Australian Built Environment Rating System (Nabers). Mirvac's sustainability targets were a 5-star Nabers energy rating and a 4-star Nabers water rating.
It also set out to achieve a 6-star design rating and 6-star as-built rating under the Green Building Council of Australia's (GBCA) Green Star scheme. 'The GBCA tools are a little more holistic, but they do use Nabers for their energy and water components,' explains Palin.
In developing the low-energy design, Mirvac took a whole-life approach by incorporating lessons it had learned from recent projects with the early involvement of its operations team in the design process. It was an exercise that resulted in the removal of a proposed tri-generation system and the blackwater (sewage) recycling plant, reducing development costs by approximately AUS$3m (£1.66m).
'We view tri-gen as a liability, because – if it goes offline – your Nabers rating will go with it,' Palin says. Instead, the team placed an increased focus on operational efficiency. 'We removed the eco-bling to focus on good engineering,' Palin adds.
Mirvac spent the money it had assigned to tri-generation on additional metering and controls. 'We wanted to understand how the building and its systems were performing so we could optimise their operation during a two-year, soft landings tuning process, to learn from the experience,' says Palin.
Ventilation
Fresh air to the office floors is provided by a hybrid HVAC system developed by Arup. This comprises a VAV system with heating and cooling, serving the central office area and a zone of active chilled beams at the perimeter. Chillers and boilers are located in a plantroom next to the tower, but the air handling units are housed in the main building.
The air handling units deliver high volumes of fresh air to the offices at a rate of 18.75 L·s-1 per person, in line with the requirements of the GBCA's Green Star Design rating document; this is well above the minimum fresh air requirements. 'We do have CO2 sensors fitted, so – if the occupancy levels are lower on a particular floor – we can lower the fresh air supply rates to save energy,' says Mirvac's David Palin.
Mirvac is using the project to learn about the impact of measures such as the increased fresh air rate on the building's occupants. It turned one of the floors it was occupying (Level 30) into 'a living lab'. 'We've got lots of environmental monitors and other sensors, in addition to extensive energy and water metering,' Palin explains.
In addition to a comprehensive control strategy, the developer also invested in the façade. The tower's structure is relatively conventional, comprising a reinforced-concrete core and post-tensioned concrete floor plates. By contrast, its 16,000m2 closed-cavity, double-skinned façade system is exceptional. It comprises an outer glazed skin and an internal double-glazed unit for insulation. The glass is low-iron to maximise transparency, and a wooden blind is located in the cavity between the two skins. To prevent moisture and dust entering the cavity, it is kept lightly pressurised with dehumidified, compressed air.
The façade system is claimed by manufacturer Permasteelisa Group to achieve a similar performance to a traditional double-skin façade but without the loss of net lettable-area.
Double-skinned façade
Manufacturer Permasteelisa Group claims the façade system can achieve a similar performance to a traditional, double-skin façade. 'The quality of the façade makes a big difference in helping to manage heat loads and such like,' says Palin.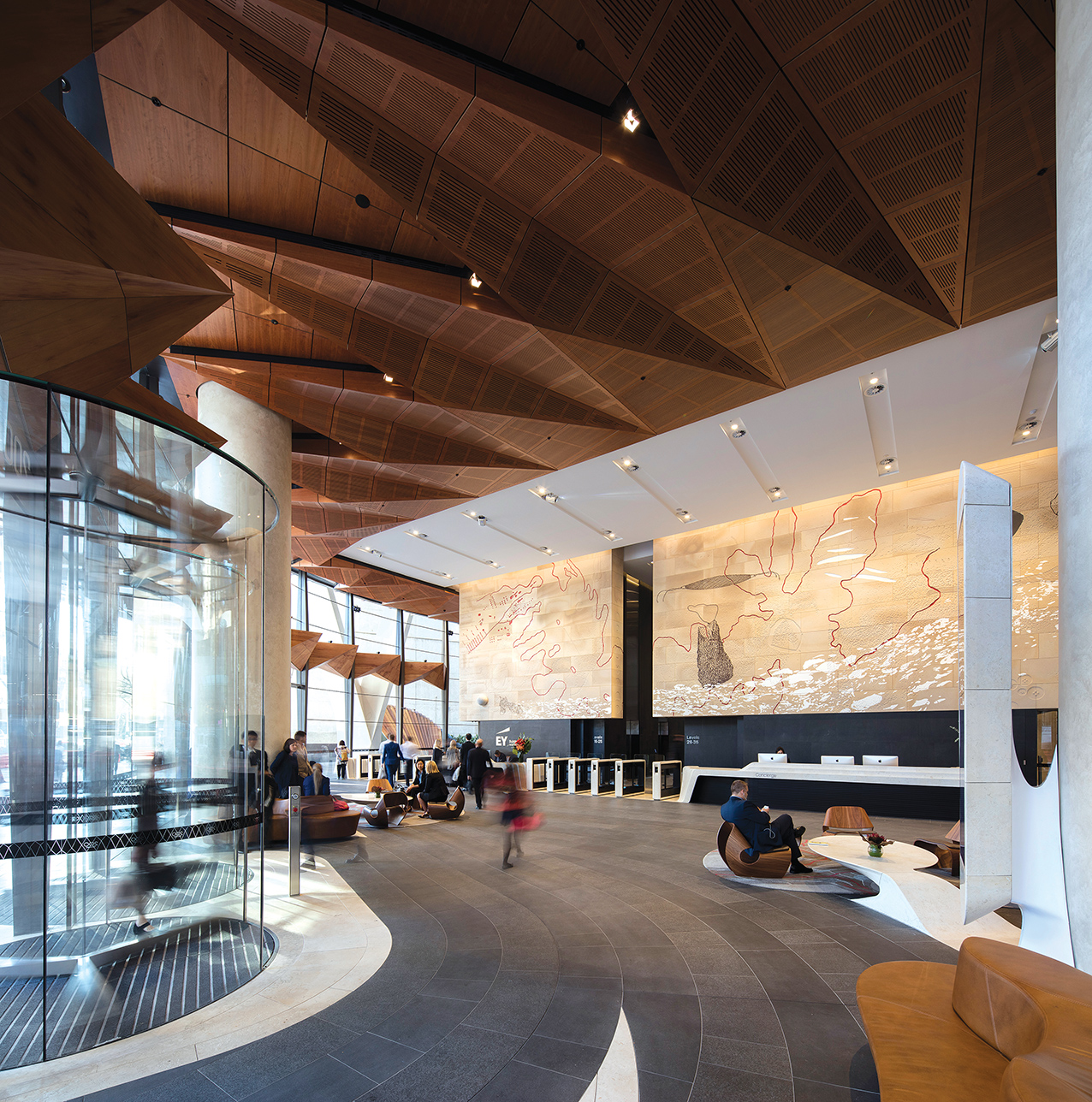 With floor-to-ceiling glazing, the timber blinds are key to maintaining comfort conditions on the office floors. They are fully automated to deliver what the architect describes as 'a kinetic façade' – which, in reality, means each blind's horizontal louvres can tilt to control glare and heat gains in the offices while maintaining views out.
Somfy manufactured the blind motors, producing a 365-day sun-tracker model, with integrated web-based controls. This controls precisely the louvre angle, depending on where the sun is incident on a façade at a particular time, on a particular day of the year.
The shadow-management software also predicts the areas of the building's façade that will be shaded by the surrounding buildings at any time, and then opens the louvres in those areas to allow in more light.
This may be a useful feature given that 75% of Mirvac's workstations are located within 7.5m of a window, giving employees access to natural light. The system also allows administrators to log on to the system to close the blinds further, should they wish.
The system is based on an open-protocol KNX system; the blind motors are linked to controllers, which are connected to a LAN backbone and a central processing system based on a Tridium Niagara network. Sensors on the roof detect light levels relative to a threshold and the blind-management system will adjust the blind angle accordingly.
This system manages 34 line masters, 754 motor controllers, 2,879 venetian blinds and motors across 351 zones, with each zone containing between four and 18 blinds.
The system is a key strategy in achieving and maintaining building performance. Tenants have not been given complete freedom to override blinds or gain blind control – thoughtful control comes through the use of modelling of glare/shadowing, the use of sensors on the roof of the building to assist in blind control, as well as ongoing fine-tuning of blind control to limit distraction, excessive opening/closing and consistency in operation between blinds and blind zones. The model gets revised and control is fine-tuned over time, for example taking into account changes to the surrounding building landscape.
LED lighting
Lighting on the office floors is programmed for the varying levels of brightness throughout the day. The EY Centre is Australia's first fully LED-lit buildings. At the time the scheme was being developed, LED lighting systems for open-plan office floors were still in their infancy.

We removed the eco-bling to focus on good engineering – David Palin
'We trialled between 20 and 30 systems in the offices in which we were working, and in the site offices, to find the best solution,' Palin says. The extra effort was worth it: according to the scheme's lighting designers, Arup, the solution offers energy-consumption savings of 25% over T5 fluorescent lighting, and reduces waste to landfill significantly because of the increased life of LED fittings.
Lighting control within office and back-of-house areas is via a range of motion (PIR and microphonic) and light (photoelectric) sensors. Lighting-control zones are smaller than 100m2 in area, and all lighting control interfaces with the building management system (BMS).
Soft landings
Palin says a key element in achieving the 5.5-star Nabers for Offices energy performance was the commissioning, tuning and handover phase. 'We put a fair bit of resource into having a 24-month tuning process under soft landings,' he adds. Again, operational input was critical at an early stage to ensure a focused approach to tuning and to the allocation of resources to support that process.
In conjunction with Mirvac's operational team, an independent commissioning agent (ICA) was appointed before commissioning, to review the design and give feedback. The commissioning team comprised Mirvac Development, Construction and Operational representatives, design consultants and contractors, and the ICA. This team was in place for two years to optimise the building performance and to learn from the initial operational phase of the building.
To aid the tuning process, a SkySpark fault-detection and diagnosis package was used to monitor and interrogate building operations, and to detect control-system anomalies. This system was hosted and managed by Bueno, while the installed BMS is a Metasys Building Automation System. Regular meetings between BMS and mechanical contractors, facility management and sustainability teams are held to maximise the impact of these systems, and to identify anomalies and opportunities.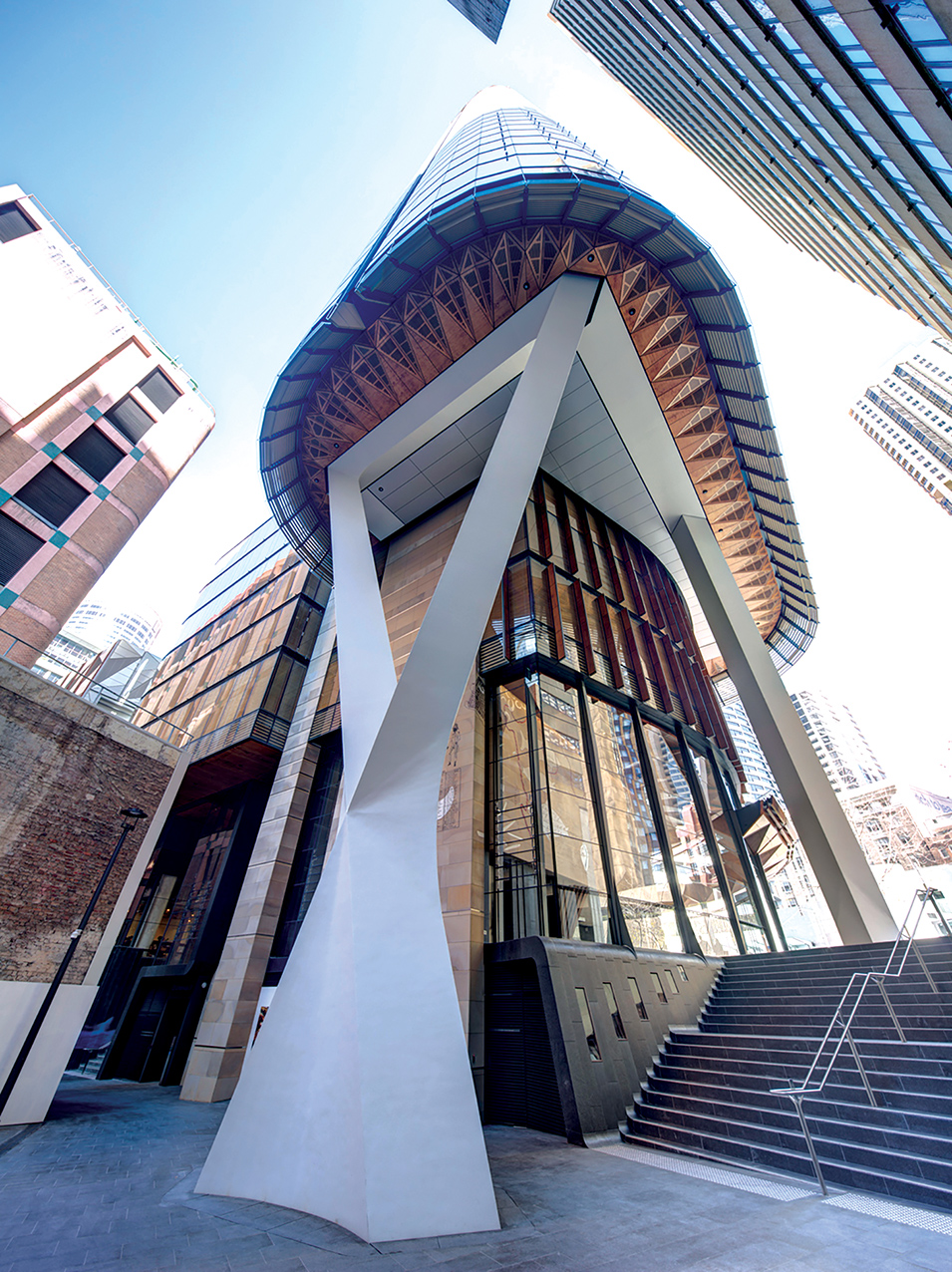 The tower's structure comprises a reinforced concrete core and post-tensioned concrete floor plates
To assist the tuning process and build knowledge of indoor environment quality, several Samba monitoring systems were embedded within the Mirvac tenancy. The units offer a rich insight into indoor environmental quality (IEQ) parameters and help optimise plant operating periods.
In addition to the Samba IEQ data, Mirvac did post-occupancy evaluation surveys using the Building Occupants Survey System Australia (Bossa), developed at the University of Sydney's IEQ lab, headed by Professor Richard de Dear. A survey was conducted on employees in Mirvac's ageing offices before their relocation. After a six-month honeymoon period in their new 200 George Street accommodation, a second survey was undertaken.
Mirvac found a significant improvement in employee perception of IEQ. Scores for overall performance, health and productivity improved by 35%; noise distraction and privacy scores improved 50%; and spatial comfort scores also increased by 50%. In fact, the EY Centre outscored Mirvac's former head office across all categories.
The 5.5-star Nabers for Offices energy rating is a significant achievement in a premium-grade office tower without tri-generation or renewables, and an improvement on Mirvac's 5-star target. 'How did we get the scheme from 5 to 5.5? The quality of the façade makes a big difference in managing heat loads,' says Palin.
The improved rating represents a 26% reduction in carbon emissions over a 5-star performance, representing a reduction of approximately 733tCO2e. 'With 200 George, we save about A$200,000 in energy a year by having a 5.5-star – rather than a 5-star – Nabers energy rating. 'That reduction in building operational costs represents a significant potential valuation increase of AUS$3.78m (using a 5% cap rate) for the building owners,' says Palin. The building's energy-use intensity is 84kWh.m-2.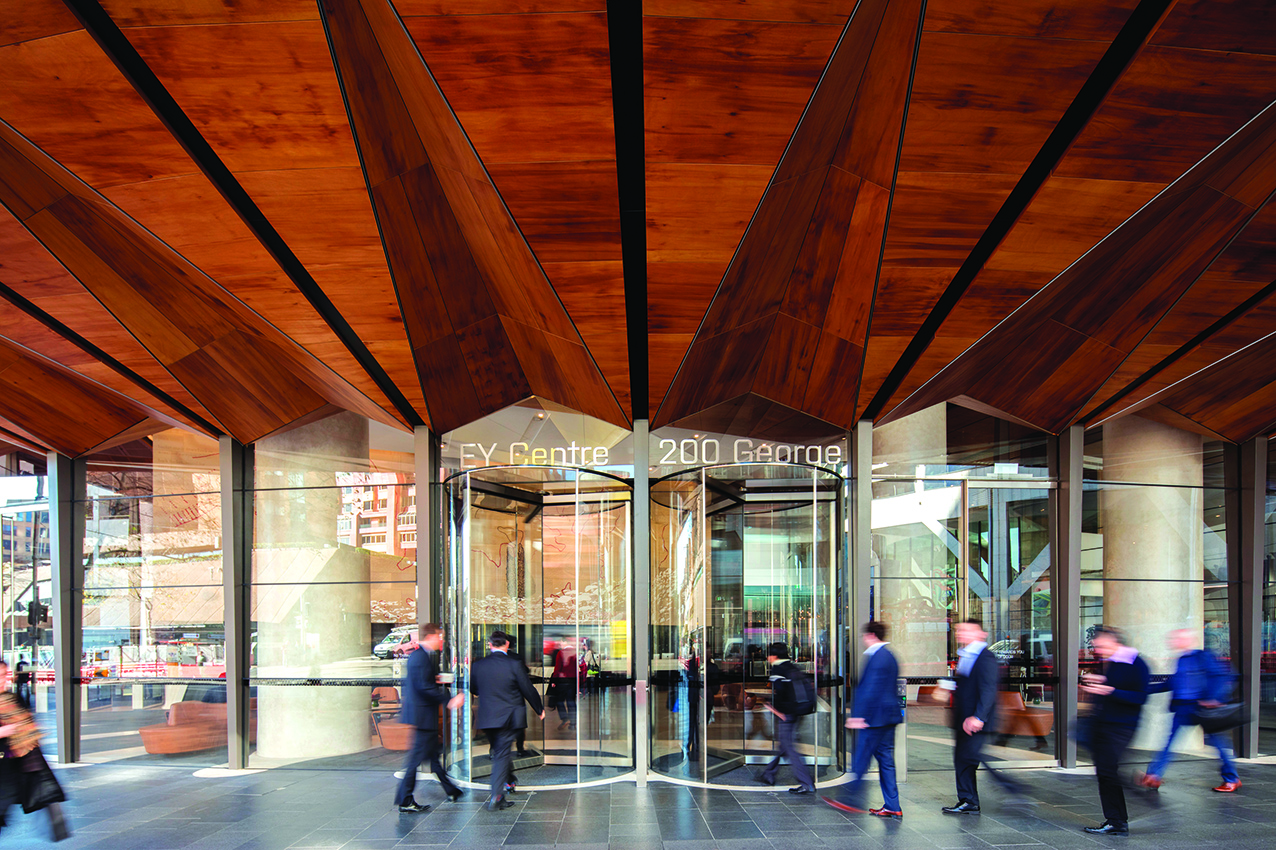 Judges praised the project's 'truly holistic approach to building performance and wellbeing
The scheme has subsequently achieved 5.5 star Nabers for Offices Indoor Environment rating – and the six floors that Mirvac occupies for its new HQ have the kudos of being the first in Australia to be certified under the Well Building Standard, for which they achieved a gold rating. The building has also achieved the 6 star Green Star Design, As-built and Performance ratings that Mirvac was targeting.
'We didn't target Well for the whole building because Well came to our attention after the project was under way. But we wanted to learn about it, so we targeted Well for our tenancy space,' says Palin.
Not every target has been met, however. The development target of a 4-star Nabers water rating was missed during the first year of operation, with the building managing 3.5 stars. A reduction of 38 L.m-2 would have been required to achieve this result. The operational team is working on reducing water consumption and optimising rainwater capture and reuse to deliver on design objectives. 'We're only 3.5 stars on the water, but we'll get there; it shows that you can be water efficient, energy efficient and have a beautiful building,' Palin says.
With credentials such as these, it will come as no surprise to hear that the building won the Project of the Year – International category, and walked away with the best-of-the-best award, at this year's CIBSE Building Performance Awards. The judges described it as 'an exemplary project' and praised the 'truly holistic approach to building performance and wellbeing'.