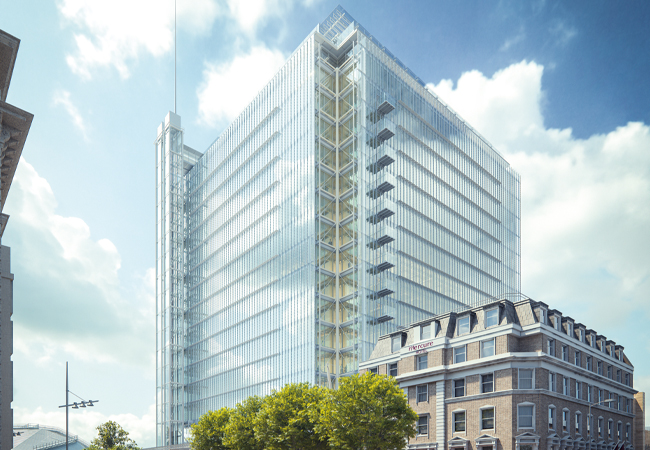 Visualisation of Paddington Square image courtesy of RPBW
Highly transparent façade has been fundamental in realising the architectural concept for the Paddington Square mixed-office development in West London.
Joost Moolhuijzen, of the architect Renzo Piano Building Workshop, describes the design as a clear cube floating above the ground with a crystalline façade, 'like a fine lace of steel and glass' that echoes the arches and skylights of Brunel's nearby railway station.
The 14-storey building is the centrepiece of the regeneration zone around Paddington Station. Its design has an emphasis on wellbeing and sustainability, and there is 350,000ft2 of light-filled workspace across , plus 80,000ft2 of shops, restaurants and cafes, and a 1.35-acre public piazza.
The building is also integrated with a new Bakerloo line underground entrance and ticket hall. It features West London's highest rooftop restaurant, a retail street with al fresco dining, and an elegant, standalone pavilion – spanning three levels – that includes a rooftop terrace overlooking the piazza.
A transparent façade was essential to make the architect's vision of maximising daylight into shops and offices a reality, enhancing the wellbeing of those working in the building.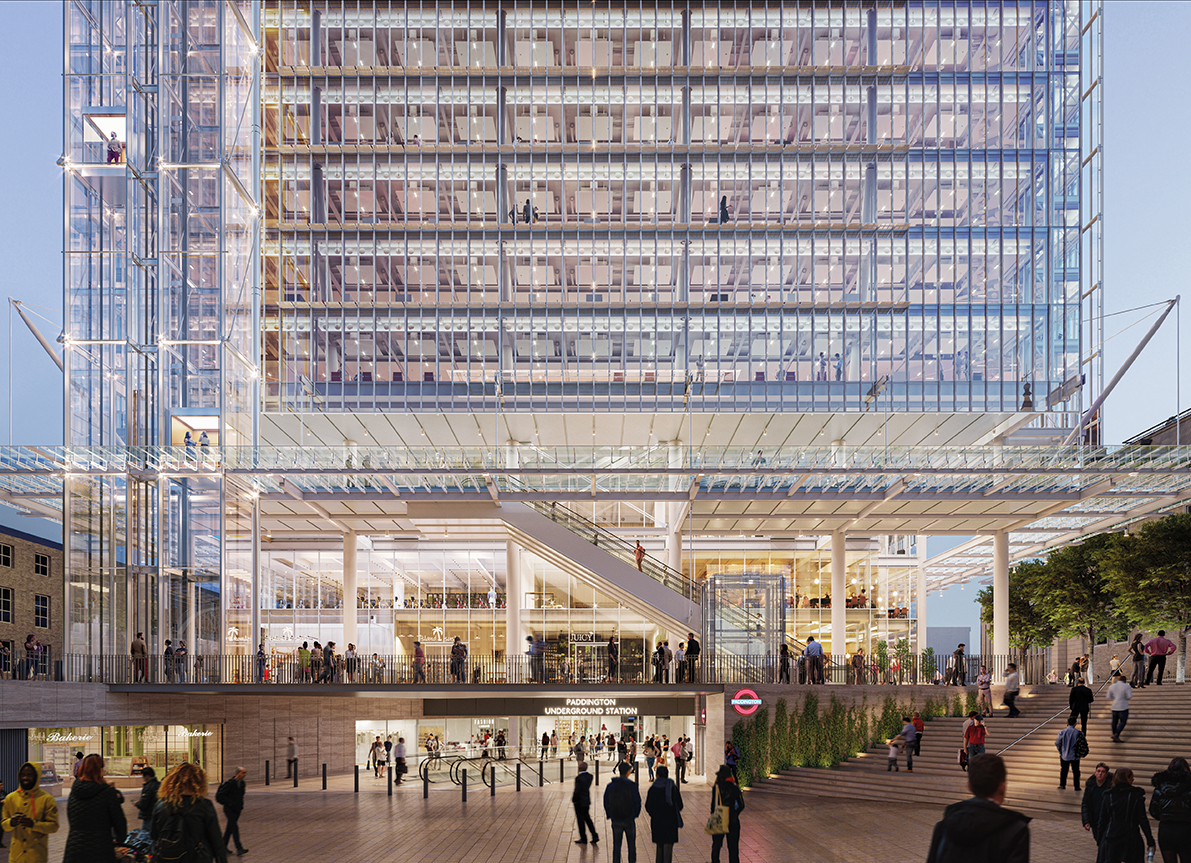 General view, with glazed canopies and scenic lift
Façade project team
Client: Sellar

Lead designer: Renzo Piano Building Workshop

Executive architect: Adamson Associates International

Main contractor: Mace

Façade engineer: WSP

Cladding subcontractor:
Focchi Ltd
Façade overview
The façade comprises three main cladding types: bespoke unitised curtain wall; bespoke stick curtain wall; and travertine rainscreen. In total, there are 30 variations. A bespoke unitised curtain wall is used for the main façade, while the bespoke stick curtain wall features in the retail spaces, rooftop restaurant, pavilion building and glazed canopies. The travertine rainscreen has been used at a number of locations to overclad solid walls.
There are several ancillary items, including balconies, wind screens, glazed balustrades, plant enclosures, fully glazed scenic passenger lifts to the rooftop restaurant, and a viewing platform with glazed floor at the Level 17 rooftop restaurant terrace.
The transparency of the façade has been achieved by a combination of low-iron glass and ultra-clear interlayers, and by replacing solar coating with alternative solar-control options on the main office façade.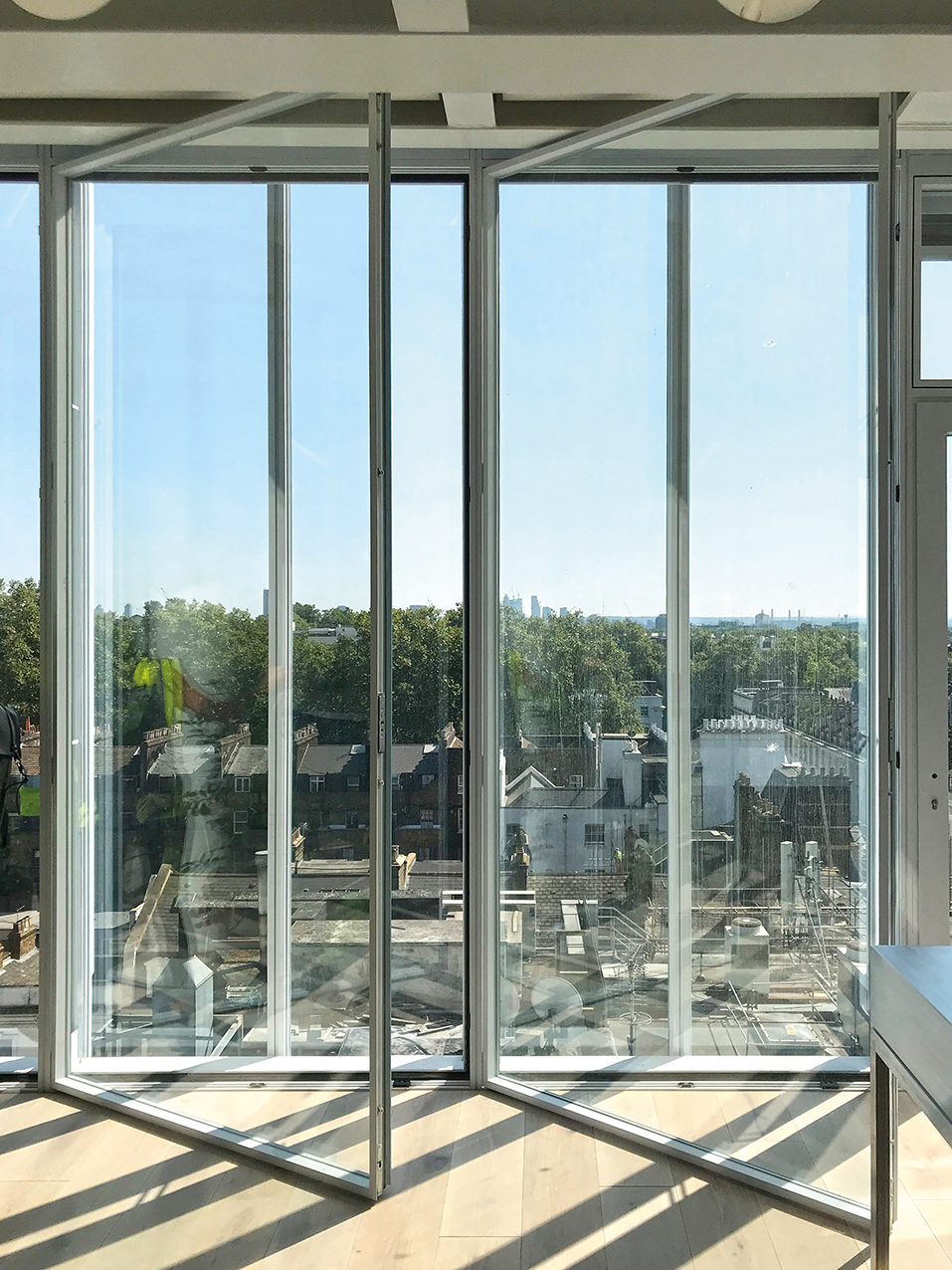 Internal doors in the inner skin of the façade allow for cavity cleaning and maintenance
Aligned to the sleek architectural vision, typically bulky façade frames were reduced through the introduction of Vierendeel-type mullions and transoms. A Vierendeel truss is characterised by having only vertical members between the top and bottom chords, The use of this enables structures/mullions to span larger distances and presents an attractive and transparent appearance.
A series of innovations was developed for the project that the construction team aims to introduce on other schemes. These include: remote camera monitoring; 3D printing; prefabrication; and large-scale installation.
Unitised curtain wall façade
The main office façade consists of double-skin curtain wall units with a cavity vented towards the external environment. This type of construction, plus integrated blinds combined with external brise soleil, limits the amount of sunlight penetrating the façade, thereby reducing the building cooling loads.
The outer skin of the double-skin façade comprises an external single-glazed screen structurally bonded to the outer aluminium extrusion and an internal, thermally broken profile. The inner skin is openable towards the office space to allow for blinds maintenance and cleaning.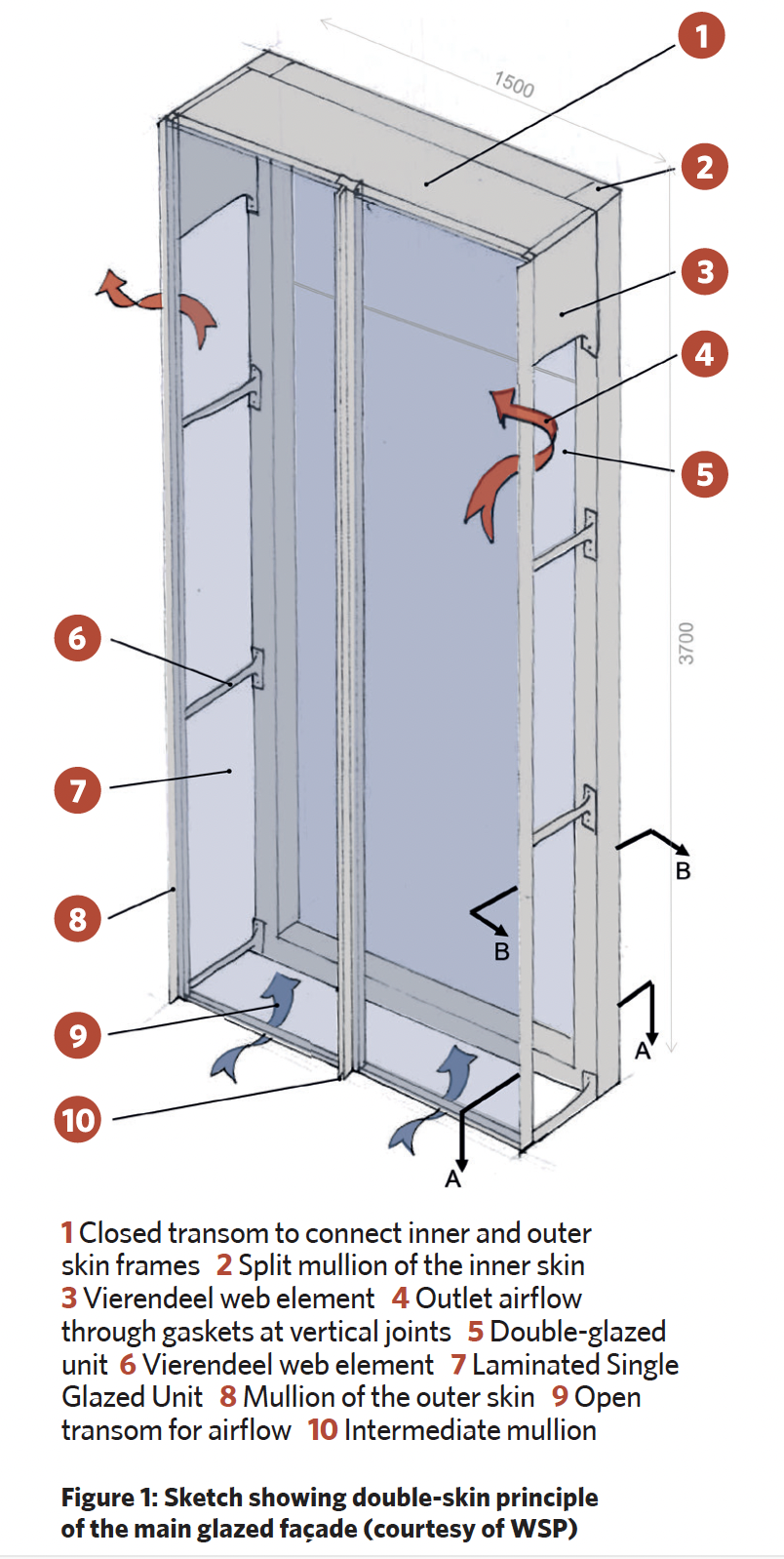 Vierendeel mullions allow for slender profiles while increasing the façade transparency. Air intake is via the horizontal stack joint and air outlet is via a bespoke gasket between the units' vertical joints.
The cavity façade performance in moderating the office environment was evaluated via computational fluid dynamics (CFD) analysis, which considered extreme conditions during different seasons.
The gaskets between cladding units are designed to finely balance the amount of cavity ventilation thereby maintaining the system's watertightness and thermal insulation. The heat buildup within the cavity is 'managed' to maintain the temperature range within allowable thermal stress limits for annealed glass, which was specified for flatness and aesthetic considerations (see Figure 2 for temperature distribution analysis).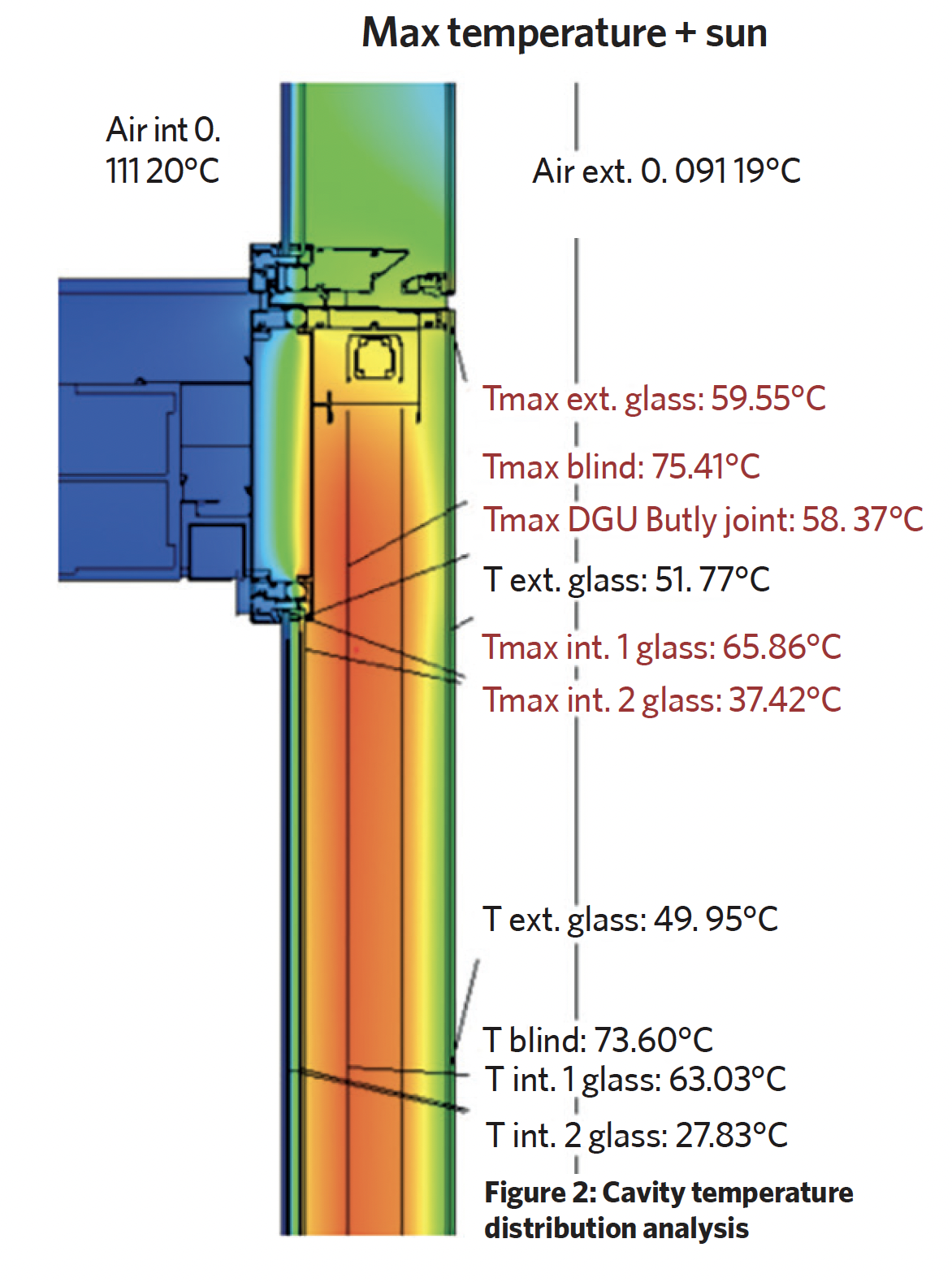 The solar-gain control is managed with perforated aluminium venetian blinds located within the cavity; these allow visibility and light through when lowered. The blinds are motorised and linked to the main building management system (BMS) for their operation, with an override option for occupiers. The external brise soleil provide additional solar shading.
Notches located at the corners of the building, where the primary steel structure penetrates the façade and becomes apparent, are a distinctive architectural feature. This detail introduced concerns about weathertightness and cold bridges that were dealt with within the design.
The external penetrating steel is either thermally broken with low thermal conductivity and high compressive-strength 'Farrat' structural thermal breaks or externally insulated to maintain thermal performance and prevent internal condensation. The steel's cladding including penetrations was established using Centre for Window and Cladding Technology Standard Sequence B – a dynamic test.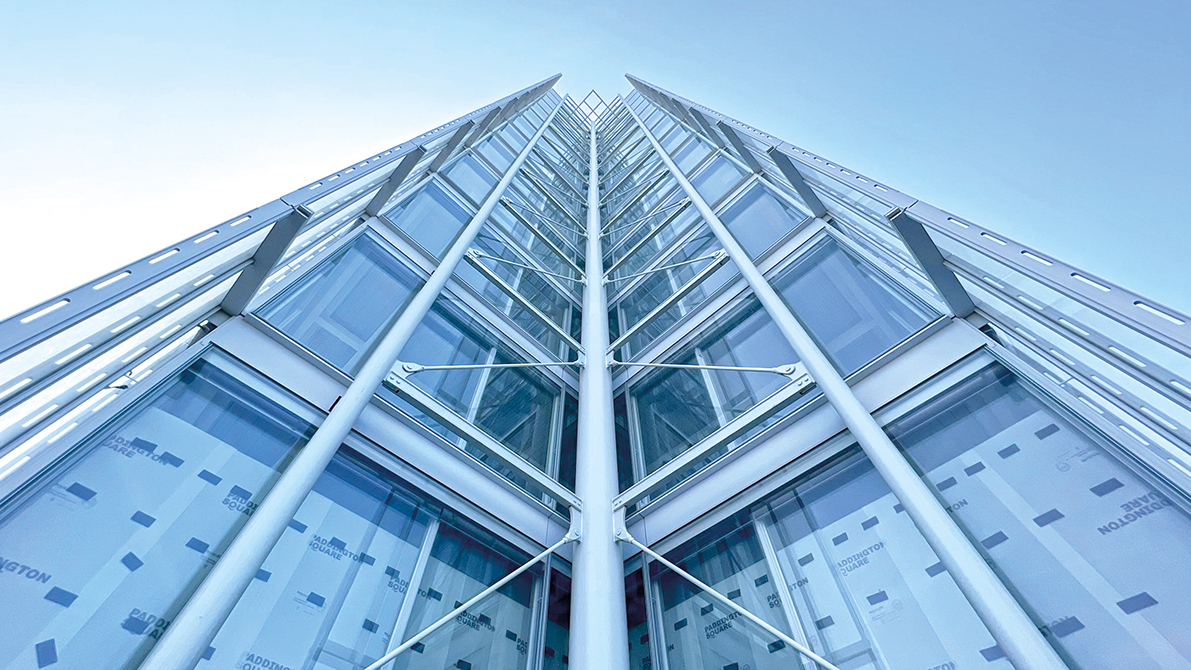 Notches where the primary steel structure penetrates the façade are a distinctive architectural feature
Slender façade profiles are achieved with Vierendeel mullions, while the cantilevered wing wall is created by using reinforced aluminium extrusions and structurally bonded glass.
The unitised façade was designed so that it wraps around the penetrating steel, with most components manufactured offsite to keep site operations to a minimum and to enhance weather performance.
The three-storey stick façade comprises slender Vierendeel mullions with 4.6m-tall insulated, low-iron glass units for increased transparency into the retail space. The mullions are designed to work mostly under tension. By carefully selecting the mullions' support – either hung or dead-loaded to vary the load paths – the façade accommodates significant structural movements.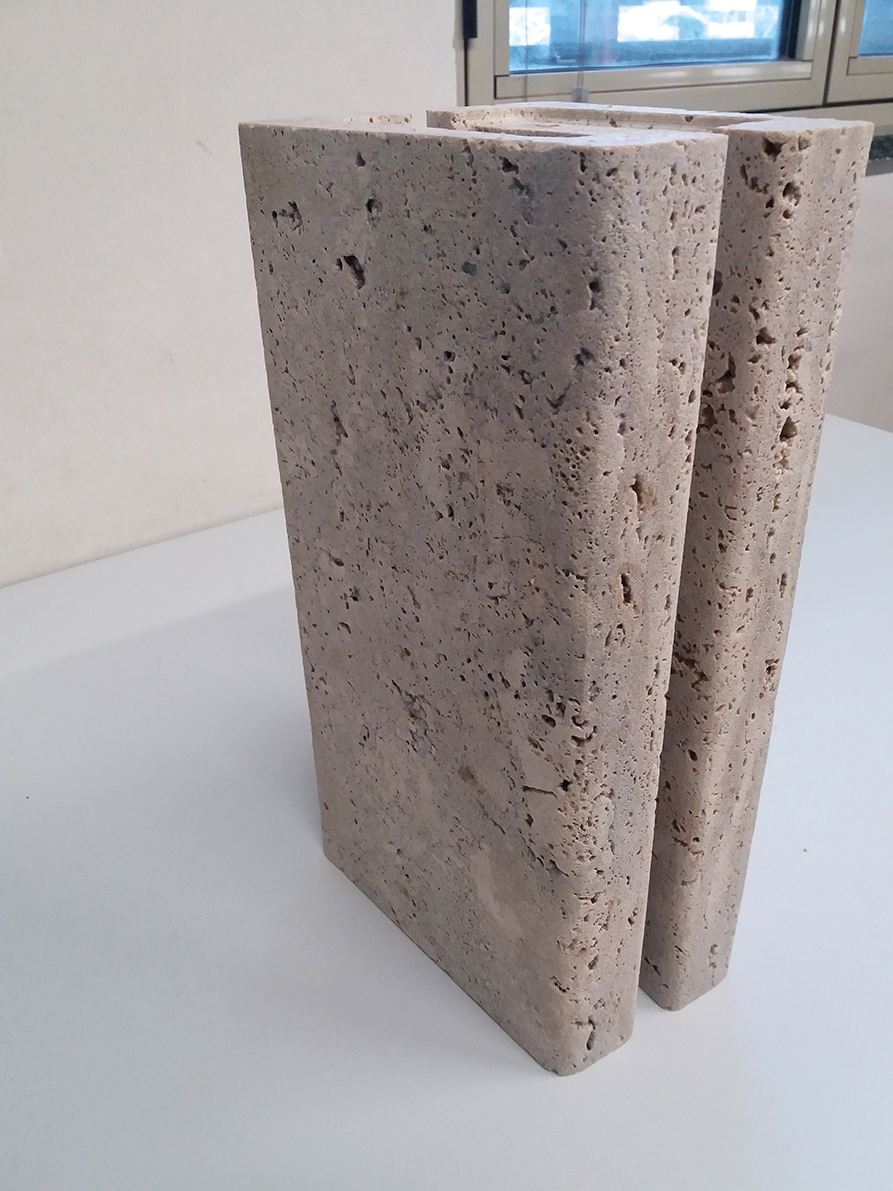 Pavilion building façade visual mock-up and CNC travertine fi n prior to surface filling
Overclad with CNC-machined travertine to create a striking feature, the façade of the standalone pavilion comprises two-storey Vierendeel mullions projecting forward from the façade line. This façade comprises an insulated rainscreen construction. The travertine was visually selected for compliance with the approved lower and upper limits, and consistency, including surface irregularities. The travertine slabs were sized to accommodate the wind loads, and tested to withstand impact loads and freeze-thaw cycles.
A number of glazed canopies provide shelter to users below. They typically consist of a saw-tooth glass panel arrangement supported onto the primary steel structure. A complex network of gutters and drainage channels discharges rainwater via downpipes located within the external columns.
Two scenic lifts are situated at street level, taking visitors directly to the rooftop restaurant and terrace on Levels 17 and 18.
The scenic lift is a 70m-high glazed structure, consisting of exposed steelwork erected to very tight tolerances and double-height glazing panels 2.4m wide and 5.2m high. These are fitted into bespoke minimalistic mullions restrained back to the primary steel structure.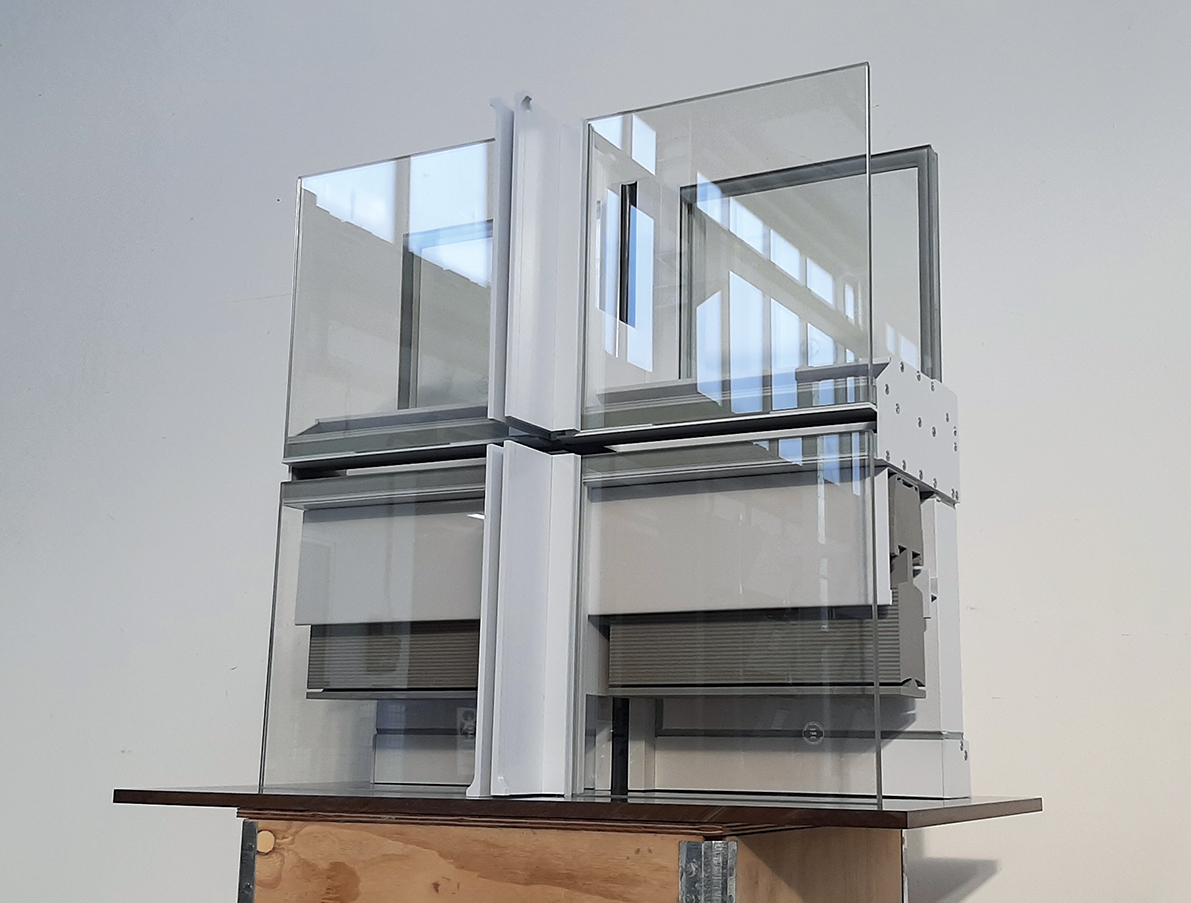 A 3D-printed cruciform sample
Project innovations
RealWear technology
Working with several international teams during the global pandemic brought significant challenges for construction and product reviews, as international travel was prohibited. Advancements in technology were critical to keeping the project on track. RealWear camera technology was used to relay images during real-time visual mock-up inspections.
Using this technology had multiple benefits, including reducing the carbon emissions of this phase of the project significantly by minimising the need for travel and transportation of mock-ups and samples. It enabled more people from the whole stakeholder group to attend reviews, which accelerated decision-making. 
Cruciform 3D printing 
The 3D printing and cruciform assembly allowed the design team and subcontractor to fine-tune the design and improve buildability long before the actual aluminium extrusions were produced, thereby cutting risk to the programme. It was possible for the cruciform to be finished to the specified colour and incorporate the selected glass buildup and coatings, providing a true appearance for more accurate reviews that resulted in accelerated decision-making.
Extended table for launching 5 linear metre units
Some of the façade elements are larger than typical unitised façade sizes and required bespoke installation machinery that was developed specifically for the project. 
Prefabrication
Prefabrication was pursued wherever possible to minimise work at height, reduce site activity durations, and increase efficiency and overall quality. For example, the scenic lift pulley-room enclosures, which weigh approximately 1.5 tonnes, were preassembled offsite onto a metal skeleton that incorporated the cladding, roofing and abseilers' lifting eyes before being transported to site and erected as complete units. 
A number of balconies are preassembled and lifted into place as complete elements to reduce site activities and external access.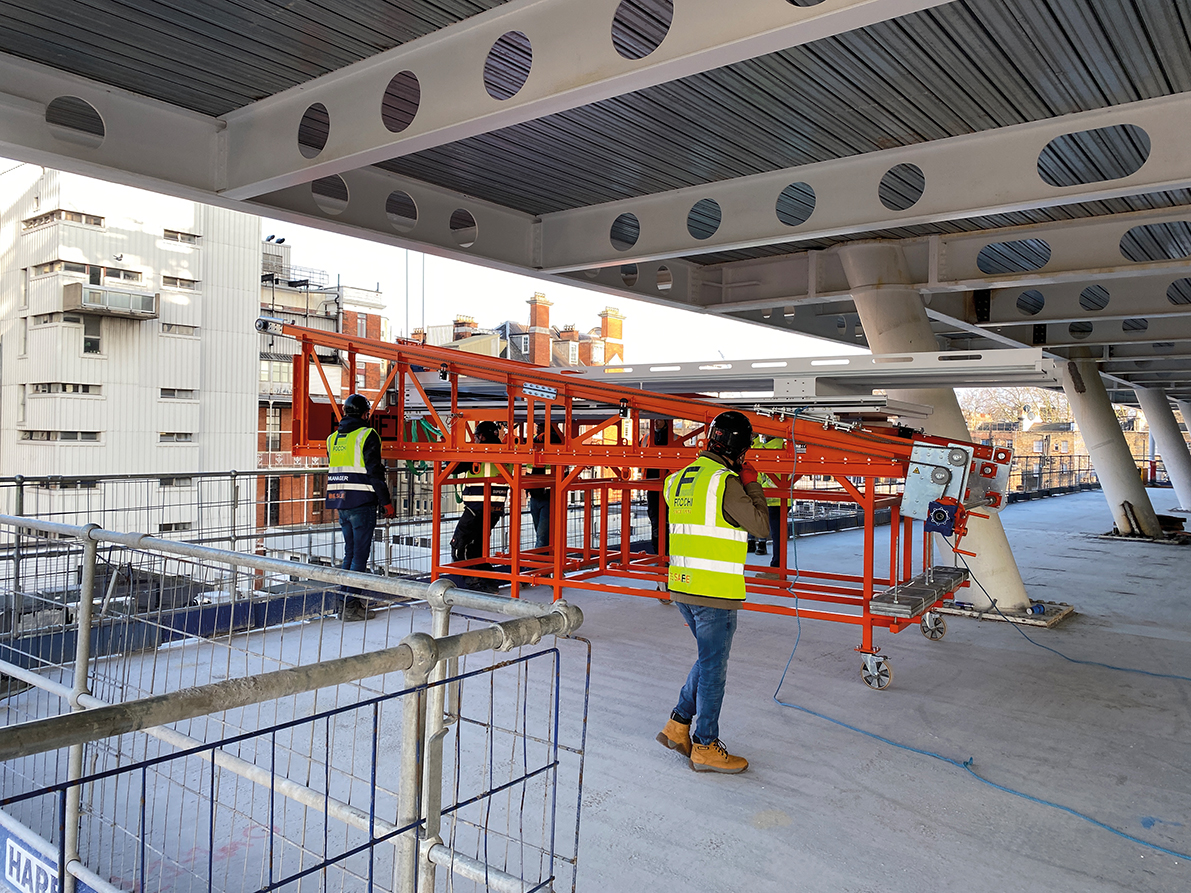 Launch table for unitised façade installation
Minimising embodied carbon
A multidisciplinary and integrated approach from early design stages led the project to deliver the architectural intent and building's high performance standards in the most sustainable and efficient way possible.
The ventilated cavity façade construction with integrated BMS-controlled blinds, combined with external brise soleil, limit the amount of solar energy penetrating the façade, thereby reducing the building's cooling loads. The adaptive façade meant lower levels of coatings could be applied.
By carrying out dynamic analysis of the cavity façade, the cavity temperature is maintained within thermal stress limits of annealed glass. As a result, the team was able to avoid the use of heat-treated glass, which minimised embodied carbon, achieving a flat-glass appearance and enabling greater transparency and colour neutrality.
The use of a slender Vierendeel-type aluminium frame to achieve a transparent and light façade has led to a high-performing framing system from an operational energy and embodied carbon perspective.
Thanks to the innovative design and specification Paddington Square outperforms average office buildings with double-skin facades both in terms of operation and embodied energy.
About the authors
Ovi Masareanu is associate director – project management (construction) at Mace,
Michelle Sauchelli is technical director at WSP
Serena Gugliotta is senior façade engineer at WSP