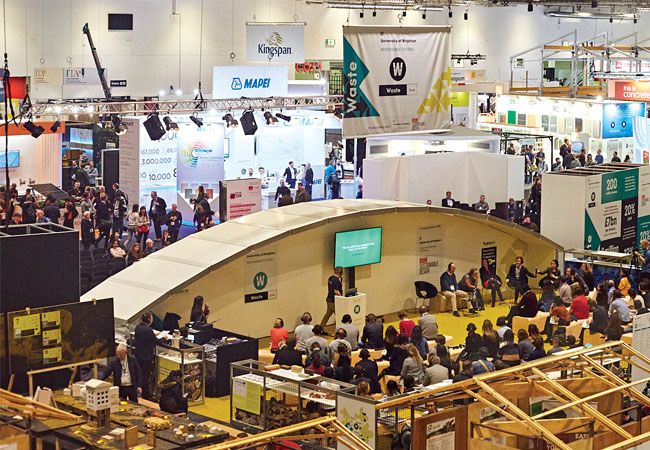 Futurebuild's organiser may have replaced the eco prefix from the name of its annual event, but sustainability was still at the core of the built environment conference at ExCeL London.
There was an air of urgency among speakers as they discussed how the industry was going to decarbonise and meet the UK's ambitious reduction targets: a debate made more pertinent by a recent report from the Committee on Climate Change calling UK homes unfit for the future.
While there were no ministerial big hitters present, the Department for Business, Energy and Industrial Strategy (BEIS) did host a large 'Innovation Zone', which included exhibition stands showcasing innovative technologies supported by the Energy Entrepreneurs Fund (see panel 'Creative energies').
Among government speakers was Dr Victoria Tink, senior environmental scientist at the Ministry of Housing, Communities and Local Government. In a session on overheating, organised by the Good Homes Alliance, Tink discussed research being done on overheating in new homes.
The project looked at eight property types in five locations around the UK, and found that 'generally' new homes were exceeding overheating thresholds in all locations.
It tested measures mitigating overheating – such as blinds, shading, and thermal mass – and Tink reported that, in many cases, overheating could be prevented by using passive design. The research quantified the cost and benefits of measures, including reduction in mortality and productivity rates. The findings will be incorporated in new Building Regulations Approved Documents L (energy) and V (ventilation), which will address overheating for the first time.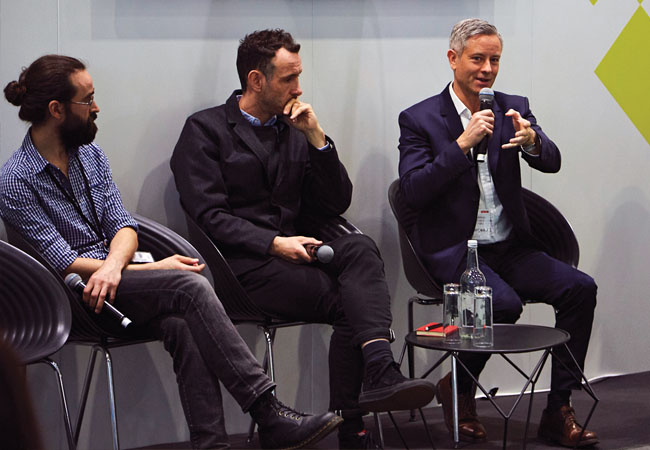 Ashley Bateson FCIBSE at Futurebuild
A new overheating tool from the Good Homes Alliance was also piloted. It offers a checklist to assess the overheating risk in a potential project, and was described by Inkling partner Susie Diamond as a 'simple-to-use tool that reinforces common sense'.
The Good Homes Alliance announced a BEIS-backed research project 'Building for 2050', which will monitor the performance of five low carbon housing projects.
The future of heat was keenly debated in several sessions, with speakers explaining the consequences of the lower carbon emission factors for electricity in draft SAP 10.
Energist's Stuart Clark explained how the new factors had already been adopted in the Greater London Authority's (GLA) Energy Assessment Guidance, with any system generating electricity, such as combined heat and power (CHP) and solar photovoltaic (PV), now offsetting half as much carbon as previously. 'We're finding systems we would have installed at the end of 2018 are now no longer meeting the carbon targets GLA policy is driving us to deliver,' said Clark. He said the policy would force developers to consider electricity-driven heat pump energy centres, but warned 'these systems had yet to be tried and tested in London'.
Architect Justin Bere presented a detailed case study on Lark Rise – the housing project that won the 2019 CIBSE Project of the Year – Residential. Lark Rise is an all-electric Passive House Plus home in the UK that uses solar PV to produce twice the energy in a year than it consumes, drawing 97% less energy from the grid than the average UK house (for all uses, including heating) and exporting 10 times as much energy as it imports from the grid.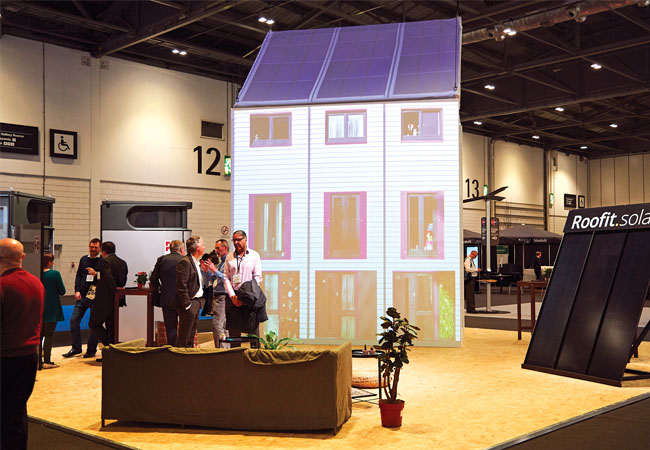 Energiesprong's stand at Futurebuild
Bere's presentation was followed by a presentation from WSP's Barny Evans, who spoke about the challenges moving to electric vehicles (EVs) would pose for infrastructure. (See next month's CIBSE Journal for more on Lark Rise and the challenge of EVs in the built environment.)
In a digital session, Mark Enzer, chief technical officer at Mott MacDonald, spoke of the Centre for Digital Built Britain's plans to digitise the life-cycle of the UK's built assets to transform the way we plan, build, maintain and use social and economic infrastructure. Dr Ajith Parlikad, senior lecturer in industrial systems at the University of Cambridge, described a current trial and the challenges of digitising a university building.
One of the stand-out speakers was the mayor of Bristol, Marvin Rees, who said national and global government was not structured to meet today's challenges facing large cites. 'We've got the best 1959 structure of global government we could wish for – the problem is that it is 2019,' he said.
'They cannot cope with migration, climate change, population health,' he said, and called on the government to give cities 10 years of certainty in funding: 'We'll develop the infrastructure, support mass house-building, invest in smart infrastructure we know we need with a growing city,' he said.
A session on the treatment of mould in 1970s concrete homes was heard from Dr Peter Rickaby, energy and sustainability consultant to Peabody, who explained how Peabody used an evidence-based approach to target resources to the properties with the worst problems. It was a lesson in a landlord educating tenants, and combining this with a smart thermostat to control the heating and intelligent demand-controlled ventilation.
Housing was the dominant theme and the focus was apt as the chancellor unveiled a new Future Homes Standard last month and announced that new homes from 2025 would have to use non-fossil fuel heating and feature 'world-beating' levels of insulation.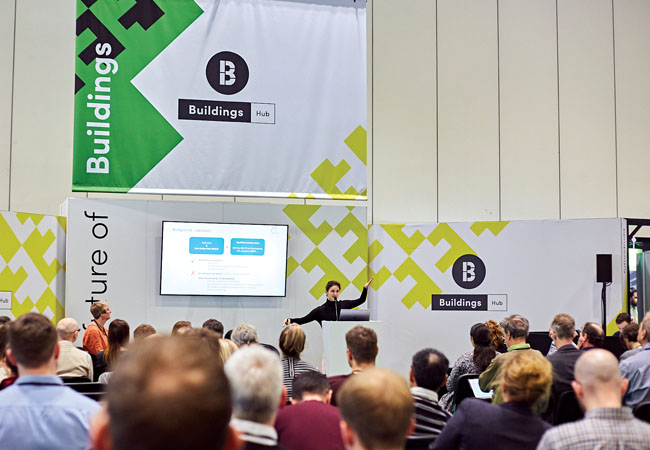 Julie Godefrom MCIBSE spoke on overheating at a session organised by the Good Homes Alliance
The energy entrepreneurs backed by BEIS
The BEIS Energy Entrepreneurs Fund was set up in 2012 to identify disruptive technologies in the built environment, and has awarded £60m of grants to 130 projects since then.
One grant recipient was Switchee, which offers a smart thermostat aimed at social landlords that monitors heat, light, motion, air pressure and humidity.
The data builds occupancy patterns, and optimises heating settings to save money for residents. Landlords can access live information on thermal performance, condensation risk and heating system alerts.
Switchee CEO Adam Fudakowski said:'Landlords can see which properties are suffering damp and mould. It informs them which issues they need to prioritise and fix.'
A grant of £500,000 allowed Switchee to develop the product and secure 41 landlord customers including Peabody and L&G.
Build Test Solutions managing director Luke Smith discussed how funding had helped bring its Pulse air pressure test to market. 'Too often, energy performance is the realm of assumption and crude estimates,' said Smith.
'We want to invent technology that measures air permeability, ventilation, fabric efficiency and IAQ.'
'The challenge is that measurement isn't particular commonplace. Building Regulations are design-based rather than outcome-based, so we need to make people aware of the performance gap, and how measuring in situ can be used to improve quality and close the feedback loop.'