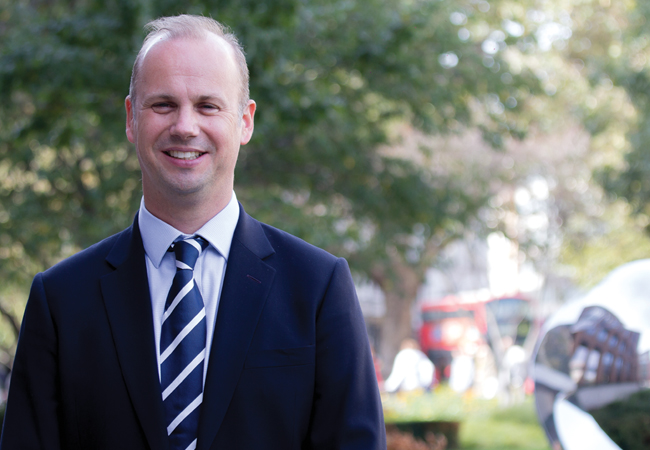 Jonathan Gaunt is clear about the mission of the Society of Public Health Engineers (SoPHE). 'We want to rekindle the art of public health engineering,' says Gaunt, who became the society's chair in June, and who believes it is the right time to promote the discipline and encourage more people into the sector. He says the drive for sustainable buildings is creating demand for people with the skills to deliver well-designed water and waste systems – key elements in resource-efficient buildings.
'With more emphasis on sustainable systems, such as solar thermal panels, stormwater attenuation systems, and rainwater harvesting, PHE is becoming broader in scope and more attractive as a career,' says Gaunt, who cites the strength of SoPHE's young engineers group as evidence of the sector's growing popularity and status.
His own position as an associate director of Cundall – and, currently, project manager on a large East London development – backs up his assertion that PH engineers are growing in influence and have the multidisciplinary skills to take them to the top of the building services profession. Gaunt isn't the only one in a key industry position: CIBSE President-elect Professor Lynne Jack, Paul Angus CIBSE ANZ regional chair, and Reid Donovan, chair of the CIBSE UAE Region, all have a strong PH background.
The current issue of overheating in London apartments is a prime example of why PHE is becoming more valued in services design, Gaunt says. Overheating in homes can be potentially lethal for occupants if it leads to high temperatures in cold-water pipes, which can result in the growth of legionella bacteria.
Water authorities can legally supply water into homes up to 25°C, but it must not be stored at more than 20°C within the building and, at the point of delivery, it must get below 20°C within two minutes, to deal with local heat gain. PH engineers use passive and active measures to ensure these limits are not exceeded, such as separating cold and hot water networks, with increasing consideration of chilling the water mechanically, says Gaunt. To ensure the dangers are averted, PHE must be involved in the early stages of design, he adds.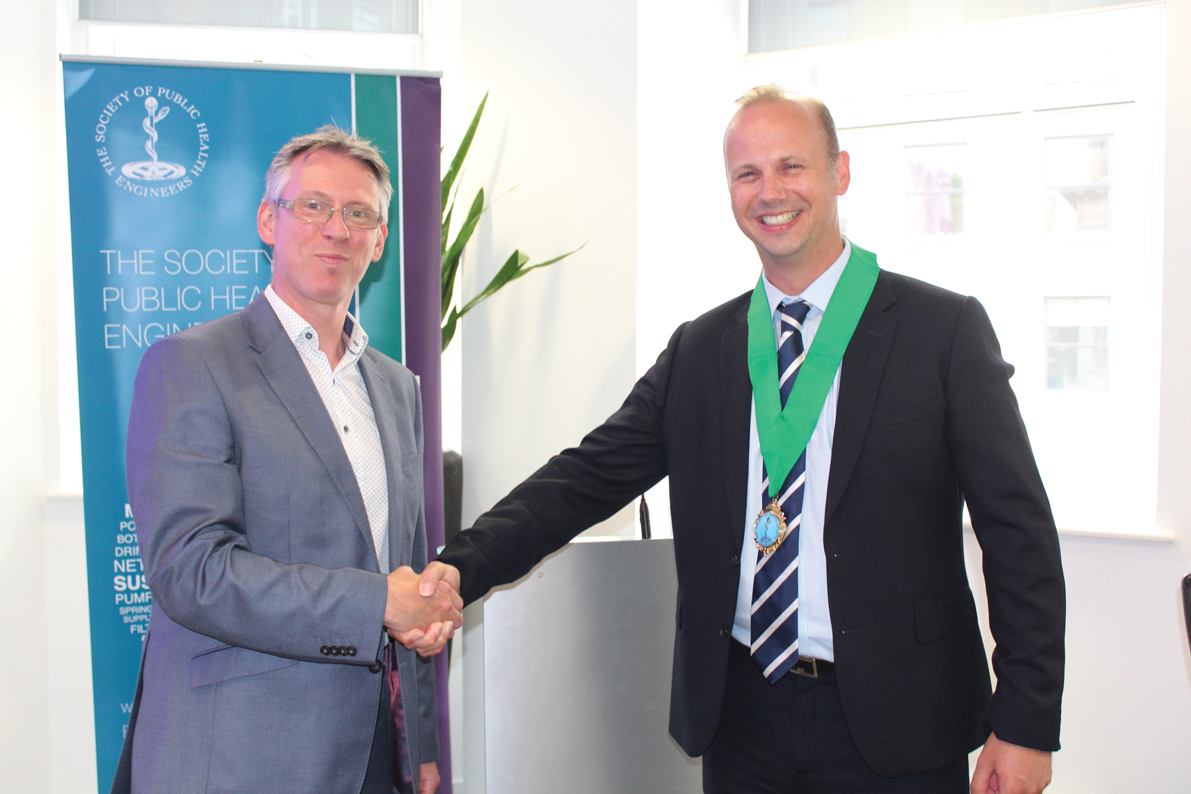 Jonathan Gaunt took over as SoPHE chair from Steve Vaughan in June
Gaunt is determined to champion the role of PH engineers during his time as chair of SoPHE. 'PHE has been a poor cousin in building services, and I want to raise its profile,' he says. Gaunt intends to focus on improving education in the sector and attracting more young people. He wants to continue the work of former SoPHE chair Steve Vaughan, who helped create the Plumbing Centre of Excellence, in Havering, alongside Sanjay Modasia, senior construction manager at JA Brooks Mechanical Service. The centre, which opened in September, is geared towards providing an enhancement to the current Plumbing NVQ level 1, 2 and 3 syllabus and practical engineering skills, and is a joint-venture between SoPHE and the Chartered Institute of Plumbing and Heating Engineering (CIPHE).
SoPHE manufacturers will provide materials and put together a CPD course to support the college, while contractor members will offer three-month work placements to students. 'It's been spearheaded by contractors and consultants, with the support of manufacturers,' says Gaunt. 'We want to collaborate with like-minded organisations, and pool our knowledge, rather than head-butting each other.'
To this end SoPHE developed a memorandum of understanding with a view to opening discussions with the likes of CIPHE, Institute of Healthcare Engineering and Estate Management (IHEEM), the Water Management Society, and the American Society of Plumbing Engineers.
Gaunt is pleased with the work SoPHE has done to strengthen links with contractors, and says the society has launched a contractors working group. The evolution of this group is an example of his willingness to improve collaboration between industry groups.
Gaunt was working for Arup on the Shard when he met Modasia, who was the M&E contractor for DG Robson at the time. 'Through Sanjay, I started organising site placements for our graduates, as it gave them exposure to good practice on site,' he says. 'I asked if he would like to be involved with SoPHE and encourage more contractors to join.'
Modasia took up the challenge, and there are now seven contractor members working alongside manufacturers and designers at SoPHE. 'Enough to form a contractor working group,' says Gaunt.
Modasia was instrumental in creating the Plumbing Centre of Excellence, and Gaunt hopes Havering will be a template for other centres in the UK. 'The contractors provide the full circle of expertise. We had designers and manufacturers, and now we have contractors who are taking our designs and fitting the manufacturers' products,' he says.
'This will enable us to give good feedback, so consultants can understand why designs might lack buildability, and contractors can tell manufacturers what hasn't worked well.'
Learning on site
Contractors have also pledged to offer site visits to young engineers groups. Gaunt is keen for graduates to learn from site operatives and vice versa. 'Traditionally, PH engineers came from the tools [trades], but now they're more likely to come from university. Our challenge is to retain the skills experience from onsite workers and share their knowledge with graduates,' he says.
As part of this, a SoPHE young engineers event in February will look at good practice on site with a contractor – and Gaunt is keen to develop this network. 'We want young people to liaise with each other – at social as well as technical events – so they can ask those technical questions that might be awkward to ask in the office.' He is also keen for PH engineers working in small teams to feel supported by their peers elsewhere. 'If you're the sole graduate PH engineer, it's pretty difficult to bounce ideas off your colleagues.'
Other SoPHE initiatives for young engineers will be launched soon, including the Chris Sneath Bursary and the Dr Steve Ingle Award. The bursary, run in conjunction with Havering College, will award money towards a CIBSE training course, while the award is for students in the North West. The SoPHE Young Engineers Award also continues to highlight the skills of PH engineers; this year's challenge is to design a refillable cartridge for a filtration system, in conjunction with Engineers Without Borders UK and Caminos de Agua.
Gaunt is also keen to work closely with CIBSE and external bodies; the Society of Digital Engineering is to present to SoPHE, which is also looking to develop design and modelling tools with the society.
'Young engineers are really keen on working with the automation side of calculations. We want to develop their IT skills.' It would seem public health engineering is in rude health and safe hands. 
Route to the top
Jonathan Gaunt initially considered going into the automotive industry and completed a summer placement at a car manufacturer. But, while it seemed glamorous, he soon realised 'you could spend your whole career designing clutch pedals'.
So he completed an environmental engineering foundation course at the University of Nottingham before enrolling for a mechanical engineering degree. After a year, he transferred onto an environmental engineering course, which was more geography and hydrology-based. 'I'd studied geography at A level and really enjoyed it.'
Having been impressed by an open day at Arup during his A levels, Gaunt attended an interview in the company's sustainable engineering department after he graduated in 2000. He didn't get the role, but he was offered a position in the public health team. The rest is history.
Gaunt rose to associate at Arup and, in February 2016, joined Cundall to head up the PH team. In June 2018, he became SoPHE chair.