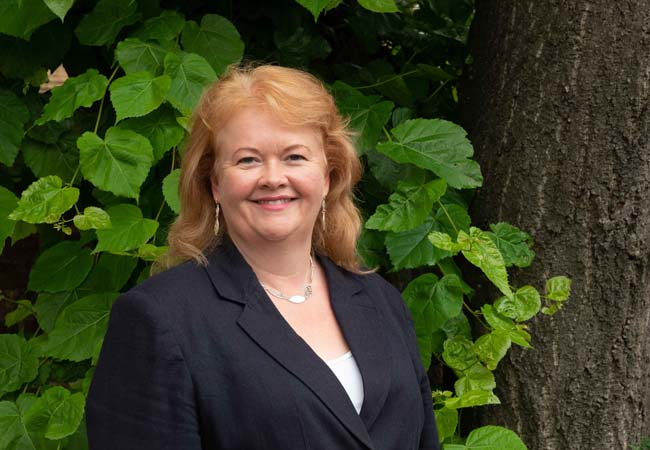 CIBSE's new chief executive, Ruth Carter, believes she couldn't have taken charge of the Institution at a better time. 'Building services engineers have come of age,' she says. 'Everything CIBSE stands for is coming front and centre, whether through environmental governmental pressures or consumer pressure. This is our era.'
Carter succeeded Stephen Matthews at the helm in May, and speaks enthusiastically of how CIBSE can lead delivery of the safe, net-zero carbon buildings required to meet new carbon emissions targets and building safety rules. 'Suddenly, the emphasis isn't just about making a building beautiful or cost-effective, it's about creating a building that performs. We're at the front of that wave,' she says.
To ensure CIBSE grasps its opportunity to bring engineering to the fore in net-zero building design, Carter is intent on creating a modern, exemplar, professional engineering institution that can respond to the needs of the building services community. 
She says her first task as CEO is to understand what that means by listening to CIBSE communities, within and outside the Institution, and working out how best to serve them.
One thing she is clear about is that CIBSE is in a position of strength; Carter says the Institution came through the pandemic and lockdowns 'phenomenally' well: 'We were strong in how we facilitated the objectives of our community, and the way we quickly flipped into a digital environment was overwhelmingly positive. This is not a burning platform. It's a great place to be.'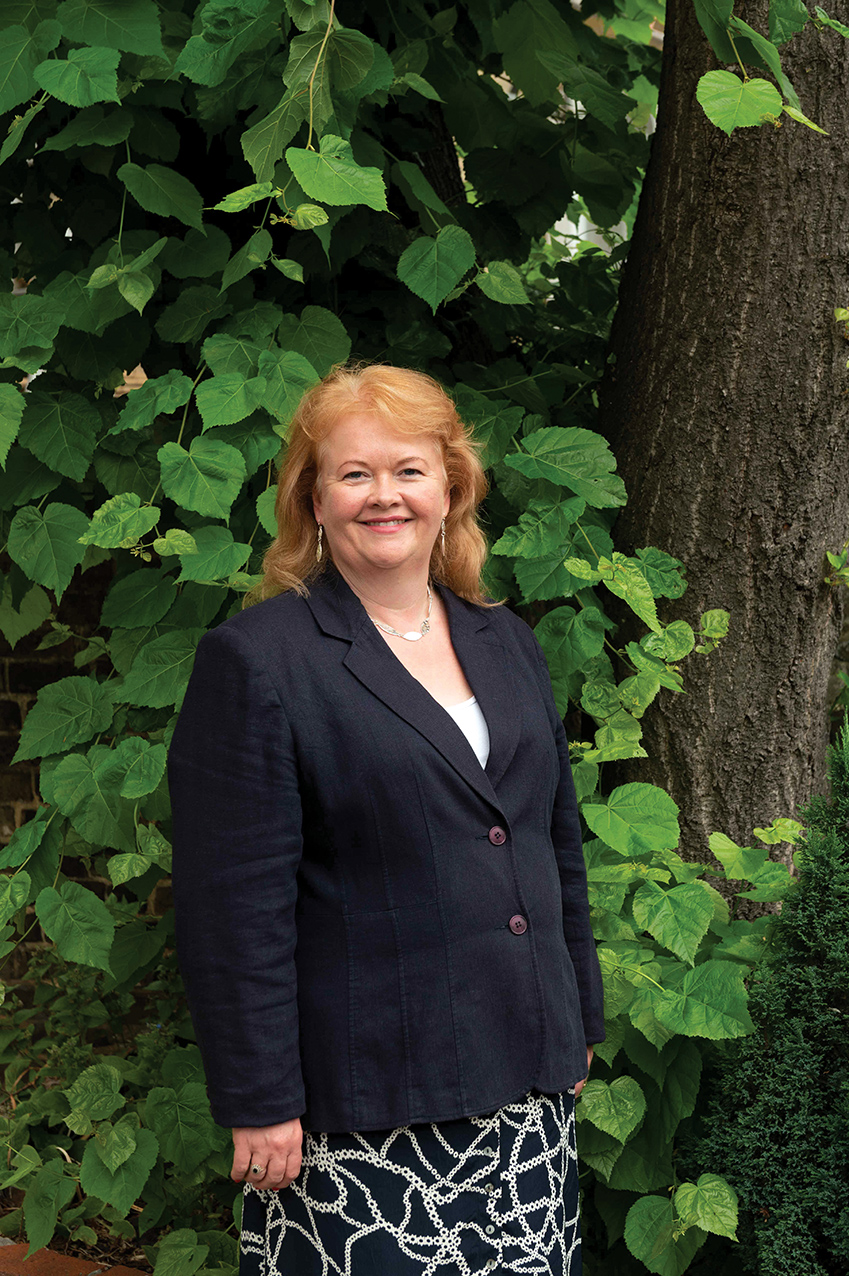 Carter is not planning to make any snap decisions about CIBSE's strategy
Alongside its depth of knowledge, CIBSE's communities are one of its greatest strengths, says Carter. 'I love the concept of community and tribe. People like to belong to a sizeable community. The feeling of safety, power and reach. But people also like to belong to elite, niche, agile tribes that can react quickly and seize opportunities. We have that combination with the CIBSE umbrella providing community and our Societies, groups and regions providing the agile tribes.' 
Carter has worked with business communities for much of her career as a senior manager in the events industry. She has been managing director of three high-profile companies in the sector – EMAP, UBM Conferences and, most recently, Telegraph Events. She believes there are great similarities between the commercial events business and the role of CIBSE, in that both involve serving communities in the most impactful way possible.
CIBSE may not have the same commercial pressures as for-profit organisations such as Telegraph Events, but Carter says healthy finances are still key. 'Unless we're feeding the funnel with income, we can't do the things, as a charity organisation, that we want to do,' she says. 'We want profitable growth.' 
One of the biggest challenges of her role is making sure CIBSE focuses on those areas that have the greatest impact. 'Prioritising can be a nightmare when there are so many good things you could be doing,' Carter says. 'Everything must be impactful.'
To understand the needs of CIBSE communities, Carter will be lifting the lid on different parts of the organisation over the next three to six months. There will be no rush. 'Make snap decisions about value, people and structure at your peril,' she warns. By 2022, Carter says there will be a clear roadmap, and a plan to ensure the infrastructure is in place to realise CIBSE's objectives. 
She predicts 20-30 streams of activity, each tracked with key performance indicators. 'Some will be sprints, some will be ambles, while some will sit quietly, waiting to be triggered at a later date,' she says.
While Carter will take time devising a strategy for CIBSE, she has a firm idea where opportunities lie: technical information; CIBSE Services, certification; and the membership.
The source of truth
CIBSE's reputation as a knowledge provider and 'source of truth' offers it huge advantages, says Carter. 'At the pace the environment and societies and communities move, hardcore, deep, rich knowledge and content is always going to win.' 
The opportunity will be to repackage the information in different ways for different communities. Sometimes, this might mean putting out information more quickly. 'The past 18 months have changed the pace of information requirements. It's about responding to that need and providing quality at an acceptable pace.'

I love the concept of community and tribe. People like to belong to a sizeable community. The feeling of safety, power and reach
There are also many opportunities in CIBSE Services, says Carter, in part because so much of what's offered – such as events and CPDs – is attractive both to members and the wider industry (non-members make up 55% of users). 'We have a really good route to a wider community, and there are markets in terms of different sectors, functions and products. We can provide solutions that will help people do their job more effectively.'
Members are the bedrock of CIBSE, and Carter acknowledges that there is a really good membership team in place doing a 'fantastic job'. Automation, she adds, could potentially allow the team to have more personal interaction with regions and groups.
Carter is keen to ensure the CIBSE groups, regions and Societies continue to be recognised and listened to. 'We need to think about those niche small tribes in CIBSE and understand they all have a voice. We need to find a way of capturing discussions and ensuring information isn't static.' 
She cites the example of a regional presentation on bullying in the workplace that she believes deserves wider attention. 'We need to be sharing that presentation. We need to capture it and spread it across the membership base, so that timely, relevant information is at people's fingertips.'
Carter is also keen to funnel ideas and information from CIBSE's communities. 'Their strength is proximity to members. Let's tap into their expertise and the 22,000 individuals they represent,' she says. 
A more consultative Council, which represents these communities, is one way of drawing on expertise from across CIBSE, adds Carter, who believes that Council meetings are a good opportunity to put problems to experts representing CIBSE communities.
'At the last Council, we broke people up into groups and they came up with really interesting suggestions and ideas. We had people heading up different regions and societies in the same room, which really sparks debate and a creative way of thinking.'
Opinions of the Council will be sought for the refurbishment of CIBSE's Balham headquarters in London, although Carter says not 'every' opinion can be taken on board. 'If we have a thousand ideas, we may end up taking a handful of them – but, by doing so, we will have a better result,' she says.
CIBSE must accommodate a broad range of people representing society, says Carter. 'We must make sure we don't have that homogenised board – not only physically, but also behaviourally.' 

We have to foster inclusion and belonging
She believes that change put in place at CIBSE can spread into the membership and radiate out into the sector. 'The issue is about accommodating people with different ways of operating and different beliefs. We have to foster inclusion and belonging.'
Organisations would be foolish not to include the best talent on the basis of the way people look or behave, Carter adds. 'We need all hands on deck to make our industry great. We talk about skills shortages in the engineering sector; why wouldn't you welcome everybody you can?' 
Young engineers will also be an important feature of CIBSE under Carter's stewardship, and she is keen to give young people the training and support that will prepare them for their future careers. 
'There's nothing more exciting than crafting young talent. I'd like to see a mirror CIBSE board that will give people under 25 a taste of hardcore decision-making while nurturing and steering them in the right direction,' she says. 
Even though young engineers will be busy developing their careers, Carter is keen to get them involved. 'I'd rather someone who is young, hungry and talented spare me a bit of time than none at all,' he says.
CIBSE's strategy under its new chief executive will be unveiled in time for the Institution's 125th anniversary next year, an occasion that Carter is looking forward to celebrating. 'Our 125-year anniversary is a phenomenal platform for ensuring our voices are heard,' she says. 'Next year will be our year.'
Balham HQ's move to net zero
One of Ruth Carter's first tasks as chief executive is to oversee the refurbishment of CIBSE's headquarters in Balham – and she says the retrofit will be an exemplar net-zero project.
'The building has to reflect who we are – a modern dynamic and exemplar engineering Institution – and be the heartbeat of the community,' says Carter. 
However, she is keen that the retrofit be within the budgets and skill sets of typical organisations. 'We could create the space station of the future because we've got the technology and know-how, but are we creating something that's out of reach of humans?'
It needs to work for CIBSE Balham, the membership, and the wider community it serves, Carter adds. 
'It's about creating something that, when someone comes to CIBSE Balham, they think: "Wow I could do this," not "wow, but I could never afford this."