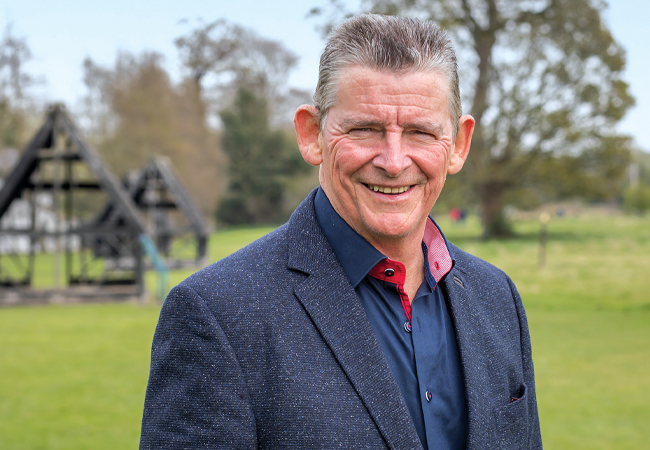 Lifelong learner Kevin Kelly is keen to provide 'ladders of opportunity' for all within the industry
Professor Kevin Kelly has taken on the Presidency of CIBSE during a time of profound change for the building services industry. In his inauguration speech last month, he described three external factors that were causing upheaval in the industry: the consequences of the Grenfell Tower fire, Covid-19 and climate change.
Kelly described Covid-19 as a hammer blow that had thrown up health challenges for engineers that they have never faced before. At the same time, climate change was forcing engineers to take urgent action to deliver net-zero buildings, while also having to prepare for a 'fundamental change in building safety' brought about by the response to the Grenfell fire.
Kelly believes engineers want to change, but, to do so, he feels they must pay more attention to the way their buildings actually perform.
'I'm not convinced that, the way people are building, they are doing things for the planet,' he says. 'The designs might be OK, but that performance gap exists after the building is occupied. What are we doing to close the gap?'
Kelly thinks engineers should be carrying out more research on their own buildings to understand the impact of their design and innovations on performance.
Curriculum vitae
A professor emeritus and research fellow, Technological University (TU) Dublin, Kelly remains active in PhD research supervision and in editing research for the online SDAR Journal.
Career
Began in 1970, as a 15-year-old apprentice electrician. In 1978, he started training as an electrical services engineer and, in 1983, entered Dublin Institute of Technology (DIT) to teach electrical apprentices. Led the development of electrical services engineering programmes at degree level in the mid-1990s, which allowed advanced entry for electrical apprentices.
Retired as head of school of multidisciplinary technologies and was previously head of department of electrical services engineering at DIT/TU Dublin.
Education
First-class honours in building services engineering from Dublin University (Trinity College); MSc (education and management – Hons) from Dublin City University; doctoral degree in education from University of Sheffield. Conferred as professor by DIT.
CIBSE
Past chairman of CIBSE Ireland (2005-06); Past president SLL (2013-14); CIBSE Silver Medal awarded in 2015.
'There's no such thing as a research laboratory if you're a building services engineer,' he says. 'The lab is the building you have just created. You've got lots of data, which you can extract to see if the building performs as well as you expected.'
Describing himself as an academic and engineer, Kelly is keen to encourage collaboration between industry and universities. He says that engineers, short of time or resource to evaluate their buildings, could look to researchers in academia for help.
'When I talk to engineers, they ask, "how am I going to find time to evaluate performance?"; I tell them they have a
data-rich environment and there are postgraduate students who don't have enough data for research.'
Lifelong learning
Kelly says he is a lifelong learner. He completed his primary building services engineering degree in his 30s, a Master's in education and management in his 40s, a doctoral degree in education in his 50s, and he was conferred as professor in his 60s.
He admits he wasn't 'terribly good at school', but says an electrical apprenticeship helped him close his education gap. In awe of his teachers, Kelly ended up emulating them and teaching on the course. He and other tutors were given the opportunity to complete an honours degree in building services engineering at the Technological University Dublin (TU Dublin) – formerly the Dublin Institute of Technology. After graduating , Kelly led the team that created the electrical services degree programme for school leavers and apprentices.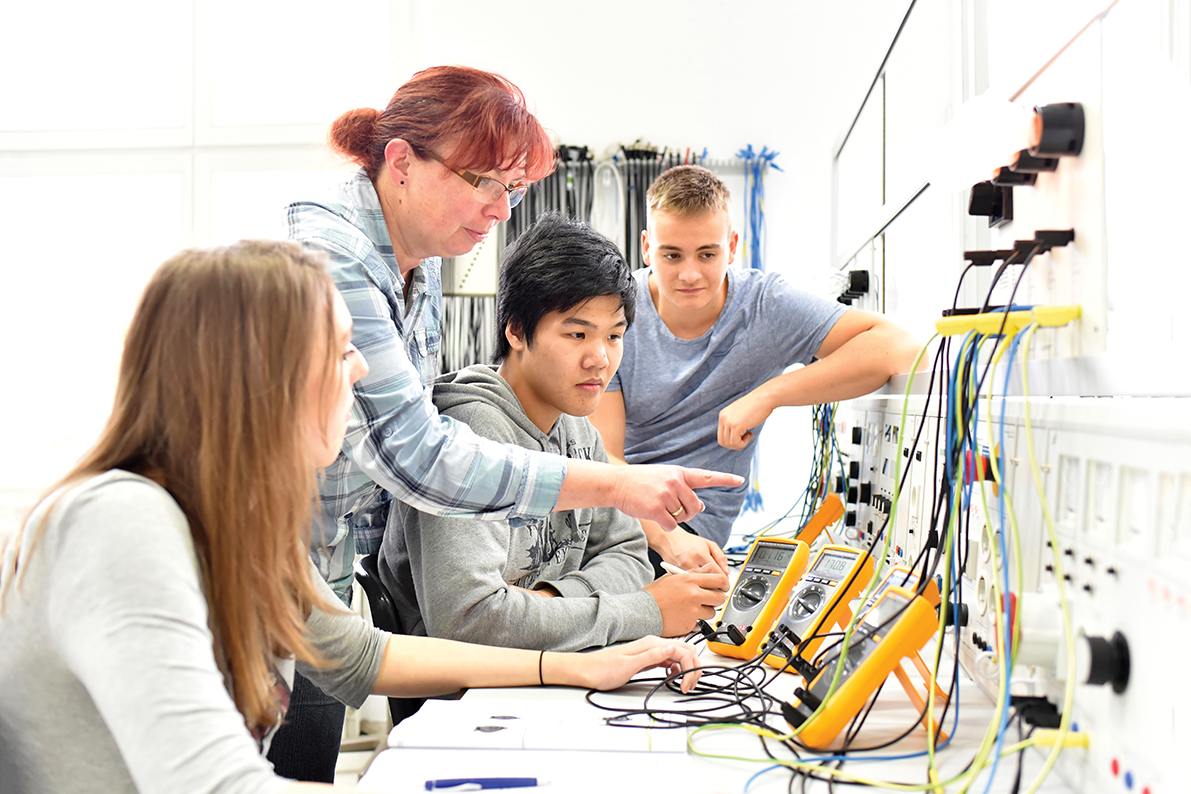 Kelly believes apprenticeships are a good way for young people to earn and learn and enter the industry
'From a diversity point of view, it was good to provide an opportunity for people who may not have had their Leaving Certificate [the Irish equivalent of A Levels],' he says.
'When I see apprentices coming through at CIBSE, I think it's fantastic. It's a brilliant way for young people, who may not be able to go to university, to earn and learn and enter the industry.
'I'm absolutely opposed to any glass ceilings and to those who say, "oh, well, they're only apprentices. They can't go all the way through." I will fight tooth and nail to provide those ladders of opportunity and let them burst through.'
Strength through diversity
To meet the changes in the industry, Kelly believes companies and organisations have to be more agile – which, he says, means being more inclusive and employing a diverse workforce, to ensure there is a wide awareness of changes to the environment.
'If you've got a changing external environment, you need a wide a range of people in your company, representing the full bandwidth of who is in society,' he says.
He defines an inclusive organisation as being made up of people of different ages, genders, backgrounds, religions, sexual orientation, race, and physical abilities. 'It seeks to represent the society it is set in,' says Kelly.

If you've got a changing external environment, your company needs a wide range of people representing the full bandwith of society
Kelly encourages companies to hire more women and minorities and to try over time to get balance at boardroom level too. Under the 2010 Equality Act companies can take positive action to recruit more people from under-represented groups as long as they are as qualified for the job as other candidates.
CIBSE Groups and Societies have an opportunity to be more representative of their members, and Kelly believes steering groups should be as diverse as their membership – and that chairs should be making sure successors are representative of different groups.
'The more diverse you are, the more likely you are to attract Members. I want this to be a big part of my presidential year. I will be asking the BAME community what we can do to make CIBSE more inclusive.'
Kelly has a sense of how women experience the industry through his daughter, a finance director at a construction company. He tells how she took a male project manager (PM) along for a meeting with a male agent, and despite her being the decision-maker, the agent only spoke to the PM, even when his daughter was asking the questions.
'I asked her, "did it affect your decision?" She said, "not really, but if it was touch and go, and there was another company with the same offer, he wouldn't have got the business".
'It's really stupid for people to be like this, but they don't realise they're doing it,' says Kelly. 'It's subconscious bias.'
At TU Dublin, Kelly says there was training to overcome this bias, which he underwent. 'It makes you question yourself and increases self-awareness,' he says.
'Training should be compulsory for every organisation, because subconscious bias is so prevalent, and people are unaware they are doing it. It's up to all of us to question the way we treat people from different backgrounds.'

People do want to meet in real life, but we need to retain virtual meetings – particularly for families. They're an extra layer of inclusivity
Kelly believes that the Covid-19 pandemic will leave a legacy of virtual working that will help with diversity, because it is more inclusive and will particularly enable parents with young children to remain active in the profession. 'Although people do want to meet in real life, and one to ones are easier, we need to retain virtual meetings – particularly for families. They're an extra layer of inclusivity.'
On diversity, Kelly is leading by example. As CIBSE President, he has co-opted three women onto the CIBSE Board to increase the ratio of women to men from 3:9 to 6:9.
'I made it clear that I want to hear more female voices on the board,' he says. 'If everybody at the top level is male, there's something seriously wrong – that doesn't represent the society they are serving.'
Kelly is also keen for the CIBSE Board to be more representative of minorities. 'We still have a very white board. We have one representative from Hong Kong, but we really, really need more representation from BAME people.
It's clear from his inauguration speech and our interview that Kelly intends to spend his year in office realising the goals laid out in his curriculum vitae: that there will be increased opportunity for talented people – regardless of their background – with no discrimination or snobbishness in any form.
The co-opting of three women to the CIBSE Board is just Kelly's first step towards creating a more balanced and representative Institution.
The importance of education
Responding to climate change while ensuring buildings are safe and healthy are significant challenges that need to be addressed when developing new building services courses and CIBSE CPD content, says Kevin Kelly.
'Current courses need to evolve quite quickly, so engineers can develop new ways of providing energy-efficient buildings and systems that reduce energy demand and carbon emissions, and inspire confidence that buildings are safe, sustainable and healthy to work in. Digitalisation is key to delivering some of this.
We may also need new courses that focus more explicitly on these challenges – perhaps at postgraduate level. Meeting the challenges of zero carbon and building safety will be a constant theme for training and education providers throughout the supply chain.
I would also like to see increased collaboration between industry and universities, and increased numbers of working engineers undertaking research degrees.
This would help close the gap between research and industry, and enable industry to respond better to challenges and then evaluate innovative design solutions.
There is an opportunity for CIBSE to strengthen its CPD lecture scheme. Virtual meetings have opened new opportunities to share content and it is likely that, even when we begin to move back to regional meetings, we will have a blended approach.
It is important to recognise that the building-safety agenda will mean raising standards of competence. CIBSE will need to continue to develop its CPD courses and career training further, so that mid-career engineers update their knowledge in response to industry change.'
References
1 Equality Act 2010 : What do I need to know? A quick start guide to using positive action in recruitment and promotion