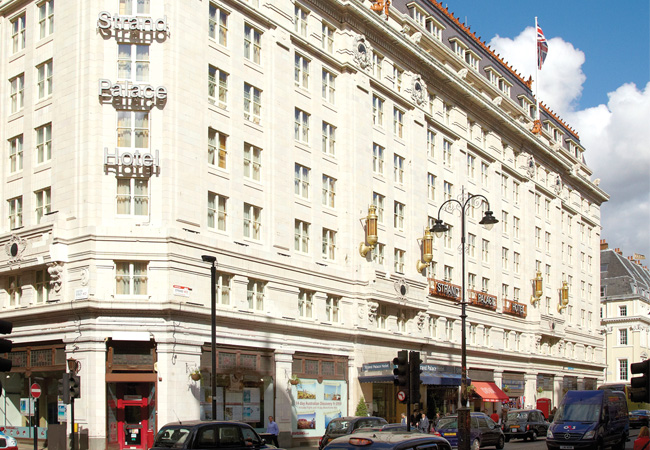 With 785 guest rooms, the Strand Palace Hotel is one of the biggest in London's West End, and its location in booming theatreland means it has an impressive 87% occupancy rate – compared with a 2017 London average of 83%.
This was a key factor in determining the strategy for a major refurbishment of services that started in 2017 and is expected to be completed in 2020. Owners London and Regional Properties needed a solution that kept as many hotel rooms available as possible during the improvement work. The aim of the refurbishment was to install more efficient services while supplying every guest bedroom with air conditioning.
Before the refurbishment, heating and hot water were supplied by four gas-fired boilers. Cooling was limited to 37 rooms, each of which had variable refrigerant flow (VRF) air conditioning units installed in a previous facelift. Openable windows offer some cooling and ventilation, but the hotel's proximity to the busy Strand – and its pollution and noise – means they cannot be relied upon in south-facing rooms.
Elementa Consulting was asked to design the new services, which were installed by Working Environments and their appointed design and build consultant PSH Consulting. The requirement for cooling, the lack of available plant space, and the need to minimise disruption led the team to choose a Hybrid VRF system from Mitsubishi Electric, for the cooling and heating of guest rooms.
It was calculated that the carbon emissions associated with space heating would be three times lower with the Hybrid VRF system compared with the existing gas boiler system.
'The hotel has to stay operational during the refit and the Hybrid VRF system suited a phased install,' says Ted Connell, mechanical engineer at Elementa Consulting. To minimise disruption and loss of revenue, the plan was to refurbish guest rooms one floor at a time, from the ninth floor downwards.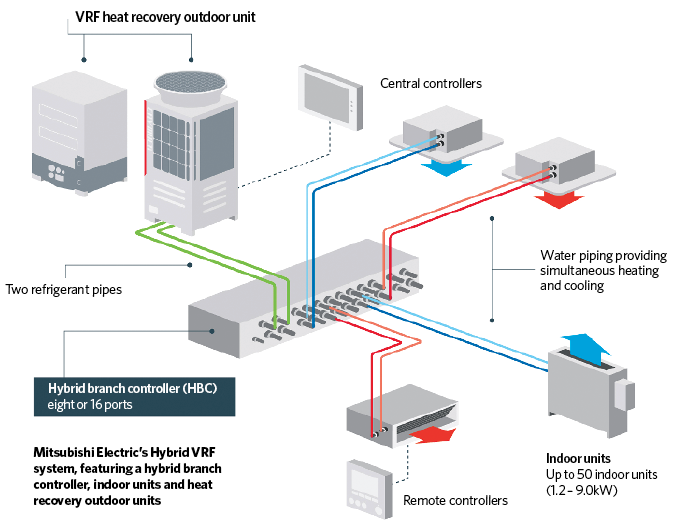 'It was not economical to have more than two chillers, so you couldn't have a chiller on each floor, which would avoid disruption when installing one floor at a time. Bigger risers would also be required for the larger pipes,' says Connell.
Hybrid VRF allows simultaneous heating and cooling with heat recovery, and requires smaller plantrooms than a traditional chiller system. The 'hybrid' prefix refers to the use of both refrigerant and water to deliver cooling and heating to the indoor units. Rather than having large plate heat exchangers in a big chiller to provide cooling and heating, the Hybrid VRF system uses a network of paired plate heat exchangers in much smaller containers, known as hybrid branch controllers (HBCs). (See panel, 'How Hybrid VRF works').
The HBCs at the hotel have 16 pairs of ports (for hot and cold water) and, on average, 14 rooms are connected to each. There are 99 to 101 guest rooms on each floor, so space had to be found for six to seven HBCs on each level. Their small size meant they could be suspended from ceilings, like traditional VRF branch controller boxes, and they were installed in existing small spaces such as linen cupboards.
Each HBC is connected to an outdoor condensing unit. For the nine floors of rooms, around 60 units are required (one outdoor unit can serve up to 50 indoor units). Despite the large number, their small footprint relative to a chiller means it will be possible to locate them all on the hotel's roof, says Connell. 'There was no physical space for a chiller on the roof and the point loadings of the chiller would have been too large for the structure. It made sense to use smaller VRF condensers, and we will be able to install them in repurposed plantrooms.'
Mitsubishi Electric's Jobin Varghese says a key benefit of Hybrid VRF is that water, rather than refrigerant, enters pipework in the guest rooms, which means there is a saving on refrigerant and no need for leak-detection equipment. So the hotel saves on the cost of wiring and maintaining such equipment, as well as the expense of having to calibrate the sensors every year.
Varghese also claims it is simpler to commission a Hybrid VRF than a chiller when ensuring there is no air and debris in the system. 'With chillers, commissioning engineers have to balance the flow rates of every indoor unit or radiator and manually take out the air,' he says.
In a Hybrid VRF system, the engineer controls a switch on the HBC, which pumps water through the pipework and pushes air through an automatic air vent. Any debris in the system is collected in a strainer in the HBC, which can be removed and cleaned. It takes 10 minutes per indoor unit for the flow rate to stabilise and air to be released.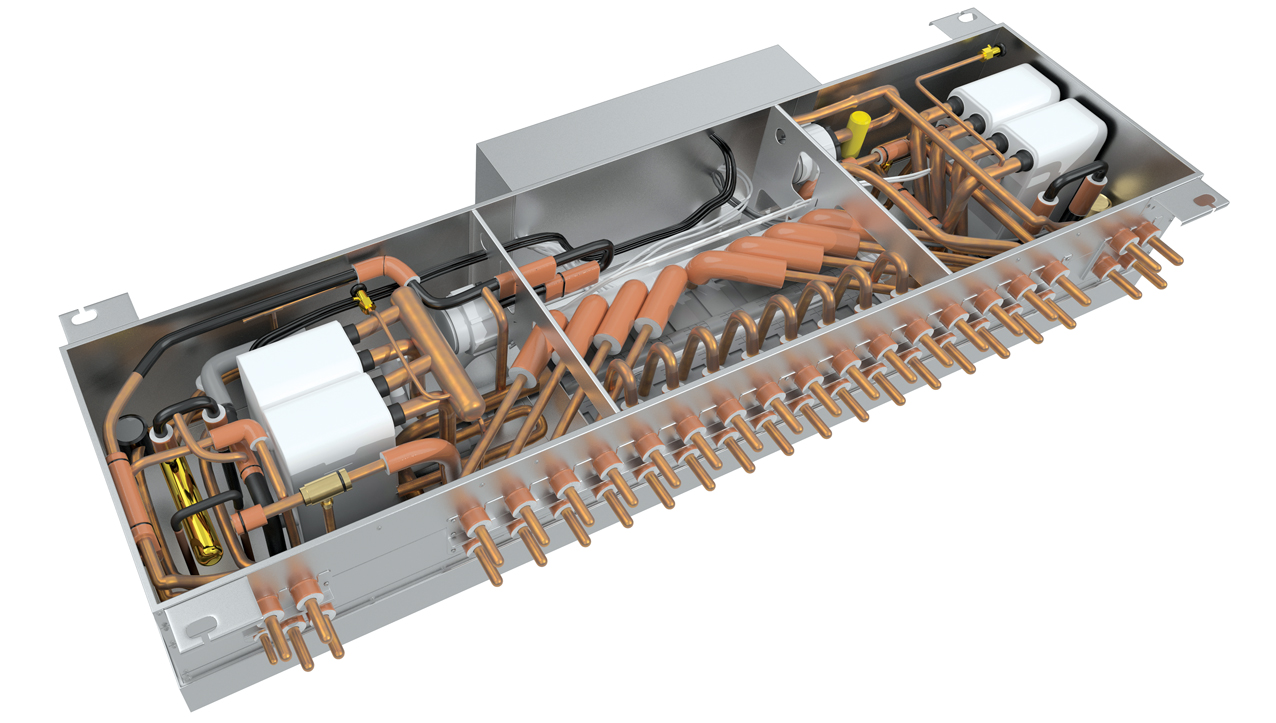 The hybrid branch controller
Another advantage of the system, says Varghese, is that – if there is a problem with an indoor unit valve – it can be isolated and swapped out of the valve block in the HBO.   
The Hybrid VRF is sold by Mitsubishi Electric as a system, which means there is less potential for it to be incorrectly specified and there is a single warranty. 'We provide all the components and advise you what size and pipe lengths to use, how to install and commission it, and what controls to use. It's easy and straightforward,' says Varghese.
The control panels, designed by Mitsubishi Electric, show temperatures in every guest room. There is an option to connect these to a hotel key-card entry system, so that indoor units are automatically set back to 18°C if there is no-one in the room.
The Strand Palace Hotel does not have this option currently. Instead, cleaners set the temperature whenever they go in the room and the occupants are not there.
Temperatures for all the rooms can be set from the control panels, which eventually will be linked to a remote monitoring system. This will be particularly useful for some guests, says David Abercrombie, the hotel's chief engineer. 'We have professional dancers staying and chaperones insist we set their room temperature at 21°C so they have ideal conditions before going on stage.'
So far, the project team has installed Hybrid VRF on the top three floors. The ground floor, containing the lobby and restaurants, will be the last to be refurbished. DX split units currently serve this area, but Connell says they will probably move to a centralised system. 
Elementa have also analysed data from the occupied hotel to measure water use. 'This will be greatly reduced by the refurbishment, further reducing boiler load,' says Connell.