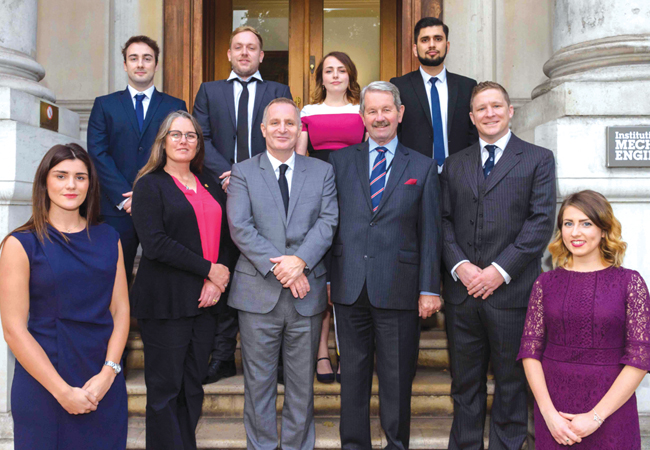 Top row (from left): Finalists Josh Hunt, Ryan Wesley, Hannah Muller-Jones, and Waqar Ahmed. Bottom row (from left): Winner Reanna Evans, ASHRAE president Sheila Hayter, CIBSE President Stephen Lisk, IMechE president Tony Roche, finalists Carl Fisher and Rachel Bell
Eight young engineers showed off their presentation skills in October as they competed to become CIBSE ASHRAE Graduate of the Year 2018.
Reanna Evans, senior project engineer at NG Bailey, won the title after delivering a measured and confident five-minute presentation, addressing the topic: 'Recent events have raised questions about how the industry manages and monitors professional competence and upholds technical standards. What does this mean to you as an engineer, and where does the engineer's responsibility begin and end?'
Hannah Muller-Jones, mechanical engineer at BuroHappold's London office, was first runner-up, with Gemma Taylor, graduate building physics and services engineer at Atkins, taking third place.
Evans said trust underpins everything building services engineers do: 'People trust us to build and maintain a safer future.' But, she added, engineers should keep people at the forefront of their minds because 'sometimes, trust just isn't good enough'.

I believe integrity and accountability contribute towards the pinnacle of engineering compliance, alongside technical skills – Reanna Evans
'Every time you get into a car, board a plane, settle your family to sleep at night – and every time you are at your most vulnerable, in a hospital bed – you trust the engineers, both past and present, have fulfilled their responsibilities. You do not even consider that something could possibly go wrong because you simply trust the right people did the right thing at the right time,' said Evans, who achieved a first-class degree from Leeds Beckett University. 
She questioned whether an engineer's 'sleek, corporate image' is sufficient, and whether we should instead trust the competency of engineers that are part of a registered body, such as CIBSE.
Who is deemed to be a suitably qualified and experienced engineer, Evans asked. 'Does having a couple of letters after their name, or some form of qualification card, necessarily mean they are available to do any given engineering task at any point in time?'
A cardiac surgeon takes five years to be educated, followed by a three-year fellowship, before undertaking 50 hours minimum per year of continuous professional development (CPD). 'Without that sterile environment, the surgical lights and those medical gasses, that surgeon cannot undertake their role. Engineering is of equal importance,' said Evans.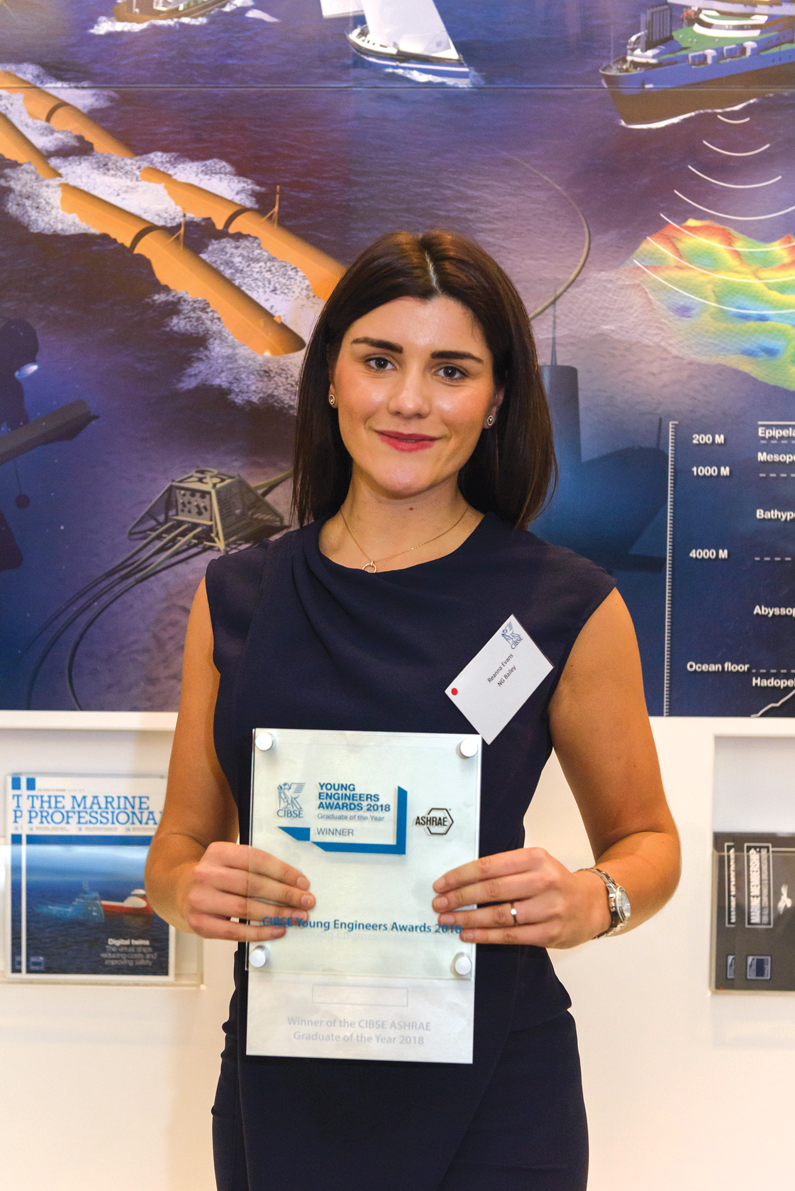 CIBSE Graduate of the Year Reanna Evans
'I believe integrity and accountability contribute towards the pinnacle of engineering compliance, alongside the more technical skills, such as education and experience.
'It is my responsibility to keep up to date with the latest legislation, technology and guidance through the use of professional bodies, and through CPD.'
It's about the human factor, too, she added – in understanding what you do and why. 'I am proud to have contributed towards enhancing lives; I'm proud to create comfortable workspaces; and I am proud to be part of major educational developments that have molded our future engineers.'
Evans' prize is a trip to the ASHRAE Winter Conference in Atlanta.
Muller-Jones, who won £600 from The Rumford Club, showed images of projects, and asked the audience to raise their hands if they thought competence and standards were upheld in each case. She said the 40-year-old Genoa Bridge, in Italy – which collapsed earlier this year – was designed by a competent team up to the standards of the time. Similarly, the Grenfell Tower renovations that many people have attributed to encouraging fire spread were done to the standards, albeit they weren't as fire resistant as other options, she added.
However, the Takoma Bridge, in Washington, USA – which collapsed when it was hit by winds – was built too narrow and not deep enough to withstand the structural vibrations. Muller-Jones asked: 'If it is our duty, as engineers, to not only ensure we are competent, but that we encourage competency in others, it begs the question: where does our responsibility begin and end?'
If we don't share knowledge with each other, we can't call ourselves engineers, she said. 'Contractually, we have a start and end date for our responsibility, but – ethically – we are responsible for every project we work on.'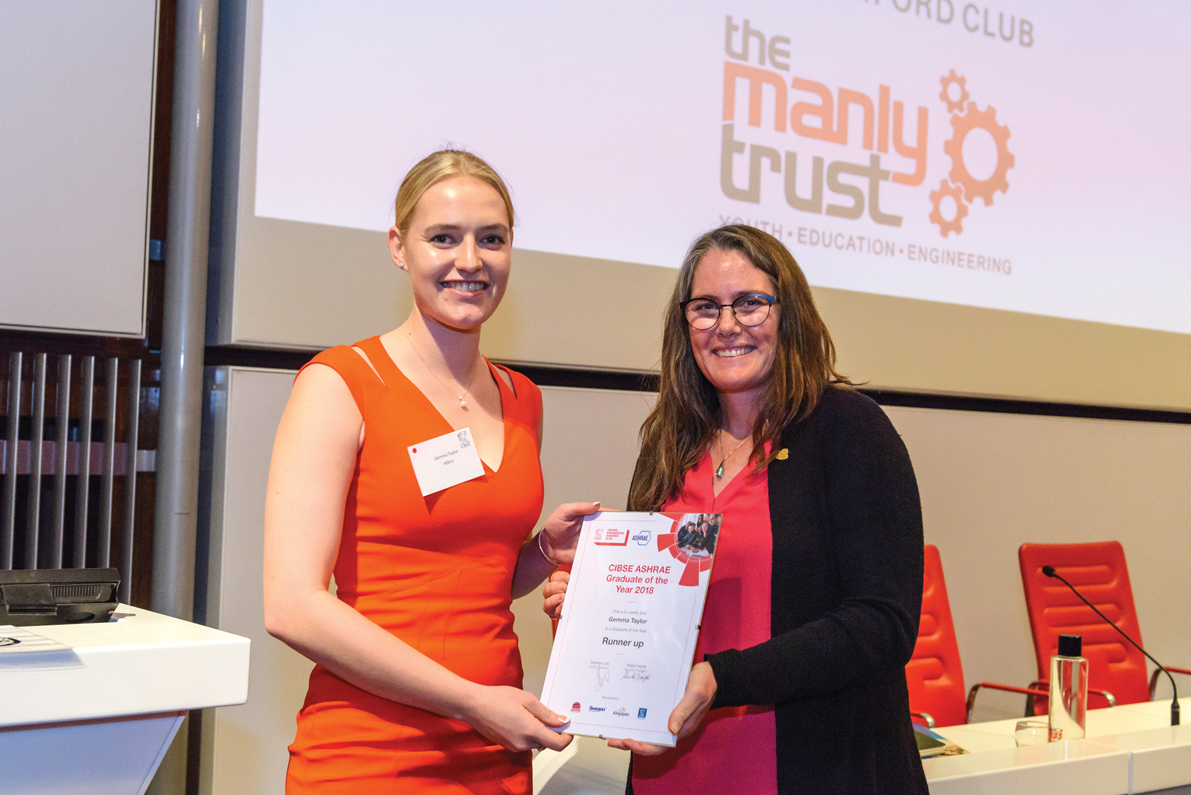 Gemma Taylor with ASHRAE president Sheila Hayter
Muller-Jones added that constructability and communication played an important role at the London 2012 Olympics sports complex, where no deaths were reported – unlike the equivalent World Cup complex in Qatar.
'When we do not communicate between each other and share our principles, then we're going to keep causing things like this. We need to communicate to make sure we're all on board with the same principles and teach each other,' said Muller-Jones, who achieved a Master's degree in mechanical engineering with management from the University of Nottingham.
Taylor, who won £300 from The Rumford Club, said she was shocked that less than 4% of the UK's 5.7 million engineers hold a professional accreditation with the UK Engineering Council, which aims to maintain internationally recognised standards of competence and commitment. She asked: 'How can we be confident in the work we deliver to the public if 90% of our practising engineers are simply off radar? We have a framework in place, but – with such a low percentage of people obtaining professional registration – I suggest we aren't even close to maximising its full potential.'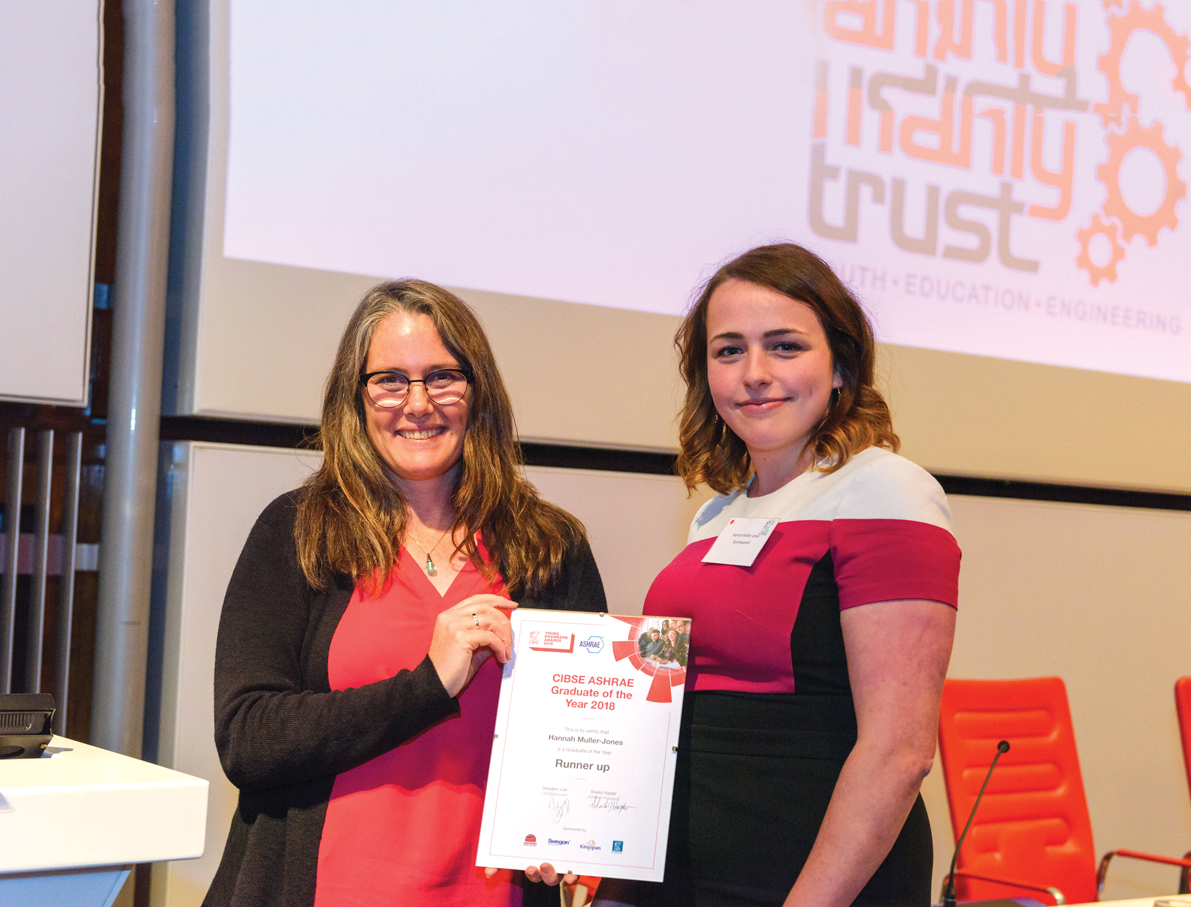 Hannah Muller-Jones receiving her certificate from Sheila Hayter
Taylor, who has a building services engineering degree from the University of the West of England, said competence is a never-ending route covering skills, knowledge, and ability to gain experience in a specialism. 'But if less than 10% are adopting the framework that encourages and monitors competence, how can we be confident to deliver our vision to instil confidence and trust in people that are not associated with our profession?'
Taylor said social responsibility overrides all the commercial pressures – such as time, cost and resource – that engineers face. 'My social responsibility begins as soon as I pick up a job and it never really ends,' she added.
No one person is responsible for an outcome, but everybody has a responsibility to contribute towards it, said Taylor, who added that delivering to the recognised standards is achieved by undertaking CPD requirements and engaging with the profession. Although she has a responsibility to be on top of her game, the industry has a part to play in being responsible 'by enforcing a mandatory registration process for all practising engineers in the UK, and by adopting a monitoring process that seeks to confirm if people operating under their name are acting responsibly and within their code of conduct'.
She said: 'How do we know if Joe Bloggs, CEng, registered seven years ago, can really still cut the mustard?'