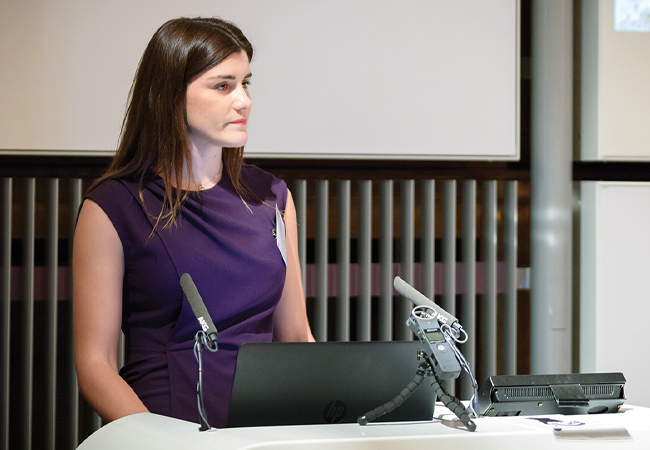 Reanna Taylor, 2018's CIBSE Graduate of the Year
Building up her professional and personal network has been a major benefit for 2018 CIBSE Graduate of the Year Reanna Taylor, who has packed a lot into 12 months. As well as serving as an ambassador for the profession at home and abroad, she chaired BESA's Future Leaders group, was promoted by her employer NG Bailey… and got married.
'The award expanded my network at a rate second to none,' she says. 'I am able to call on people outside of my organisation to discuss issues and solve problems. I was honoured to speak at the House of Lords, to write numerous articles and share my story with the building services sector'.
Last year was just the second time in the award's 23-year history that the top three places were all filled by female engineers – and Taylor is only the second ever winner employed by a contractor. Building on these developments would be a fitting legacy for her year, she believes.
'Women are good team players and we are also very process-driven, which is just what the industry needs right now,' says Taylor. 'A team with a diverse membership is far stronger than one person trying to go it alone – and forging strong links between contractors and the design professions is crucial if we are to turn vision into reality.'
Exchange
The graduate award is jointly awarded with ASHRAE, which gave Taylor the chance to exchange ideas with North American counterparts after she attended the Society's conference in Atlanta. (This year's winner will travel to Orlando, Florida, next February.) 'I was able to suggest some small changes that would help them, and I have managed to implement changes in my own company from what I learned over in the US – it was really interesting to see how they operate.'
She would have liked to become more involved with her local CIBSE region in the North West, but it clearly was not possible to cram everything in. However, it is now her ambition to work towards chartered engineer status, and hopes local CIBSE members will mentor her.


I have spoken at the House of Lords, written numerous articles and made an abundance of friends – it has been an amazing year

Taylor is an enthusiastic mentor and Stem ambassador herself and hopes that her experience will inspire other young women to take up engineering careers.
'I get a tremendous amount of satisfaction from building something for the future – and want to pass that excitement on to others. If I have worked on a hospital, then I have helped to save lives… if we were part of the team delivering orthopaedic facilities then I have helped people to walk again. It is not just about the services, but what they do – and that is a powerful message to get over to potential recruits,' says Taylor.
She also believes more focus and investment into recruiting and retaining people with craft skills, such as plumbers, pipe fitters and electricians, is essential. 'Building services is an art that is currently lacking some of its artists,' she says.
'Craft skills are the heart of our industry, and we need to value the men and women who fulfil those roles more highly.'
Last year's Graduate of the Year shortlist
Taylor became interested in buildings at a young age when helping her grandfather in the family joinery business. She was fascinated by how things were put together and wanted to understand how building systems worked. However, she assumed the only professional route she could take that would be anywhere close to that was interior design or architecture – until she stumbled across 'something called building services'.
She joined NG Bailey as a first-year building services engineering apprentice in 2011, and the company then sponsored her through a building services degree. During this time, she was also asked to be the lead electrical engineer on a large project. 
She not only delivered the project on time, to a high standard and within budget, she managed to squeeze in securing a first-class Honours Degree from Leeds Beckett University. Taylor has now been promoted to senior project engineer and is the lead mechanical engineer on a prestigious project in Manchester city centre.
As chair of the BESA Future Leaders group, she focused on encouraging 12- to 13-year-olds to look at engineering, both in design, and on the tools. There are a large number who, she believes, are not even aware that engineering could be for them.
'We can offer them placements in the industry and show them what is possible,' she says. 'We can show them BIM, estimating and planning; how things work on site – and the opportunities
in M&E.'
Inspired by her own experience with the NG Bailey apprenticeship scheme, Taylor wants to encourage more CIBSE and BESA members to offer work experience to young women in particular.
'If my experience can help to inspire the generation that comes after me – now that really would be something,' she says.
The CIBSE Young Engineers Awards – including Graduate of the Year, Employer of the Year and two Institution of Mechanical Engineers (IMechE) Awards – takes place at the IMechE on 10 October starting at 6pm. Attendance is free, but registration is required.