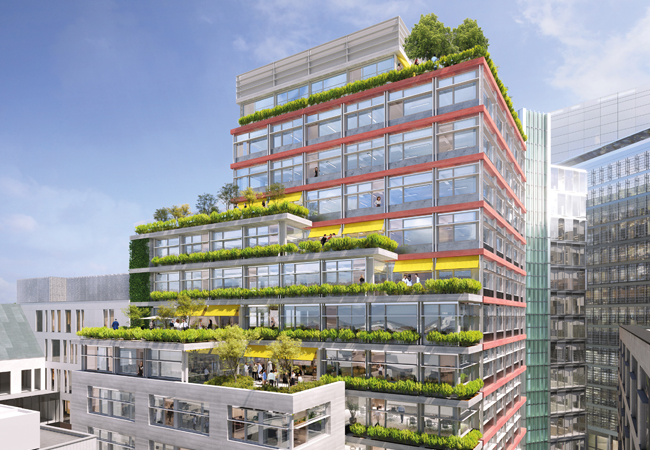 Edenica's façade is assembled from precast concrete panels, made using recycled concrete
The ambitious brief for the new Edenica office building was 'to push the boundaries of sustainability'. The design for the 13,000m2 scheme, located in Fetter Lane in the City of London, has done just that, with a progressive approach to pioneering new sustainability standards for speculative office developments in the capital.
Waterman – the scheme's building services, structural and sustainability engineers – produced a
design for developers BauMont Real Estate Capital and YardNine that minimises operational and embedded carbon. It also promotes the re-use of materials in its construction by pioneering the adoption of materials passports.
Designed to be all-electric, Edenica is predicted to use half the operational energy of a Building Regulations minimum-compliant building. It is Breeam Outstanding, WiredScore Platinum, UK Green Building Council net zero compliant for construction, and is set to be Nabers-rated once occupied.
WiredScore certification
Developed in America in 2013, WiredScore certification assesses the quality and resilience of digital infrastructure in buildings across the globe. It provides landlords and developers with valuable guidance on how to design a best-in-class digitally connected and future-ready building, and how to promote it to prospective occupiers and residents.
Each level, from WiredScore Certified to WiredScore Platinum, proves that your asset goes above and beyond to meet modern expectations of digital connectivity.
WiredScore is a point-based system under which a building can earn up to 100 points, achieving levels from WiredScore Certified to WiredScore Platinum. For an existing building to reach WiredScore Platinum, it must earn at least 90 points. 
Points can be earned in a variety of ways, and this is broken down into three main categories – connectivity, infrastructure and readiness.
Waterman was able push the sustainability boundaries so effectively because the consultant worked closely with Fletcher Priest Architects from the outset. 
One of the early decisions was to design the envelope of the 12-storey building (plus basement) so it could accommodate a mixed-mode air conditioning strategy, to help minimise operational energy. 
As such, the façade incorporates automated 'hopper' windows at high level on each of the 3.4m-high floor plates. 'When conditions are right, the high-level windows will open automatically, which is a clue to the occupants that the building is in natural vent mode,' says Mark Terndrup, managing director of Waterman Building Services South.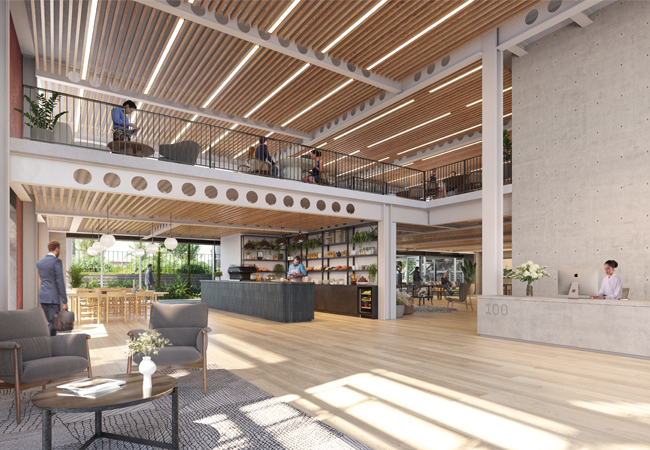 A mixed-mode air conditioning strategy will help to minimise operational energy use
The façade also features mid-level, manually openable windows with an insulated spandrel panel at low-level to improve thermal performance. 'There isn't any useful daylight at low level,' says Terndrup.  
He says the decision to allow occupiers to open and close the windows will allow them to feel in control of their immediate environment, which will increase their tolerance of higher internal temperatures. 
However, when outside temperatures get too high or too low for natural ventilation, an underfloor air conditioning system has been included to help maintain occupant comfort on the office floors. This was selected for its low whole life embodied carbon and ease of adaptability over the life of the office building, based on studies by Waterman's sustainability team, which factored in embodied carbon associated with typical air conditioning system fit-out, maintenance and replacement. 

An underfloor air distribution system has the least initial quantum of components and is easily adaptable
'Simplicity is key to unlocking the challenge of delivering low carbon strategies for M&E; an underfloor air distribution system has the least initial quantum of components and is easily adaptable without the need for extensive physical interventions,' Terndrup explains. 'This reduces equipment replacement over a building's life-cycle.' 
The system uses the raised floor void as a supply plenum to deliver a mix of fresh and recirculated air from mini air handling units (AHUs) located in the building's core. The rate of fresh air is demand-controlled, supplied to the mini-AHUs, via variable air volume boxes, from AHUs hidden in the building's basement.
Casting light on whole life carbon
'There is a tendency in the industry to over-specify office lighting, which can have a significant impact on whole life carbon,' says Terndrup. 'The CIBSE Lighting Guide LG7 says you only need 200-300 lux in an office where occupants are computer-based using back-lit screens; however, we found that lighting is commonly designed for paper-based tasks at 400-500 lux.'
If lighting is designed based on 200 lux general lighting, plus 100 lux task lighting, for an office that is purely used for screen-based work, the number of lights in an office can be reduced by more than 20%, Terndrup explains. 
'That means 20% fewer lamps to replace, 20% fewer fittings to find a home for in the future. So while a simple reduction in light fittings may have a relatively small initial impact on cutting a building's embodied carbon, once the reduction in waste from office churn, reduced maintenance and lamp and lamp-fitting replacements are considered, the whole life carbon savings are far more significant.'
A major benefit of the underfloor system is that it allows the thermal mass in the precast concrete planks that form the soffit to remain exposed on the office floors, further moderating temperatures. Retained heat is removed from the soffit at night by opening the high-level hopper windows.
On the lower floors, where the floor plates are deeper, the natural ventilation solution is less effective. The perimeter underfloor air supply units will turn off when the windows open, but the underfloor system will continue to serve the interior spaces in a solution that Terndrup describes as 'part natural ventilation, part air conditioning'.
The façade comprises deep window recesses, supplemented by elevation-specific brise soleil to minimise heat gains on the floor plates. Waterman modelled the scheme to assess the shading benefit provided by the adjacent buildings. 
'Often, engineers will say "we're not going to allow for that because someone might knock the building down", but our client took a pragmatic approach by not having shading where the building is already shaded.'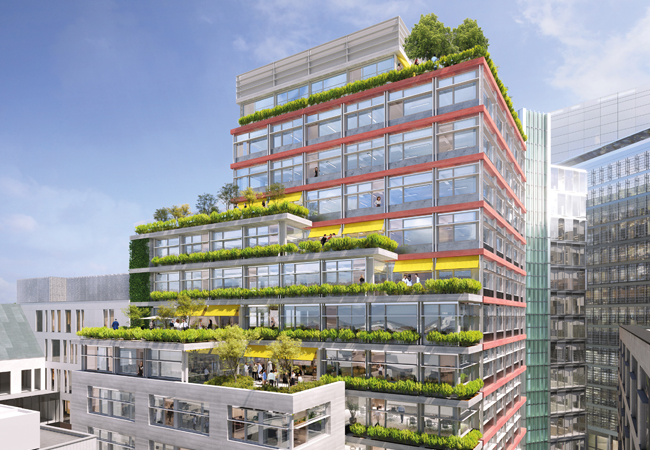 Materials passports are being created for several elements of the Edenica project
Four roof-mounted air source heat pumps provide heating, cooling and domestic hot water (DHW) to a variable flow system. Heating is at a temperature of 45oC flow/40oC return, while chilled water is at 7oC flow/13oC return to maximise heat pump efficiency. Heat pumps are four-pipe heat recovery units, selected to enable heat and coolth to be shared during shoulder seasons. A top-up water source heat pump in the basement elevates the hot water supply temperature to 65oC to heat the basement DHW calorifiers.
Passport to circularity
The building's prefabricated concrete envelope contains less than half the carbon of a fully glazed or aluminium-clad solution. The architect estimates its design life as 120 years; nevertheless, its fixing system has been designed to enable it to be easily removed or replaced where necessary.
The building's steel frame has also been designed for adaptability. The structural grid is based on beams positioned at 4.5m centres, as opposed to the normal 3m centres, which reduces the total mass of steel used, saving on embodied carbon. 
An added benefit of this solution, says Terndrup, is that the beams' wider spacing enables additional internal stairs to be incorporated in the future without the need for major structural alterations. 'This might not be an office building in 40 years' time, so we have addressed longevity through incorporating flexibility,' he says. The environmental credentials of the steel frame are further enhanced by it being awarded a materials passport. 
Materials passports are digital datasets that contain key information on materials and construction components to facilitate reuse at the end of the building's life. Their implementation is being piloted at Edenica.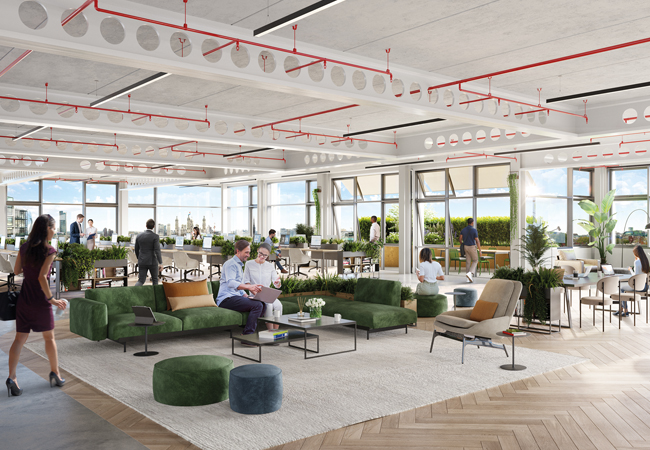 The building has high-level automated 'hopper' windows and mid-level manually openable windows
Without a defined process to follow, Waterman's sustainability team had to pioneer the methodology for producing digital passports. On Edenica, information included in the passport is obtained from the construction contractors. 
'We had to start from scratch, defining what should be included, how to organise the information to form a database, and how to use the passports and update them when changes occur over a building's life,' says Anastasia Stella, sustainability associate at Waterman. 
On Edenica, material passports are being created for: the substructure, including piles, retaining walls and basement floor slab; steel frame; precast concrete floor planks; in situ concrete topping to the planks; external precast concrete panels; and the raised access floor. The digital passport for each element contains details of its geometry and location in the building, along with information on all the materials used in its formation. 

This might not be an office building in 40 years' time, so we have addressed longevity through incorporating flexibility'
When asked whether any of the building services have materials passports Stella says: 'We haven't yet considered passports for the building services; this would be one of the last things we'd tackle because of their complexity.'
Waterman is using the knowledge gained from Edenica to create a framework for producing and reporting materials passports across the UK. Its sustainability team has collaborated with EU circularity project CIRCuIT to standardise the passports, contents and process, details of which,Stella says, will be published this month and be freely available.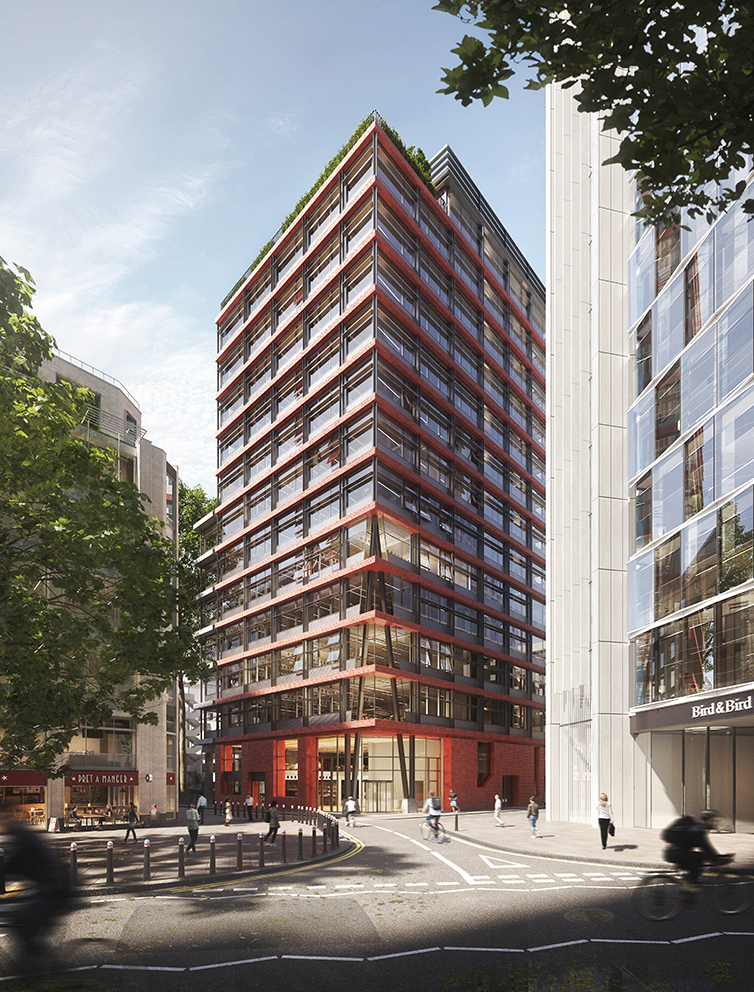 The brise soleil on Edenica is elevation-specific
The next step, she adds, is to create a materials passport protocol, which could then be linked to the net zero standard.
Over time, Stella says, the intention is to create a database and marketplace for used products and materials. Then, when refurbishment or demolition of a building is planned, the passported materials can be sourced by contractors looking to start work on a new project, reducing the amount of carbon spent manufacturing new materials.
The passport database will be available when the Edenica development is completed in autumn 2024.