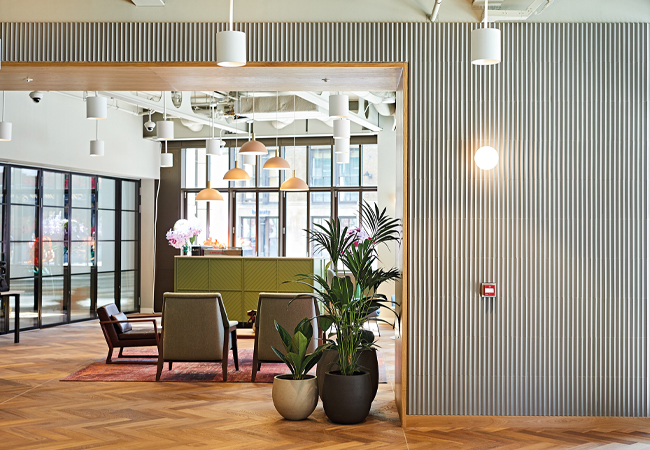 As far as building certifications go, Bloom Clerkenwell has pretty much got the lot. This brand new office was certified Well Platinum (shell & core) in June 2022, Breeam Outstanding in May 2022, and WiredScore Platinum in 2019. According to its developer, HB Reavis, it is the first commercial building in the UK to achieve the top level in all three certifications.
Bloom Clerkenwell's accreditations appear to exemplify what the post-pandemic office building is about: workspaces that prioritise wellbeing; high levels of sustainability; and enhanced user experience through technology and services. 
The building set out to meet these targets from the start, which is an impressive achievement and one that shows acute foresight on the part of the developer, particularly given that the building was designed before the pandemic. 
'The client had bought into those targets when we were first involved with the project in 2018, and they had a significant influence on the approach and criteria for our MEP design,' says Lee Hargreaves, associate director at Buro Happold, the project's MEP and structural engineer. 
The seven-storey, 18,000m2 building is mostly offices, with some retail at ground level. Designed by John Robertson Architects, its façades feature a regular grid of rectangular glazing, which is given added impact on its Crowcross Street elevation by a bright-red, four-storey projection.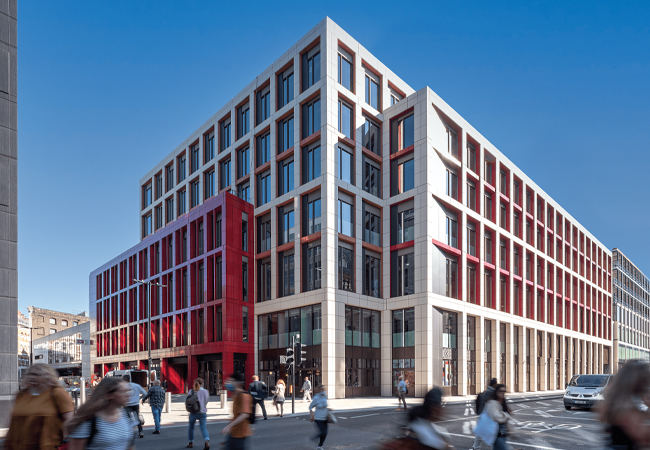 The building's Crowcross Street elevation with its bright-red, four-storey projection
Above the projection, floors four, six and seven have private terraces, providing external workspaces. There is also a communal terrace, accessible to all, on level seven. Below ground, the single-storey basement features a gym, cycle storage, and changing and shower facilities. The basement also incorporates some plant and tank space, although space is limited because the building sits directly over London's Farringdon Elizabeth Line station. 
In response to its over-station location, the building has been designed with a relatively light structure of steel columns supporting castellated beams, through which the building services had to be threaded. 
'We made extensive use of BIM throughout this project, which facilitated precise coordination across the project teams – it has a generous floor-to-floor height, helped by the integration of services within the structural zone,' Hargreaves explains. 
Occupants enter the building through a ground-floor entrance; the first floor is split into two fully fitted-out Category B offices, while floors two to seven have a Category A, shell and core fit-out.
'The most challenging Well requirement was to deliver the circa 30% enhanced fresh air rate, because that required additional coordination, more space for the ductwork and larger air supply equipment,' says Hargreaves.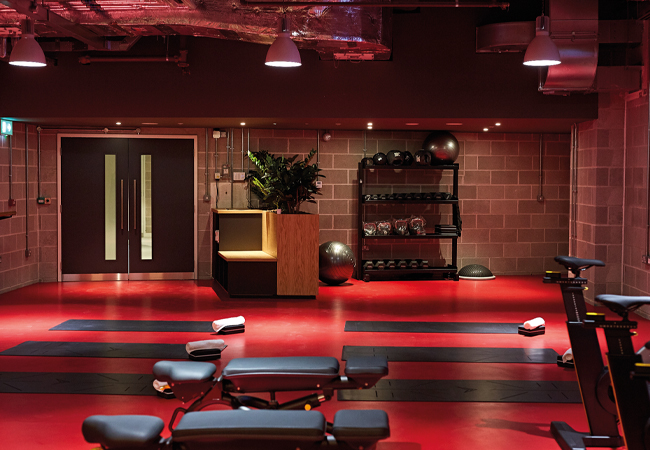 The basement-level fitness room
Six roof-mounted air handling units (AHUs) supply the enhanced air volume to, and extract air from, all the office floors through a series of six dedicated vertical risers located around the building's central concrete core. The AHUs incorporate heating and cooling coils and a heat-recovery system; they also have enhanced filtration to comply with Well, but do not include a mixing box because Well requires full fresh-air ventilation.
'Arranging the ducts around the core allows maximum flexibility in terms of duct and air distribution, because we were constrained by a maximum ductwork height [to enable ducts to pass through openings in the castellated beams],' explains Piotr Korwin-Piotrowski, associate director at Buro Happold. Duct branches to each floor are equipped with a variable air volume (VAV) box and attenuator to enable demand-controlled fresh air based on a CO2 sensor on the return duct intake.
Unusually, the Category A fit-out includes ceiling-mounted air distribution ductwork, to ensure the fresh air distribution is effective, along with four-pipe fan coil units (FCUs). To keep fan loads to a minimum, and to provide tenants with maximum flexibility in terms of the location of meeting rooms and spaces, the fresh air distribution ductwork is deliberately large. This has the added benefit of keeping duct-generated noise to a minimum.
The FCUs provide heating and cooling to the office floors. Units are positioned to line up with façade modules to enable tenants to easily subdivide the floor plate into cellular offices should they wish to do so. The fresh-air supply ducts terminate at a series of diffusers across the floor plates rather than at the rear of the FCUs. 
Site supervision during the pandemic
The strict travel restrictions during the coronavirus pandemic made it difficult for Buro Happold's engineers to keep up to date with daily progress on site. The solution on Bloom was remote site monitoring facilitated by the Matterport software platform, which turns physical spaces into immersive digital twins. The software creates accurate 3D models of any space and allows engineers to go on virtual walk-throughs to see progress and spot issues.
For Piotr Korwin-Piotrowski, associate director building environments in Warsaw, remote site monitoring enabled him to keep up to speed with progress on site in London. 'Remote site monitoring is a better option than 2D pictures via email; when combined with in-person inspections, it definitely helped us do our job effectively,' he says. Korwin-Piotrowski hopes that remote site monitoring will become standard on all jobs, to save time and money.
'Mid-season, this arrangement allows us to switch off the fan coil units to save energy, while still being able to distribute fresh air,' Korwin-Piotrowski explains. 'The system was fully modelled in IES to confirm its performance throughout the year,' he adds. Alongside system modelling, the team undertook a comprehensive analysis of the glazing at the design stage. As a result, it has been specified with four different G-values, depending on its location and orientation, the amount of daylight it is required to admit, and the heat gains it was beneficial to allow or prevent. 
The glazing contributed to the façades' impressive thermal performance, which, when combined with the increased volume of air supplied to the floor plates, meant there was no need for additional heating or cooling at the floors' perimeter.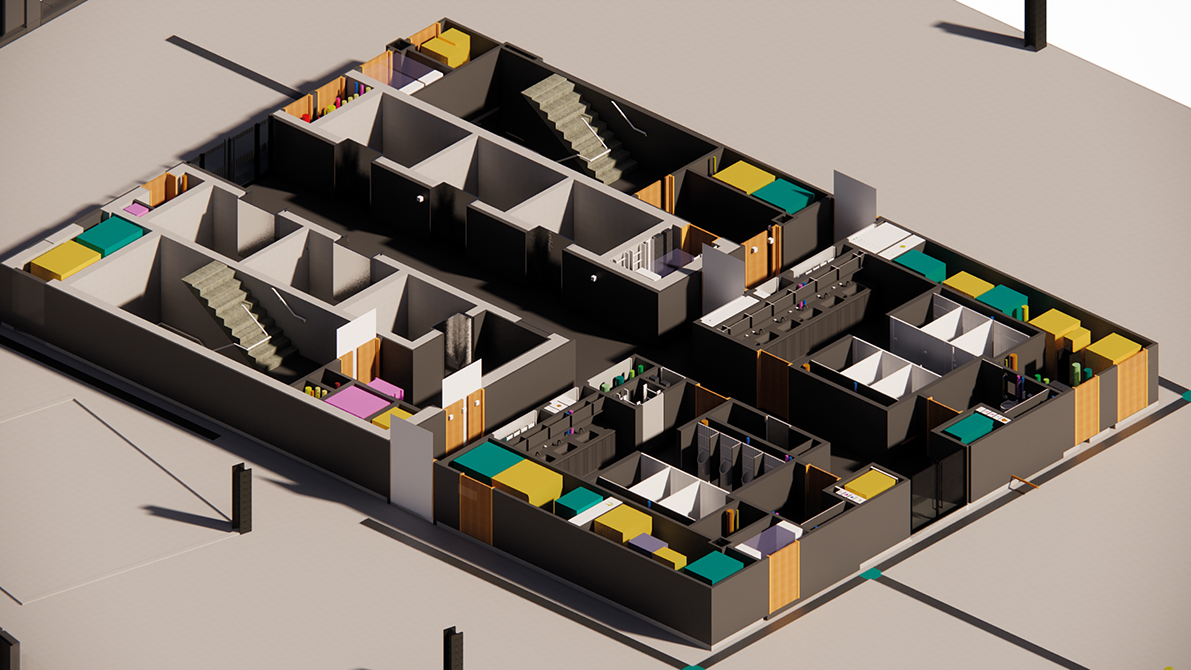 BIM was used extensively throughout the project
There is no fossil fuel heating plant in the building. Instead, heating, cooling and heat for domestic hot water is supplied from the adjacent E.On Citigen energy centre (see CIBSE Journal, April 2022). Connection to the energy centre was a condition of planning, but it also had benefits for the developer. 
'Because heating and cooling is from Citigen, you don't need fossil fuel equipment in the building; all we need is space for heat exchangers in the basement,' says Hargreaves. 
In addition to the Category A fit-out floors, Buro Happold was responsible for the design of the services to the Category B fit-out offices on Level 1. In these ready-to-work office spaces, the office community is supported by HB Reavis' smart workspace technology, as part of the building app. The technology empowers occupiers to manage their indoor working environment, with access to real-time data, such as indoor air quality and space utilisation. The app also facilitates a touch-free arrival and concierge services.
Occupants can be confident in their ability to exploit the building's smart office functions because it is certified WiredScore Platinum for telecoms, fibre, internet and digital connectivity.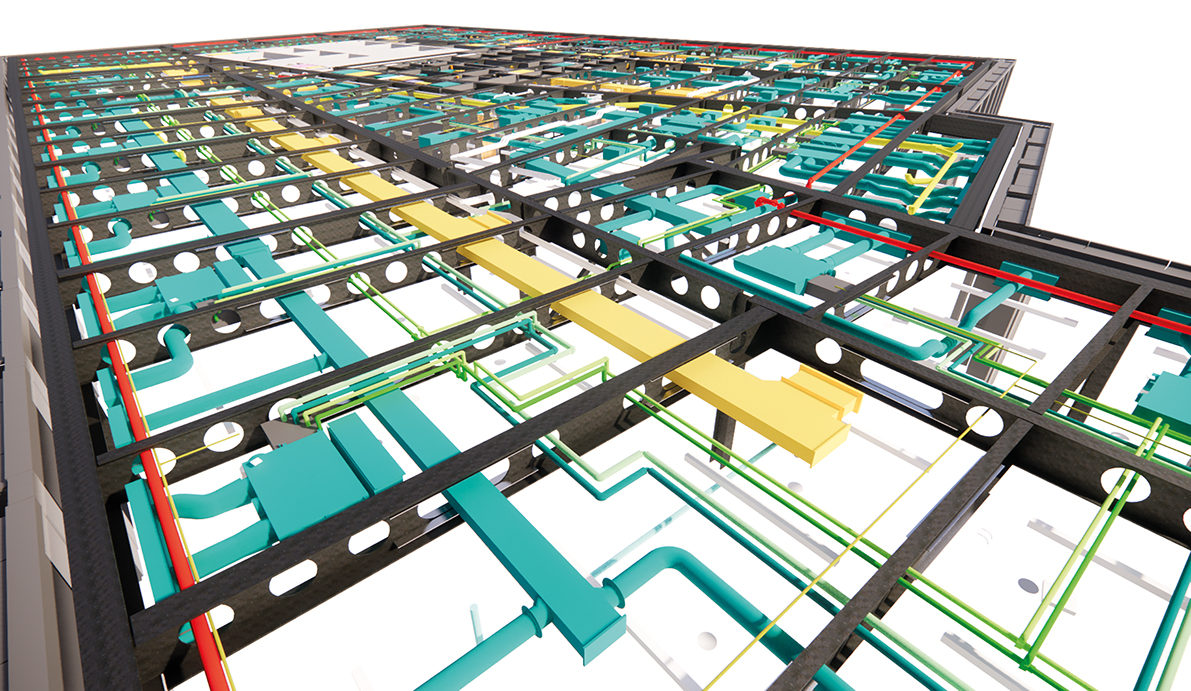 The buildings services had to be threaded through castellated beams
Hargreaves says Buro Happold is seeing more businesses wanting digital connectivity and smart capabilities rating as part of the remit for their building, because they see it as being 'an optimised smart building, providing resilient, reliable connectivity'.
He adds that occupants will be in little doubt that this is a smart building because the air quality is 'displayed visually as CO2 in parts per million' on each floor plate, with a traffic light warning system if it gets too high.
Post-pandemic, Hargreaves believes Well is gaining significant traction as a new default assessment methodology, given the wider understanding that the buildings in which we live, work, learn and relax profoundly impact our health, wellbeing and productivity. 'It just so happens that, on this project, the Well standard was in the brief from the outset.'