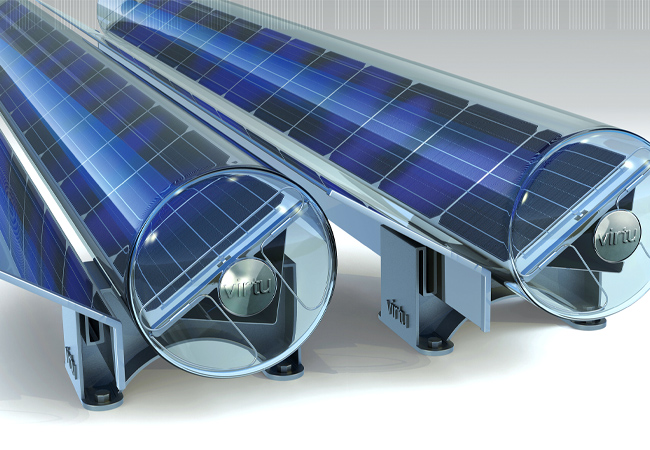 The combined solar heat and power solution features PV sales as well as a solar thermal flat plate absorber
As a novel product that combines both solar photovoltaic (PV) and solar thermal technology to provide heat and power generation in a single solution, Naked Energy's VirtuPVT was described by the judging panel of the CIBSE Building Performance Awards 2021 as 'head and shoulders above the rest' as it took this year's Product or Innovation of the Year – Thermal Comfort title.
The hybrid VirtuPVT system is a commercially available, low-profile modular solar system that delivers a combined solar heat and power solution, which the judges said 'achieves cleaner integration of renewable technologies in buildings to meet 21st-century energy needs'. 
The system uses Naked Energy's patented PVT technology. Each unit includes a novel solar thermal flat plate absorber to heat water flowing through the system with 60% efficiency, which can be used for sanitary hot water or process heat up to 80˚C.
Additionally, monocrystalline PV cells bonded to the absorber convert solar energy to produce electricity with typical PV efficiency of around 20%. The absorber is housed in an evacuated borosilicate glass tube, with the vacuum minimising thermal losses to ensure optimal heat output. 

The product initially stemmed from exploring ideas around the hyper-efficient transfer of heat, which were then married with the concept of combining heat and power
Combined, Naked Energy says the technology offers total efficiencies of up to 80%, which, the firm claims, makes VirtuPVT the highest energy-density solar technology in the world. 
The installation of the system is novel, too, compared with regular solar arrays. Its low-profile, versatile mounting system means it can be installed on pitched or flat roofs without the need for typical racks or A-frames to achieve the optimal angle to the sun. Instead, the tubes can be mounted either in the vertical or horizontal plane, and the absorber panel PV/thermal receiver angle can be tilted within each tube to align for an optimal solar performance, with the units spaced to avoid self-shading in winter months. 
The low profile of the individual units – 26.5cm off the roofline – is also designed to optimise visual impact while reducing wind shear. They are self-ballasting and have integral reflectors to minimise shading, while the individual units are small and light enough to be carried by hand for installation. At an operational level, system requirements are no different from conventional PV or solar thermal systems, with standard connectivity for heating and electricity systems, and require similar maintenance procedures. 
Each tube is capable of delivering a maximum of 275W thermal and 70W electrical energy; in the UK the typical yield is expected to be around 213kWhth and 60kWhe per tube.
Development
The development of VirtuPVT combination system concept began in 2009, after Naked Energy's co-founders, CEO Christophe Williams and CFO Nicholas Simmons, began exploring innovative solutions for sustainable energy. The patents for the technology were filed in 2012 and granted in 2018.
25 VirtuPVT tubes in array in South Africa offer 3,750kWh peak thermal and 1,390kWe peak
Alex Mellor is senior technologist at Naked Energy, with more than 10 years' experience working in solar energy technology innovation. He says that the product initially stemmed from exploring ideas around the hyper-efficient transfer of heat, which were then married with the concept of combining heat and power.
'The co-founders saw very early on that renewable heat was going to be important – something that the world is starting to wake up to now. The VirtuPVT design brings that together through the combination of PV panels and highly efficient heat transfer through thermal solar and the evacuated tube design to reduce heat loss.'
The original prototype was first tested in Malta in 2016, as part of a desalination plant for Climate-KIC, with further testing on a revised prototype at a UK retailer's building near Gatwick from 2017. This was followed by five installations in the UK and Europe. Experience gained from these trials informed the development of the product and improvements to the design and performance. 
'One of the beauties of our products stems from the CEO's background in marketing and digital design,' says Mellor. 'His father was an engineer in the field of renewables, but Christophe's design sensibility means that he tends to see things a little differently from how an engineer might see them. We have really good engineers and scientists in the team, but we also have that kind of design-led impetus.' 
The active office
The Active Office was built by Specific – a UK Innovation and Knowledge Centre (IKC) based in the College of Engineering at Swansea University – as part of a demonstration of its 'Active Building' building design concept. VirtuPVT was deployed on a vertical façade, in combination with thin-film PV on the roof, battery storage and an air source heat pump. The aim was to create the UK's first energy-positive office, where more energy is generated than is consumed. 
The building was constructed using offsite manufacturing techniques. VirtuPVT is fully integrated with thermal and electrical storage systems in the building. This was the first large-scale commercial installation of VirtuPVT and is generating 2.5kWp electrical energy as well as 10kWp thermal energy. An array of 40 VirtuPVT tubes are installed on the south-facing façade of the building, designed to maximise solar thermal outputs in the autumn, winter and spring when the sun is lower in the sky.
During the first year of operation, the VirtuPVT array avoided CO2 emissions equivalent to 722kg (Scope 1) and 472kg (Scope 2) that would have resulted from traditional forms of heat end electricity generation being used.
Elements such as ease of installation and the system's low profile on flat roofs, for example, and consideration of how the visual impact of the installation affects a building façade, are informed by this approach,' says Mellor. 
Naked Energy has partnered with technology manufacturer Jabil in the development of the final commercially available production model, which is now 'simpler, more reliable and mass-producible', Naked Energy says. Multiple design iterations have been performed to minimise manufacturing costs and installation complexity, enhance visual appeal, and so on. The firm has engaged with suppliers, installers, early customers and other stakeholders to incorporate feedback into the process. 
The production model has been installed in a number of systems across Europe and in South Africa. A vertical installation was carried out at UK innovation and knowledge centre Specific's Active Office in Swansea – designed to be the UK's first 'energy positive' office (see panel 'The Active Office') – while a system was installed at Deltares in the Netherlands to replenish ground heat as part of a ground source heat pump system; at a guest house in Hermanus, South Africa; and at the Medical Research Council's Harwell facility in Oxfordshire. Recent customers include the University of Westminster in London, while another 'high-profile building in central London' is in the pipeline, Mellor says. 
Distribution
With the system now in full commercial production, Naked Energy is looking to expand its distribution globally. 'We're developing distribution partnerships in the UK and abroad, with new partnerships in Australia, the Netherlands, South Africa and Switzerland,' says Mellor. For innovative technology, one of the challenges involves buy-in from potential customers, he says.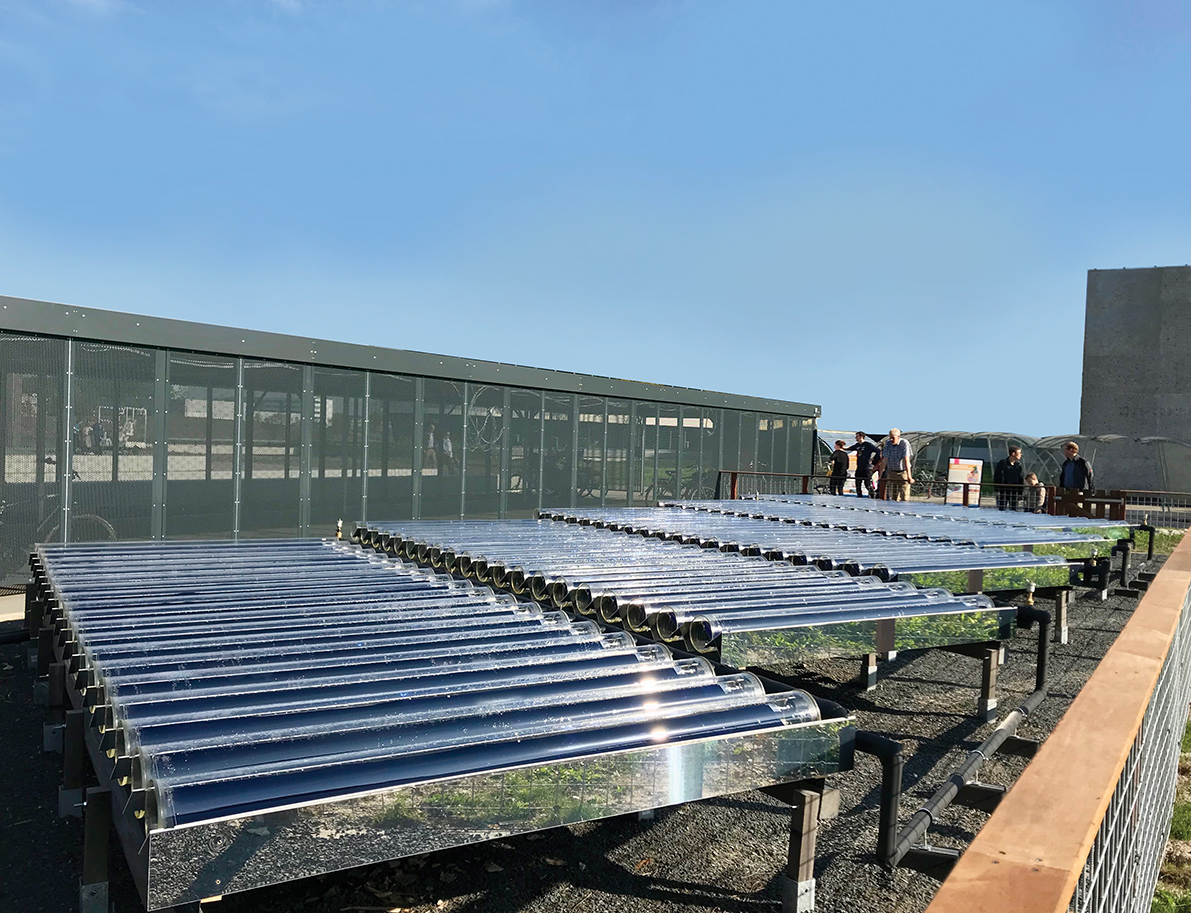 An 88m2 Array in the Netherlands
'It's about how to convince your customer that your technology is so much of a step forward, they want to buy it rather than the tested and proved incumbent, solar PV, which has been widely used for a decade. 
'But we've found getting customers to understand the value of renewable heat is getting easier. CIBSE Members will already understand the necessity of decarbonising heat when calculating the carbon intensity of a building portfolio.'
While Naked Energy is currently developing larger-scale installation projects for VirtuPVT, the company is also keen to broaden the application space for deploying the solution. 'Storage is one area we're exploring. We've just put a grant application into BEIS for an innovation project on the scale of a single home, looking at seasonal storage, using our PVT and a number of other innovations – exploring what we call "beyond net zero housing",' says Mellor.
'For example, storing heat in the ground in the summer to use for winter demand. If we can unlock that, it increases our potential market penetration possibly by a factor of 10, because it means you can do much larger projects for any given customer. And it also opens up the market for customers that only have a winter heating demand, such as offices and other non-domestic applications. There's a lot more opportunity there, while areas such as heat-driven cooling are extremely interesting too.'
Solar heat's potential
Winning a CIBSE Building Performance Award for VirtuPVT has been an important accolade for Naked Energy, says Mellor. It offers welcome recognition for the product's innovative technology while raising its profile within the key building services engineering community.
'It's really valuable for us to receive this award from a highly respected organisation whose members are at the forefront of sustainability and driving the low carbon agenda in building services. It's recognition in the context of the people we are dealing with, the key decision-makers who are integrating systems into buildings.'

It's really valuable for us to receive this award from a highly respected organisation at the forefront of sustainability
Mellor believes VirtuPVT has the potential to be a mass-market solution. 'How we solve the heat decarbonisation crisis will be a mix of technologies, but I see no reason why solar heat can't be the answer to a large percentage of that. And in the UK, I don't see why it can't be our product. Internationally, solar heat in general is going to be on the rise in the coming years, and we're one of the most innovative companies out there with an available product. So, we're all very much tuned into this being a mass-market product.'