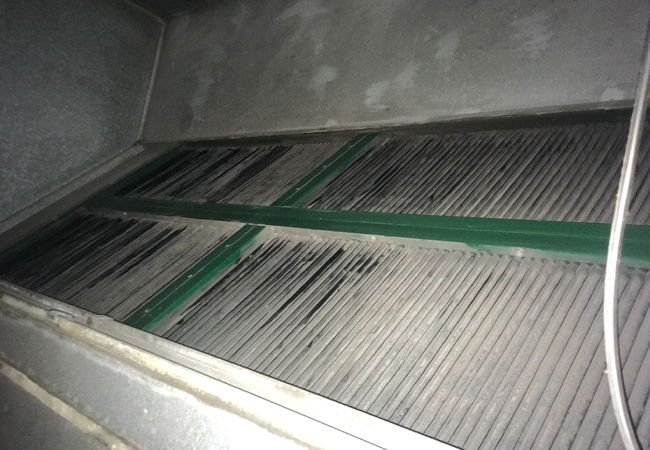 Recirculation of indoor air was prevented in AHU crossover heat exchangers
Parrs Wood High School in Manchester has devised an air conditioning strategy to mitigate the risk of airborne transmission of Covid-19. The planned operation of air conditioning units and air handling units (AHUs) is based on CIBSE and REHVA guidance.
Air conditioning units
The school has 40 split air conditioning units and heat pumps and, at the start of the pandemic, there was uncertainty over their use because they don't introduce fresh air into a room, but recirculate air within it. Such units are increasingly common in UK schools; they are often retrofitted in computer rooms for comfort cooling, or used in new-build classrooms instead of wet central heating.
We initially isolated our units after guidance from REHVA, to turn off local recirculation units in spring to avoid resuspension of virus particles at room level, and because of concerns after an outbreak associated with air conditioning in a restaurant in China. However, the guidance on local recirculation units – such as fan coils and splits – has now been updated by REHVA.1 It says units can be left on as long as the levels of ventilation are increased during occupation, either by mechanical systems or by openable windows.

A soft-button was added to the BEMS control page to ensure the unit would remain on 100% fresh air, even in cooler weather
CIBSE also gives a clear explanation of how it could have a beneficial effect by helping to better mix fresh air with room air.2 Its advice states: 'If a local recirculation unit enhances air disturbance and, hence, helps reduce the risk of stagnant air, then this should be considered when developing a strategy.'
We noted from the guidance that air speed is a critical factor in the spread of the virus. Stronger air currents could carry particles further, increasing the inhaled viral load at a distance. It seemed sensible to minimise this by running our units at low fan speed and adjusting the louvre angle to direct air across the ceiling, not down at surfaces or occupants. Unfortunately, our older room controllers do not allow us to lock these settings, so we will have to publicise these instructions to staff.
One concern raised by REHVA regarding air conditioning is that it allows occupants to achieve thermal comfort without the use of windows, so rooms may not be ventilated properly.1 We shall, therefore, make it clear that windows should be open at all times.
REHVA and CIBSE recommend that the units are operated continuously, as the pressure shock at switch on could dislodge viral particles from room surfaces and internal air filters, resuspending them in the air. For us, however, this is unlikely to be successful, as our air conditioning temperature controls exhibit a large degree of hysteresis, and occupants revert to on/off control to achieve thermal comfort.
Finally, the effectiveness of window ventilation depends on weather conditions,2 and most of our classrooms do not have air conditioning to help mix fresh and room air. If we find any rooms are not ventilated sufficiently by open windows, we will consider using a low-speed desktop fan or freestanding HEPA filter unit.
Air handling units
Our AHUs, each with a cross-flow heat exchanger, allow some mixing of incoming and exhaust air because of the perforated design of the separating walls. The guidance warns of the risk of virus particles being carried from the exhaust to the supply air via heat-recovery systems. To stop this, a soft-button was added to the BEMS control page to disable heat recuperation and ensure the unit remains on 100% fresh air, even in cooler weather. To prevent this setting being turned off accidentally, the actuators have been removed from the fresh air dampers on the AHUs. We visually inspected the damper first to ensure it was in the correct position. The running time will also be increased to two hours either side of occupancy.1  
References:
1 Rehva, Covid-19 guidance document, 3 August, 2020
2 CIBSE, Covid-19 and HVAC systems, accessed July 2020