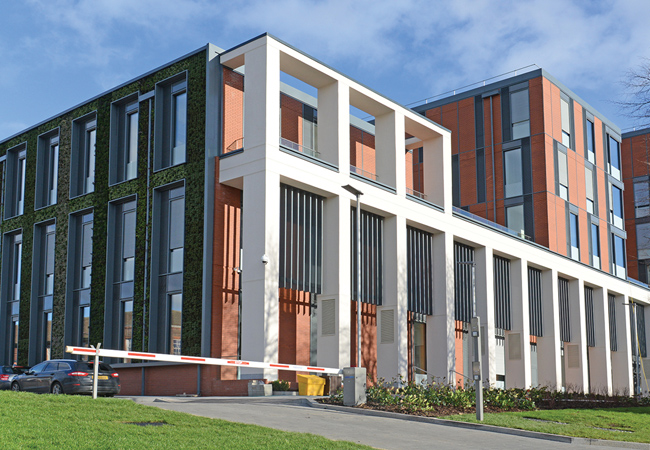 Warm advised on all aspects relating to Passivhaus at the University of Leicester's Centre of Medicine

'Warm is quite a bit different from other consultancies,' says Sally Godber, director at the design firm. 'We're value driven; we're interested in anything that improves energy and comfort performance.'
It is an approach that has proved to be very successful: Warm has an enviable reputation as a leading low-energy design consultancy and Passivhaus specialist, having been involved in almost every non-domestic Passivhaus project in the UK, in addition to many major large-scale residential Passivhaus developments.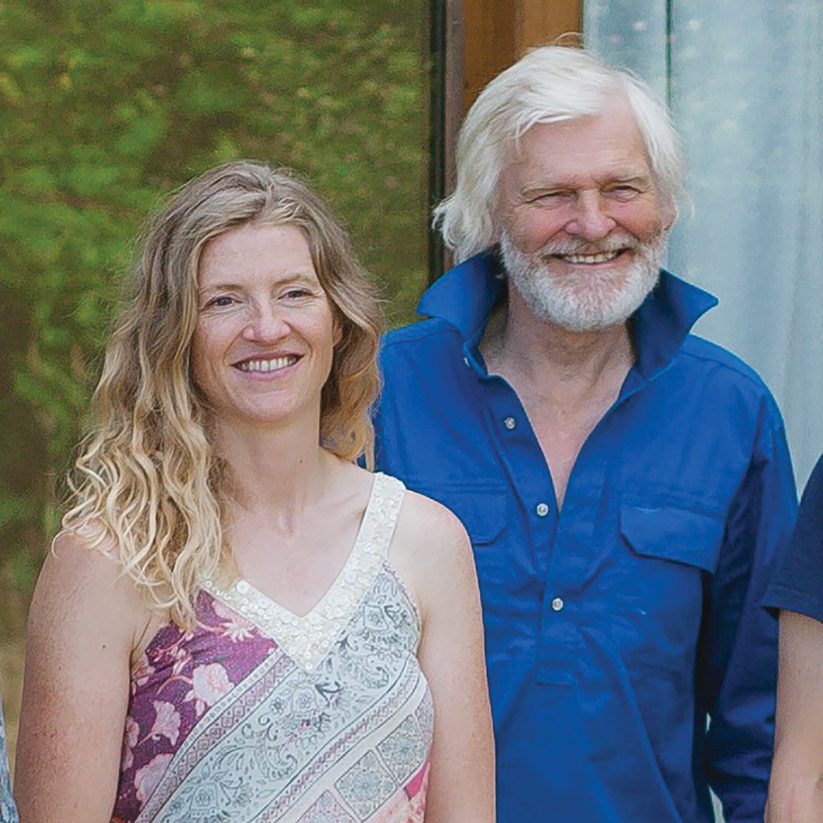 Sally Godber and Peter Warm
Alongside its consultancy services, Warm also certifies Passivhaus projects, offers training courses, and carries out post-occupancy monitoring of such projects. And, if you thought Warm could not be any more Passivhaus, it has even refurbished its Plymouth office to meet the EnerPHit standard.
It was Warm's unswerving commitment to low-energy design that helped the practice win Building Performance Consultancy of the Year (up to 100 employees) at the CIBSE Building Performance Awards 2019.
The judges described the business as an 'innovative organisation that practised what it preached' and said Warm was 'clearly pushing the boundaries of low-energy design'. It was an impressive achievement for an organisation that has only been in existence for 10 years.


"One of the biggest lessons Warm learned from working on its own offices is an understanding of how difficult it is to make decisions as clients"

The firm was founded by Peter Warm and his mechanical engineer daughter Sally Godber. 'My dad was working as a consultant on cutting-edge low-energy buildings, so when I joined him 10 years ago, Warm was born,' Godber says. "We were both really interested in low-energy buildings; when we set up Warm we said: 'We've got enough money to pay ourselves for a year, if we have a business at the end of it, great, if not, then at least we'll have done a year's worth of interesting stuff".'
From father and daughter, Warm's success has seen the size of the practice grow, so its workforce now totals seven. Most of the team are from an engineering background, with the exception of an architectural technologist. 'The roles we undertake are varied because we're most interested in doing the things that make the biggest difference to a project's energy use, so we get involved in everything from helping develop the form of the building to designing the hot water system,' says Godber.
In practice
Warm's involvement in a project usually starts with an approach from a design team or client looking to employ its low-energy design expertise and experience. 'Our client base covers a whole range of backgrounds: we're consultants to building services engineers and to architects, and we work directly for clients and contractors; our low-energy values are usually aligned with those of the people we work for,' Godber says.
It is when Warm is involved at an early stage in a scheme's design that it can have the biggest impact and deliver best value. Many design solutions proposed by Warm are informed by its experience monitoring the performance of completed buildings.
'It is often a painful experience because there are certain things that come up during the scheme's design – you opted for one solution and then, when you look at the post-occupancy feedback, you realise that, perhaps, the other option might have been the better solution,' Godber says candidly.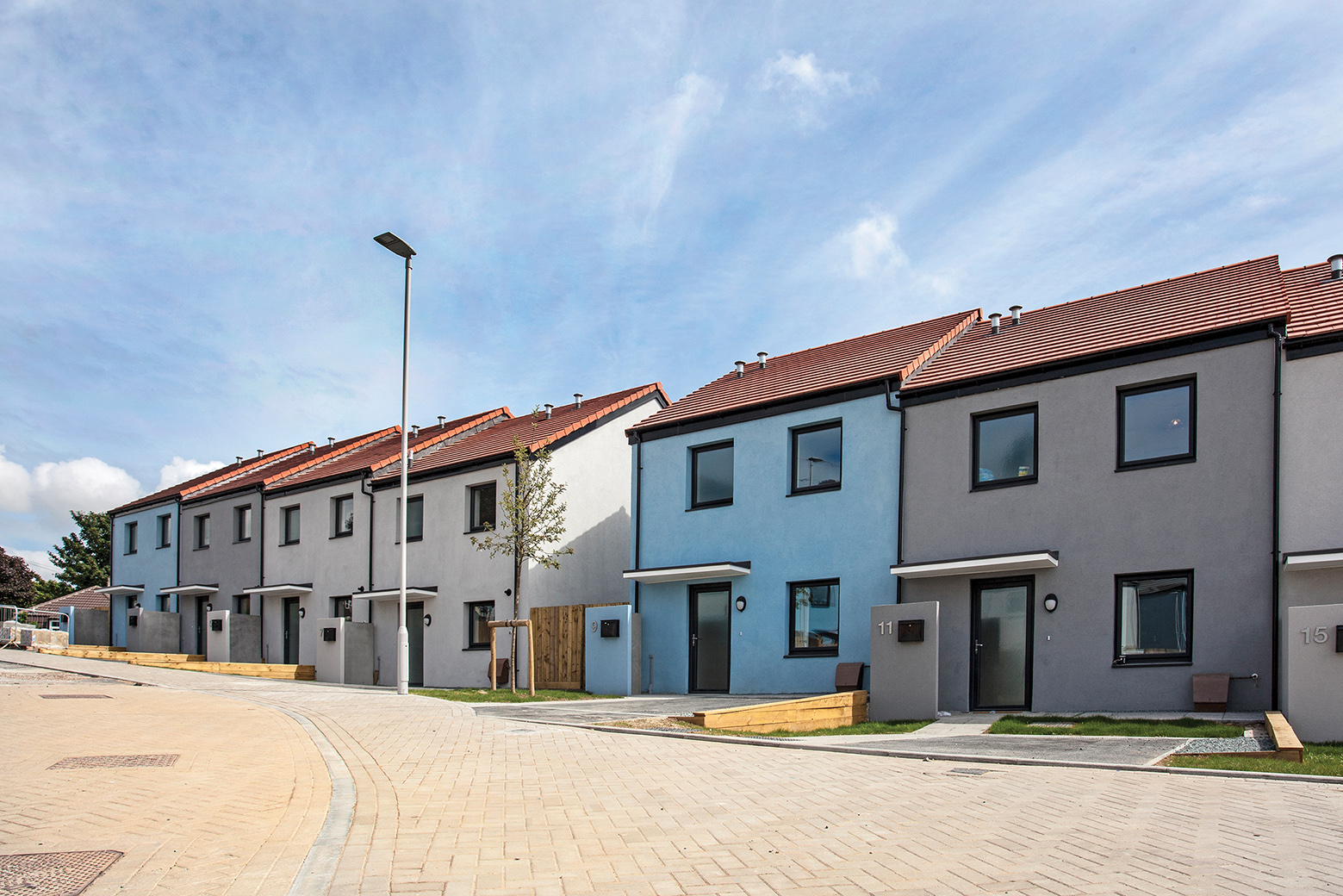 Warm's post-occupancy studies give it a good understanding about how buildings work, how they are being used, what occupants think of the design, and its energy consumption. Many findings feed back into its future design work.
'This is the missing loop in construction,' observes Godber. 'There is nothing quite like saying "we've tried that and this is what happened". That kind of experience is invaluable in developing solutions that work,' she adds.
An example of the impact that post-occupancy studies can have on a design is in the practice's move away from specifying combi-boilers. 'Historically, we specified combi-boilers because it was a cheap way of dealing with heating and domestic hot water demand,' says Godber. 'But, through our post-occupancy studies, we found the efficiency of the boilers when they operate in hot water mode – which is nearly all of the energy consumption in a Passivhaus – was around 62%. This finding forced us look for alternative, more energy-efficient solutions,' she says.
Passivhaus roots
Warm's involvement with Passivhaus started soon after Godber and her father had joined forces.
'We started Warm in 2009 and that was when we got our first Passivhaus project, which was for 20 homes in Cornwall,' Godber says. 'The thing that really chimed with us about Passivhaus was that it was based on a huge amount of research derived from the best low-energy building solutions from around the world. The Passivhaus standard and all the technical guidance around it are based on real data of how buildings actually perform,' she says.
Father and daughter were struck by how well Passivhaus had been thought through in terms of the tools and processes it had in place to support the design team in optimising a design. They were also impressed by the requirement for a scheme to be certified as part of a rigorous quality assurance regime.
'To certify a scheme, you have to have an independent specialist – someone who understands building physics – to check over everything in the design, which is quite unusual,' says Godber.
Passivhaus is 'a good way of ensuring quality and low energy for any buildings that are occupied by people, as opposed to empty warehouses, where there is a need to keep people comfortable', says Godber.
She warns that if Passivhaus, or something similar, does not become mainstream construction practice, the UK will be 'truly screwed' in terms of what is needed in building carbon savings. 'We need our buildings to be performing as designed,' she says.
Warm's shape tool

'We like having a go at making tools, as you can see from the download page of our website,' says Godber. 'If there is something interesting that we've developed, we tend to share it with everybody.' Warm's Shape Tool is aimed at architects to help them with the early stage massing of housing developments. 'It allows the architects to get an idea of how much insulation they need and how efficient the form of the massing is from an energy perspective because heat loss is a function of surface area,' Godber explains. 'So, if you don't want to spend money – and embodied energy – on fancy insulation, build a simple shape; simple buildings tend naturally to have fewer fiddly details and don't require fancy materials to make them work,' says Godber.


If the UK adopts Passivhaus as a compliance standard, is there a danger that build costs will rise? 'At the moment, there is a significant over-cost because Passivhaus is unusual and, therefore, perceived as high risk because it is not something contractors are used to doing,' says Godber.

She says if it becomes mainstream, this over-cost should soon start to disappear. 'In Brussels, Passivhaus is what everyone builds. Here, it has been shown that, once it becomes normal, there is no real relationship between building energy performance and build cost,' she says.

Most contractors Warm works with are keen to learn about Passivhaus. 'We provide a lot of support to contractors and builders who are trying to build low-energy buildings, and to make them airtight,' says Godber. She says most contractors have 'an exceptional attitude because they see Passivhaus as an opportunity for them to prove that they can do a good job – it's not technical, it's just about building really well'.

Becoming a client

Warm had a chance to put into practice its low-energy credentials and contractor support mechanism when it decided to refurbish its offices to Passivhaus EnerPHit standards. 'To get a proper understanding of the issues faced by contractors and clients, there is nothing like doing it for yourself,' Gober says. One of the lessons learned from the experience was how difficult it was to fit the rigid external insulation it had specified onto the office's rough façade. 

Warm's EnerPHit proposal had to be certified by an independent consultant. 'You cannot certify your own scheme, so we got another independent certifier to certify the design,' says Godber, adding that it was a positive experience.

'There is nothing like having someone check your work – there is so much going on when you're designing a project that you might miss a way to improve the performance of a particular detail, which the certifier will point out. Knowing that someone is checking it is incredibly valuable. It makes a big difference to how a scheme will perform in practice.'

'If we want good quality buildings, we need to invest in a good quality assurance system,' she adds.

One of the biggest lessons Warm learned from the experience of working on its own offices is an understanding of how difficult it is to make decisions as clients.

'When you're just focused on the Passivhaus, you only see things from one angle – what they've chosen is not the optimum – but, sitting on the client's side and having that compromise experience, you can understand and empathise with them,' says Godber. 'You come away feeling incredibly humble towards other clients and the compromises that they have to make,' she says.

Working on its office build, combined with Warm's experience of working with contractors and its post-occupancy monitoring of low-energy projects, has given a good understanding of the practical side of implementing design solutions. 'The big thing we've found from site support is the need to simplify everything,' says Godber.

[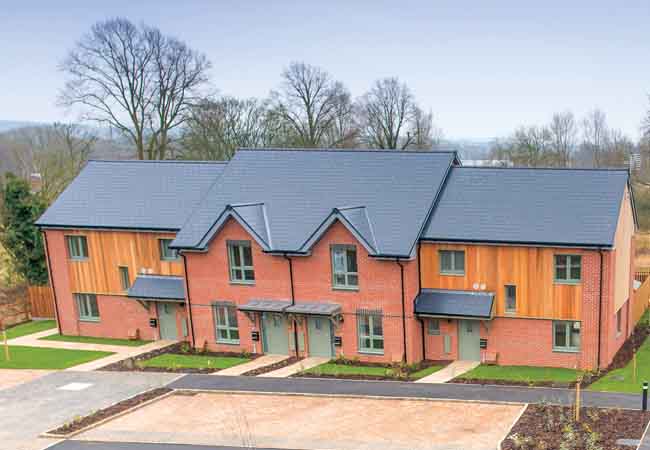 Warm provided mechanical services design and Passivhaus consultancy for 13 Passivhaus two and three-bedroom houses and flats in Mill Road, Sharnbrook, built by Parrott Construction
Warm's post-occupancy monitoring has also highlighted how little maintenance goes on within buildings. 'Whatever your solution, make it simpler still for ease of use, maintenance and buildability,' says Godber.
Warm passes on its acquired low-energy and Passivhaus knowledge through the training courses it runs. 'We've always been surprised by how few building services engineers are interested in our training; it's a shame because it complements their skills perfectly, and is a huge opportunity for them to pick up this knowledge,' Godber says.
'We would like to see greater participation from building services engineers in Passivhaus projects because, if they do get on board, the project will really sing,' she adds.
Godber warns people to be wary of schemes described as 'designed to PH principles'. 'Anything can be claimed to be designed to Passivhaus principles – for example, they might have put loads of insulation on and claimed the scheme is Passivhaus, or they might have been really diligent and built the scheme correctly, you just don't know,' she says. 'The only way to be sure it is a Passivhaus is to ensure it is certified as such.'