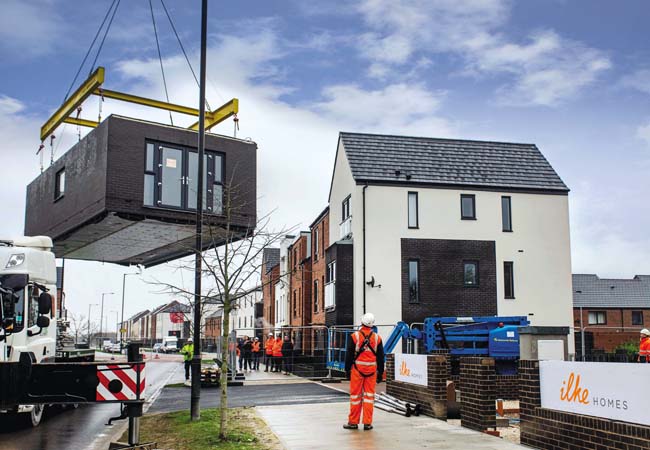 By 2030 ilke Homes will only manufacture homes that are zero carbon, with zero energy bills that will be made at zero additional cost. That's the claim being made by the modular housing manufacturer at the launch of its Zero range of homes. It's a bold declaration: currently the cost premium for an ilke Zero home, with zero bills, is in the region of £10-15,000. 'The challenge for us is to get that additional cost down to zero in the next nine years,' says Nigel Banks, director of special projects.
Ilke Homes has been manufacturing modular homes at its Yorkshire factory since the company's inception three and a half years ago. Its modules are hybrid construction, built using a galvanised steel frame with structural timber sheathing. These are manufactured in various sizes for assembly in a series of configurations to produce a range of house sizes and styles from two to five bedrooms. 
A typical two-storey home is formed from two modules, one for each floor. A separate roof module is available for when a roof has not been incorporated into the top-floor module. 
In addition, ilke is working to extend its offering with the development of a range of modular apartments set to be launched soon.
The modules arrive on site fully finished and ready to be craned into position; internally, kitchens and bathrooms are plumbed and tiled, rooms wired and decorated, even the carpets have been fitted. Externally too, the modules are finished: a variety of cladding options available, including brick slips; the only area not clad is a small horizontal strip either side of the junction between modules, left clear to allow the module frames to be joined by ilke's assembly team.

We set the fabric at a high standard from day one because we didn't want to have to alter the specification significantly with every regulation change
'Zero carbon homes are what we've been doing from day one,' says Banks. Ilke Homes built a series of prototype homes in London in 2017; these were all-electric homes complete with solar photovoltaics (PVs), battery electric storage, and a heat pump housed within a highly insulated envelope. The company's newly launched Zero homes range builds on its experience and the lessons learned from having now completed five zero carbon sites. 
Banks says the homes are low energy and have been designed to eliminate fossil fuel dependency by generating enough electricity on site to reduce their operational carbon emissions (the energy used for heating, hot water, lighting, and to power fans and pumps) to zero over the course of a year.
'This is the same method used in the current Building Regulations (Part L 2013 – SAP9.9), the proposed new Building Regulations (Part L 2022 – SAP10), the 2025 Future Homes Standard and the latest London Plan,' he says.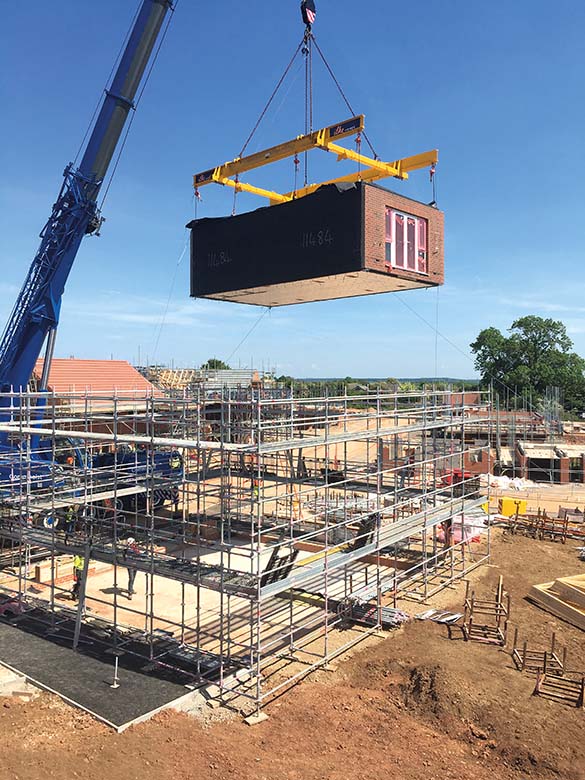 To achieve zero carbon emissions, ilke has used a fabric-first approach to minimise the energy needed for heating by incorporating highly insulated walls, roof and floors. Windows are double glazed, openable and incorporate trickle vents. Banks explains: 'In terms of carbon emissions, it is more cost-effective to add solar PV than it is to use triple-glazed windows'.
According to Banks, the ilke Homes' highly insulated fabric makes the homes 'around 20% better [insulated] than current Building Regulations'. He 'expects' the fabric to meet the thermal performance uplift proposed for the 2022 revisions to Part L of the Building Regulations; and to 'exceed' the regulation changes planned for 2025, when all new homes will need to reduce emissions by at least 75% with the use of fossil fuel-based heating banned. 
'We set the fabric at a high standard from day one because we knew Building Regulations would be changing and we didn't want to have to alter the specification significantly with every regulation change'.
The Zero homes feature continuous mechanical extract ventilation (cMEV), rather than mechanical ventilation with heat reclaim (MVHR). This was down to their customers' experience of different technologies in new homes. 'The feedback from our early houses was that our clients did not want MVHR for reasons of noise, maintenance and because they were turning them off. Instead, we use cMEV and an airtightness of between 3 and 5m3·h-1·m-2 @ 50 Pascals,' Banks says.
Having minimised heat loss, emissions are further reduced through the use of energy-efficient LED lighting, water fittings and cMEV system. It is, however, ilke Home's use of electric air source heat pumps (ASHPs) as standard to heat the homes and provide hot water that position the housebuilder at the forefront of low energy housing provision. 
'ASHPs use a third of the energy of a gas boiler,' says Banks. 'We've redesigned the house around heat pumps, including providing space for a hot- water cylinder, incorporating radiators sized for low-flow temperatures, and installing pipework to deal with the flowrates with [larger] bend radiuses to limit pump losses,' he adds. 
The homes are also fitted with integrated roof-mounted solar PVs to generate electricity to power the heat pump and help the homes achieve zero carbon more cost-effectively. Banks says the cost of PVs has now dropped to the point where it can be cheaper to use them for the roof finish if they displace more expensive roof finishes. 
According to ilke Homes, a typical conventional new-build house would be expected to have energy bills of 'around £900 a year'. To meet its 2030 target, the firm is looking to achieve zero energy bills. This includes energy use not covered by Building Regulations, such as that used for cooking and to power devices such as televisions.
Ilke Homes' use of an ASHP reduces the cost of energy by eliminating the need for a gas connection and its associated standing charge. It also enables ASHP to charge the hot-water cylinder at times when electricity tariffs are lower, which also helps to minimise costs. However, to get to zero, Banks says additional PVs are required as is electric battery storage. 
The battery enables occupiers to avoid buying electricity when it is expensive and to sell excess power generated by the PVs back to the grid at the most profitable time. 'Our modelling has shown that to get to zero energy bills you need: smart controls to take advantage of variable electricity tariffs; more solar PV to increase electricity generated; and battery storage to [enable occupiers to] maximise the self-use of PV-generated power,' Banks explains. 'And, when you are exporting, the battery enables you to export at those times that will give you a higher export tariff.' 
Banks says the housebuilder has a range of sites in the pipeline containing large numbers of zero carbon homes. These will enable the firm to optimise the use of PVs, battery storage and their controls in time for 2030. 'As the costs of energy change, our zero bills target may get harder or easier to achieve, although as the output from solar PV technology gets better and ASHP performance improves that should make the journey easier'.
Embodied energy
Along with targeting zero carbon and zero bills, ilke Homes is also looking to future-proof its buildings by targeting embodied carbon too. 'Our embodied carbon figure is lower than that of a traditionally constructed home,' he says. 'Cradle-to-handover emissions are currently 261kgCO2.m-2 per year, which is already below the RIBA 2030 target and LETI stretch goal for residential buildings,' says Banks. 'We're targeting a 75% reduction in the whole-life carbon emissions of our homes by 2030.'
ILKE HOMES' FIVE STEPS TO ZERO COST
Ilke Zero Homes is taking a five-pronged approach to achieving its target of zero additional build costs (compared with traditional construction):
Design for ease of manufacture – modules are designed for speed and ease of assembly on its factory production lines. It has subsequently tweaked the design of its ground-floor module to incorporate heat pump technology. This includes the addition of a hot-water cylinder, resized radiators for low-flow temperatures, minimal pipe runs and maximum pipe bend radii to limit pump losses.
Materials – the cost of solar panels has dropped considerably. Today a solar panel costs the same as a high-quality roof tile. By integrating the panels, ilke Homes can omit the cost of the equivalent area of roof tiles.
Labour – unlike traditional housebuilders that use subcontract labour extensively, ilke Home's team are directly employed. This eliminates layers of overhead and margins and means workers have a better focus on the product, design and, critically, processes and quality standards.
Processes – according to Banks, the construction industry has seen the lowest rise in productivity of any sector in the UK whereas, in manufacturing, productivity has rocketed. Ilke Home's modules are assembled in a modern manufacturing environment. 'Working in a warm, dry factory with the right tools, following the right processes, transforms productivity,' says Banks.
Continuous improvement – ilke Homes has a team of manufacturing engineers working continuously to refine its operating procedures to improve quality, performance and productivity, and to lower costs.
Perhaps the biggest challenge ilke has in delivering its zero goals is to do so at zero additional cost. 'Zero cost means no additional build costs compared with traditional construction,' says Banks. 
To achieve this, it is bringing the productivity, efficiencies and continuous improvements in manufacturing to its housebuilding facility. It aims to exploit advances in manufacturing processes to improve its efficiencies combined with an increase in its use of robotics. 
This, combined with expected reductions in the cost of key components such as solar panels and batteries, should help ilke move ahead on its journey to achieving its zero additional cost target.