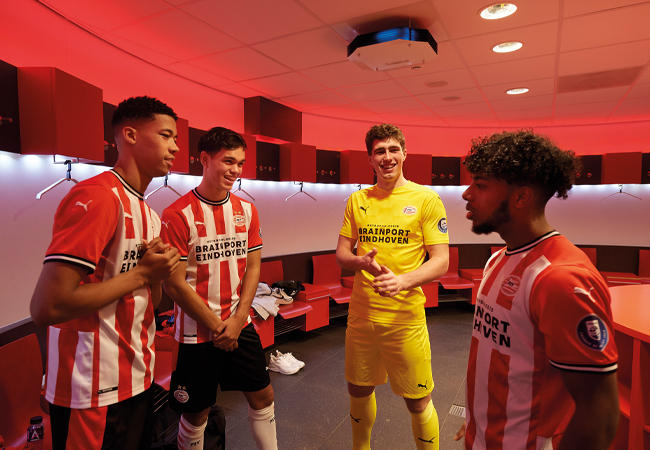 'The aggressive spike in Covid-19, was the catalyst for the launch of our UV-C lighting portfolio and business stream,' says Clark Morrow, UK&I marketing manager at Signify. That, and the fact the lighting company had also been working on lighting propositions that aligned with the overall market trend for 'health
and wellbeing'.
Launched in late-2020, Signify's UV-C upper air disinfection luminaires were the winner of Product or Innovation – Air Quality at the CIBSE Building Performance Awards 2022. Judges praised the technological solution, which effectively and safely eliminates airborne viruses and bacteria – including the SARS-CoV-2 virus responsible for Covid-19. Ultraviolet (UV-C) radiation is used as 'a thoroughly thought-through and researched product that addresses the current need to disinfect indoor air'.
The UV-C upper air disinfection luminaires are part of Signify's portfolio of professional UV-C products and solutions that cover air, surfaces and water disinfection applications. 
The BPA judges commended its novel application of existing technologies to address the threat from Covid-19. They also highlighted the level of research and development documented in the award entry, the use of independent studies to verify safety and efficacy, and the provision of information on actual in-use performance. 
Threat
Airborne viruses and bacteria contaminate the air trapped indoors, posing a threat to the health of people. Upper air UV-C systems – which use the highest energy portion of the UV radiation spectrum, between 200 nanometers (nm) and 280nm – can disinfect air circulating in a room, with the UV-C radiation breaking the nucleobases of DNA and RNA of bacteria and viruses. 
Signify's entry for the CIBSE award cited several independent studies to establish the effectiveness and safety of its solutions. For example, a laboratory test conducted by Innovative Bioanalysis found that the luminaires inactivated 99.99% of SARS-CoV-2 in the air of a room within 10 minutes; at 20 minutes, the virus was below detectable levels. In addition, all other bacteria and pathogens tested have responded to the UV-C solution. Signify says its upper air luminaires can provide the equivalent of up to 30 air changes per hour and estimates that achieving this with a traditional HVAC strategy would cost 10 times more. 
Ceiling and wall-mounted options
The luminaires come in two standard forms, with ceiling- and wall-mounted units supported by various brackets and suspension kits. The system can be installed with basic on/off control, or it can be linked to timers to manage its operational periods. Luminaires are designed to be mounted above 2.4m to ensure that UV-C safety limits and exposure levels do not exceed the relevant standards, with the omnidirectional units creating an effective UV-C zone safely above head height.
Careful design and implementation of the systems are essential to ensure they are effective and safe, as UV-C overexposure is harmful. 'All our installations are designed and implemented to strict European standards [ISO 15858],' says Morrow. Specialist lighting design software calculates performance and efficiency, as well as safety levels, and these parameters are verified during commissioning. 

A laboratory test by Innovative Bioanalysis found that the luminaires inactivated 99.99%of SARS-CoV-2 in the air of a room
According to ISO 15858 and ASHRAE guidelines, human exposure to UV-C (at 254nm) should not exceed 6.0 for an eight-hour day, 40-hour working week. So, detailed designs for the installation of the luminaires must calculate the maximum irradiance at eye level (based on the space usage) and extrapolate this over the worst-case exposure time, to determine the UV-C dosage. 
Installation must be carried out by competent persons trained to use UV-C, and the designed luminaire locations and heights must be followed to accurate tolerances. Once energised, the project must be commissioned to certify the scheme as safe. The luminaires must be maintained and serviced regularly to ensure ongoing effectiveness and safety. 
UV-C luminaire systems can be used as part of a hybrid or dual air-disinfection strategy, alongside HVAC-based solutions. However, Morrow says: 'To date, most of the installations of our UV-C upper air units have been single, standalone solutions, to specifically help combat harmful viruses. Some clients are also considering placing UV-C into their HVAC systems, to ensure clean air is supplied into the indoor spaces, but this does not help with in-room transmissions and is only effective if you have high air change rates, which most existing HVAC systems do not.'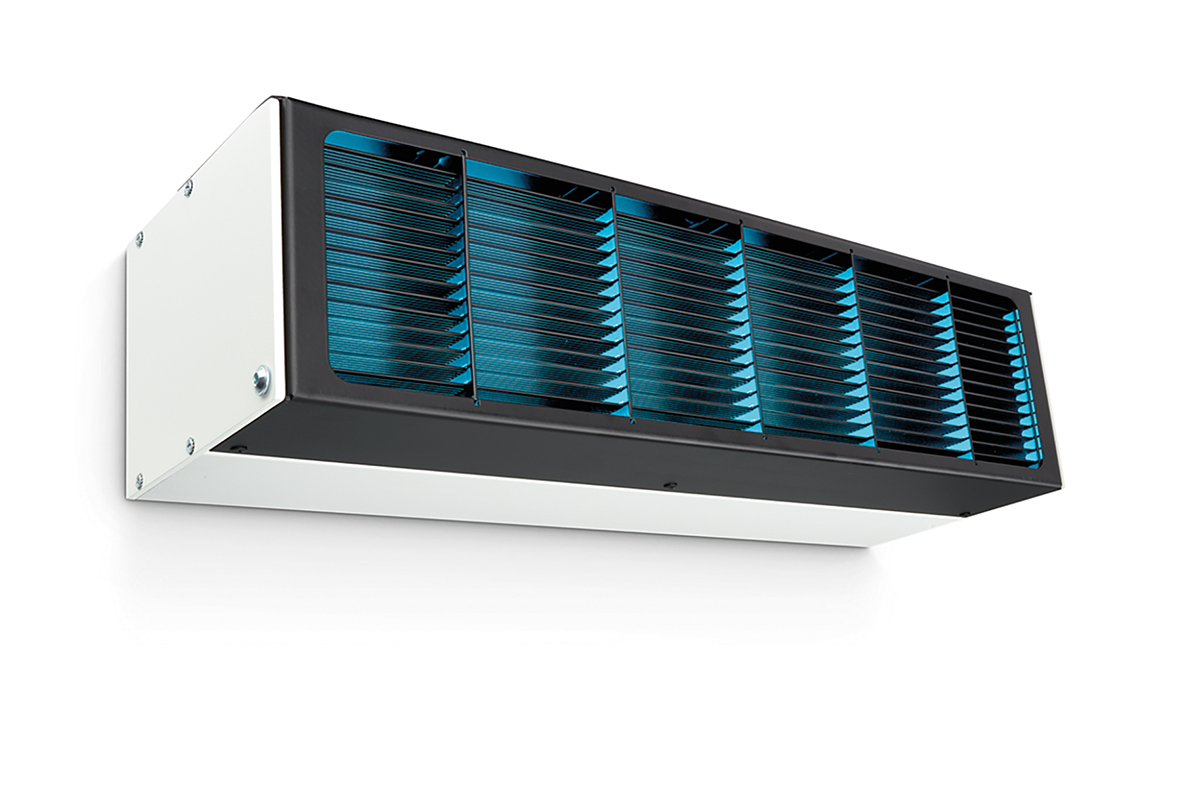 Building trust
While the germicidal effects of ultraviolet light were discovered 145 years ago, the potential for UV-C technology is still not fully appreciated, suggests Morrow. Since launching the upper air unit, penetration into the market has been 'fairly slow', he says. 'There is still a general lack of knowledge, understanding and trust in UV-C, and this – coupled with the lack of UK government legislation and standards around air quality – has meant that the decision to implement such UV-C disinfection solutions is often down to an individual's personal view on risk.'
He cites the example of public transport operator Abellio, which wanted to minimise the risk of transmission and improve the air quality for its employees. 'They installed UV-C upper air units, along with active air units, into a London bus depot – including offices and training rooms – and have been very pleased with the results,' he says.
Signify is also keen to highlight the sustainability credentials of its UV-C luminaires; it is accredited with sustainability bodies and is on the Dow Jones Sustainability Index. It also claims to use 100% renewable energy to power its operations and says it is 100% carbon neutral in all its operations (as of 2020).
Looking ahead
Having won the CIBSE Building Performance Award, Signify will continue to promote the technology and increase awareness of UV-C in the UK as an effective way to enhance the health and wellbeing of building occupants. 
'A second-generation unit is being launched at the end of 2022,' Morrow says. 'We are also looking at embedding an occupancy sensor into the unit, and a smart power supply unit [PSU] so that units can be monitored and controlled via the cloud.'
With the increased focus on indoor air quality and wellbeing in buildings, the future of UV-C is getting brighter, Morrow suggests, adding that 'the introduction of new legislation and standards for air quality and ventilation in buildings will be the key enabler for the mass adoption of UV-C solutions'.