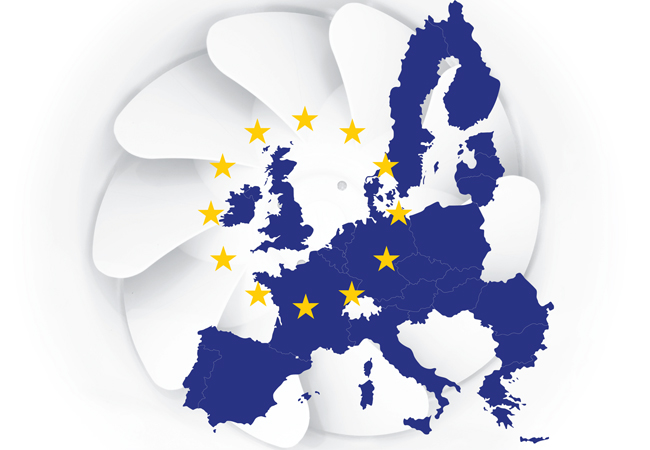 The Ecodesign Regulations for ventilation units – for residential and non-residential environments – were published in 2014, and established minimum requirements for the products within their scope.
It is important to understand which products come under the non-residential banding and what this will mean for the sector in the long term.
As of January, all ventilation and fan products have had to comply with the Energy-related Products (ErP) Directive and must be labelled with the relevant  CE marking. The directive is designed to drive carbon-emission reductions and help the EU achieve its 20-20-20 energy and climate change objectives.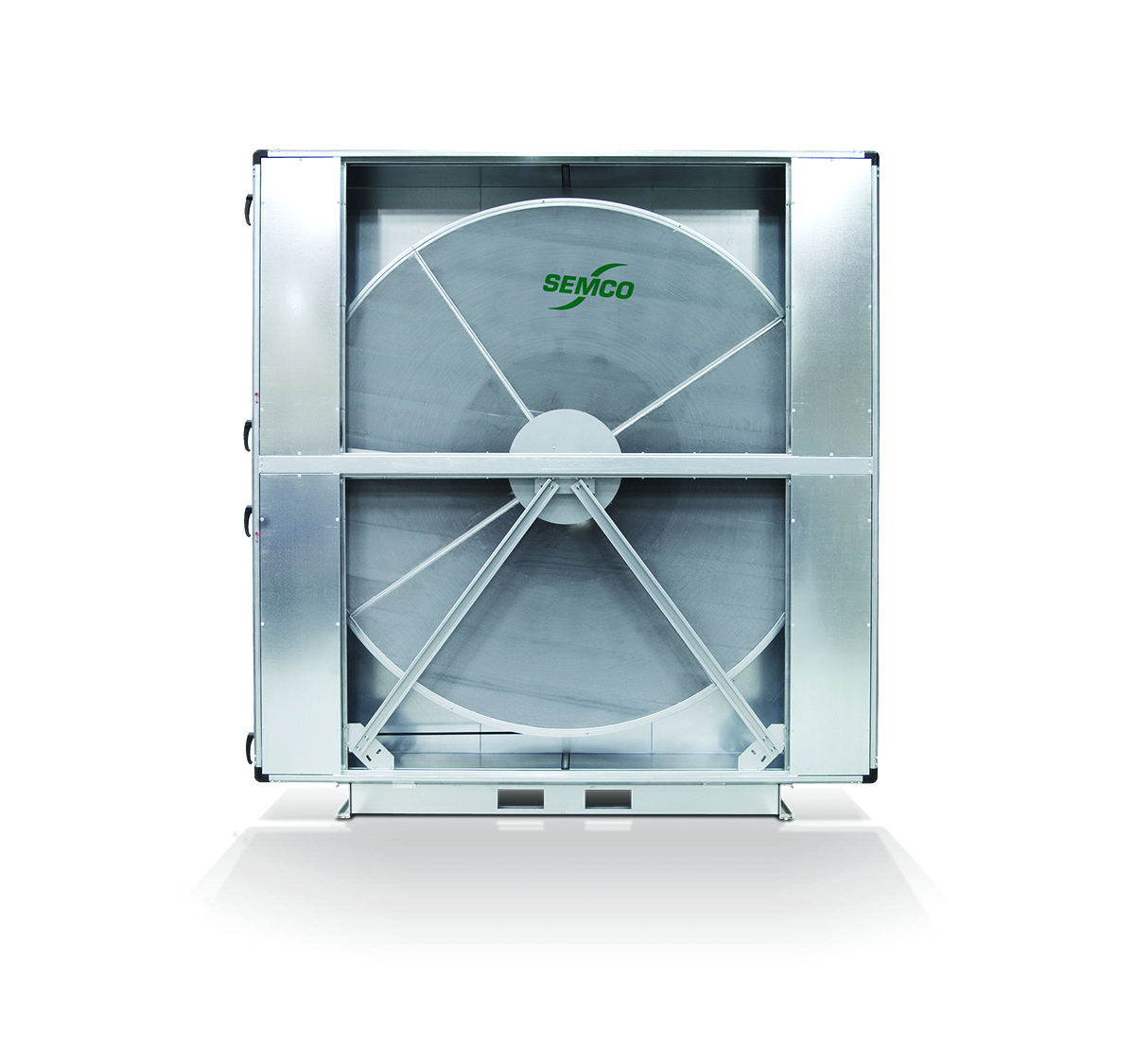 A Semco wheel for heating and cooling recovery
For manufacturers, the directive requires a change in strategy for how products are designed and how they are tested against certain parameters. Products that fail to meet the energy efficiency criteria will not receive a CE mark, so manufacturers will not legally be allowed to release them into the supply chain.
For contractors, specifiers and end users, ErP will help them make more informed choices when selecting ventilation products, such as air handling units.
By offering greater clarity on the efficiencies of products, the new requirements will promote the consideration of higher-performing products, while delivering energy cost savings to end users.
The legislation considers a ventilation unit to be non-residential if the maximum flow rate exceeds 250m3/h, or where the flow rate is between 250-1000m3/h and it is not declared as being used exclusively for residential purposes.
Under the directive, all ventilation units – except dual-use units – must be equipped with a multi-speed drive or a variable speed drive. Additionally, all bi-directional units must include an energy recovery system that incorporates a thermal bypass facility.
Ventilation units exempt under new legislation
Several non-residential ventilation units are exempt from the new legislation:
Uni-directional units, with an electric power input of less than 30W, and bi-directional units with an electric power input of less than 30W per airstream

Axial and centrifugal fans that are only equipped with a housing, as per Regulation (EU) No 327/2011

Units exclusively specified as operating in a potentially explosive atmosphere, as defined in Directive 94/9/EC

Units exclusively specified to operate for emergency use, for short periods of time, and those that comply with the basic requirements for construction works on safety in case of fire, as set out in Regulation (EU) No 305/2011

Products where the operating temperature of the air within the system is below -40°C or higher than 100°C, and those that operate in conditions considered toxic or corrosive

Systems where the supply voltage exceeds 1,000V AC or 1,500V DC

Units that incorporate a heat exchanger and a heat pump for energy recovery, or those allowing heat transfer or extraction additional to that of the energy recovery system (excluding heat transfer for frost protection or defrosting)

Products classified as range hoods, as per Regulation (EU) No 66/2014
Crucially, the thermal efficiency of the energy recovery system must achieve at least 67% – unless it incorporates a run-around coil, in which case it must achieve at least 63% efficiency.
The requirements are set to get even more stringent with the next phase of the directive, planned for implementation in 2018. This second wave of legislation will further increase the efficiency requirements of eligible products.
The good news is that – by working closely with manufacturers – specifiers and engineers can be sure they are designing systems that will comply with the new requirements from the outset, while also maximising performance.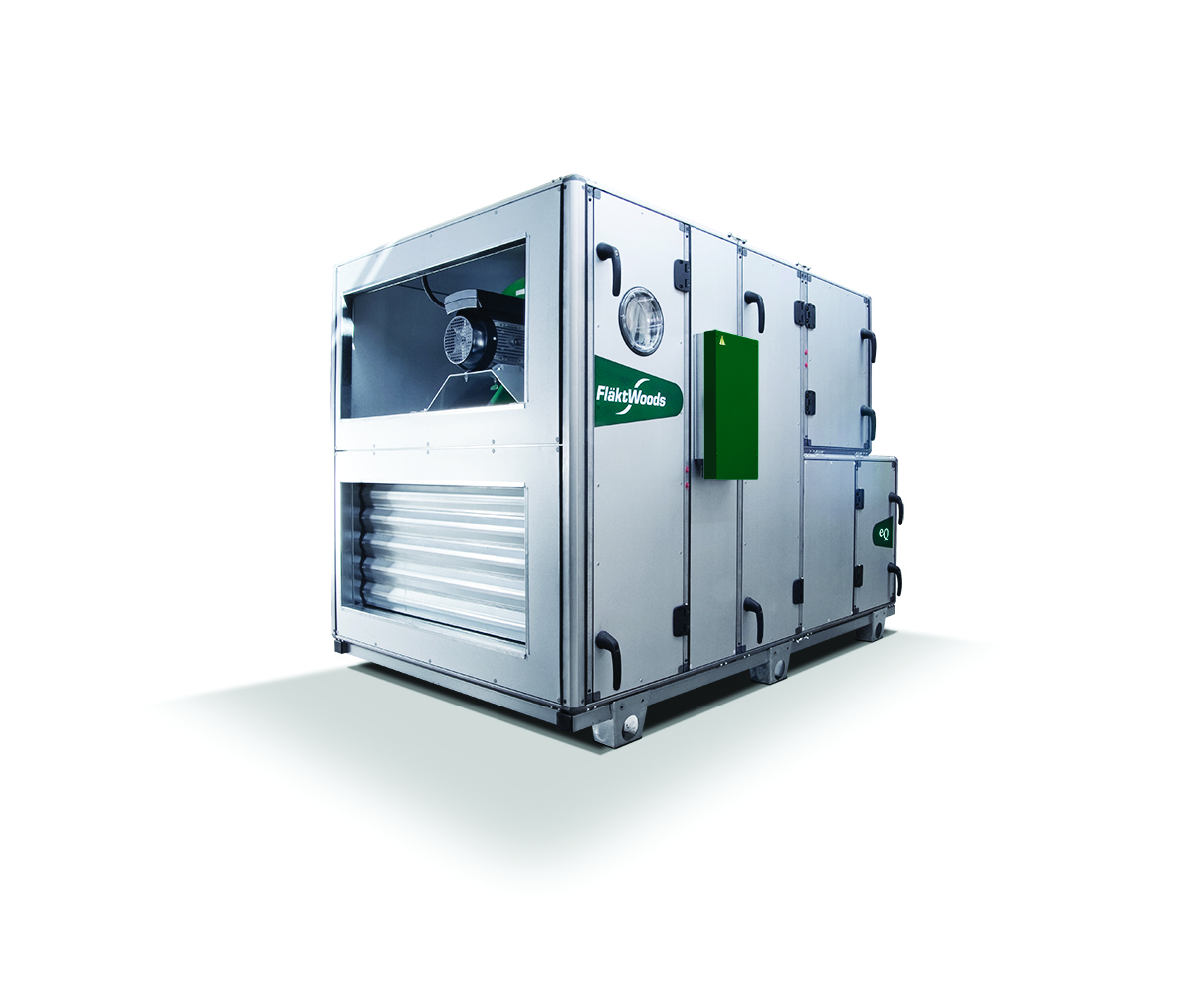 The EQ Prime air handling unit
So, what does this mean for designer engineers and consultants?
If an existing project is using non-compliant heat recovery units – for example, a standard plate heat exchanger that typically offers 50-60% efficiency – designers can do one of two things.
First, they can increase the energy recovery efficiency of a standard plate heat exchanger by reducing the fin spacing of the plates – that is, the gap between each plate.
This smaller spacing will allow the use of more plates within the same area. Also, because the spacing has been reduced, there will be increased resistance, thereby adding turbulence, resulting in greater heat transfer.
However, by increasing the resistance across the standard plate heat exchanger, the specific fan power of the air handling unit (AHU) will also increase, which may lead to non-compliance with Building Regulations Part L. To mitigate this issue, the AHU would either need to be oversized, or the velocity achieved through the ductwork would need to be reduced to lower the external static pressure.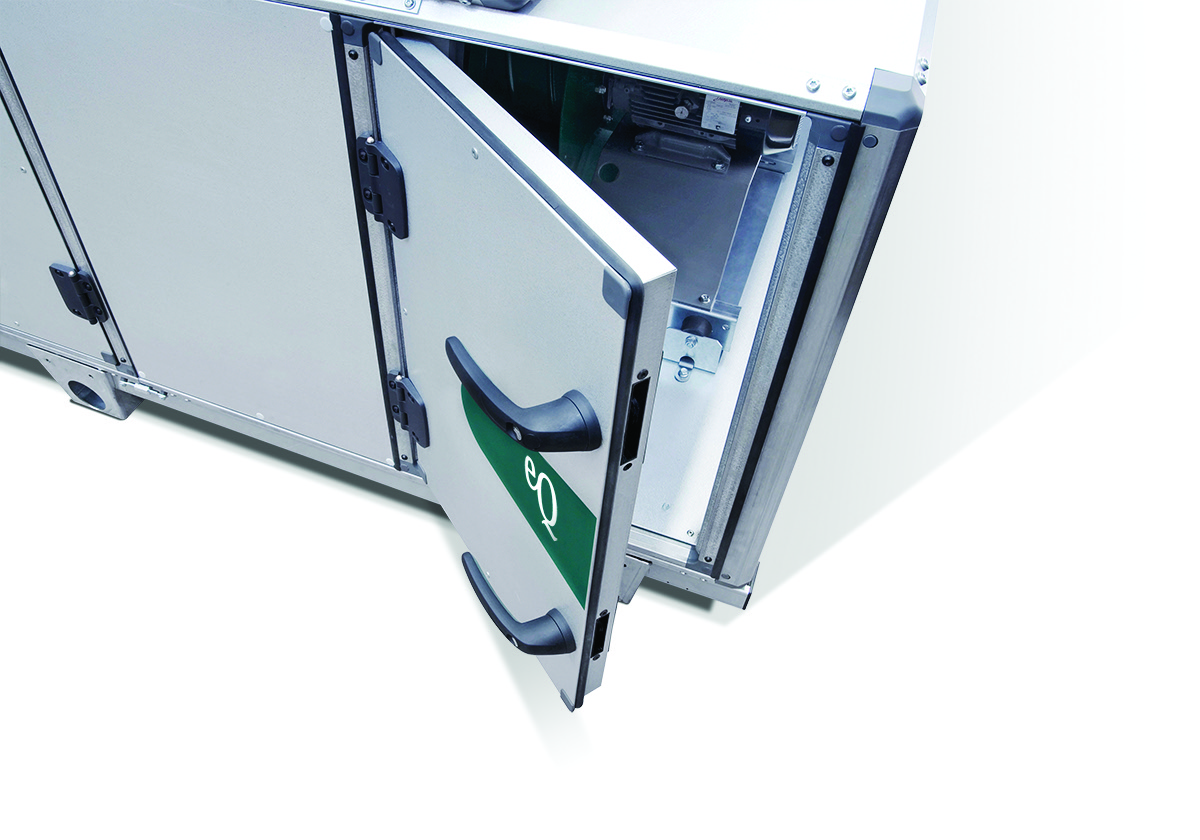 Ventilation and fan products must be ErP compliant
Reducing fin spacing would also lead to an increase in noise because the fan speed must increase to maintain the original duty. This could result in undesirable levels of breakout noise from the ceiling into the building areas, or in attenuators being undersized.
Second, designers could opt for a more efficient unit. However, it may not be as simple as swapping to a more compliant unit, such as in instances where a counter-flow heat exchanger or thermal wheel are installed.
Counter-flow heat exchangers are approximately 30-40% more efficient than standard plate heat exchangers, but have a larger footprint. Because of existing services or structural supports, this could mean the energy recovery unit – or the air handling unit – may need to be relocated.
The vast majority of thermal wheels incorporate a double-deck design, so they would not fit within a ceiling void either. The thermal wheel would need to be placed either in the plantroom or externally, resulting in a loss of lettable space and potential problems when locating a system on a roof that, for example, has height restrictions.
The Ecodesign and Energy Labelling directives should be embraced; they will ensure that only the most efficient ventilation systems are being manufactured, helping specifiers and end users to make more informed decisions.