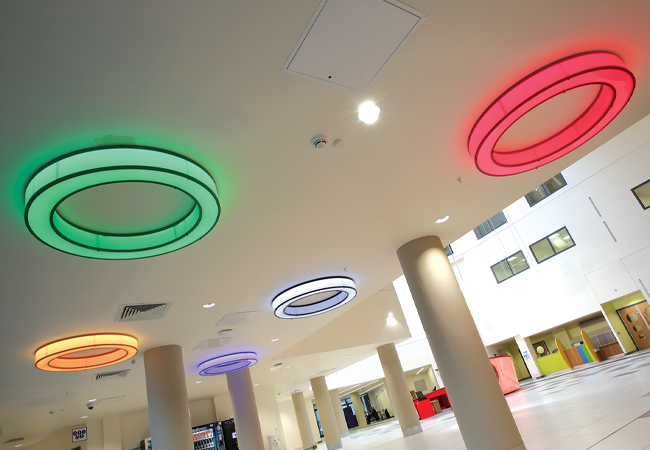 Lighting by Whitecroft at Queen Elizabeth University Hospital (Credit: Whitecroft)
Historically, lighting healthcare environments has focused on the clinical tasks that take place in the various spaces within hospitals and surgeries. This has led to a very precise and numerical approach to the lighting.
While there has been knowledge and understanding of the non-visual benefits of daylight and electric lighting, the needs of the medical staff to perform their duties have come first – and, too often, have been the only consideration. Has this changed and, if so, why?
Healthcare premises – and, in particular, hospitals – are among the most complex environments to light. This is because of the variety of people's needs and the large number of different spaces. It is obvious to say that the visual needs of the medical staff must be addressed, but there are also the needs of the non-medical staff, patients and estates teams to consider.
Added to this are the 50 and more different types of spaces and task areas, including multi-bed wards, single-bed wards, critical care, nurses' stations, offices, receptions, theatres, prayer rooms, laboratories, laundries, and so on.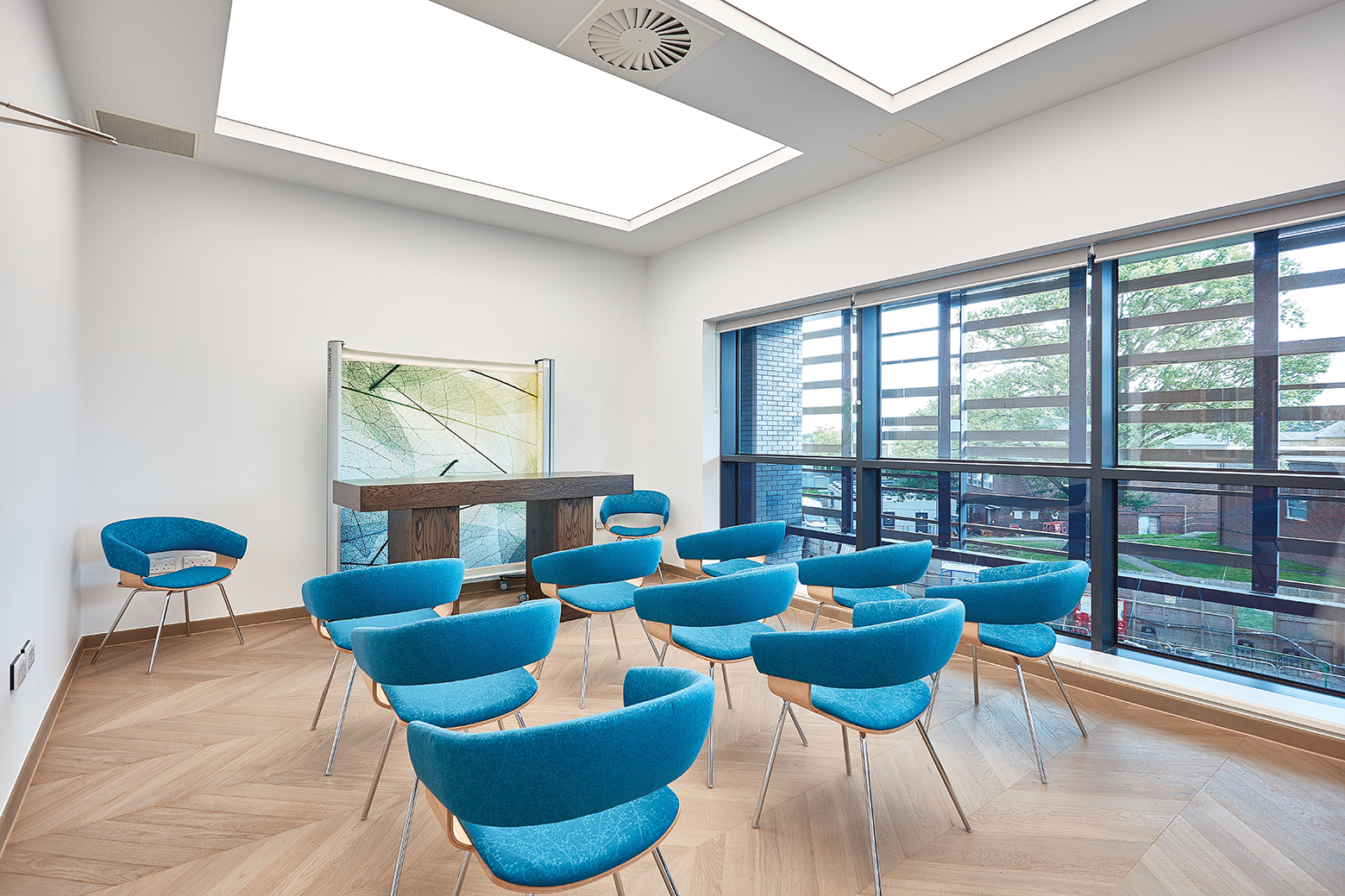 Chase Farm Hospital, Enfield (Credit: Troup Bywaters + Anders)
The new SLL Lighting Guide 2 – Lighting for Healthcare Premises (LG2) has more than eight pages of numerical criteria for lighting these varied spaces. This is more than any other sector-specific SLL lighting guide, and reflects the complexity and diversity of these environments.
Fortunately for lighting practitioners, there are another 90-plus pages that deal with the key drivers when lighting each type of space and what each type of user requires.
While LG2 has always been a critical component in the lighting guides, now, more than ever – as lighting installations move beyond simple numerical solutions to complete visual tasks – the text and research behind the guidance need to be understood and adopted.
It is perhaps not surprising that, in a sector where budgets are tight – including engineering and design fees – solutions, too often, focus on the basic numerical requirements. As our knowledge of the benefits of non-visual lighting improves, however, using the numbers without reading the text or the associated research will be to fail the users of healthcare premises.
Some areas are more easily quantifiable than others, of course. Lighting to satisfy medical needs is critical, for instance, but the criteria for achieving this are relatively simple, and the associated solutions can be rudimentary in luminaire and engineering terms.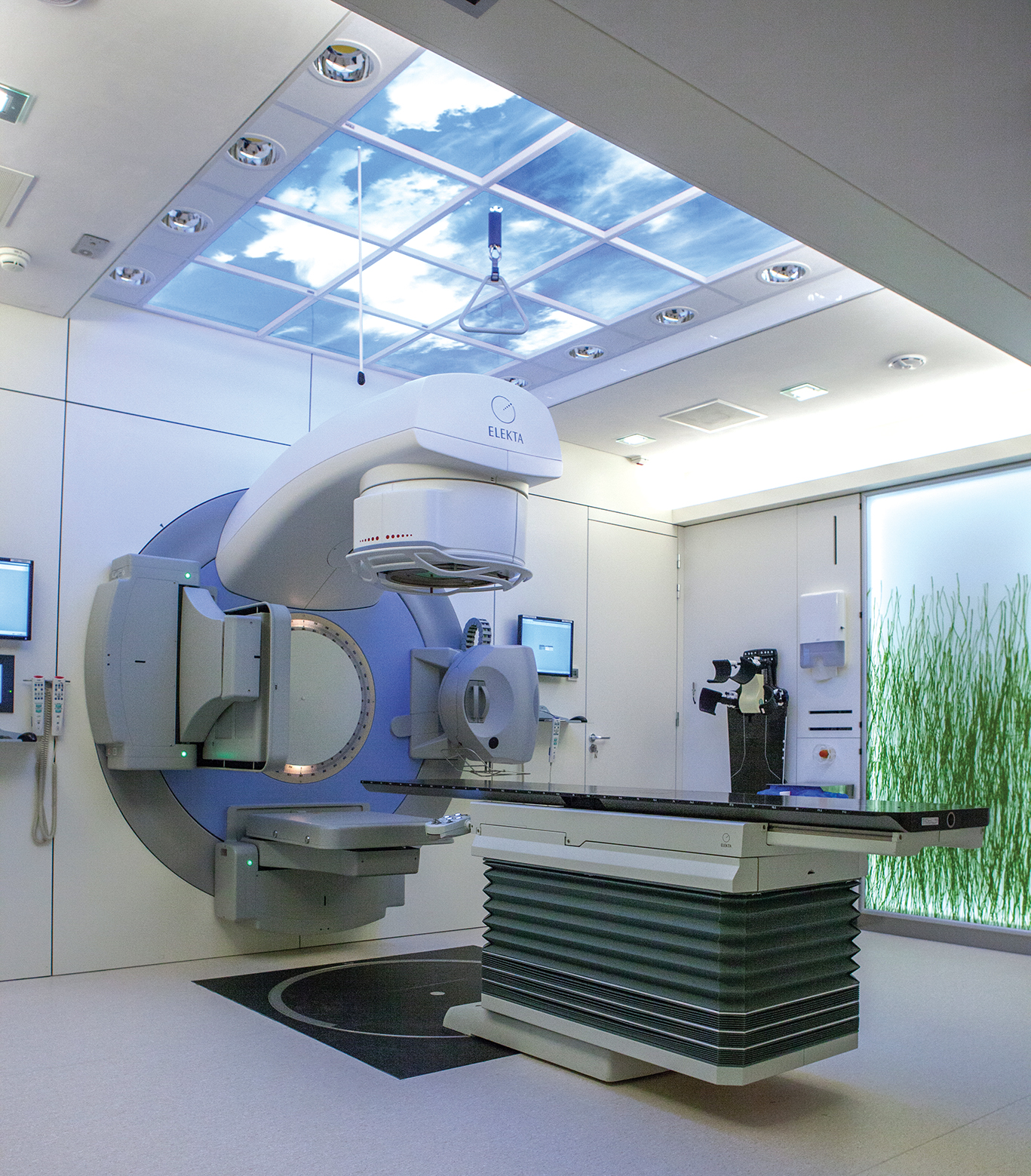 A linear accelerator for radiation treatment at the Dutch Cancer Institute (Credit: Arup)
Typically, there is a requirement for an average and maximum lux level, a glare rating and, finally, a colour-rendering target that almost all types of modern lamps can satisfy and exceed. In some areas, there may also be a luminaire hygiene requirement or impact rating – but, again, these criteria are easily achievable. Moreover, all are easily measured and checked. This means that a standard or agreed set of criteria can be designed to and delivered, such that a contract can be easily assessed as having been completed.
By comparison, while a patient has visual needs – for example, to read, get dressed, bathe, and so on – there is also a requirement to create a relaxed environment to reduce anxiety and stress. Rather than satisfying a numerical medical need, this relaxed environment requires a very different approach to the lighting and interior design. Views of nature and access to daylight have been shown to improve recovery, and there is a general preference for natural light over electric light.
The difficulty with this non-visual (or emotional and biological) need is that the solutions are more involved and it is more difficult – if not impossible in some cases – to demonstrate that the design and delivery will reduce anxiety or improve recovery. Whether a design and installation have created a relaxed environment could be subjective and, therefore, difficult to place into a contract.
However, we are now lighting in an age when the wealth of information about the benefits of non-visual light means we can no longer ignore those aspects. We need to find a way to address both the numerical solution and subjective design.
When not undertaking medical procedures, the staff also need a lit environment that is relaxing, homely and supports their shift patterns. What is particularly difficult here is that not everyone will have the same shift patterns; those arriving to work in the early evening are starting their day when some – and, in particular, the patients – are at the end of their day.
When you consider the shift patterns alone, you have to question if it is even possible to take them into account. Perhaps, where the staff and patients share the same spaces, the patients' needs must come first to maintain their circadian rhythms. Where the staff predominantly occupy spaces, then their needs and circadian rhythms are given precedence.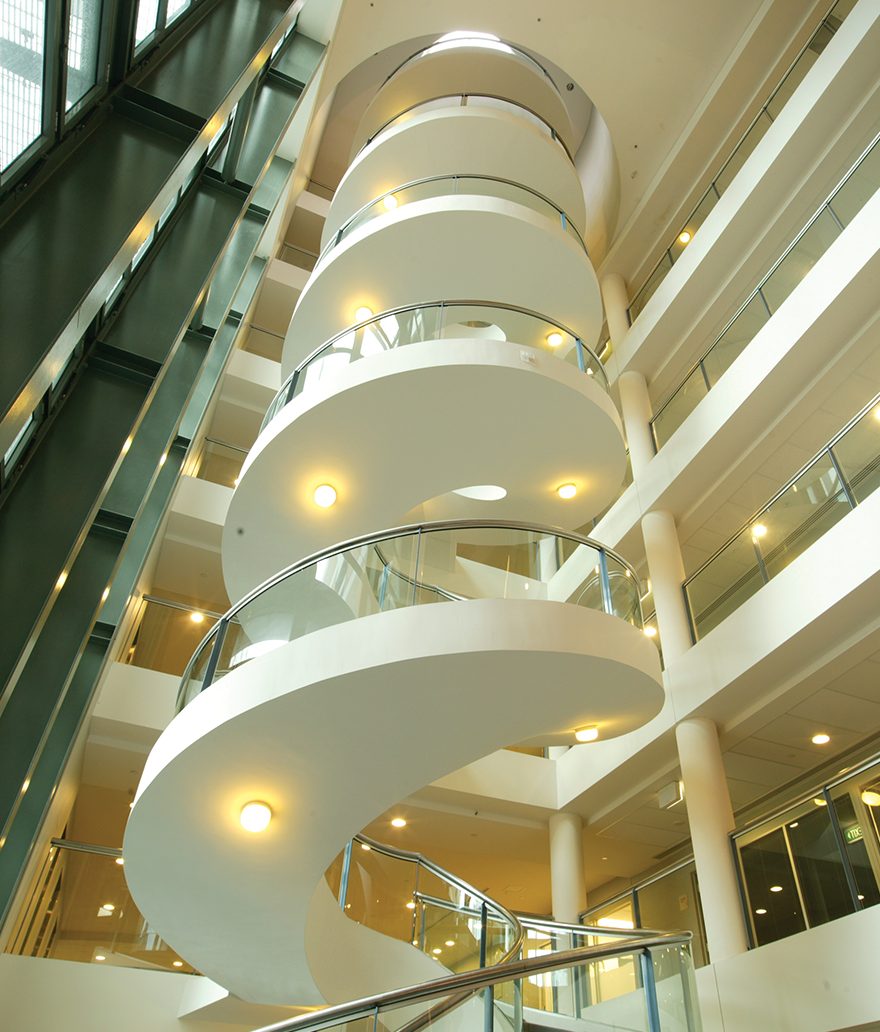 Kinghorn Cancer Centre (Credit: Arup)
Another group to add to the already congested list is that of visitors. These people are, or at least should be, healthy, so the lighting does not need to cater to improving their recovery, for example. Their daily light cycle is likely to be in line with daylight, so they will have similar non-visual needs to the patients. What is important for the visitors is to enter a space that makes them feel good and that gives them some privacy with their friend or family member.
When visitors experience the right type of environment, they are relaxed, which is conducive to a better bedside manner; this, in turn, helps improve the recovery of the patient. The typical medical numerical solution does not provide such warmth and personal feeling.
The final group of people who require lighting to do more than just satisfy a numerical, medical set of criteria is the estates team. They want the lighting to achieve all of the above, but they also have to maintain and manage the lighting installation, including fixing damaged equipment, sourcing replacement parts years after the contract is complete, recommissioning the controls when drivers are replaced, and so on. They are also continually looking to reduce the energy consumption.
These pressures potentially conflict with the concept of delivering a more involved, personal and complex lighting solution. Satisfying the visual and non-visual needs of all groups of users may lead to a higher number of products, more wiring points and more complicated controls.
For an estates team, a smaller – not larger – selection of luminaires is preferred; fewer lamp-module types make it easier to replace parts; fewer wiring points reduce clutter in and above the ceiling; simple controls with switches rather than 'scenes' eliminate user complaints; and less automation or dimming reduces commissioning revisits, and staff or patient grumbles. 
Having discussed the key challenges, can we say that we are seeing – or are likely to see – a change towards a visual and non-visual solution?
From conversations with clients, architects and contractors involved in the sector, the desire is certainly there to move away from healthcare premises that look too clinical, too bright and too uniform – but cost and complexity of controls are regular items for discussion. Those factors should not be a reason to retain the status quo, however. Instead, they should be seen as a challenge to the designers and manufacturers to reinvent the sector. 
LG2: access and authors
SLL Lighting Guide 2 – Lighting for Healthcare Premises (LG2) was published in September 2019. Members can download it in pdf form, free of charge (standard price £47), from the CIBSE Knowledge Portal. It is also available in book form for £26 (CIBSE members) or £52 (standard price).
Chair and authors: Nicholas Bukorovic (MBA Consulting Engineers); Andrew Bissell (director of light4 Cundall); Jemima Unwin (lecturer in light and lighting, UCL); Nigel Monaghan (chief lighting engineer, ASD Lighting); Tim Bowes (lighting technology development manager, Whitecroft Lighting)