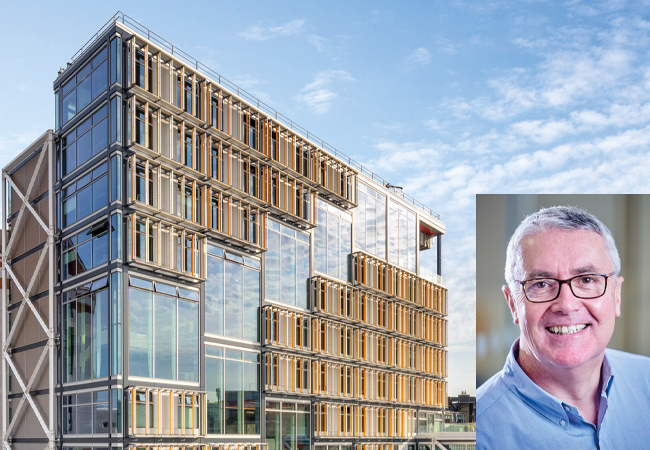 Wintech's façade design at the London School of Economics' Centre Building
Chris Macey FSFE, co-founder and CEO at Wintech Façade Engineering, is one of the founding members – and past chairman – of the Society of Façade Engineering (SFE) and has been active in the sector for more than 35 years. In acknowledgment of his service and contribution to the industry, Macey was presented with a Lifetime Achievement accolade at the 2022 Design and Engineering Awards.
We ask him what the future of façade engineering will look like as designing for net zero comes into focus in a period of great scrutiny of safety in construction.
What role does the SFE play?
A façade is one of the most expensive elements and primary modifier of the energy consumption of a construction. For proper building execution, engineers must be conversant in all aspects of the science of façade engineering – for example, material sciences, structural engineering, manufacturing engineering, construction process, vapour transfer, thermal bridging, and Psi values. This isn't fully recognised, and there is an urgent need to train experts in the discipline.
The SFE's primary role is to accredit those who operate in this specialised field, giving clients comfort that their engineers are competent. It aims to promote excellence and best practice in façade engineering, and offers a platform to collaborate and share expertise across the industry. The SFE will play a greater role in ensuring competence within the industry as part of the Building Safety Act.
How do you ensure your staff can keep abreast of technical developments while designing safe and efficient façades?
The world is changing rapidly and, to keep pace, our company needs to be engaged in the wider dialogue within the construction industry. We must innovate, train, and disseminate learning, to ensure the ongoing success of the company.
Wintech is one of the largest sponsors of students on the MSc course in Façade Engineering at the University of the West of England. In addition, SFE and CIBSE membership is encouraged for technical staff,  as well as regular CPDs, using online forums, and holding technical workshops. We encourage all in the industry to follow suit.
What is the biggest façade challenge in achieving net zero carbon?
There are several, including the need for clear, consistent and enforceable guidance, reducing the performance gap, and legitimate carbon offsetting.
As homes become better insulated, the effect of thermal bridges is becoming more significant, and this is now recognised in the new Approved Part L 2021 amendments. Ensuring that thermal bridging targets are met will be complex, as façade detailing becomes constrained at an early stage.
Environmental engineers in the building sector now recognise that Psi values and thermal bridging are increasing contributors to a façade's energy performance.
The minutia of façade design is a significant influence on the delivered result; as an industry, we can't continue to estimate these figures in the hope they are right. Measurement and reduction of embodied carbon of a façade is being given greater emphasis. Lowering it without significant additional costs is a challenge.
Are new energy requirements in Building Regulations changing façade designs?
Absolutely. There is little we can achieve without considering the contribution of façades – which are generally getting thicker, with less glazing-to-wall ratios, especially on southern elevations, to limit overheating – with consideration of external shading and passive ventilation. The façade design process needs to occur earlier in a project, or there will be a gap between 'architectural aspiration' and what is delivered.
What impact are embodied energy considerations having on design?
Currently, embodied carbon measurement and targets do not form part of the regulatory framework – a mistake in my opinion. Without clear targets and enforcement, embodied carbon calculations are having little effect on designs. If this is changed, however, there will be implications for façade designs. Efficient building form factors will be given greater consideration, operational versus embodied carbon analyses will become commonplace, and there will be greater emphasis on material efficiency, and use of lower embodied carbon materials and materials with longer lifespans and reduced replacement periods.