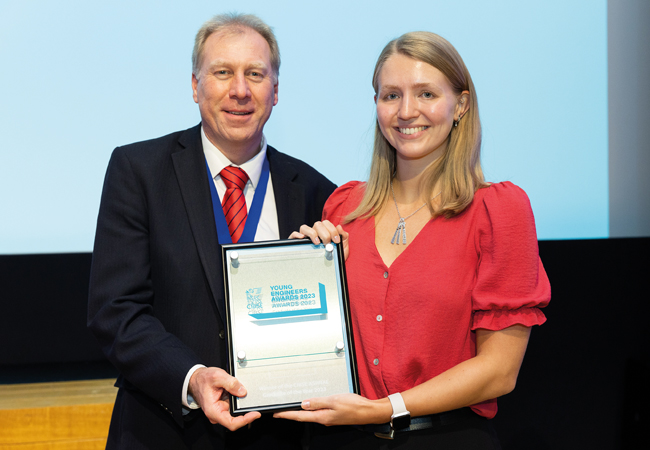 CIBSE President Adrian Catchpole and Graduate of the Year Francesca James
The 2023 CIBSE Young Engineers Awards received a record 58 entries for the CIBSE ASHRAE Graduate of the Year competition, which was won by FairHeat's Francesca James last month, for her inspired presentation on attracting young talent to the industry, see p18.
James said that the key to attracting people into the sector was to tell them how an individual could have a positive impact on the planet by becoming a building services engineer. She told a packed auditorium at the Royal College of Physicians that, in one year's work as a graduate engineer, she had saved 500,000 Kg of CO2 emissions.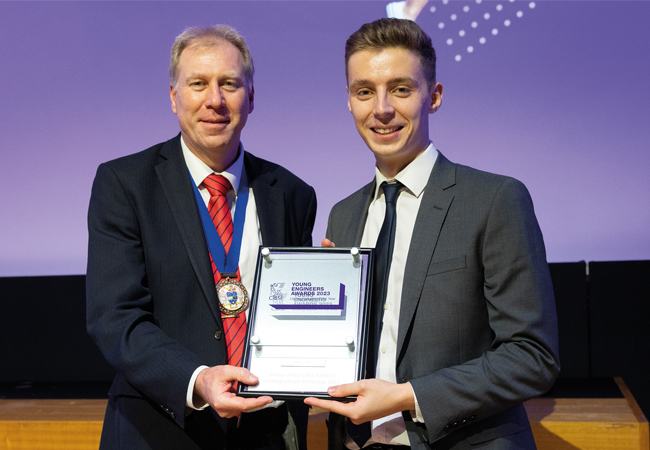 Undergraduate of the Year Ruairi Devlin
James said that relaying this message to just one undergraduate careers fair had resulted in her recruiting three Cambridge University graduates to her company. 'We make such a positive impact on communities and the environment, and we need to get this message across,' she added.
Nine graduate finalists were asked to answer the question, 'What practical actions would excite teenagers to join the world of building services?' The awards aim to empower young engineers to put forward their ideas and arguments. From mentoring to real-world engagement and the importance of a sense of purpose, each finalist offered diverse approaches, with unique perspectives on how to excite and engage young minds in building services.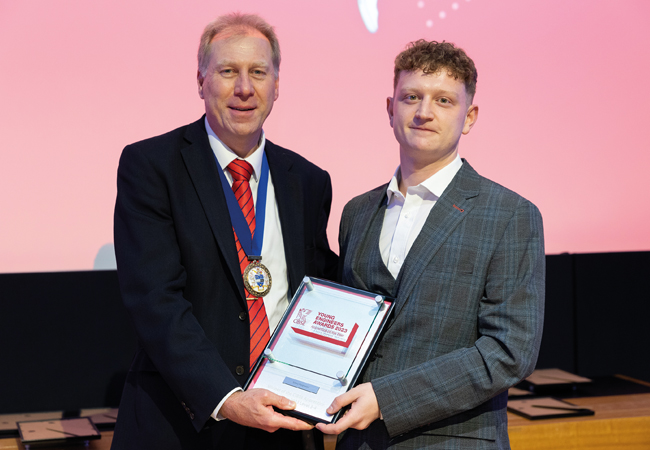 Apprentice of the Year: Level 3-4: Sidney Hargreaves
The live presentations followed an introduction by CIBSE President Adrian Catchpole, who commended the young engineers for taking the opportunity to lead by example, which was the theme of his Presidential address earlier this year. 
'The finalists exemplify the ethos of taking a lead and steering the trajectory of building services to new heights,' Catchpole said. 
The Young Engineers Awards were held on 12 October, and were staged at the Royal College of Physicians for the first time. They included the CIBSE Undergraduate of the Year and Apprentice of the Year Awards (see panel, below), as well as the Employer of the Year Awards.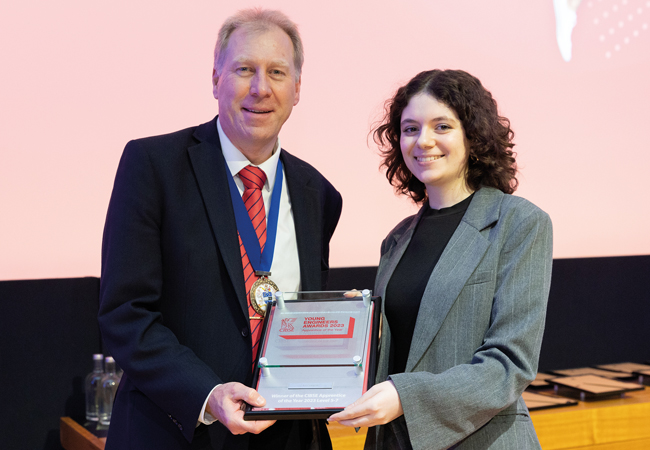 Apprentice of the Year: Level 5-7: Jess Sargent
The Graduate of the Year Award is supported by ASHRAE and CIBSE, and ASHRAE President Ginger Scoggins addressed the audience. She emphasised the exciting, yet challenging times, that lay ahead, and focused on climate change and improving indoor air quality. 
'The awards recognise the outstanding contributions of young engineers; we need each and every one of you if we are to create a better future,' she said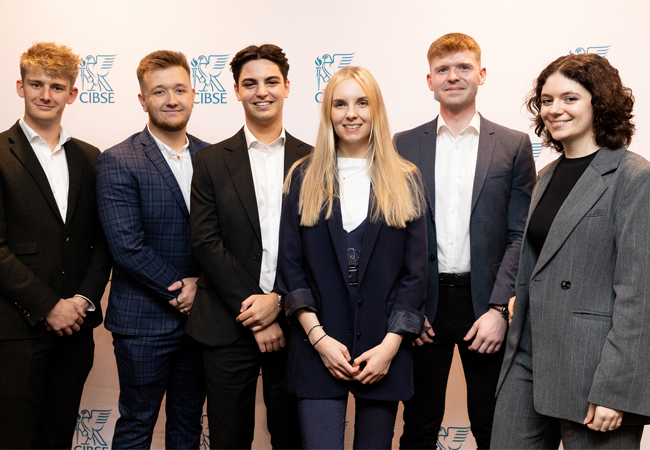 Apprentice of the Year: Level 5-7 finalists, from left to right: Owen Sayers, Mitchell Holland, Finley Bowdidge, Lauren McNaughton, James McLarnon, Jess Sergeant
Award winners
CIBSE ASHRAE Graduate of the Year
1st Francesca James, FairHeat and University of Cambridge – prize of a trip to the 2024 ASHRAE Winter Conference
2nd Lewis Turner, Arup and Leeds Beckett – £600, provided by Patrons
3rd Hiba Talmoust, Waterman Group and Queen Mary – £300, provided by Manly Trust
CIBSE Undergraduate of the Year 
1 Ruairi Devlin, University of Nottingham £500
2 Fraser Nicoll, Glasgow Caledonian University – £100
3 Erin Cullen, Heriot-Watt University – £100
Apprentice of the Year: Level 3-4
1st Sidney Hargreaves, HDR – £500
2nd Ryan Beary, CPW – £300
3rd Sean John, University of Warwick – £200
Apprentice of the Year: Level 5-7
1st Jess Sargent, Atkins – £500
2nd James McLarnon, SCC MEP – £300
3rd Finley Bowdidge, Venables Associates – £200