The line-up of talented individuals shortlisted for the CIBSE Young Engineers Awards (YEAs) 2023 has been announced.
The Undergraduate category is a new addition to the 2023 awards, and celebrates those on exceptional early career paths. Five students have been shortlisted for their final-year project. Until now, this award has been presented at the President's Dinner. 
This year, nine engineers have been selected as finalists for CIBSE ASHRAE Graduate of the Year, and each will have the opportunity to present to a panel of industry judges at the awards ceremony.
In the CIBSE Apprentice of the Year section, 12 engineers have been shortlisted across two categories: Technician (Level 3-4) and Degree (Level 5-7). Each entrant has submitted a three-minute video that showcases their experiences as an apprentice, and these will be evaluated by the judges. 
CIBSE President Adrian Catchpole said: 'These young engineers are at the heart of our industry's ability to meet our commitments to cutting global emissions and retrofitting buildings for net zero. It is their passion and talent that we will be relying on to lead the way to innovation and change.'
The awards ceremony takes place on 12 October, at the Royal College of Physicians in London. To book your free place, visit www.cibse.org/YEA 
CIBSE Undergraduate of the Year: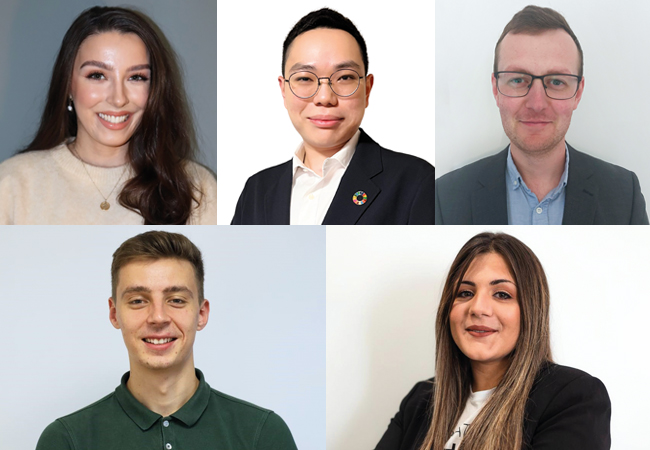 From top left clockwise: Erin Cullen, Lam Tsz Kai, Fraser Nicoll, Ruairi Devlin, Roana Pavia
Erin Cullen
Heriot-Watt University
Graduating with a distinction in her Master's in architectural engineering, Erin received the CIBSE Scotland Student Award. She has since focused her research on pathogen transmission within building services. This will be published next year, alongside her work on various Passivhaus projects.
Ruairi Devlin
University of Nottingham
Ruairi has recently graduated from the University of Nottingham with a degree in architectural environment engineering and is currently training as a mechanical engineering consultant in Birmingham. He is a huge sports enthusiast and loves to travel.
Fraser Nicoll
Glasgow Caledonian University
Fraser is mechanical technician with Perth & Kinross Council, and has achieved a BEng with first-class honours in building services engineering. He has a passion for problem solving, including energy modelling to provide realistic installation options that support decarbonisation.
Roana Pavia
Malta College of Arts, Science and Technology
Graduating with a BSc(honours), Roana worked throughout her studies, earning her wireman licence for single-phase and three-phase systems. She has gained expertise in analysing projects to consider a variety of alternatives for obtaining more sustainable buildings.
Lam Tsz Kai
Leeds Beckett University
Tsz Kai is studying for his undergraduate degree in building services engineering. He also serves as a committee member of the Environment and Conservation Fund of Hong Kong SAR and is a Green Building Young Leader at the Hong Kong Green Building Council.
CIBSE Graduate of the Year:
From top left clockwise: Brianna Barrow, Lawrence Bramall, Francesca James, Matthew Yates, Phil Holker, Tom McGovern, Hannah Yorwerth,Lewis Turner
Brianna Barrow
WSP (Houston, Texas) and Texas A&M University
After graduating with a BSc in architectural engineering , Brianna joined WSP as an assistant consultant mechanical engineer. She is eager to bring impactful change to indoor air quality (IAQ) for health and comfort, while preserving the environment.
Lawrence Bramall
Scotch Partners and LSBU
Lawrence began work with Scotch Partners as an electrical engineer apprentice. Embarking on a Master's in smart buildings and digital engineering this year, he is looking forward to gaining his chartership and deepening his knowledge.
Phil Holker
Fosters + Partners and University College London (UCL)
After graduating from UCL, Phil joined Foster + Partners, in a team of environmental designers and analysts. His interests lie in energy, sustainability and the use of passive design principles.
Francesca James
FairHeat and Cambridge University
After doing a Master's in chemical engineering, Francesca joined FairHeat in 2021 with a keen interest in sustainability, and is excited to be involved in such a dynamic industry. She enjoys being part of a team that aims to deliver innovative solutions.
Tom McGovern
Arup and Liverpool John Moores
Tom completed his BEng (Hons) in building services engineering in 2023, with the highest grade in his year. Tom is passionate about energy modelling and optimisation, and is currently carrying out research, as well as being a STEM ambassador. 
Hiba Talmoust
Waterman Group and Queen Mary}Hiba is a net zero and sustainability consultant, while also studying for a Waterman-sponsored PhD at Exeter University, researching AI-based methodology to deliver net zero buildings. In addition, Hiba is a the communications officer for YEN London.
Lewis Turner
Arup and Leeds Beckett
Lewis works at Arup to deliver sustainable solutions, and is researching infection control in hospitals. He was runner-up for the CIBSE President's prize, and second in the Rehva student competition. He participates in school outreach programmes.
Matthew Yates
Atelier Ten and De Montfort University
Matthew joined Atelier Ten after a postgraduate degree in energy and sustainable building design. With the YEN committee, he completed a mentoring programme for university students.
Hannah Yorwerth
Aecom and Warwick University
Hannah is a graduate public health engineer at Aecom. She is passionate about increasing the number of women in engineering and creating a sustainable future for the built environment.
CIBSE Apprentice of the Year:
Technician (Level 3-4):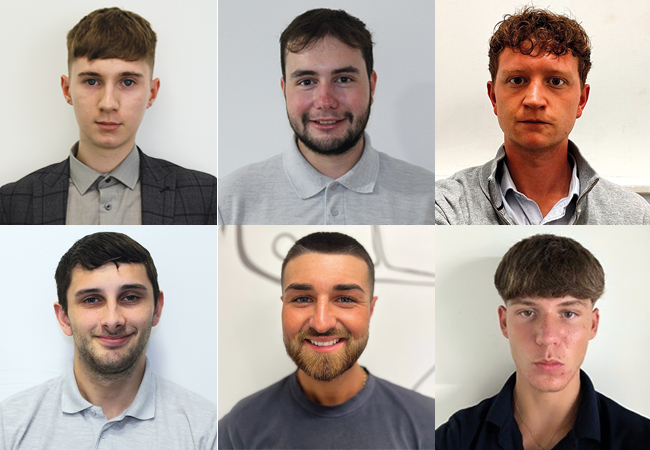 From top left clockwise: Ryan Beary, Callum Doyle, Sidney Hargreaves, Dan Herridge, Sean John, Mikey Nagle
Ryan Beary
Trainee design engineer, CPW
After his A levels, Ryan joined the Solihull branch of CPW in September 2022. Currently in his second year of his Level 4 studies at Bradford College, he hopes to continue to degree level. He is passionate about regeneration projects, and wants to bring new life to towns in a sustainable way.
Callum Doyle
Building services apprentice, Vertex Services
Currently in his third year, Callum continues to develop his knowledge and expertise, and has played an instrumental role in several large projects, including a significant Cat B fitout. He was  nominated as a regional finalist for the Apprentice of the Year, BESA Industry awards 2023, mapping a path towards success.
Sidney Hargreaves
Apprentice mechanical engineer, HDR
Sidney is an apprentice mechanical engineer with HDR, working within the development team on various projects. He aims to complete his apprenticeship and go on to become a chartered engineer.
Dan Herridge
Building services apprentice, Vertex Services
Dan joined Vertex after achieving his electrical Level 2 diploma. He has gained valuable experience in different specialisms, and in his second year will focus on the heritage sector. He helped with the delivery of a lighting upgrade at 70 Mark Lane, being responsible for identifying, planning and transitioning it from traditional lighting fixtures to energy-efficient LEDs.
Sean John
Electrical apprentice, University of Warwick
After his apprenticeship, Sean hopes to run his own electrical company, with the possibility of working overseas. He works hard to be proactive in achieving his goals.
Mikey Nagle
Apprentice, BGIS
Mikey joined BGIS at 16 years old, as an apprentice. He has just completed his first year and found the experience very enjoyable. He says he has learned so much from his helpful colleagues, and is looking forward to the next three years of his apprenticeship, with hopes to achieve as much as possible.
Degree (Level 5-7):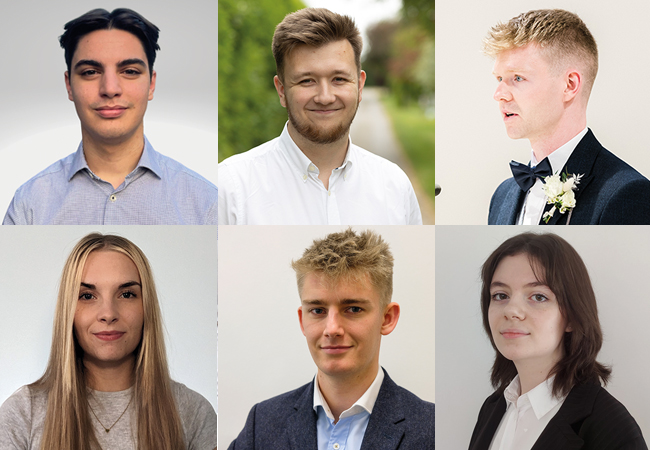 From top left clockwise: Finley Bowdidge, Mitchell Holland, James McLarnon, Jess Sergeant, Owen Sayers, Lauren McNaughton
Finley Bowdidge
Apprentice design engineer, Venables Associates
Finley is a dedicated degree apprentice design engineer at Venables Associates. After completing his A levels in 2021, he was keen to pursue his passion for engineering. With a strong commitment to skill development and a drive to contribute to innovative projects, Finley is carving out a promising future in the field of building services engineering. 
Mitchell Holland
Technical apprenticeship, Hawden MEP
Mitchell is a junior engineer at Hawden MEP, while also completing his apprenticeship at London South Bank University. He is eager to gain his IEng ACIBSE accreditation upon completion of his apprenticeship. He is interested in electrical bias, and has worked on a variety of projects, from healthcare and residential to education, which has enabled his skill set to grow.
James McLarnon
Mechanical consulting engineer, Stephen Clarke Consulting (SCC)
James is an architectural engineering student at Ulster University, Belfast. He has just finished his year-long placement with Stephen Clarke Consulting, in Holywood, County Down. Now approaching his final year at university, SCC has offered him a part-time job to stay on. 
Lauren McNaughton
Apprentice building services engineer, Arup
Lauren joined Arup in August 2017, as a building services engineering apprentice. Since then, she has completed a HNC in architectural technology, alongside a BEng (Hons) in building services engineering. Her final university project focused on quantifying the embodied carbon of building services projects through BIM.
Owen Sayers
Building services apprentice, AtkinsRéalis
Owen began his Level 3 apprenticeship in 2017, and later enrolled on a design building services apprentice degree at  LSBU He has worked on projects in various sectors, including defence, education and government frameworks, and has developed a good understanding of thermal modelling and building compliance simulations.
Jess Sergeant
Degree apprentice, AtkinsRéalis
Jess is currently in her second year of studying at London South Bank University, completing a building services degree. She has enjoyed working with many different teams and has gained a wide variety of experiences.
Employer of the year
The CIBSE Young Engineers Awards finalists are joined by nine companies vying for the title of Employer of the Year. These are firms that have been recognised for leading the way in nurturing and supporting the new industry talent. 
They have been shortlisted across three categories – for small (FairHeat, InTandem, Whitecode Consulting), medium (Integrated Environmental Solutions, Introba, PM Group), and large (Aecom, Atkins, Hoare Lea) companies – with an overall champion selected from the winners of each category. 
The companies have been selected for their commitment to placing the growth of their employees at the heart of their business.
'To enable them [young engineers] to reach their full potential, we need companies committed to developing their skills. Those on our employer shortlist are doing just that,' said CIBSE President Adrian Catchpole.