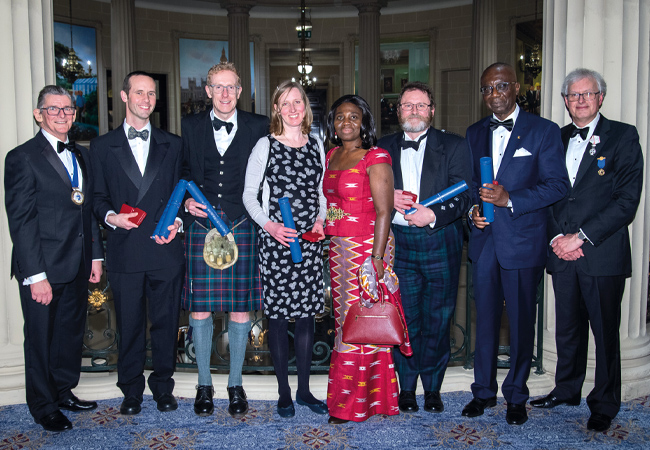 From left: Kevin Kelly, Cliff Elwell, George Bennet, Jenny Crawley, Matilda Coker, Jez Wingfield, Isaac Coker, and Stuart MacPherson
Eleven CIBSE members were honoured with Gold and Silver medals at the President's Awards dinner in February.
The accolades are presented in recognition of outstanding service by volunteers delivering CIBSE's objectives of serving society and benefiting the public.
Each year, CIBSE presents Gold, Silver or Bronze Medals to individuals who have made a significant contribution to its work. They were not able to be given out for the past two years, however, because of the Covid-19 pandemic.
Gold Medals, the highest accolade awarded by CIBSE, were presented to: Phil Jones, Bryan Franklin, David Wood, David Hughes, Stephen Lisk and Mike Simpson. (See 'Gold medal winners' below.)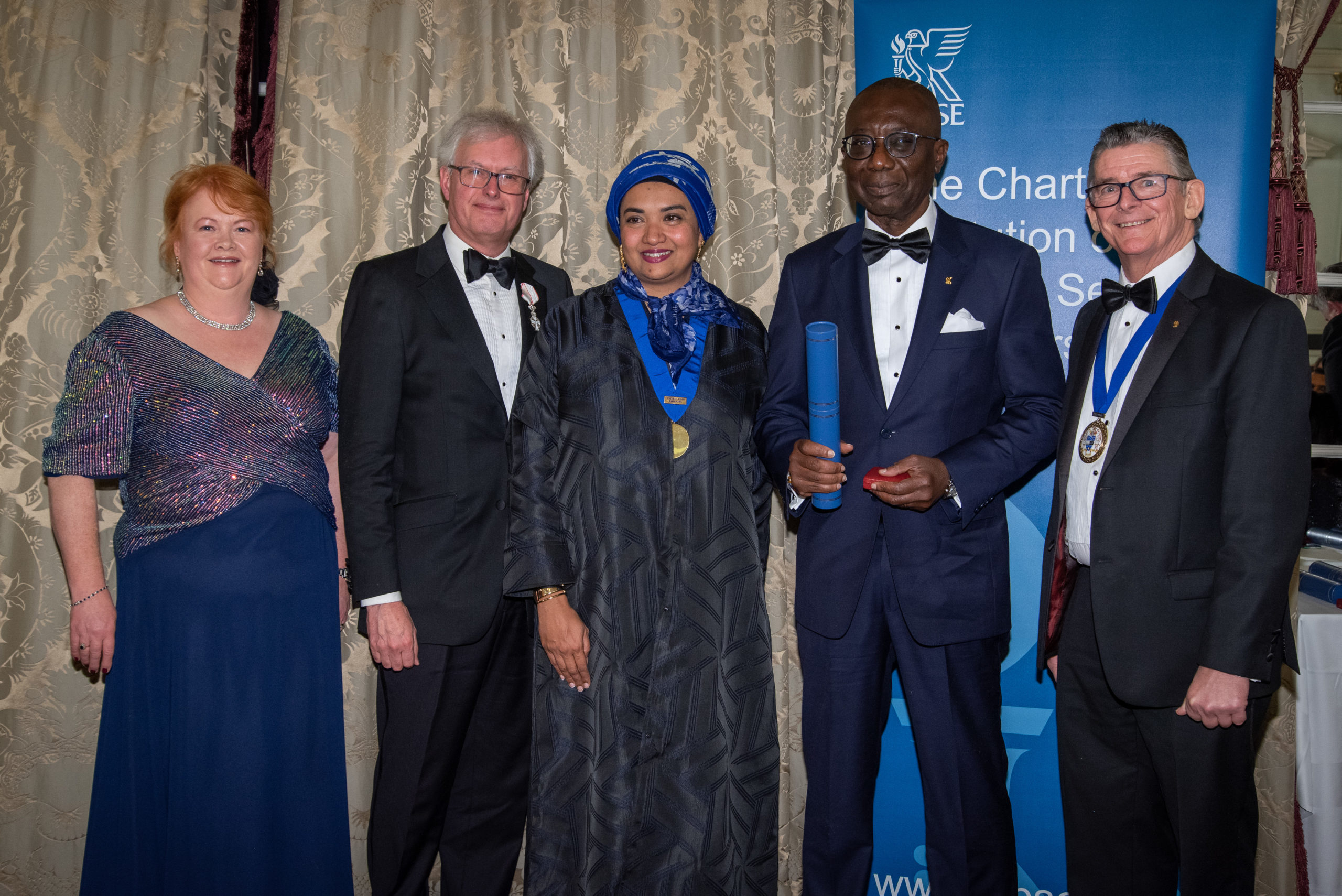 Isaac Coker (2nd from right) receives his CIBSE Silver Medal with (from left): Ruth Carter, Stuart MacPherson, Farah Naz and Kevin Kelly
Silver Medals were awarded to members who have made exceptional contributions to the industry and to CIBSE through their work and time volunteering, helping to improve our Institution and foster the next generation. We thank each of them: Isaac Coker, Roger Edwards, John Forster, Tony Lamberti and Andrew Rowe.
Other awards presented on the night include the 2021 CIBSE Undergraduate Award, which went to Khushbu Mankani, who studied at Heriot-Watt University in Dubai. She won it for her final-year project, Optimisation of an air-cooled heat sink for passive cooling of a photovoltaic panel: A computational study.
The award recognises excellent understanding, application and analysis of building services engineering, science and design, as well as originality and high-quality visual information. Mankani was unable to make the ceremony, but will be presented with her accolade at the UAE annual awards later this year.
The 2022 CIBSE Undergraduate Award winner, Rosemary Fishbury, from the University of Nottingham, was also presented with her award. Her finalyear project was The effect of coloured daylight on occupants' emotion. A trophy was also presented to Fishbury's university.
Other presentations were made to the winners of the four awards for technical papers: the Dufton Silver Medal; the Barker Silver Medal; the Carter Bronze Medal for 2020 and 2021; and the Napier Shaw Bronze Medal for 2020 and 2021.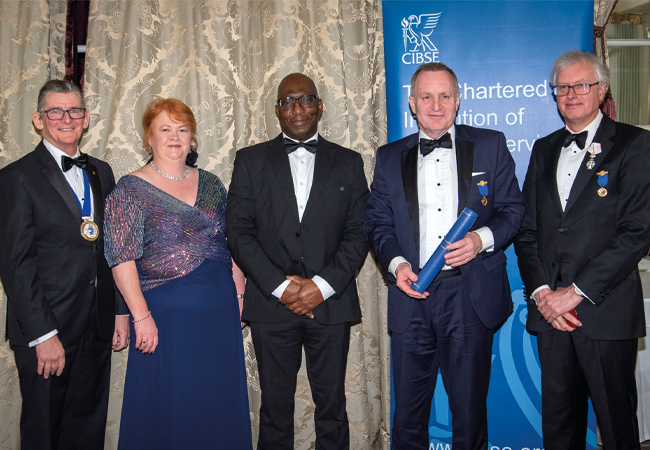 Stephen Lisk (second from right) receives his CIBSE Gold Medal with (from left): Kevin Kelly, Ruth Carter, Olu Babalola and Stuart MacPherson
● Full details of these were reported in the December 2021 CIBSE Journal, Technical research recognised with awards, and the August 2020 CIBSE Journal, Overheating and airtightness papers win awards.
Gold Medal Winners:

Phil Jones CEng FCIBSE  joined CIBSE in 1981 and has been a Fellow since 2010. He specialised in the development of scientific concepts and their application to reducing energy demand in buildings through his work as an engineering consultant and university academic, promoting concepts, guides and publications to energy efficiency good practice in buildings. He chaired the CIBSE CHP-district heating and energy performance groups and was a CIBSE Council member for more than 15 years. He has contributed to more than 100 publications, including CIBSE ones, being principal author for many, including TM39 Energy metering and CP1 Heat Networks 2020.
Bryan Franklin CEng FCIBSE, now in his seventh decade of membership, has been an active CIBSE volunteer since the early 1980s, when he was a partner at Steensen Varming Mulcahy. A CIBSE Fellow since 2007, he chaired the former CIBSE Technical Publications Board and led major revisions of CIBSE commissioning codes, including Code M, from 1992-2002. He chaired the policy and consultations committee, served on the CIBSE management board, was a long-time member of CIBSE Council and chaired the board of the newly established CIBSE Certification Ltd from 2007 until his retirement last year.
David Wood CEng FCIBSE, a former CIBSE President and chair of the CIBSE Benevolent Fund, has been a member of the Institution since 1961. Accepting his award, he said he was surprised and honoured to receive a Gold Medal and talked of the privilege of visiting the Regions during his time as President. He also referred to his experience as an almoner and on the CIBSE Benevolent Fund as very rewarding, and expressed his optimism for the future of CIBSE.
David Hughes CEng FCIBSE joined CIBSE in 1963, becoming a Fellow in 1985. He started as an apprentice in 1963 with design contractor Matthew Hall, where he worked for 25 years, becoming divisional director and establishing an office in Iran. He joined Jaros Baum & Bolles Consulting Engineers as director in 1988 and was responsible for projects such as the refurbishment of the Treasury in Whitehall. A CIBSE professional review interviewer since 2003, he is always keen to mentor new members and share his experience. He has served on the CIBSE Board, Council and as a Benevolent Fund Trustee, and was CIBSE President in 2006, when he led on international coordination and development within CIBSE.
Stephen Lisk FCIBSE FSLL , has been a CIBSE Fellow since 2014, was President of the Society of Light and Lighting (SLL) in 2009, and CIBSE President in 2018. Accepting his medal he said: 'I am very honoured to receive this award in the esteemed company of people that have given so much to the Institution past and present.' Thanking all those who supported him, Lisk acknowledged that recognition such as this is rarely for just one person's efforts, and he dedicated the award to the memory of close friend, and past SLL president and secretary Liz Peck, who died last year.
Mike Simpson CEng FCIBSE FSLL, a past President of both CIBSE and the SLL, has been engineering lighting installations for more than 35 years and is one of the world's leading lighters. He played a key role in delivering stunning lighting installations at the London 2012 Olympic Games, ensuring they met the new technical demands technical standards for lighting internationally, and developing the next generation of lighting engineers, teaching on the MSc light and architecture course at University College London and the BA lighting design course at Rose Bruford College. He also established the annual lighting design competition, Ready Steady Light.