Open-plan classrooms at Trumpington College, Cambridge Credit Jack Hobhouse
The City of Cambridge Education Foundation is committed to human-scale education. It wanted its new secondary school for 750 students in Trumpington, Cambridge, to be designed to enable students to work alone, or in small or large collaborative groups, in spaces that allow for multiple, simultaneous student activities.
The foundation even took the design team, assembled to build the new facility, to Denmark to visit two schools that had been designed around a similar ethos, with open-plan learning to encourage pupil and staff interaction.
Avanti Architects' design for Trumpington Community College incorporates elements from the Danish schools, including a day-lit atrium; the school's entrance leads pupils directly into this triple-height space, the centrepiece of which is what the architect terms an 'over-sized' stair. This doubles as informal raked seating, while leading pupils up to two L-shaped teaching floors that wrap around the central void.
The upper floors have classrooms at the outer perimeter while open-plan, informal teaching areas surround the atrium, to enable up to 250 students to be taught informally, at small tables, in clusters of two and three.
Sound absorption is integrated into the materials selected by the architect. Credit: Jack Hobhouse
The school wanted open-plan spaces to facilitate multiple, simultaneous activities – but open-plan teaching has a bad reputation for noise issues. Max Fordham, the acoustic consultant for the project, was so concerned that background noise levels would significantly affect speech intelligibility that it used its SoundSpace laboratory to replicate – for the design team and teaching staff – the precise acoustic conditions that pupils would experience. It then used the laboratory to develop an appropriate solution.
'Our brief was to create comfortable study conditions in which students and teachers could communicate over short distances of up to approximately two metres,' explains Pedro Novo, acoustic engineer at Max Fordham. He says there are two main acoustic issues with open-plan space: control of direct sound coming from adjacent spaces and control of the reverberant sound, which arrives from all directions. 'Because the open-plan spaces are high, long and wide, these conditions occur in pretty much every space where teaching will take place,' he adds.
The performance standard for speech intelligibility in open-plan spaces is described by the Speech Transmission Index (STI), which Max Fordham used as the main acoustic design parameter for the open-plan spaces. It applies to speech transmitted from teacher to student, student to teacher, and student to student.
The design aim was to achieve a high STI up to 2 metres from the source (for example, a teacher's voice) and a low STI at higher distances – 4 metres and above – to minimise disruption to neighbouring spaces. 'An important aspect of the Index is the background noise – which will change with the number of students and activities in the space – because the higher the background noise, the lower the speech intelligibility,' says Novo.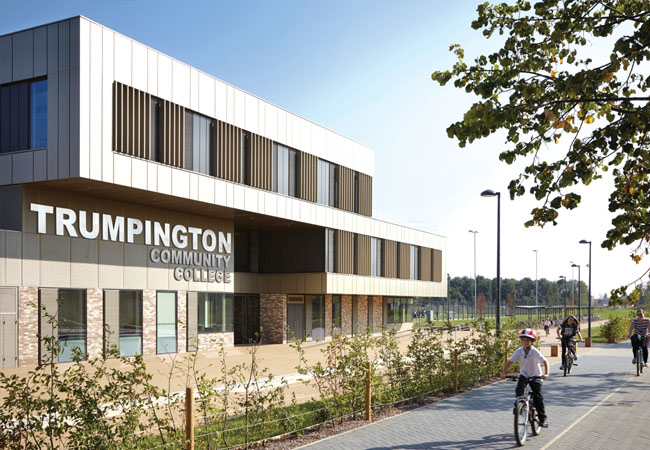 Trumpington College Credit: Jack Hobhouse
An activity plan, developed with the school, was used to establish the likely overall noise level resulting from teaching and pupils' activities in the open-plan space. Max Fordham used its computer prediction model (see panel, 'Sound advice') to calculate the STI, using the overall level of noise as the background noise level. It then used the SoundSpace to convey to the staff and project team the noise and speech intelligibility that would be experienced by the pupils.
After experiencing the noise environment virtually, in the auralisation demonstrations, it was clear that some form of acoustic treatment was required if the open-plan spaces were to be used effectively. To reduce the reverberation time, Max Fordham worked with Avanti Architects to add sound-absorbing materials to them.
'Having acoustic absorption installed near to noise sources is more effective than having the absorption installed far away, so that the noise is readily absorbed, rather than being allowed to bounce back and forth between surfaces,' says Novo.
Max Fordham calculated that a minimum 2,000m2 of acoustic absorption was required to absorb as much sound as possible and prevent noise buildup, while physical barriers were needed between adjacent working areas. 'Avanti Architects were extremely accommodating and creative in integrating this vast amount of acoustic absorption, and in designing 1.6m-high storage spaces between working areas,' says Novo.
A variety of acoustic-absorption measures were adopted. On the walls, some spaces are fitted with timber battens, behind which is 50mm of mineral wool. On other walls, metal mesh retains the mineral wool. Perforated plasterboard is employed in the corridors and on the ceilings, behind which is also mineral wool. 'Acoustic absorption results in reduced general noise levels, which, in turn, results in people speaking at lower sound levels – so there is a positive feedback loop when acoustic absorption is applied,' says Novo.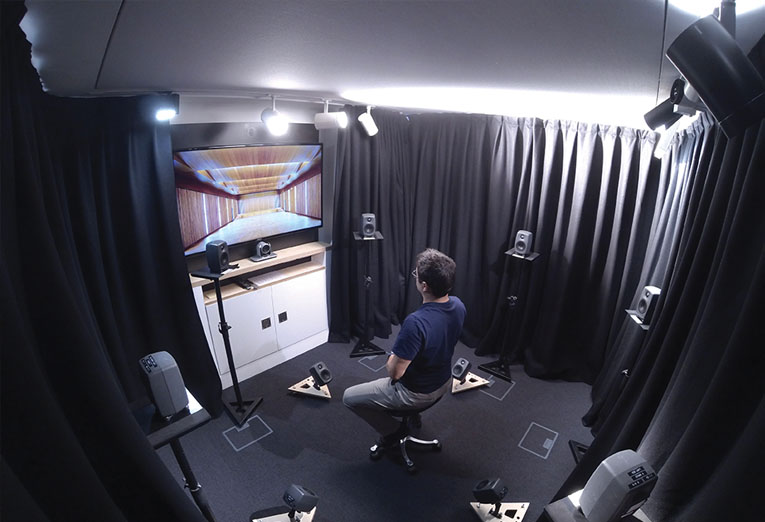 Max Fordham's SoundSpace converts into a meeting room when not being used for acoustic demonstrations
Max Fordham also looked to the two Danish schools that had so impressed the foundation for acoustic-treatment design precedents. It found that their interiors incorporated acoustic wall and ceiling panels, and sound-absorbing treatment on the floor; however; it also recognised that the occupancy density is much lower in the two Danish schools, with each pupil having an average 9m2 of floor space. In UK schools, the figure is closer to one pupil every 3m2, so the acoustic treatments at Trumpington would need to work much harder than those in the schools in Denmark.
Using SoundSpace, various demonstrations were undertaken at different points of the design to show the effectiveness of the diverse acoustic solutions as they were developed. For example, Max Fordham used a demonstration to illustrate intelligibility at different distances. 'The review made clear that effective communication would be possible up to a maximum of 2 metres,' says Novo.
SoundSpace was also employed to show staff the effect of different occupancy levels, and their acoustic impact on pupils in the open-plan space if only 50% – or only 25% – of the recommended sound absorption was installed. 'The auralisation enabled the school to understood the importance of the acoustic treatment in enabling the effective use of the open-plan spaces,' says Novo.
In fact, the SoundSpace demonstrations were integral to convincing the client of the importance of acoustic absorption, which spared it from being reduced as part of a value-engineering exercise. Novo adds: 'The school is extremely pleased with the result, which allows them to undertake the activities that they have envisaged for the open-plan space, while creating an overall comfortable acoustic environment.'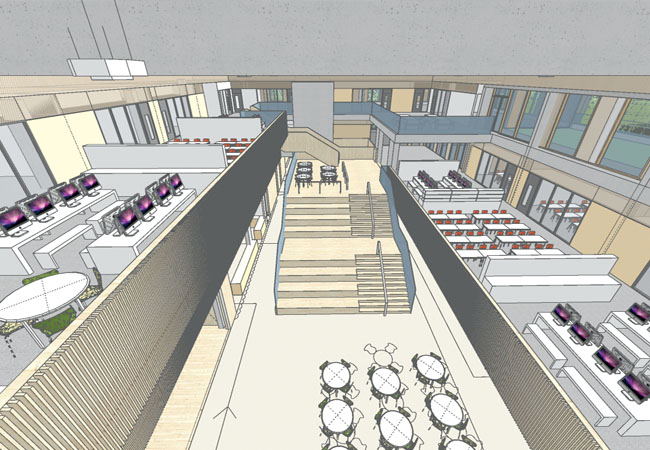 Trumpington College SketchUp drawing