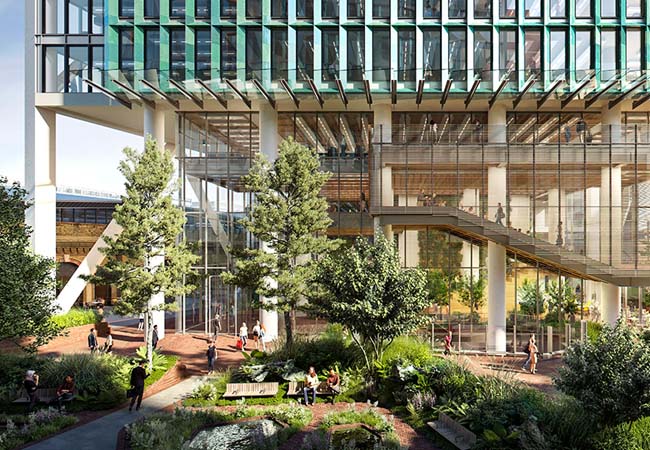 In April, Dutch developer Edge revealed its designs for what it claims will be London's most sustainable office tower. Edge London Bridge is a new 23,500m2, 27-floor commercial office tower, to be built in St Thomas Street, adjacent to London Bridge Station on London's South Bank.
The scheme is aiming for Breeam Outstanding and Well Platinum certification, which will make it the first office tower in London to achieve both accreditations at the highest level.
Architect Pilbrow & Partners' design for the scheme includes façades designed to maximise daylight levels, combined with strategically positioned shading and solid elements to minimise unwanted heat gains and losses.
The building is located in a landscaped park, which will be doubled in size as part of the development; the green landscape surrounding the building will continue inside, via a publicly accessible ground floor, which will include extensive vegetation and a coffee bar. The vegetation theme continues vertically, on the balconies of the upper floors.
'We did not want this building to appear to be sealed off; we wanted something open and permeable and green – so we've tried to create an office tower with the feel of a smaller-scale building by opening its lower floors to the park for fresh air and daylight, and to encourage interaction with the community and our neighbours, which is important for health and wellbeing,' says Bernard Heersche, executive development director at Edge.
The project is being designed to create a sustainable working environment enabled by technologies. Heersche says that building  CO2 emissions have to be addressed as they make up 32% of the global total.
'The other issue is that people are not always engaged because of the buildings we put them in – they need to contribute to the health and wellbeing of occupants,' he says.
Alongside sustainability and wellbeing, smart technology is the third pillar of the developer's design philosophy. What makes its properties smart is a state-of-the-art technology platform that connects everything and everyone in the building.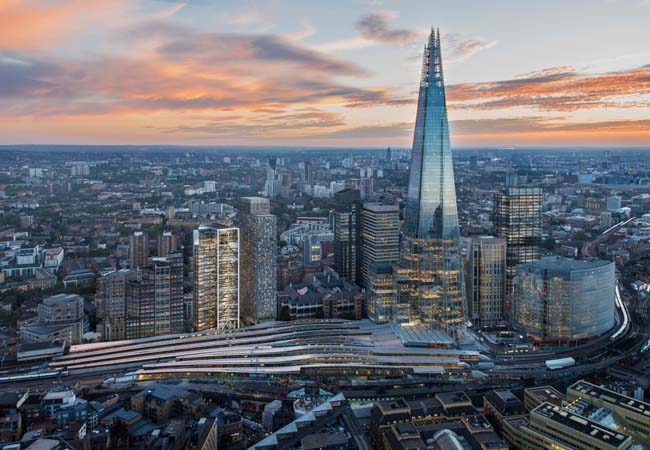 London Bridge is the location for Edge's new project
'It is only by continuously measuring and monitoring that you can ensure you get air and light to the right places, and that you can adjust the systems in your building all of the time to make it run as efficiently as possible,' says Heersche.
Sustainability, wellbeing and smart technology are integral to the building services scheme. 'The focus of almost every design decision on this project has been through the lens of sustainability and health and wellbeing in one form or another,' says Meredith Davey, a director of its building services engineer Atelier Ten.
Even though Breeam is focused on the sustainable environmental performance of the building, and Well Certification on occupant health and wellbeing, Davey believes there is no conflict in developing a design to comply with both schemes.
He does, however, say there is some trade-off from a sustainability perspective, with the extra fan power required to move the additional volume of fresh air through the buildings to comply with Well.
Deciding on an appropriate fresh-air rate for the building was 'the focus of a lot of discussion', says Davey. Currently, the design is based on a fresh-air rate of 2 L s-1·m-2, which, he adds, is 'industry leading for a building of this scale in London'.
Davey looked at fresh air rates of comparable buildings, and found the highest rate to be 1.9 L s-1·m-2. BCO guidance recommends between 1.6 and 1.8 L s-1·m-2. 'We are aiming to have greater volumes of fresh air than others,' says Davey.
Towers are compact forms, so this enhanced quantity of fresh air will come at a cost to core and plant areas. 'There was an informed team discussion about how healthy we can make the building and at what development cost,' says, Davey.

The focus of almost every design decision on this project has been through the lens of sustainability and health and wellbeing
An underfloor system delivers fresh air to the office floors. The decision to supply air through the floor was driven by occupant wellbeing considerations and the system's ability to 'wash out pollutants from bottom to top', says Davey.
It is not true displacement ventilation where the air flow is sized for thermal loads, says Davey, but it is similar and provides fresh air only from a floor-based system.
This solution also ensures the building's exposed soffits will remain free of ductwork. By contrast, a high-level air-supply solution would have mixed the fresh air with vitiated air in the space. The extract grilles are at the face of the core with controls within the riser to allow for balancing.
In addition to mechanical ventilation, the scheme will incorporate perimeter openings to allow the office floors to be naturally ventilated. 'This was a ventilation solution developed in response to a number of drivers,' Davey says.
The windows will have contact sensors and will locally shut the system down in the naturally ventilated areas, says Davey. The modularity of the ceiling radiant panels (climate islands) allow them to be individually turned on and off depending on how far the natural ventilation penetrates.
Of course, the biggest issue when talking about designing for occupant wellbeing at the current time is ensuring the building is designed to minimise the spread of coronavirus.
The International Well Building Institute has formed a Covid-19 task force2 to inform future enhancements to the Well Building Standard, but it has yet to publish guidance on the measures it recommends to deal with the virus. The design does, however, align with the initial Covid recommendations published by CIBSE and other HVAC bodies.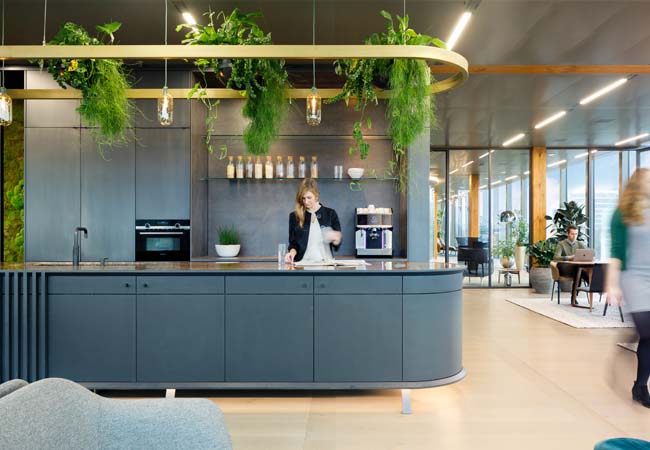 Covid-19 must now be taken into account when designing for occupant wellbeing
'On a technical level, CIBSE's initial document1 says to: try to use natural ventilation – we've got the ability to open the façade; and to run the ventilation system out of hours, which we've got, too,' says Davey.
'The guidance is obviously going to evolve, but designing a sustainable, healthy building has led us to the position that is closely aligned to where the industry is very likely to end up as a result of the coronavirus.'
Radiant ceiling panels provide heating and cooling to the office floors. The panels at Edge London Bridge are an iteration of a solution developed and used on previous Edge schemes, including the Edge Amsterdam.
'We came with a strong preference for radiant heating and cooling, because we know it is sustainable and much better from an occupant-comfort and health perspective,' says Heersche.
The radiant panels will be supplied with heat and coolth using a combination of heat pumps and chillers. Davey says the site is too small to get 'anything meaningful from the ground', so he's looking at how energy can be recovered from the system instead.
Built-in intelligence
Real-time data from the thousands of sensors at Edge London Bridge will be collected to help operators and the tenants to analyse, understand and optimise the building and its systems.
'Smart technology is not an end goal in itself,' says Heersche, 'but – if you have a lot of smart technology in your building – it will, for example, enable you to pump less air through your building in total, because it allows you to only pump air to the populated areas at any point in time.'
On previous schemes, the sensors have been used to tell a business how well its meeting rooms are being used, for example. 'If the meeting rooms have been designed for six people, and the sensors show that, on average, there are 2.2 people using them, we'd advise the business to think about reconfiguring them,' says Heersche.
The smartphone will be the workers' passport to Edge London Bridge. On previous schemes, Edge has used an app to let users personalise their workplace and customise the lighting and temperature. The app gives users access to the building, and enables them to locate their colleagues quickly and fi nd available meeting rooms or workplaces.
Over time, it will enable Edge to add extra services to meet the changing needs of tenants and users, to continue to optimise user comfort, productivity and creativity.
The app also offers a mechanism to relay to people, individually, the impact of decisions they make on building performance.
Over time, it is hoped that the smart technology will provide information that will be able to measure productivity improvements and benefits: 'We know from Deloitte, when they moved to the new Edge Amsterdam, that sick leave went down, absenteeism went down, and staff retention went up,' says Heersche.
'The cooling system is going to have a constant demand, particularly from tenants' IT loads throughout the year, so I'm looking at how we can recover that heat for use in the building's heating and domestic hot-water systems,' he explains.
In addition to the radiant heating/cooling elements, the ceiling panels incorporate light fittings and eight sensors, including ones for motion detection and to measure light levels, temperature and humidity.
The output from the ceiling panels will form part of the digital infrastructure that will connect everything and everyone within the building's walls; the system is fundamental to what makes such buildings smart (see panel, Built-in intelligence).
Work is set to start on the construction of what is planned to be London's most sustainable office tower next year, with completion in 2024, when the developer expects the first occupants will take up residence.
Heersche is optimistic the combination of sustainability and wellbeing will be a winning formula in London.
'Intrinsically, sustainability and wellbeing are the right things to do,' he says. 'It also makes sense from an occupier's perspective, because the cost of rent compared with the cost of paying their workers means that it is an absolute no-brainer to pay a small amount more on rent if you can have a more productive workforce.' 
References
1   Coronavirus Covid-19 and HVAC systems, CIBSE, April 18 2020
2  Task force on Covid-19 and other respiratory infections, Well