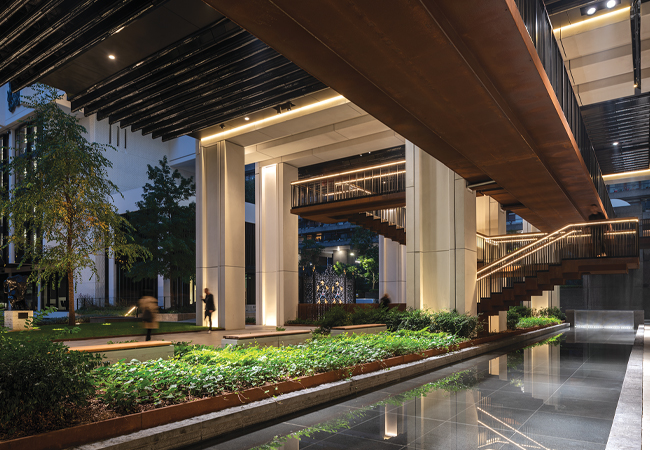 London Wall Place used a varied material palette that included stone, metal, water and plants (Credit: James Newton)
It is not so long ago that exterior lighting was a rather crude affair. Generally, it relied on street lighting and, where it involved buildings, a frequently cavalier use of floodlights that blasted light indiscriminately at façades, with little heed to architectural detail.
That it has become a more considered area of lighting in recent years is down to a multiplicity of factors – for one, a more sophisticated understanding and appreciation of lighting generally. The growth of the night-time economy, and an appreciation that lighting can not only be functional, but also increase the attractiveness and atmosphere of public spaces, is another.
The development of LEDs and the miniaturisation of luminaires have also enabled more controllable, discreet and integrated lighting, and made lighting public spaces a more energy-efficient proposition. (That they have also facilitated an often random and ill-judged use of coloured light is a whole other discussion.)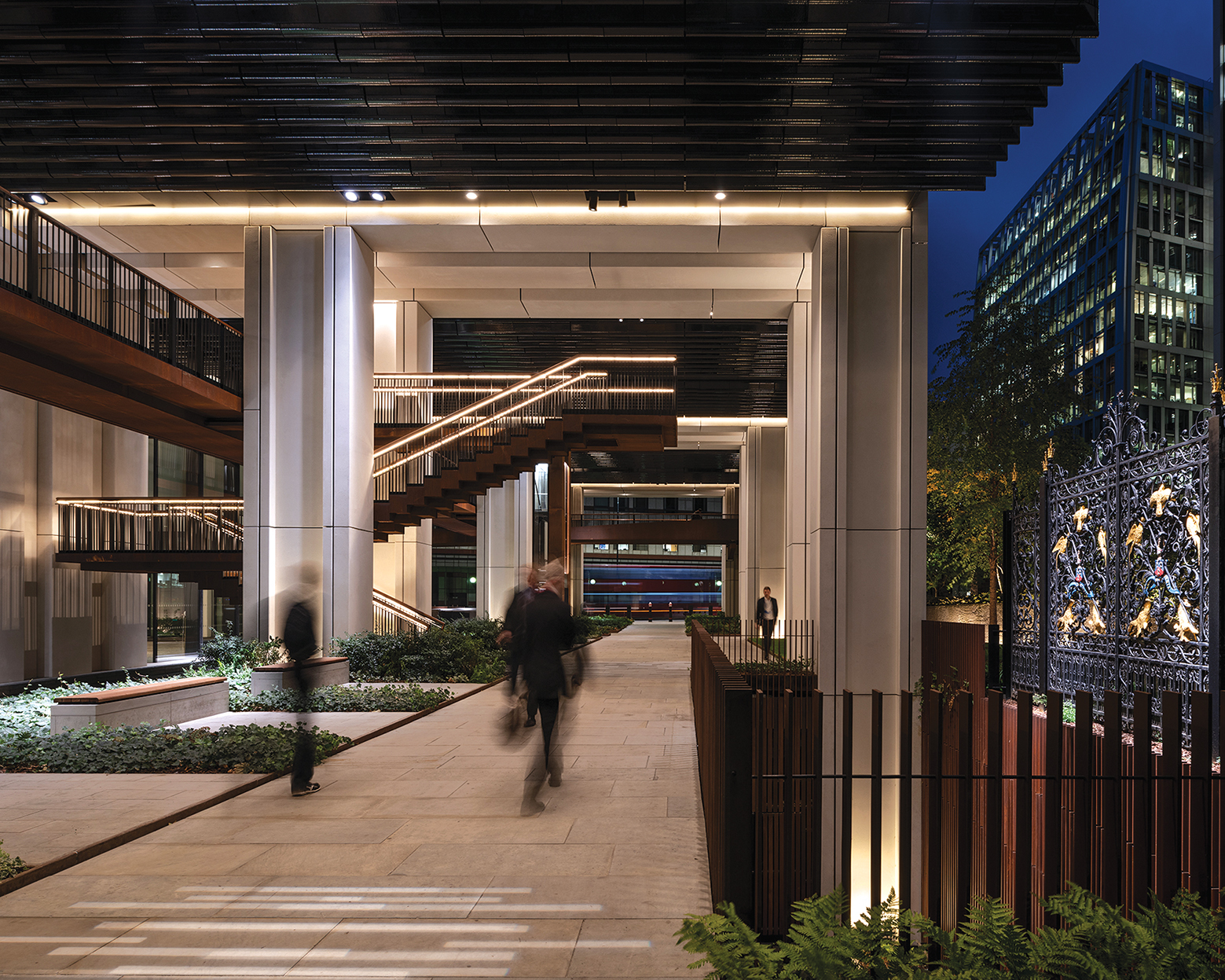 Cladding with an iridescent coating of concrete and faience unites the development (Credit: James Newton)
One of the remaining battles is overlighting, largely a result of local authority fears of litigation or a constabulary belief that extreme illumination equals less crime. Growing awareness of light pollution may mitigate some of the worst excesses, but security lighting, sports lighting and, especially, the proliferation of ferociously bright LED signage still blaze into the night.
While politely argued skirmishes over lighting levels for piazzas and other pedestrianised areas persist, it seems the case for subtlety is, literally, gaining ground. The general preoccupation has always been with horizontal illuminance – how much light can be squirted on the ground.
However, the answer often lies in vertical illuminance, which affects how bright the space feels. Diminishing reliance on the bollard or pole-mounted flood – and increasing use of street furniture and architectural elements, such as handrails and steps, to house light sources – have led to many more layered, visually stimulating and conducive spaces, which encourage social gatherings.
'Our daylit world is full of brightness and shadow, and we feel more comfortable in a world where a range of brightness values allow us to interpret and navigate our way instinctively,' says Tim Downey, managing director of lighting consultant StudioFractal, which was responsible for the King's Cross Square lighting scheme and, more recently, the exterior (as well as interior) illumination of the newly refurbished Royal Opera House.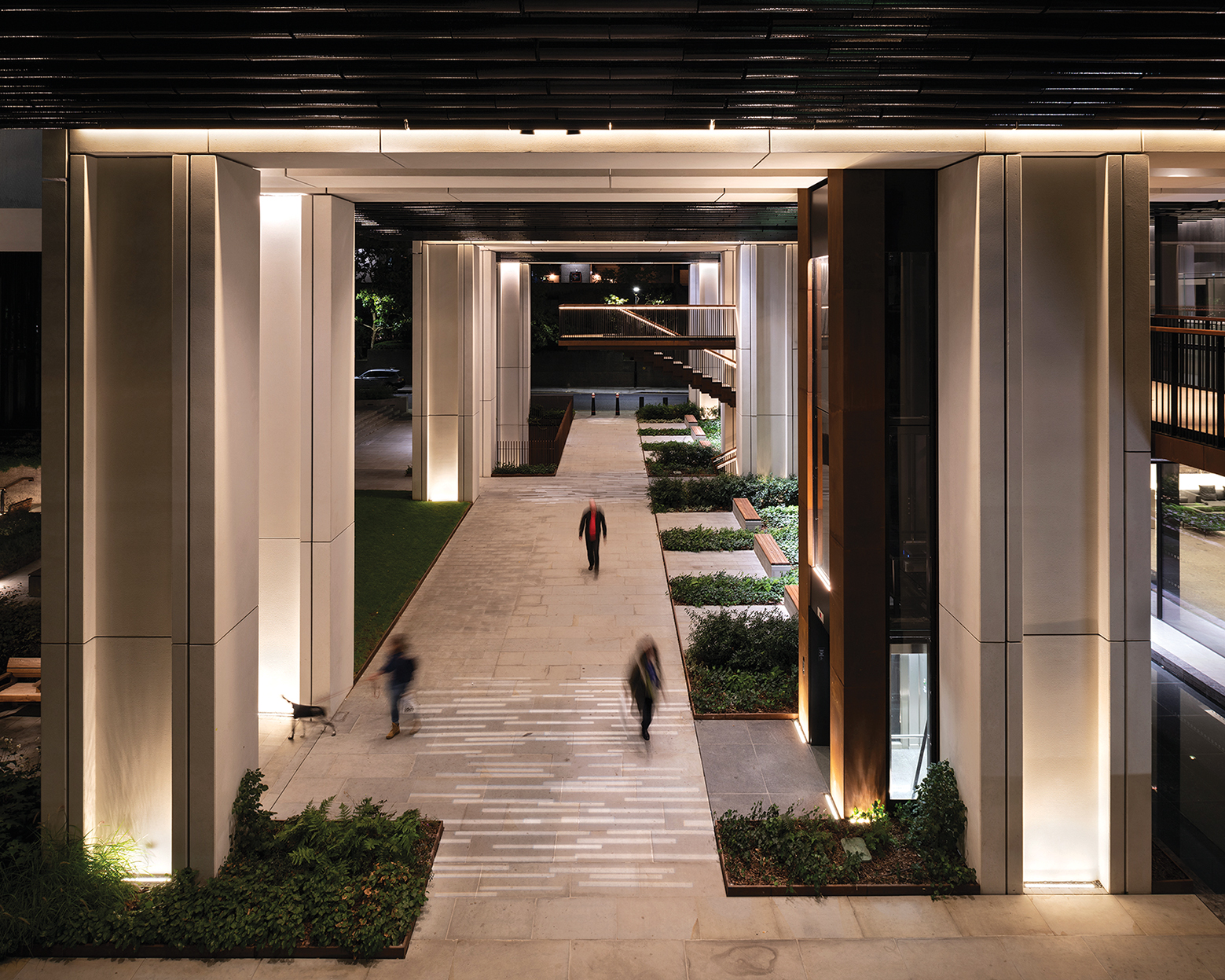 The High Walk linking to the Barbican enables views through the project (Credit: James Newton)
'As architectural lighting designers, we have long argued for an approach to after-dark lighting that replicates this range of brightness values, to help create a more nuanced night-time environment.'
StudioFractal's recent scheme for London Wall Place, a new destination in the City of London, is an exemplar of this more refined approach. The landscaped public realm sits between two statement office buildings designed by Make Architects.
Make also reinstated the site's historic grids, bridging two existing heritage structures – the remains of the 12th-century St Alphege Church and a section of the original London Wall – with newly created pedestrian routes and a series of landscaped gardens. Uniting the new development is an unusual cladding – an iridescent coating of concrete and faience that reinterprets the knapped flint of the site's Roman and Saxon remains.
StudioFractal was given a varied remit: an acre of public space that included landscaped gardens, historic ruins, commercial and retail facilities, and multilevel pedestrian routes.
Salters' Garden with a section of the old London Wall (Credit: James Newton)
The detailed lighting strategy, knitting together commercial lobbies, gardens and the reimagined High Walk linking to the Barbican, was designed to enable views through the project, ensuring veiling reflections in glazing were avoided so interior and exterior spaces were connected.
The layered scheme combines direct and reflected lighting. 'It creates a softly undulating visual environment, making use of light, shadow, reflection and projection to complement and enhance the material palette of stone, metal, water and planting, and to encourage exploration,' says Downey.
A hierarchy of concealed light sources was developed and located within architectural detailing, with a mix of colour temperatures according to the materials and planting. The aim was to draw the eye between historic and contemporary forms and materials, and invest the gardens with a serene, contemplative feeling.
'We were interested in creating a night garden, and wanted to understand how little light we could use that would still allow people to appreciate the gardens and navigate safely, but, nevertheless, get a sense of the tranquillity and solitude,' says Downey. 'Once our eyes are properly night adapted, it's amazing how much we can see by the light of the moon. We had an interesting palette of materials, and we wanted to develop a scheme that allowed the different textures and tones to be seen.'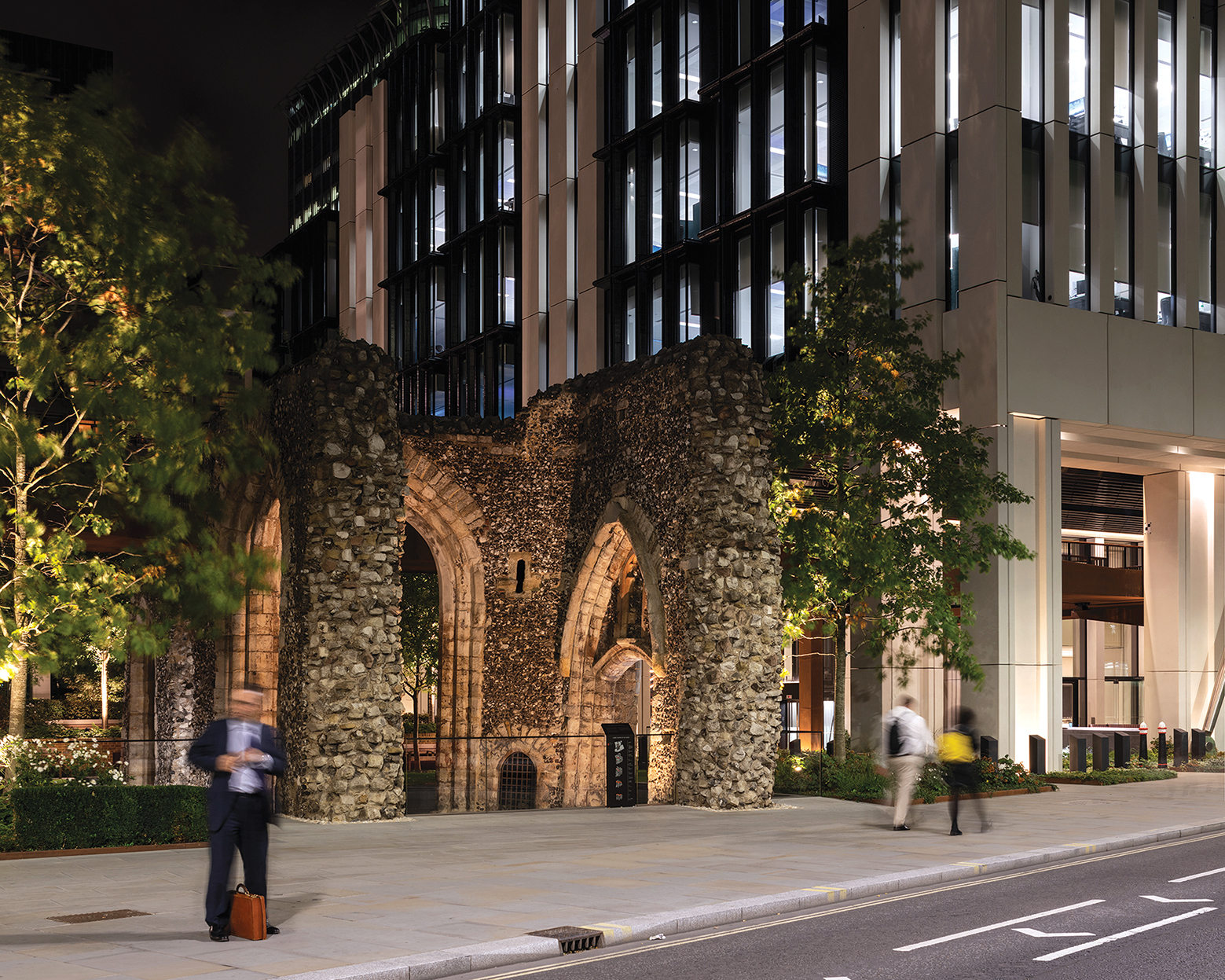 The ancient remains of St Alphege Church (Credit: James Newton)
High-level wall washing is integrated within the building forms to create a backdrop to the new structures and material – again, drawing the eye across the project and into the interiors. High-level spotlights illuminate the planting and the gently moving water feature, and project gobos on to the walkway below.
Warmer, low-level lighting directs pockets of brightness across the historic stonework, contemporary Corten steel, GRC building columns, and the low-level greenery and walkways. 'We were careful to avoid glare and present illuminated surfaces against silhouetted forms, creating a playful and atmospheric series of spaces,' says Downey.
There is a degree of animation from the lighting. Reflections of moving water play on sections of the soffits, while bespoke lighting integrated within the High Walk continues a rhythm of light and shadow.
'While the lighting standards encourage a creative approach, they only provide a small range of illumination values to work to,' says Downey. 'So how these standards are interpreted becomes very important – a lack of imagination generates flat, even and uninspiring lighting. 
'For London Wall Place, by creating a lighting strategy constituting layers of light that treated each element separately, we demonstrated to the client that this would create a cohesive, visually interesting environment that still satisfied the technical requirements of illumination levels and uniformity.
New SLL guidance
As well as several chapters that address the exterior environment in the 2018 SLL Lighting Handbook (see page 7), the Society has just updated and reissued its Factfile 7, Design and Assessment of Exterior Lighting Schemes.
This is aimed at planners and designers, to help them in producing and assessing schemes against potential planning criteria, such as minimising sky glow or reducing impact on wildlife. Showing planners that you have complied with their recommendations will reassure them that your scheme will sit well in the night-time environment – it's free for them to download.
The SLL is about to publish its new Lighting Guide 19 – Lighting for Extreme Conditions. This, as its title implies, covers all the extreme and peculiar climatic and ambient environments into which we try to put lighting. It is an expansion of what was a new chapter in the handbook on the same topic.
The handbook chapter, and the expanded content of the new guide, don't just cover extreme heat and humidity or freezing conditions, but also explosive environments – in process and petrochemical plants, for instance.
In addition, it covers the salty conditions experienced at the coast, as well as straightforward immersion in water often experienced in pools and tanks. Many interiors also have extreme environments that need specific and appropriate lighting – such as cold and freezer rooms in factories and large supermarkets – and many production areas have special requirements because of potentially corrosive atmospheric solvents or vapours.
For details of all  SLL publications visit www.cibse.org/SLL