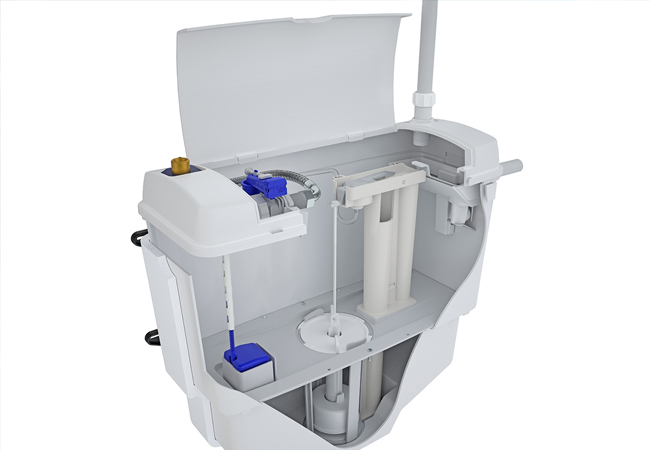 A revolutionary toilet cistern that uses condensate from air conditioning units for flushing could save millions of litres of water in drought-stricken areas of the globe.
The Encore , developed by Leeds-based renewable innovation company The Green Futures Initiative, won the 'Energy Saving Product or Innovation of the Year' category at this year's CIBSE Building Performance Awards – a prize that recognises building services solutions that reduce the amount of energy used in buildings.
The judges described the product as 'a really innovative solution' that employs 'a range of potential applications, [and] that is suitable for retrofit and new-build.'
According to David Davis, director of The Green Futures Initiative, Encore is the only cistern of its kind, as conventional ones use mains drinking water. When he and his colleague, managing director Graham Kelly, first had the idea for their cistern five years ago, they were surprised that a similar product didn't already exist.
'Our background is in M&E building services and we had been asked by a supermarket chain how to get rid of the waste condensate from its refrigeration units,' says Davis. 'We decided we should try to find a way to use the waste water for flushing toilets.'
Rigorous research and collaboration with plastics engineers and designers resulted in the Encore, which is now manufactured in Doncaster. Unlike a traditional toilet, which empties the cistern with each flush , the Encore stores the condensate by using a dual-chamber, 18-litre tank, which is three times bigger than a conventional cistern. This enables multiple flushes before drawing on the mains-fed backup.
The bottom chamber of the cistern is adjustable in half-litre increments and holds between 3.5 and 6 litres, to meet different international standards. When flushed, condensate in the bottom chamber empties and a communication valve opens, allowing stored condensate from the top, 12-litre chamber to be released into the bottom for the next flush.
The upper chamber continues to be topped up with the air conditioner's waste water. If there is high demand, with many flushes in quick succession – or the air conditioning is not in use – the cistern can be filled using the mains water supply.
The Encore cistern, which uses plastics that can be ground up and reused for other products, comes fully assembled with an additional flush pipe and related washers, and can be wall- or frame-mounted. It can be operated by a single pneumatic flush button or a wave plate, and, apart from washing out a small filter tray once a year, little maintenance is required.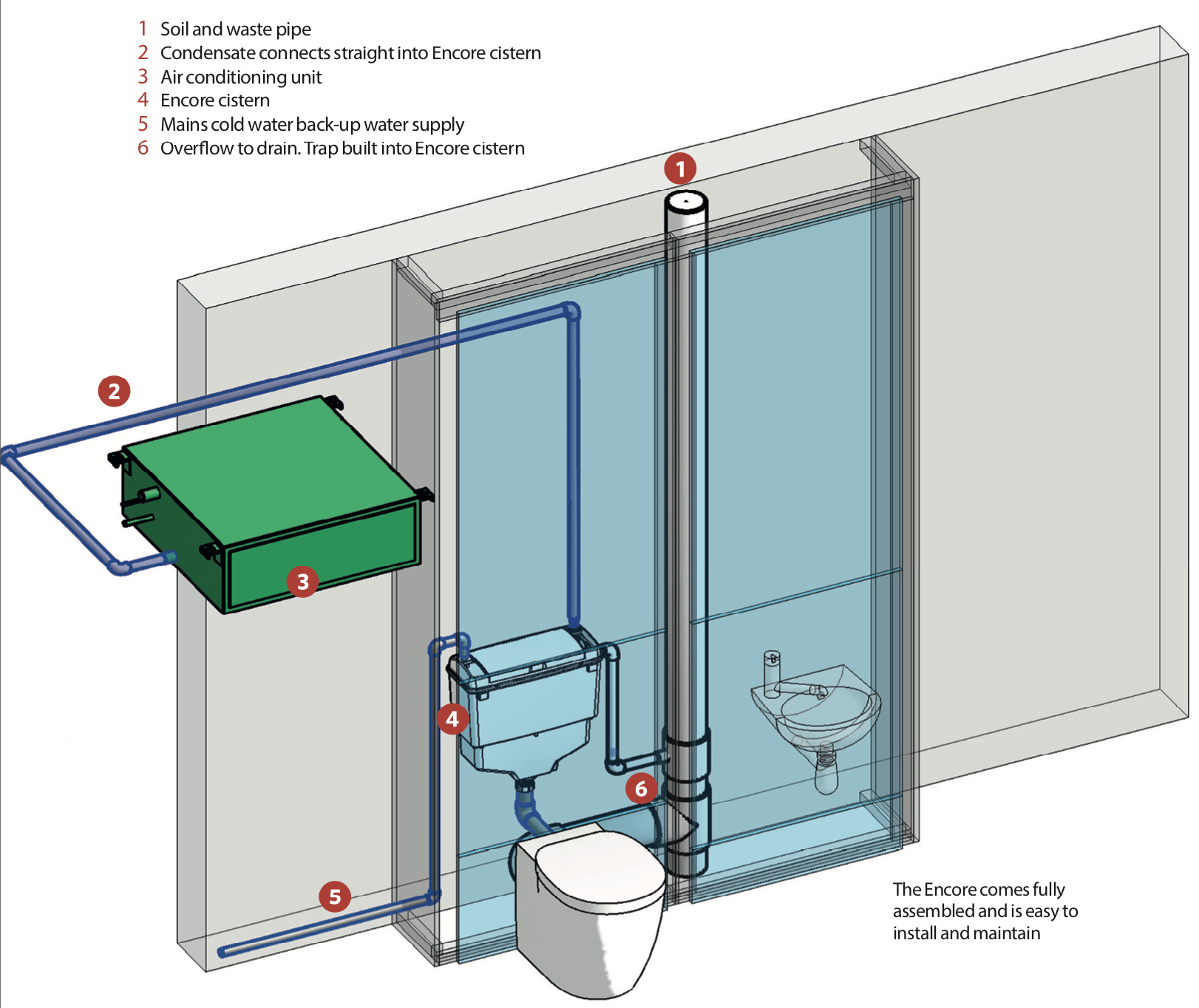 'We didn't want plumbers to have to undertake additional training to fit it,' says Davis. 'It had to be like installing an ordinary concealed cistern, the only difference being an extra filling connection to allow for a separate water source from the air-conditioning unit.'
The Encore can be specified for new-build and retrofit projects, and Davis anticipates it being suitable for a wide range of building types, including hotels, offices, restaurants, apartments and leisure facilities.
An added benefit in newbuild projects is that the sustainable product automatically attracts Breeam and Leed credits. 'The trick is to get it specified at the early stages of a project, when Breeam is being considered,' says Davis. 'It's a cheap win. You might pay a bit more for an Encore cistern, but the Breeam points could offset more expensive ways to comply further down the line.'
Like any new product, it has to be tested to prove its effectiveness. Encore was rigorously examined at Thomas Dudley's in-house facility in the West Midlands, undergoing chemical endurance tests and a 200,000-cycle flush test.
It was then sent to Kiwa, experts in testing, inspection and certification, to prove its AB air gap. This is an arrangement of fittings where a complete physical airgap of 20mm is maintained between the lowest water-discharge point and the critical water level of a receiving vessel.


We didn't want plumbers to have to undertake additional training to fit it

Encore passed and was classified as a CAT (Category) 5 product. This means it can not only use condensate, but also other greywater sources, while protecting the water authorities' mains supply.
Encore cisterns were also installed in an office of a major utilities company in the north of England. The mains water was metered to allow the condensate usage to be determined based on the number of flushes . The company was so impressed that it has specified a further seven cisterns for a food hall, after data showed mains-water savings of 50% over a year.
BRE is another fan of the product, installing a unit at its Willmott Dixon building to allow engineers and visitors to see how it works.
Two Encore cisterns were also installed at a major hotel chain in Manchester, to trial the product and obtain data. One, in a bedroom, was monitored from 24 July to 25 August, during which time the toilet was flushed 426 times, equating to 1,917 litres of water. The water meter indicated that the Encore toilet had used only 1,250 litres of water, saving 667 litres of mains-fed water.
Note the drawing is indicative of the principle only. Height of header, number of connections and so on will depend on specific installation details.
'Encore is performing far better than we anticipated,' says Davis. 'We've been speaking to Marriott and Hilton about installing Encore cisterns in their new hotels, because they have tough targets for saving water. We've already done some site surveys for them in Barcelona and Dubai, and we've met with the Dubai Electricity and Water Authority.'
It is in drier, water-starved regions – such as southern Europe, Africa, the Middle East and Australia, where there is greater reliance on air conditioning – that Encore should flourish. Even in the UK, with summers becoming hotter and more buildings using air conditioning, the Encore cistern could be a very efficient way to save water.
For more information about the CIBSE Building Performance Awards visit www.cibse.org/bpa