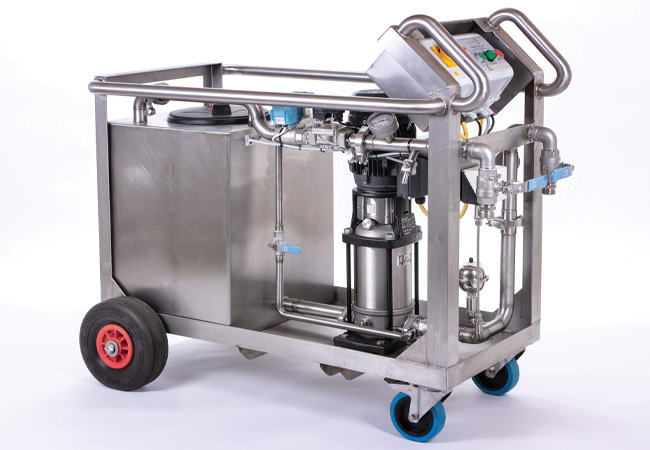 A Hydrosphere pre-treatment rig used for CPC
Pre-commission cleaning of pipework is traditionally carried out by flushing out dirt and debris with water, but BSRIA's latest updated guidance, BG29/209, introduces another method, which cuts the amount of water used significantly.
Closed-loop pre-treatment cleaning (CPC) only requires the initial system-fill water and avoids the need to discharge large amounts of water to the drain. According to Hydrosphere, which patented the system and created a prototype for the Channel Tunnel, the traditional method uses 20-30 times the system volume. For a medium-sized office block, this means more than 1.5m litres of potable water being flushed down the drain in its lifetime. Hydrosphere says CPC is gaining in popularity, with one notable recent client being Buckingham Palace.
The traditional cleaning process has a series of stages. First, a system is filled with water and flushed to clear debris. It is filled again and a biocidal wash added, to minimise the risk of bacteria; this is flushed out before it is refilled with water and powerful chemicals, which remove surface oxides. The system is flushed again and then refilled with water, plus an inhibitor, to protect against corrosion.
CPC filling is undertaken by pre-treating the initial system-fill water in a special pre-treatment rig (above). Chemicals to assist in mobilising system contaminants, and to provide corrosion and microbiological protection, are introduced directly in proportion to the volume to fill water. This pre-treated water is used to clean the system by circulating it through filter media to remove solids, with minimal flushing to drain. Rigs can also contain UV water treatment to kill bacteria.
The pre-treatment equipment and filling process should aim for optimum corrosion and microbiological protection to installations at the point of filling. A purpose-built pre-treatment rig (CPC filling unit) should be used for this, which would ideally incorporate:
Adjustable proportional dosing equipment for the introduction of corrosion and microbiological control chemicals

Microbiological reduction and/or removal apparatus

Failsafe mechanism to prevent the introduction of untreated or undertreated make-up water

Incoming and outgoing water testing points

Hygienic connection hoses.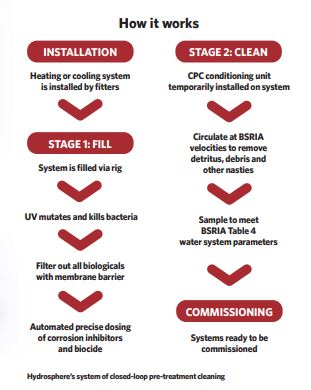 BSRIA says CPC can reduce water consumption, providing an effluent-free or reduced-effluent process. It states that CPC can be beneficial where water supplied is limited; demineralised or softened fill water is used; and when system draining is impractical. CPC avoids repeated system exposure to raw water, and the risk of introducing now aerated water into the system.
As water is not exchanged during the cleaning process, system trending, using a corrosion-monitoring service, may start as soon as the system has been filled. During and on completion of filling, tests should be done on the water to ensure the pre-treatment equipment is functioning correctly, and that acceptable chemical and microbiological parameters are being achieved. Standard test kits may be used to determine key chemical properties, and an adenosine triphosphate test kit to monitor microbiological levels. These methods may be backed by lab analysis.
If microbiological removal or reduction apparatus is incorporated, laboratory sampling of system water may start seven days after completion of the final bulk fill. Installations should, ideally, be filled from the lowest point. During filling, thorough venting procedures should be undertaken using installed facilities. To prevent untreated water reaching the system, failsafe mechanisms on the rig stop pumps working if there is a power cut, mechanical fault, over pressurisation, or if chemicals run out.
CASE STUDY
The Arnos Grove heat network supplying the Ladderswood Estate was the first of Energetik's heat networks to go into operation in the London Borough of Enfield.
Dennis King, project manager at Energetik, says it set an important precedent for the level of quality and positive customer experience.
'One of our key drivers is to ensure that the life expectancy of heat networks is achieved – and water quality is paramount to this,' he adds .
'When CPC has been used, not only have we seen water consumption reduced during the construction phases of projects, but we have also been able to achieve consistently high water-quality standards from the outset.'
This provides an excellent platform for these standards to be maintained throughout the life of the heat networks, King says. 'This will give them a greater chance of achieving, or even exceeding, their life expectancy .'
CPC dynamic flush
When flushing a system, temporary CPC conditioning units (or filter units) should be fitted on a common system return circulation point to remove contaminants, as shown in Figure 1. The conditioning unit should be connected to the system using appropriate pressure- and temperature-rated hoses or pipework, taking account of system operation pressure at the point of connection. It should also be fitted with a flow-measurement device to measure cleaning rates, and as a way of indicating the condition of filter media.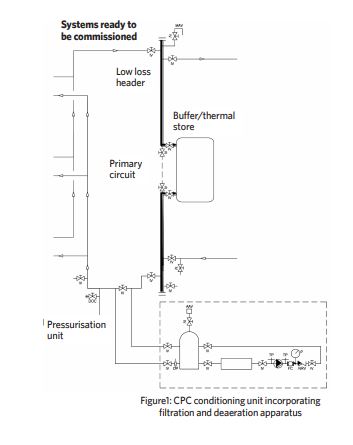 Temporary deaeration equipment should be connected to the system or conditioning unit during flushing, to help stifle corrosion during the process itself. It must have a working pressure rating greater than the system head pressure at the point of connection. It may be necessary, because of system pressures, to locate the deaeration equipment remotely from the conditioning unit.
After filling, the system is subjected to dynamic flushing velocities, as described for primary and secondary circuits. However, instead of opening a valve to allow flushing water to enter, and drawing from the system, flushing water is directed through the condition units so that debris is removed by the filter media.
The cleaning can be done on a side-stream or full-flow basis but, ideally, it should be full flow, as this prevents the recirculation of contaminants. As all, or a proportion, of the recirculating water is passed through the filter, the duration of the clean will depend on the method chosen.
■ Pre-Commission Cleaning of Pipework Systems 6th edition (BG 29/2020) is available at bit.ly/CJFeb21CPC