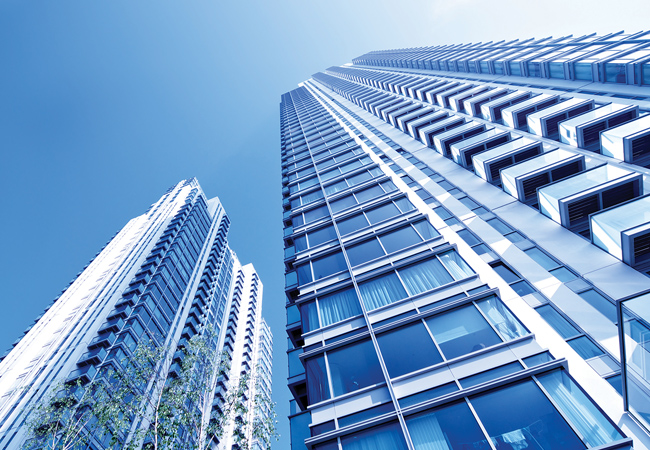 In June 2017, after the devastating fire at Grenfell Tower, construction industry practices and competency were called into question, and wholesale change was inevitable.
The following year, in November 2018, the UK government announced changes to the Building Regulations in England, implementing a ban on the use of combustible materials in the external walls of certain high-rise buildings in England.
In response, the Society of Façade Engineering (SFE) and the Centre for Window and Cladding Technology (CWCT) have come together to develop technical guidance offering a practical and pragmatic explanation of the new regulations. The principal challenge, says the guide's main author, David Metcalfe, was taking the wording of the legislation and applying it to modern, complicated façades.
Although the amended Regulation 7 bans the use of combustible materials in external walls more than 18m high in residential buildings, it acknowledges the vital role that some combustible materials play in the performance of modern façades – especially when it comes to meeting other regulated requirements, such as thermal performance and weather-tightness. Subsequently, it introduces some exceptions.
CWCT/SFE Fire guidance
The guidance on the changes to the Building Regulations in relation to the inclusion of combustible materials in external walls, focuses on the combustibility of materials.
It has been formed through consultation and collaboration between industry professionals, including façade engineers, fire engineers, architects, building control professionals, surveyors and manufacturers.
In addition to setting out the context of the regulations in an introduction, the guidance explains the definitions and terminology, as well as the materials and exemptions under the legislation.
■ It is available to download, free of charge, from www.cwct.co.uk 
■ To find out more, and for more on the SFE, visit www.cibse.org/SFE
However, the SFE and CWCT say these exemptions do not fully recognise the complexity of modern building envelopes, and leave some ambiguity and uncertainty over materials that may or may not be used, and the circumstances in which they may be used. 
In developing the guidance, the CWCT and SFE faced numerous challenges, including interpreting definitions and terminology, as well as reconciling the – sometimes conflicting –requirements of the wider regulatory framework that buildings must meet. 
The amended Regulation 7(2) bans the use of materials that do not meet the specified reaction to fire requirements in any part of the external wall of so-called 'relevant buildings', to ensure they are safe from fire.
A relevant building is one with an occupied storey at least 18 metres above ground level, and which contains one or more dwellings, an institution – such as a hospital – or a room for residential purposes, such as student accommodation. Put simply, all components need to be constructed from materials that achieve European reaction to fire classification A2-s1, d0, except those that do not pose a significant contribution to fire risk, or for which there are no suitable alternatives, as referred to in the exceptions.

A single material could have a different function depending on how, and where, it is used in the building
'This is significant because, in recent years, some combustible materials have been used to improve thermal performance and airtightness, or reduce defects as a result of water leakage, and so on. The amended regulation seeks to dramatically reduce their use,' says Metcalfe, who is director of CWCT, a board member of the SFE, and chair of the SFE Fire Committee.
To add to the challenge, other requirements related to buildings' thermal performance and environmental impact must also be taken into account, says Saverio Pasetto, head of façades at Skanska, and chair of the CWCT and SFE.
Coming to terms
One of the biggest challenges the team faced was understanding and applying definitions and terminology. 'The regulations use very simple terms that don't necessarily translate consistently when dealing with complicated façades,' says Metcalfe.
Translating the terminology into a language consistent with that used in the industry was, therefore, the first step. Then, there was the challenge of understanding the scope of the regulation. 'It's not just about the material; it's how those materials are used,' says Metcalfe. 'A single material could have a different function depending on how, and where, it is used in the building.'
A membrane-type material could have several applications, for example. It could be used as a seal around a window frame, sealing one element to another, or it can be used as an extensive membrane, covering the whole wall for means of vapour control. 'This distinction is important, because the requirements are different depending on whether you consider it a seal or a membrane,' says Metcalfe.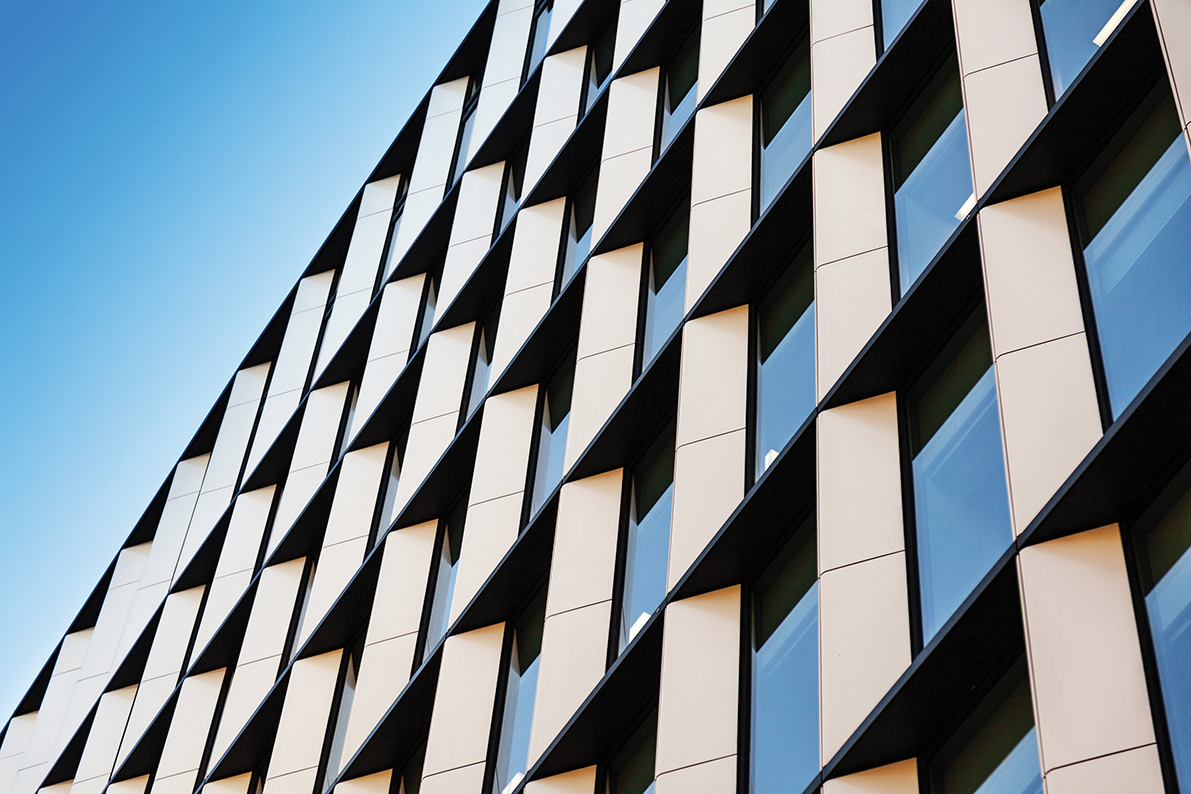 At all costs
Before the amended regulation, system testing allowed the use of combustible insulation, and this was favoured because of its excellent thermal performance – which, in turn, meant less of it needed to be used.
'The non-combustible alternative isn't quite so thermally efficient, so you need more of it,' says Metcalfe.
'Consequently,' adds Pasetto, 'this will make the wall thicker and will result in cost implications for both the developer and the client.'
In London, where the price of land is significant, a developer may naturally choose to build higher, if possible. 'Building higher causes more risk because it introduces rescue challenges, for example, which is one of the reasons there is limitation on certain materials in relation to the height of the building,' says Pasetto.
A thicker envelope may result in a reduced internal floor area, which has financial implications – and, in a high-rise building with multiple floors, the impact of this may be significant, he adds.
In addition, because the building envelope is thicker, Pasetto says other components – such as frames and brackets – inevitably become deeper and heavier, which, potentially, increases the environmental impact of the building.
The industry will have to step up to this challenge, say Metcalfe and Pasetto, and come up with materials that perform well in limiting the spread of fire, as well as in regard to their thermal properties.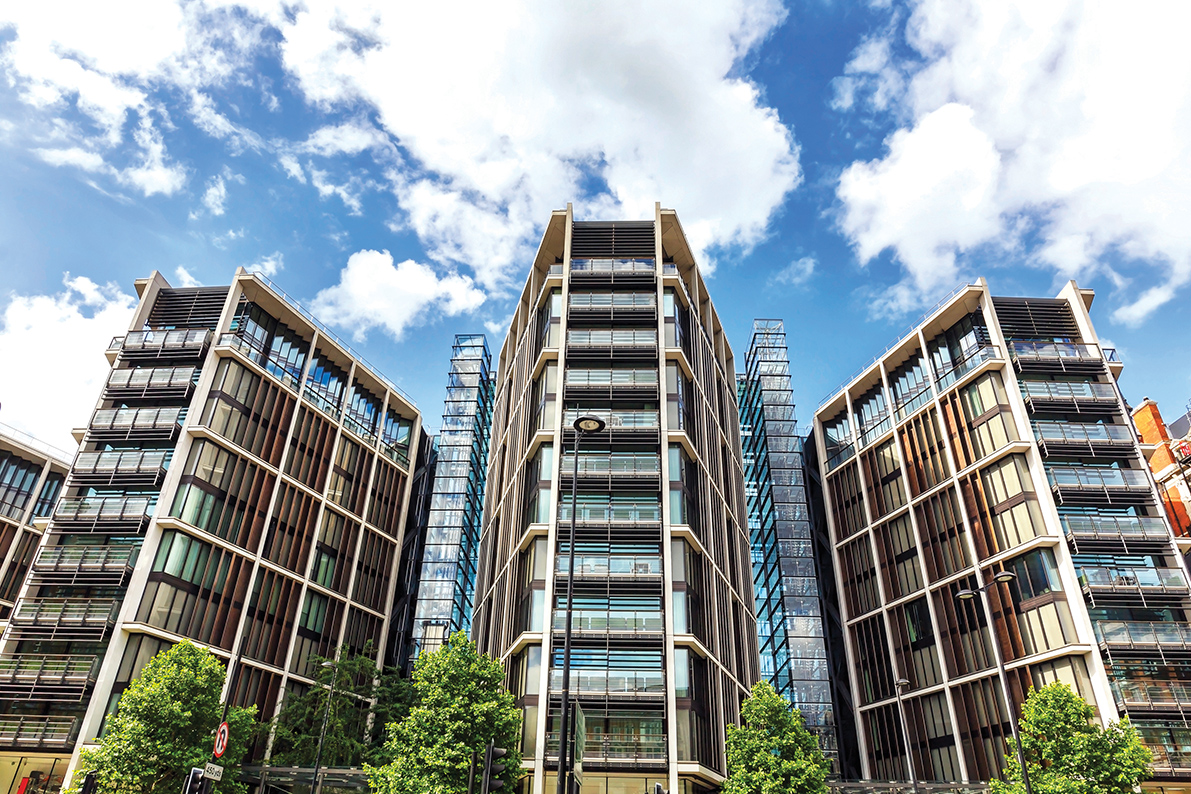 Chance to change
This highlights the fact that the industry has to change. 'Potentially, buildings – or build cost – will become more expensive, but we can't carry on doing what we've always done,' says Metcalfe. 'These changes – which are very important and the right thing to do – will have knock-on effects. The industry has to come to terms with those and work out how it can accommodate the changes, physically and financially.'
Such challenges present a good opportunity for the industry to innovate, says Pasetto. 'This may lead to new technologies, and new and safer materials, products and components. The industry has to react to this in a positive, constructive and collaborative manner.'
Already, he says, steps have been taken to start this process, with organisations within the industry carrying out tests to build a body of evidence to show that certain materials could be safe.
One material that has been undergoing such tests is laminated glass, which is now banned on 'specified attachments' to external walls, meaning it can no longer be used for balcony balustrades. Laminated glass is a safety glass and has, for many years, been used for its impact performance, containment and post-failure behaviour. However, it is also combustible when classified in accordance with the European standard. 
'This has introduced significant problems,' says Metcalfe. 'In blocks of flats, the balcony is the only external space you have, so it's very important.
'The industry has responded to this challenge by carrying out testing to try to demonstrate that these materials, in this application, don't contribute to fire spread, and this work is continuing.'

"The industry will have to step up to this challenge, and come up with materials that perform well in limiting the spread of fire, as well as in regard to their thermal properties
The SFE and CWCT have supported these tests by providing technical backup and consultation. The bodies have also met and collaborated with the Ministry of Housing, Communities and Local Government, acting as conduits for the transfer of knowledge in the sector.
'We take the information, process it and spread the word to the rest of the industry, and that dissemination of knowledge is a key role that CWCT and SFE play,' says Metcalfe, adding that the visibility of the façade industry was a major hurdle that had to be overcome.
Pasetto adds: 'We attended various conferences, meetings and workshops to contribute and to be as visible and present as possible; increasing our visibility presented a real challenge.
'We will continue to contribute to various discussions, and the more we do, the more visible we will become and the more we will be able to contribute.'
Fluid industry
By far the biggest challenge of all is that this is an almost constantly changing environment, says Metcalfe.
The initial ban came into force in late November 2018 and, in January 2020, the government published a consultation that looked at proposals such as removing laminated glass on balconies from the ban, as well as the 'trigger height' for the regulations.
'The industry is designing buildings and façades in the knowledge that things may be different in six months' or a year's  time when it comes to construction. The ever changing regulations and guidance are another challenge we have to deal with,' says Metcalfe.
For this reason, the SFE and CWCT intend the guidance to be a live document. 'It's not going to be something we publish and forget about; it is something we will be coming back to, either when regulations change or when we have more information – for example, from testing,' says Metcalfe.
Most importantly, he adds, this is just the beginning. 'There is a lot we still need to do to better understand the fire safety of façade systems. It's not just about combustible materials; it's about fire stopping and cavity barriers, and how things work as a system. Considering a material in isolation doesn't tell you how it's going to perform once it's used in combination with other materials, for example.
'We will continue to engage with relevant parties to try to achieve this. Collaboration is really important; Dame Judith Hackitt and the government want the industry to be more proactive and to work together to try to overcome some of the challenges we're facing.
'We are responding – and will continue to respond – to those challenges.'
Competency is key
The Society of Façade Engineering is in the process of altering the way it scrutinises its members, and aims to establish a framework enabling it to recognise chartered status.
David Metcalfe says: 'The SFE recognises that it is increasingly important that individuals are able to demonstrate their competencies, and our long-term ambition is to work towards chartered status to recognise those highly qualified and experienced individuals.'
Saverio Pasetto says that some members have already obtained CIBSE chartership by applying as façade engineers through the SFE. 'The discipline has been recognised as an important aspect [of building services engineering] and we are working on a framework that will enable the SFE to deliver chartership status in the future.'